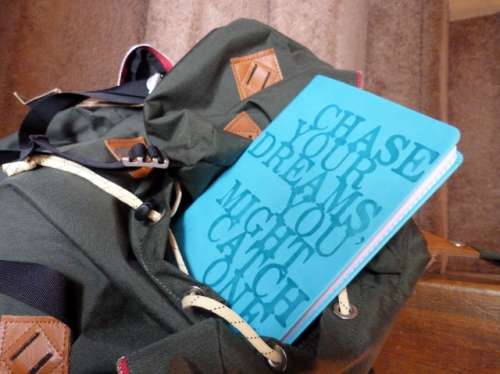 There is one way and one way only to camp-out.
For real.
Here it is:
GO!
GET THEE OUT THERE!
MAKE IT HAPPEN!
JUST DO IT!
I'm not much of a "real" camper, happy or otherwise.
What I mean is that–in the last 35 or 40 years–I've only left my yard once before to go camping.
Once.
It was earlier this year when I took horses camping.
I'm an awesomely "real" backyard camper though. When I had a kiddo, I started camping with her in the backyard. Backyard camping in Atlanta had its drawbacks. We heard a constant roar of traffic, neighborhood air conditioning units kicking on and off, and we could see only the brightest stars because of the light pollution.
Backyard camping is much better here in the country. The problem here is that now my daughter is old enough to have her own opinions about things like camping. And her opinion is "no."
So, I've been on my own in the backyard camping scene here. Which is fine; I'm not complaining; I don't mind some quiet, alone time out in nature.
But this past weekend I wanted to go REAL camping, out of the backyard. So I bribed my daughter and she went with me. You go with me camping and I'll take you to the mall. She agreed. As did Kermit. (Kermit required no bribery.)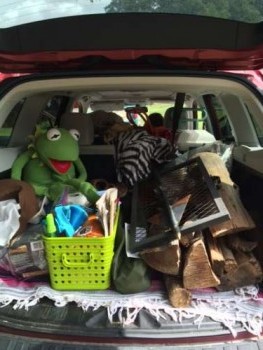 I jammed the car full of things I thought we'd need…for 1 night in the woods and we headed off.
When we found the campground and checked in, the Ranger said to me, "You're a BRAVE woman!"
I was taken aback. Why would she say this? What is going on? What requires courage?
So after a few seconds too long of silence I finally said, "Why would you say that?"
And then she gave me a few seconds too long of silence.
She replied with a confused look on her face, "Because I see them. Because I am too…"
And she pulled the long braid from behind her back over so I could see it."
Oh.
She had said "braid" not "brave." I was wearing my hear in two braids. I am a brave, braid woman.
The fee for the night was $18. Eighteen dollars for a night out under the stars and two days in nature. What a bargain!
We found our assigned campsite we immediately noticed a disadvantage. And it was rather large. And loud. You see, the Brady Bunch were camping in the site right next to ours. Very close. There goes our quiet camping trip. We heard Bobby yell to Cindy that the people next door were there. We heard Greg tell Marcia to shut up and Marcia tell him to do the same. We heard Jan and….oh gosh, what was his name? The middle Brady boy? Anyway, we heard Jan and the middle boy exploring the woods next to our tent. Oh goody.
But, whatever. I'll take it any way I can get it. Brady Bunch or not. It was nice to be camping out of our backyard.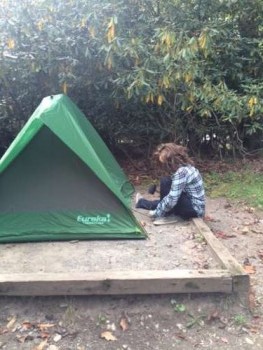 Setting up the tent.
I love this tent, by the way. It is small and sweet and old-school.
Once we got the tent up and set up camp,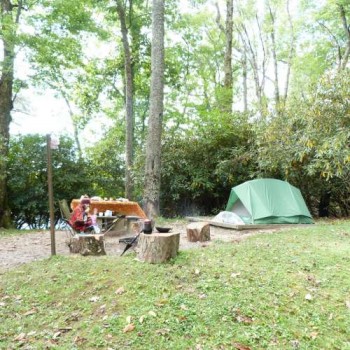 we headed to the lake to canoe.
We got out into the middle of the lake when the windy and chilly rain began. It didn't stay long. It left this rainbow.
And all of a sudden it was cold.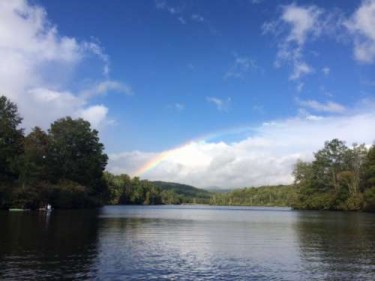 Yippee! I love the cold.
Don't know what kind of bird this is. I've searched our bird book and the Internet and can't ID it yet.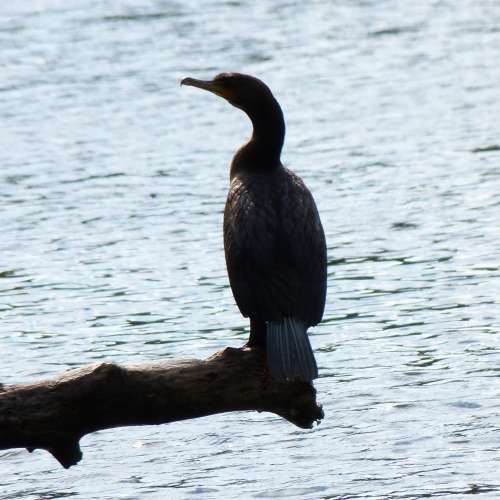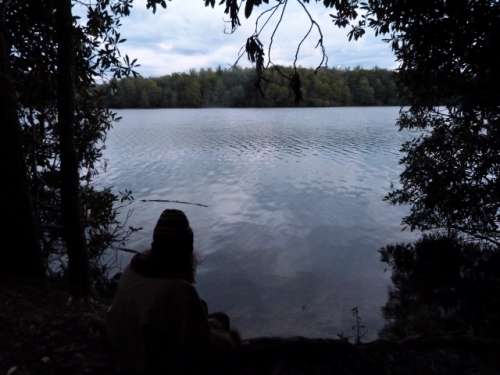 We went back to camp and built a big campfire. Check this out. Great fire starters. As far as I know, I made these up.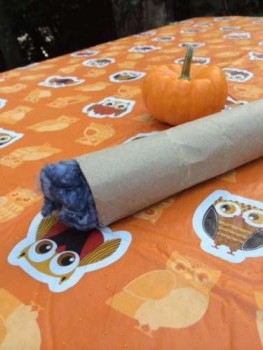 Save your paper towel rolls and stuff them with your dryer lint. Awesome! Really gets the fire going.
Then we made dinner: Hobo Pockets like we had at the Girl Scout Camp-out (in our meadow).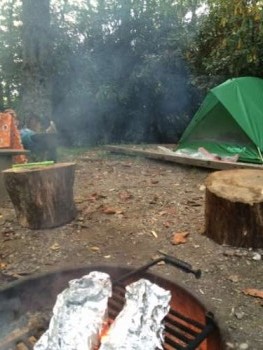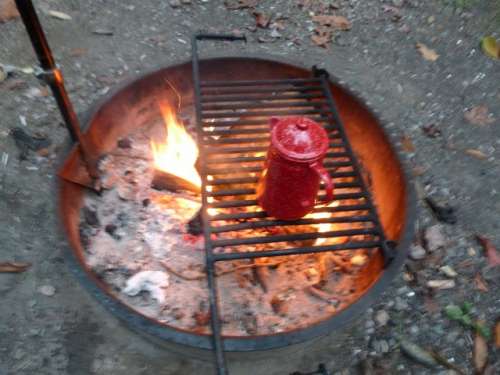 Followed by hot chocolate and hot tea.
I always take bubbles, sparklers, and a candle every where I go that I think we just might want them.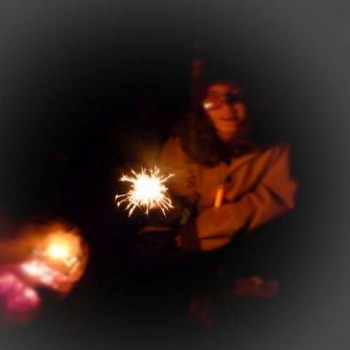 "The stars put on a show for free…" (quoting another song James Taylor sings)
They were stunning. The clouds cleared and we were awed with the number of stars we saw. Whoosh! A falling star! We both saw it and we both forgot to make a wish. (What in the world could I possibly wish for anyway??)
Before we went to sleep that night, my daughter said these words that made me smile:
"I'm having the time of my life."
Can I tell you how that made me feel? No, I can't. Because I don't have words.
But let me just say. WOOT! WOOT! Maybe I've converted her! Wow, that would be awesome! We could go on adventures together!
The night was colder than we were prepared for. I went through the car and found a towel and also Blue's blanket. Blue is my dog and his blanket was covered with fur. But. We didn't care. We were happy to use both the towel and the dog's blanket for covers.
I learned at the horse camp-out to always bring a hat to sleep in, so I had brought two toboggans for us. We needed them!
Before we break down camp Sunday.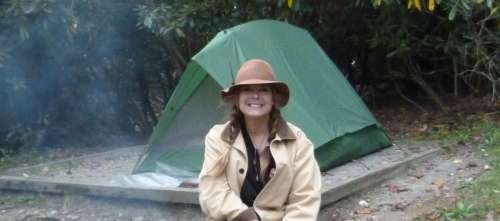 Loved it. Loved every minute of it. Even the Brady Bunch.
So the one way to camp?
Just do it.
Whenever. However. Wherever.
Until next time, Friends, savor the flavor of life!
Lots of love, The City Farmgirl in the Country, Rebekah
PS I'm sharing this again. Just in case someone hasn't seen it yet.