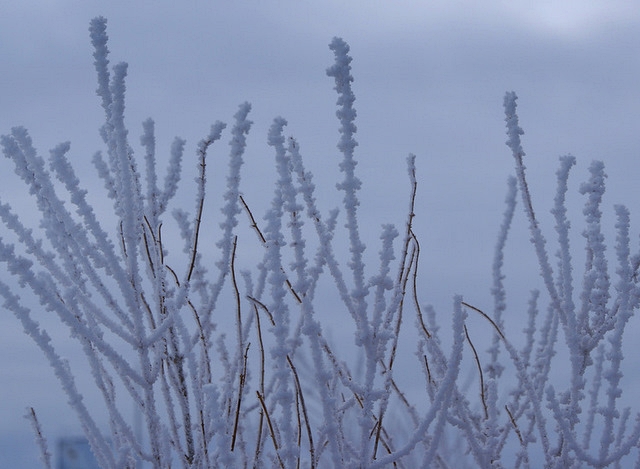 For many of us, the first day of winter disappeared behind us in a flurry of blowing snow. Looking ahead, the word "bleak" may fit many days on our winter calendar. Bleak, really? "Bleak" is a word winter invented (I think). But ok, like it or not, here we go into the season that makes us work harder at making life fun.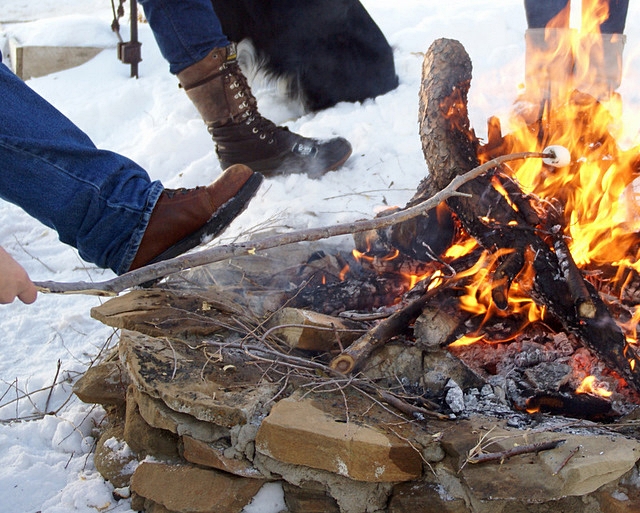 In a few days we'll also leave the Christmas season behind … the wealth of color, the annual and inspired reminder of it's meaning, and the spirited sparkle it brings to our lives. I wonder if Christina Rossetti had some of the same things in mind that I've been thinking about when she wrote her now famous poem/carol, "In The Bleak Midwinter".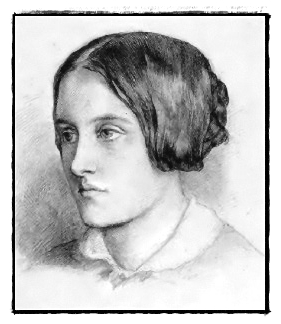 The poem was published posthumously in Rossetti's Poetic Works in 1904 and became a Christmas carol after it appeared in The English Hymnal in 1906 – set to music by Gustav Holst. In modern times, the carol has been named the best Christmas carol in a poll of some of the world's leading choirmasters and choral experts. The song begins …
"In the bleak mid-winter
Frosty wind made moan,
Earth stood hard as iron,
Water like a stone;
Snow had fallen, snow on snow,
Snow on snow."
Destiny brought brilliant fullness to Christina's lovely poem. The voices of a choir made the poem come to life. You must hear it, not just read about it. There are two lovely versions on YouTube – one is the classic rendition; it will fill your being with a sense of peace surrounded by soft candlelight: http://www.youtube.com/watch?v=xRobryliBLQ&feature=related – performed by the Gloucester Cathedral choir. The other version is instrumental and is accompanied by a rich offering of black and white photos: http://www.youtube.com/watch?v=jwStDK2_qpw&feature=related by Loreena McKennitt. Listen to either of them while you read the rest of this piece. They provide a very nice audio backdrop.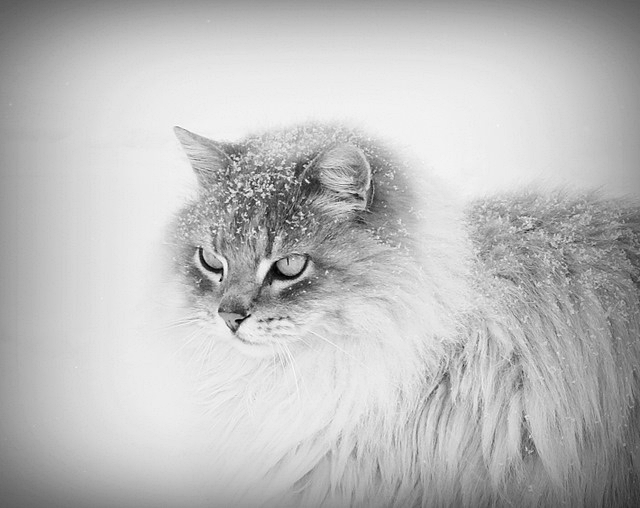 My Himalayan cat, "Timmy".
Winter brings bleak and beautiful together. No other season does that. No other season has the ingredients to work with. On the surface, winter is a quiet and somber season. If all a person does is "Grinch up" and look at the snow and ice with shivering disdain (as I certainly have), you can very easily miss the magic. All that grumpyness does is make winter a lot longer. So, cheer up!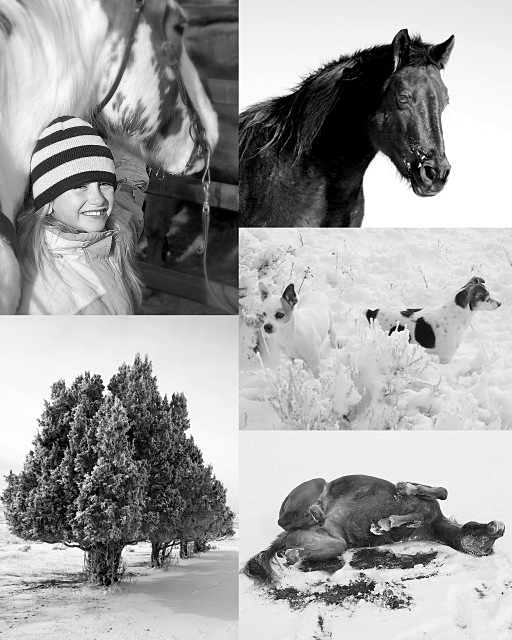 Animals grow luxurious fur coats for the season of snow. Horses take lengthy baths in freshly fallen snow. Dogs and kids love to play in it. Trees wear flowers and fruit in spring & summer … but, in winter … lacey hoarfrost.
Then, there is sledding … it can make grown-ups giggle and scream like kids all the way down the hill.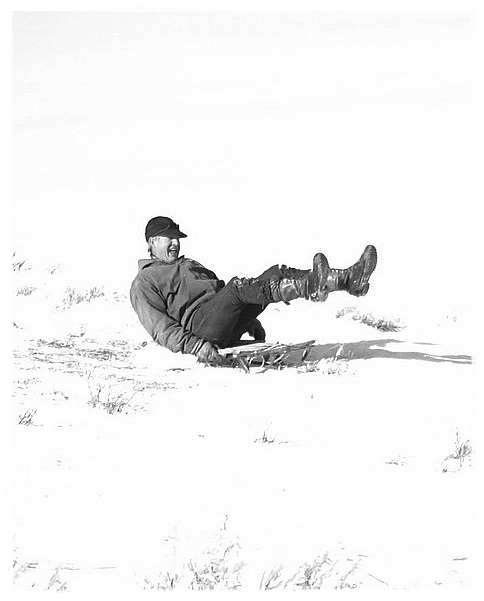 Above: our friend, Jerry Shepperson (husband of my farmgirl pal, Anita). He's a 64 year old kid.
A few days ago, we organized an old-fashioned sledding party. Sheppersons have a great hill on the ranch and it is easy to get to and just a mile from the house. It has just the right steepness to it and it is very long. Too long to walk back up, actually. However, if you have horses, BoyOhBoy, you can make lots of trips down the hill because you'll get pulled back and around to the top by a cowboy! And, that's just what we did.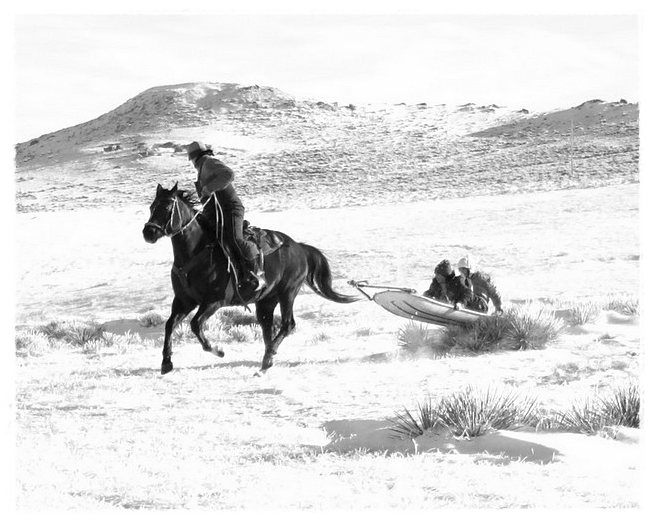 My husband, Lynn, pulling two of the kids back up to the top of the hill. The kids got mad briefly and screeched with fearful delight, then they laughed loud and long alllll the way.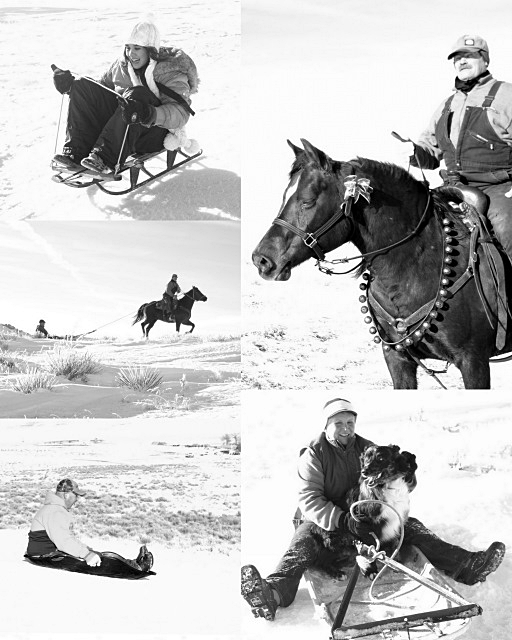 My mare, Dolly, wore a bow and bells for the outing. There is just something about sleighbells that makes you smile. Everyone loves the JingJingJing. You can shake them to mimic the sound they make when worn by a horse, but when a horse makes the bells sing via a springy trot …. Ohhhh, it stirs the soul !!! Anita's horse, "Mac", wore a Santa hat instead of bells. The "apre" sledding plan was to build a fire at home in the stone lined fire pit and to have hot cocoa, cookies and roasted marshmallows.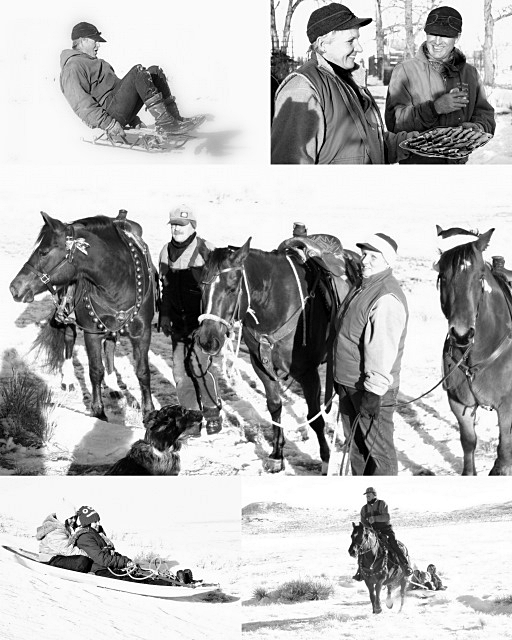 Below: My husband took this photo of Dolly & I and quipped, "You can caption it: Now, they both have frosted hair." She and I used to have matching hair … coffee brunettes.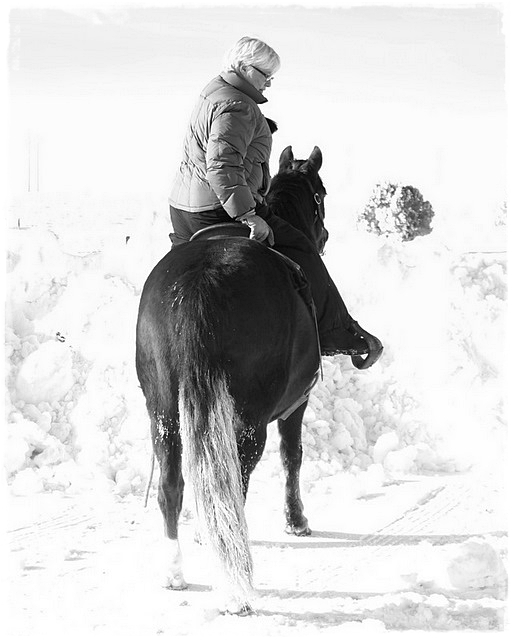 My husband. He's a peach and no one works harder than my hubs. Confession: I get kinda wimpy from time to time when it comes to working in nasty weather. He cannot. He doesn't have any affection for winter, let me tell you, but he's a lifelong rancher and working outside in all four seasons is part of the package. In winter, he feeds the cattle daily … about three tons of hay per day, along with grain wafers. The cattle don't often go out to forage much unless the weather turns really nice (around 40), they simply eat and wait for the next day … to eat. Where they are fed is called the feed-ground. The hay stack-yard is right across from the road from that pasture. I feed the horses and weaned "replacement" heifers at home.
I recently put a dead and barren cedar tree on the deck to hang a couple of bird-feeders from. I knew it was iffy when I did it because we are on the prairie and the tree-line is about a mile away. But, I miss watching a busy bird-feeder in the winter. My folks always fed the birds. We made seeded suet balls and peanut butter balls – heavy on the cornmeal. But, in the here and now, we have only ground feeding birds and little else. Every now & then, I spy Cedar Waxwings feeding in the old Juniper trees about 200 yards from the house. Being an optimist, I put birdseed and suet out. I hope that maybe a wayward Junco or Chickadee might find it and bring some friends back. In the meantime, it's not as if we don't help the local wildlife with supplemental nourishment. The deer and rabbits browse on the hay (much to my husband's dismay). On the feed-ground, there are hundreds of birds that feast on the seed from the hay. There are weeds in the hay too, so there is a variety of seeds for the birds to choose from.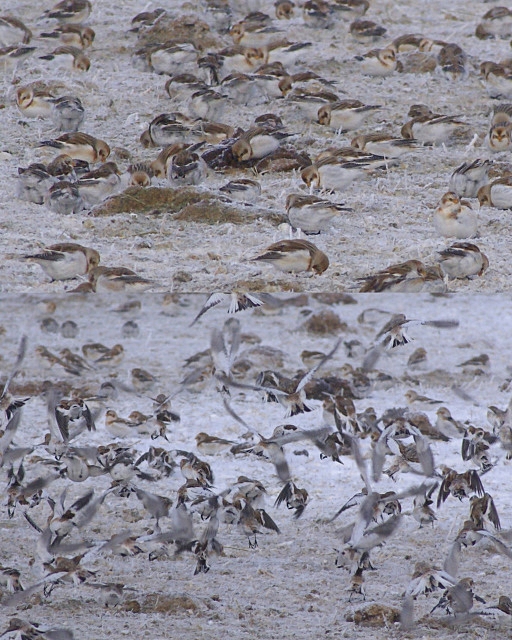 Here's a close-up of what they eat …
For you "birders" … This is what we have for winter birds: Horned Larks and Snow Buntings … and they flock together on the feed-ground. From time to time, I also see Lapland Longspurs, White-crowned Sparrows and Song Sparrows. There are probably others too that I don't get to see. There are so many kinds of prairie loving sparrows, but most of them do not winter here. My folks live in town and our little hamlet is in the trees. At their feeders, they get birds that we don't … Slate Juncos, Chickadees, Pine Siskins, Red House Finches, Blue Jays, Red-breasted Nuthatches. Cedar Waxwings like it here since this area is thick with Juniper trees … lots of berries for them. Oh, and this … before the Robins left for the winter, I noticed them eating Juniper berries. I didn't know that about them.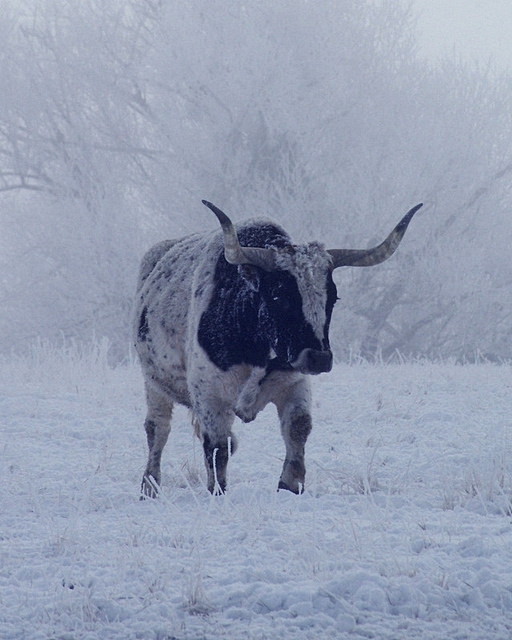 We've had some very dark mornings of late. Above: our old Corriente steer at 9AM in the morning when we went to feed the cows. It was truly bleak and dreary. When the sun does come out, it might mean that it is really cold … but not always. If it is a warmer day, I like to find a sunny spot on the south side of the barn to sit, close my eyes and soak up some rays. My hens do too … fanning their wings out, fluffing up and laying on their sides. I know just how they feel.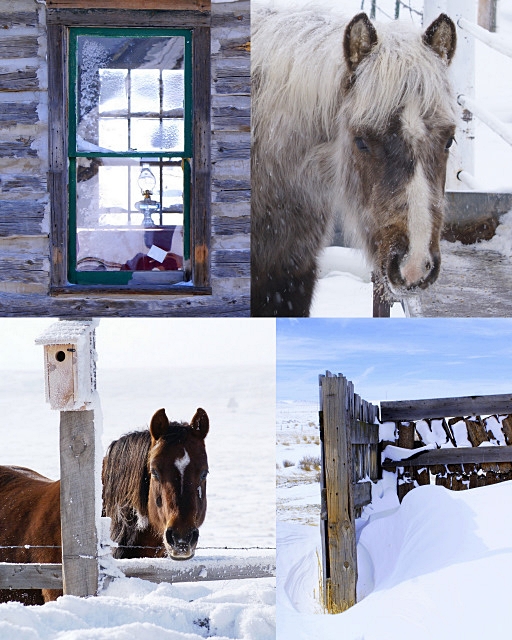 When a warm spell settles in, you can go out, get some much needed fresh air and look around … taking in some of the beauty found in unlikely places.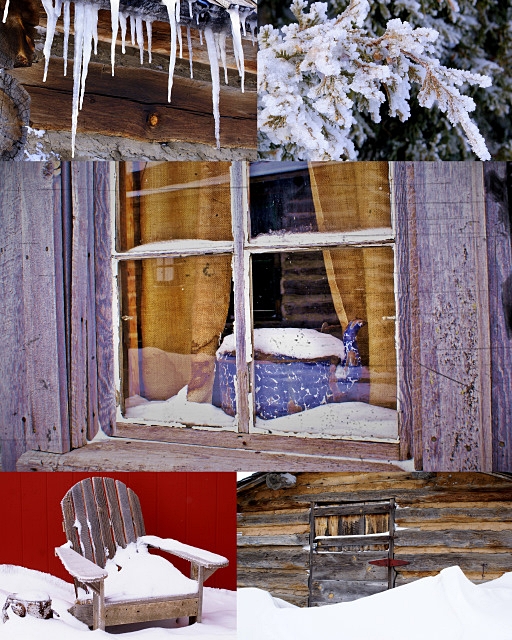 An old gate framed by new snow.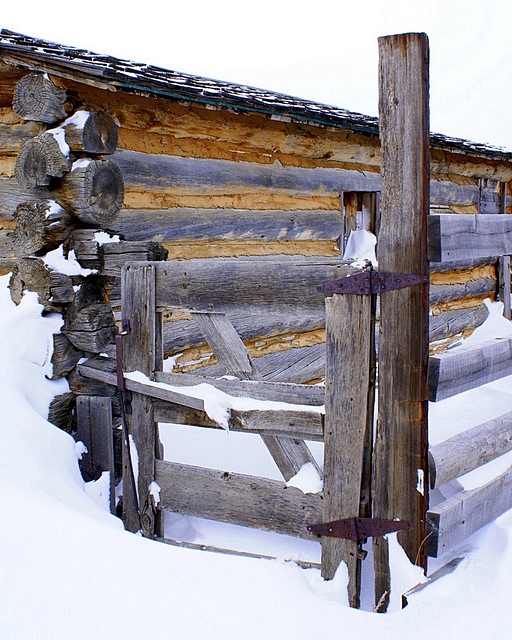 Christina and Gustav's poetic carol reminds us of a promise … the return of light and life. Also folded into the carol is "pre-gratitude" … being grateful long before spring's first Pasque flower. So, we're leaving the old behind and stepping into the new year. That is where winter leads us if you'll lend it deeper meaning. Old Man Winter provides peace & quiet for Mother Earth so that she can feed us next year. For now, she lies sleeping while the new year prepares her agenda. She's as pretty as a sleeping baby in a gown of white.