.
Are you like me and you're always on the hunt for fun, inexpensive projects that you can use to decorate in your home or to give as gifts?  A couple of years ago when we finished building our farmhouse and moved in, I was a little stumped with the bare walls in my hallway.  It's a short hallway and I didn't think it was exactly the wall for a gallery of pictures, it called for something simple and unique.  About that time I read an article about old patent illustrations being a work of art.  I knew right away that I was going on the hunt.
.
Did you know that Google has a search engine dedicated solely to patents?  And you can download a patent illustration and print it right from your home printer… for free.  You can go to their patent search engine at patents.google.com.  It is so simple; just type in your search and see what comes up!  You can also customize your search by entering the patent date range.  I like the patents from the "olden days".  Some of the most awesome patents are the ones before the 1900's.
.
You can get really hooked on looking at the old patents, so beware!  If you're like me you will come across things that really bring back memories.   Some of my favorites are patent drawings of old toys and old musical instruments.  Oh and kitchen items.  And sewing machines.  And on and on!
..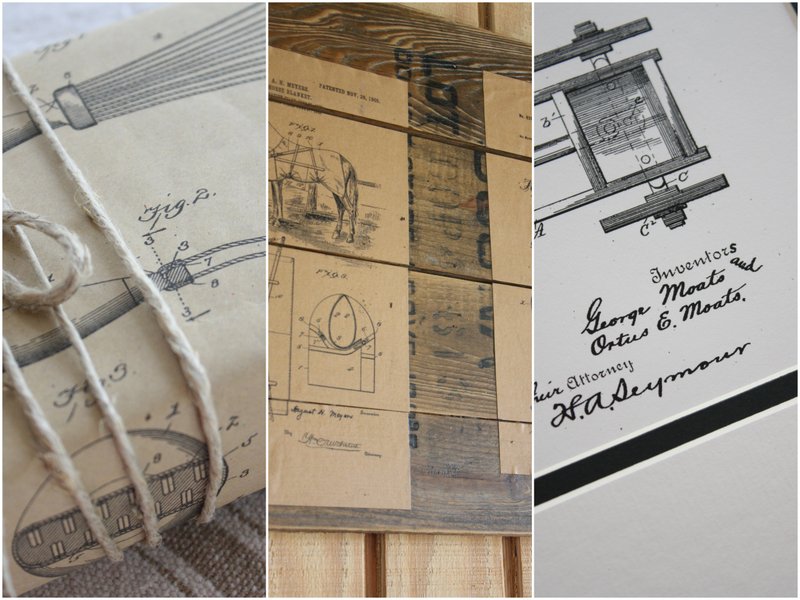 .
For fun I've put together a few very simple and fun projects for you, using patent illustrations I chose and printed right from my home printer.
.
Project One: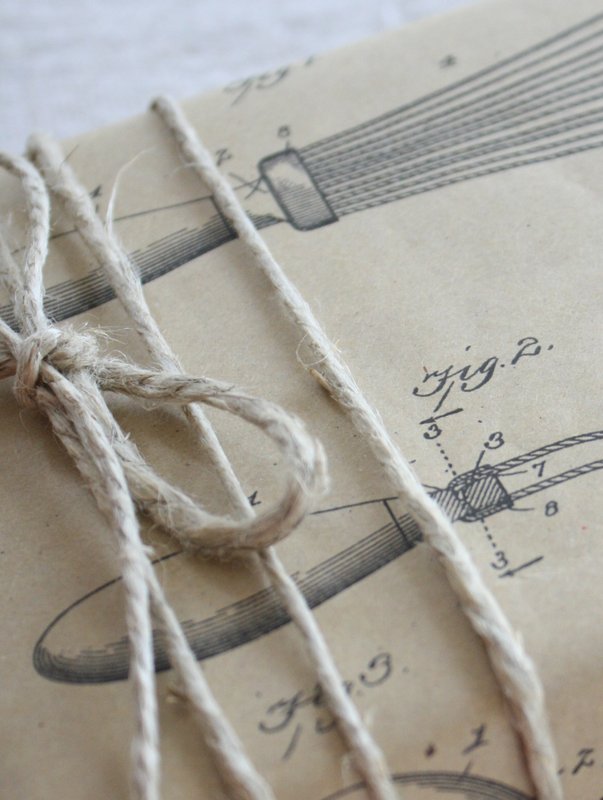 .
A patent drawing printed on lightweight brown wrapping paper (cut to size so that it will run through the printer) works awesome for wrapping a little package.  For this project, I used the Egg Beater Patent from 1901.  The drawing is so awesome and the gift is a little kitchen item, so it just seemed fitting.
.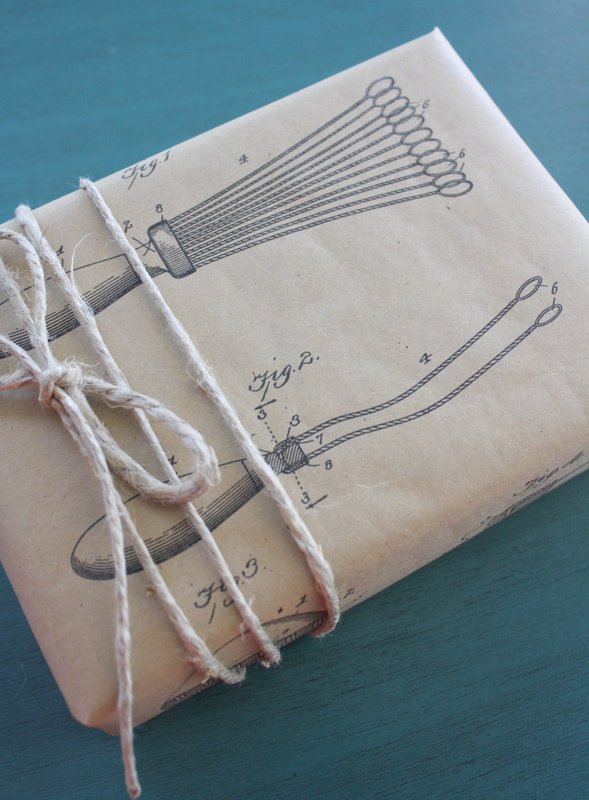 .
Wrap it with a little twine and it makes a darling wrapping for a gift.
Project Two: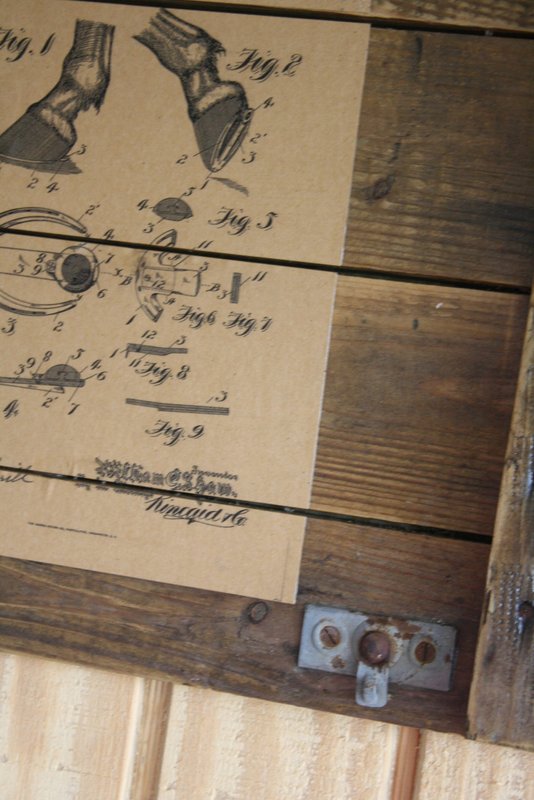 .
This project I made for my husband to hang in his work shop.  I came across these two patents on horse related inventions:  the horseshoe and the horse blanket.  I printed them on light brown card stock.
.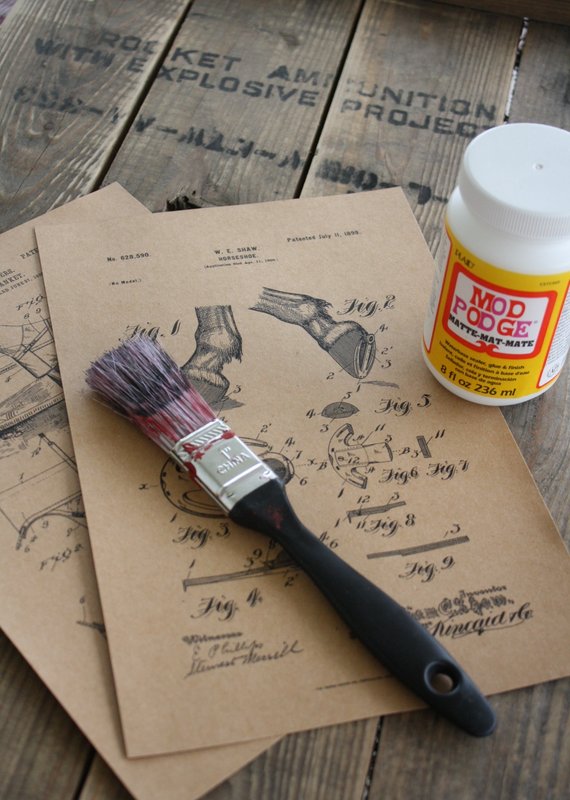 .
I had an awesome wooden lid from a vintage ammunition crate and I thought it would make a great "frame" for the prints.  I sanded the wood until it was smooth and then gathered my supplies.
.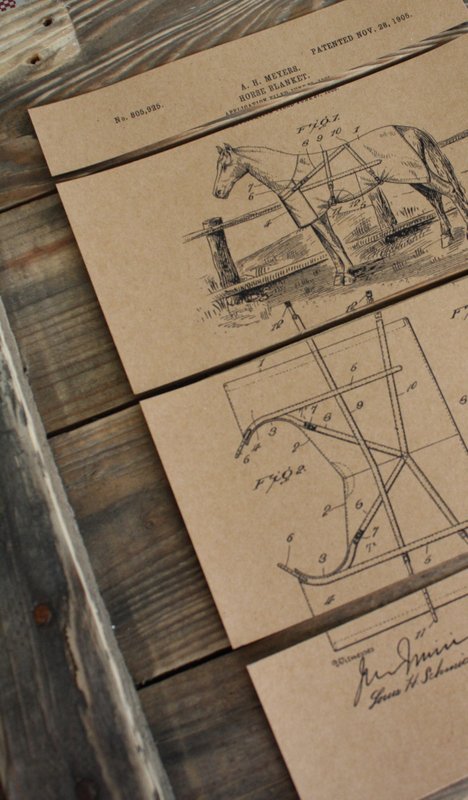 .
I cut each of the prints apart so that they fit on the slats of the wood.
.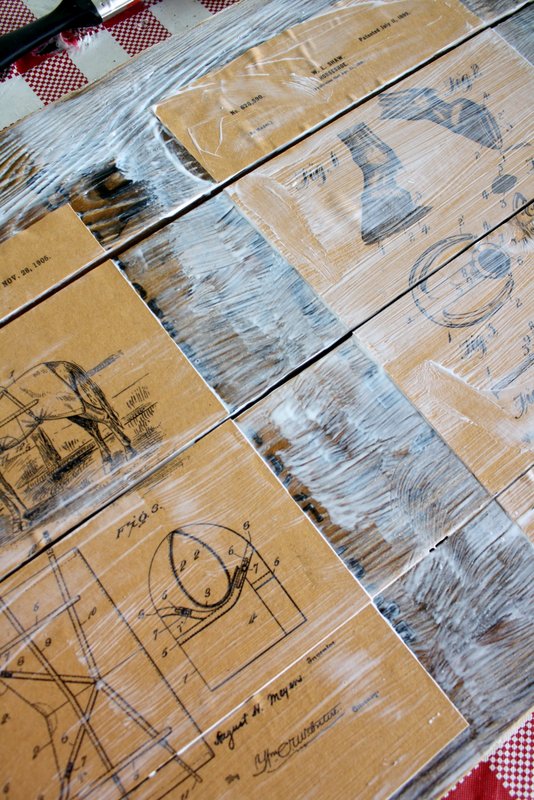 .
Then I applied two coats of Mod Podge, letting it dry in between coats.
.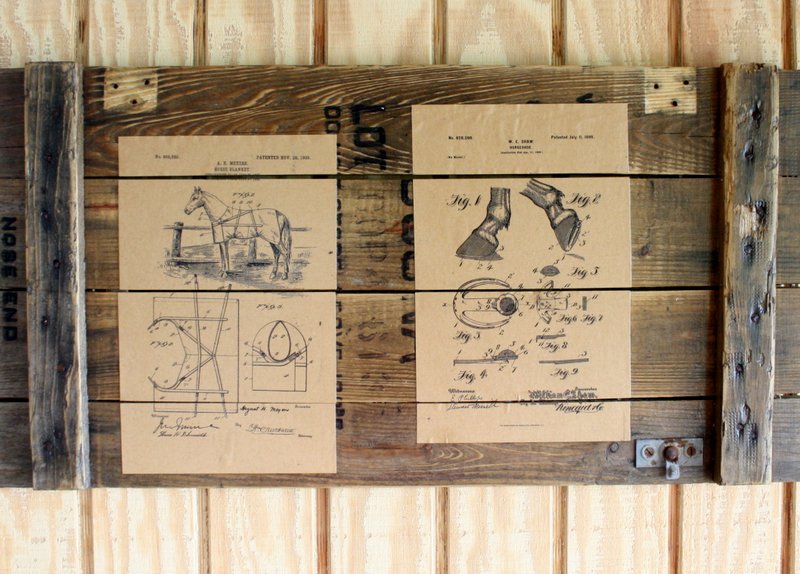 .
I hung it in my husbands work shop!  This project may seem like a lot of work, but from start to finish it only took about an hour.  I love how it turned out.  Just a fun vintage look and it looks great on the pine walls in his shop.
.
Project Three: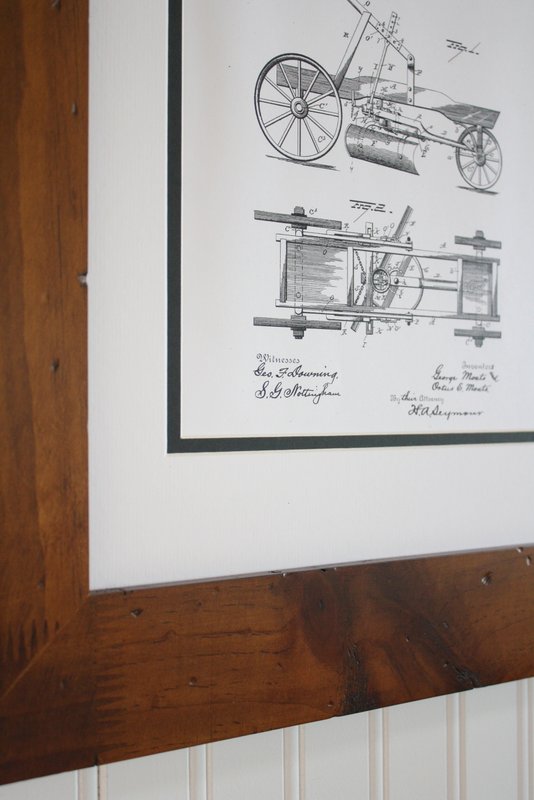 .
The final project are the drawings that I printed and hung in my hallway.  I chose all farm equipment because I absolutely love how beautiful and intricate the drawings are.  They are all patents from the 1800's and it just kind of blows me away how talented they were with drawing.  And their signatures from that time period?  My favorite!
.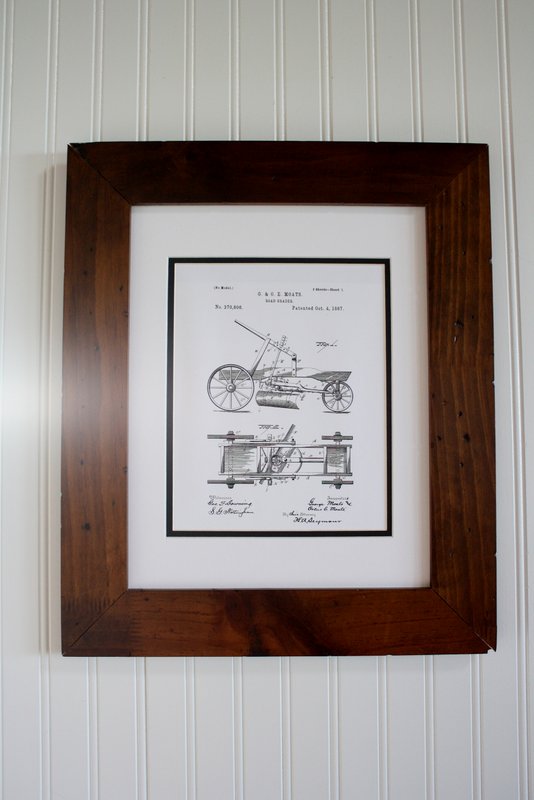 .
All I did for this project was print the patent illustrations on white card stock.  I then purchased the photo matt and frame on sale from Hobby Lobby, stuck my print in and hung it on the wall.
.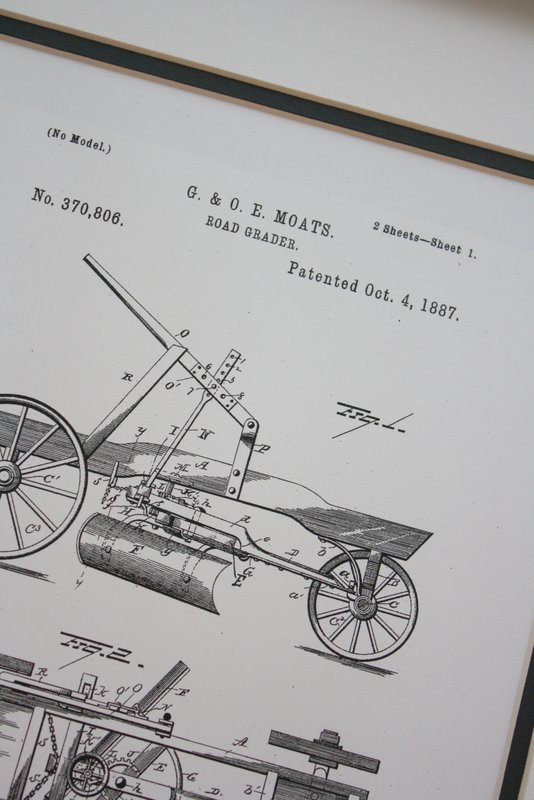 .
They are very simple, but very unique and always, always a conversation starter!
..
I know there are so many other ideas that a person could come up with for the patent artwork.  I'd love it if you would share any of your ideas!
.
And NOW what we've all been waiting for!  We have a winner to the Moo-N Over Main Street book drawing and it is….
Jodie!
.
Congratulations, Jodie.  I know you will love having it to read to your little one.  For those of you that didn't win, be sure to go here to order your copy.  
.
Until our gravel roads cross again… so long.
.
Dori