"Well, the sun's not so hot in the sky today. 
I can feel summertime slipping away.
A few more geese are gone,
A few more leaves turning red.
From "September Grass" James Taylor
I can feel it.
Ever so slightly. But I can just feel it. Barely. But there.
Autumn.
School started here last week.
No matter the date, that has always meant autumn to me.
So, I got out my crockpot and put some soup on. This time I make a variation on the Mexican comfort food soup, Pozole. My daughter started high school. We all need some comfort food around here.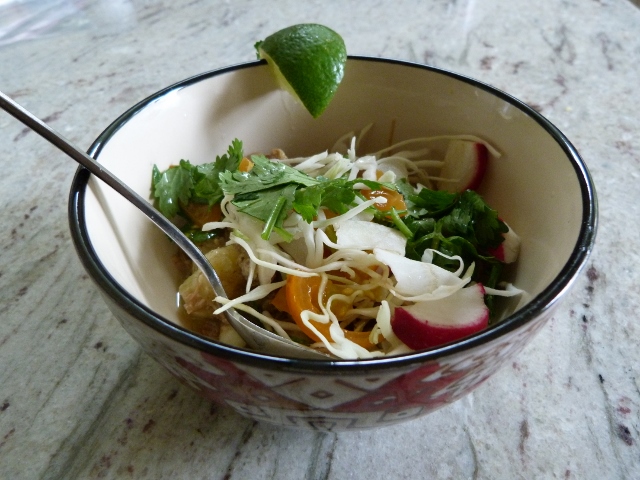 I was about to take a photo and look who came by to see me. See the Mustache Cat?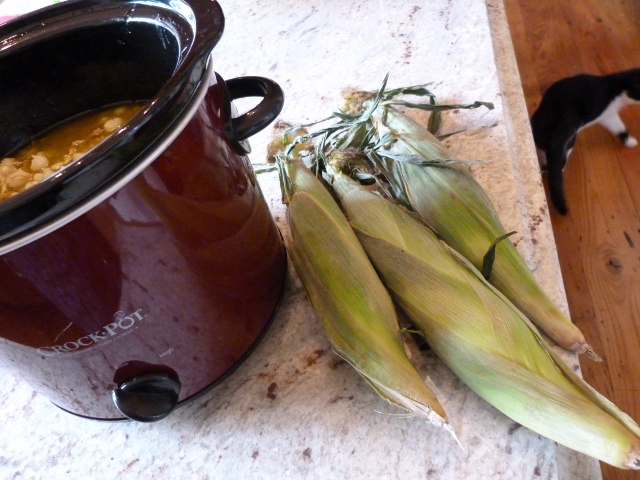 He is no longer a feral cat. He is a family cat. He stays inside as much as he does outside. In fact, he seeks us out. He comes to whatever room we are in. He wants to be touched. He slinks over and presents his head for petting. I can't believe it. What a transformation. Now, I haven't tried to pick him up and we may be a year off from that, but I'm so happy with how he has progressed. Little cutie pie. He even meows slightly and purrs a tiny bit. Feral cats are silent. He is silent no more! That's what love does. Just look at him. Love changes everything. For months I never really saw what he looked like because he hid. I knew his face had a mustache, because that 'stache is what saved him, the very reason I drove an hour away to rescue him. I saw a photo and jumped in my car. Now look at him. In my kitchen wanting to be petted.
Love is the answer.
I don't know the question, but when you ask it, just remember that LOVE is the answer.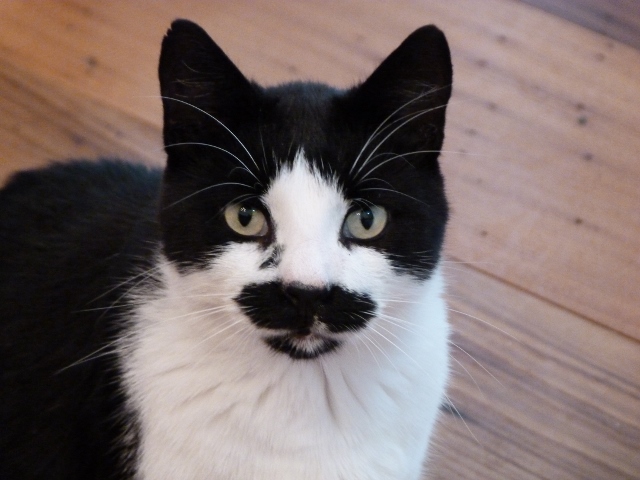 And here's my public service announcement. This lovely cat was scheduled to be put down the morning I sprung him from animal control. The animal control department that trapped him traps and then KILLS feral cats. That is not okay. Trap, Fix, Release is fine. Trap and kill is not.
Back to the crockpot. Here's a photo of the soup.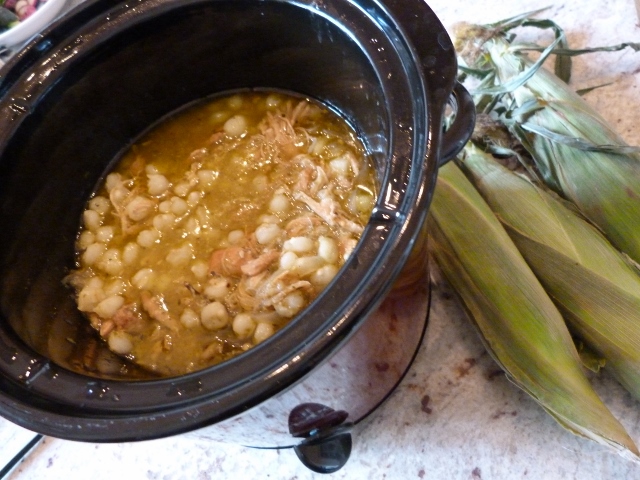 The soup itself is super easy. I browned boneless, skinless chicken thighs (yes, chicken is back on our menu, at least for part of our family), seasoned them with cumin, salt and pepper. Sauteed an onion in the same pan, added chopped garlic. I transferred that to my crockpot, added a jar of salsa verde and a small can of chicken broth. And then I let it cook all day! At some point I tasted it and added some more cumin, dried cilantro, salt and pepper, and just a little chili powder. The last 30 minutes, I added two cans of hominy, drained and rinsed.
This soup is great with toppings. I used avocado, shredded cabbage, cilantro, sour cream, cut radishes, yellow tomatoes from the garden, and lime. Gotta squeeze on some lime juice! And serve with tortilla chips! Comfort food with flare! So yum.
And yes, I will be making some granola very soon. I'll definitely post the recipe, LuAnn. Let me dig it out and I'll post it in the comments.
I bought a new plaid flannel shirt. Because that is what I live in during autumn since I moved to a farm.
The monarch butterflies are flitting in the milkweed patch I saved for them. My neighbors giggled the first year we were here when I told them I had designated a small patch of my hayfield to milkweed for the monarchs.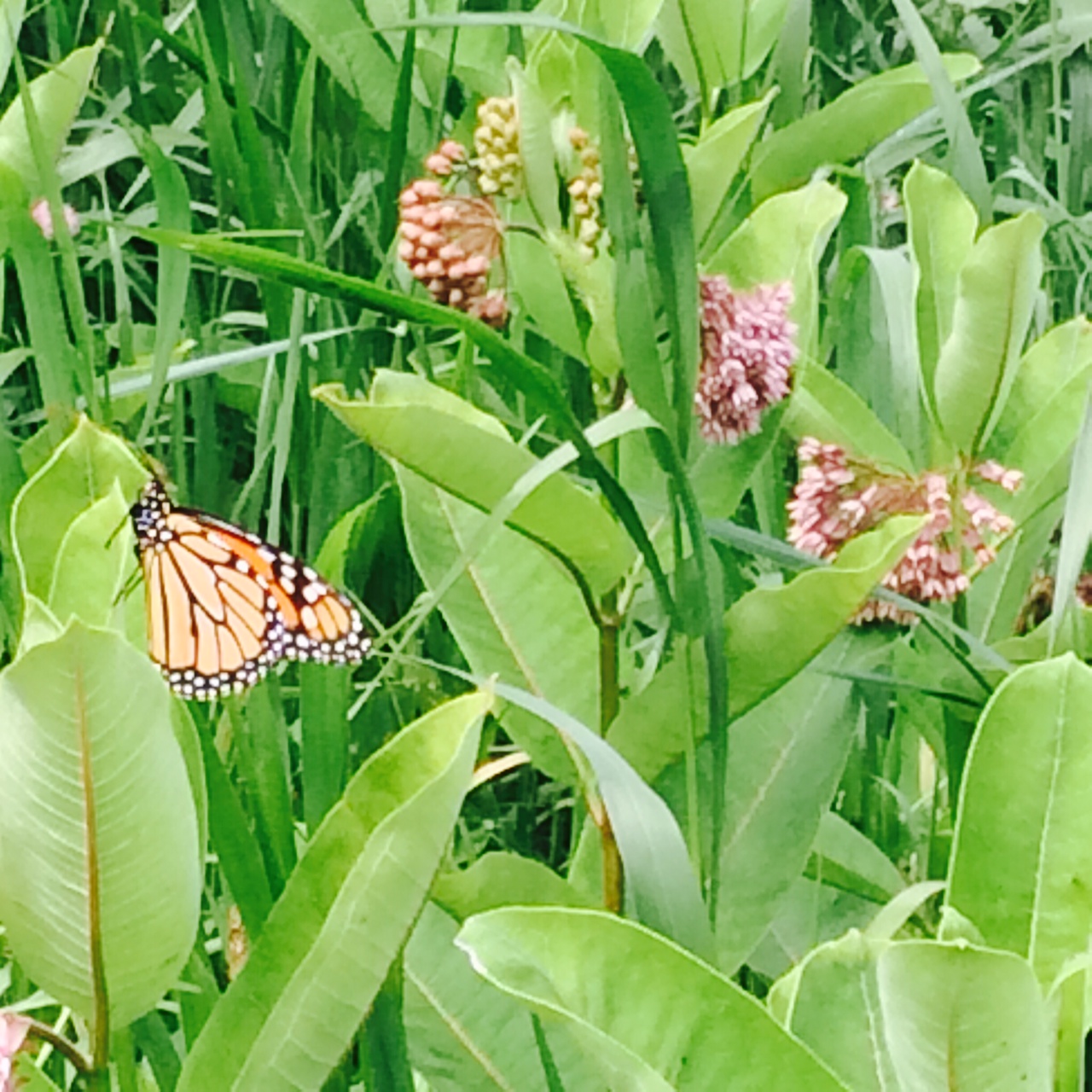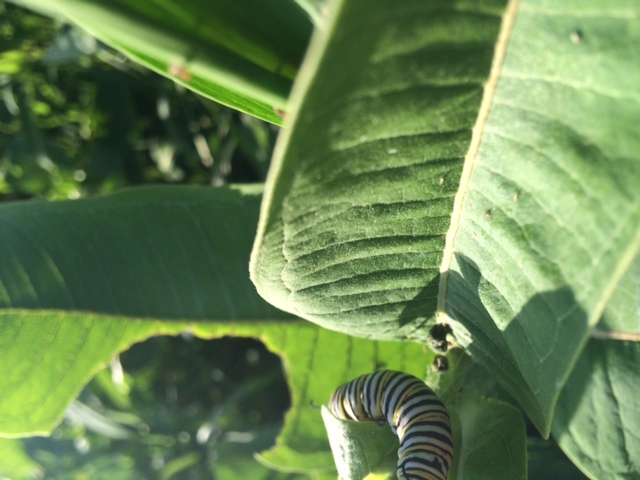 This is a monarch caterpillar on my milkweed patch. You see that big hole in the leaf behind her/him? She/he will spend his whole life here, munching on the leaves. Then she/he will form a cocoon under one of these leaves. This is why milkweed is so important for monarchs. It is the ONLY plant they live on.
Turkey babies are growing quickly and strutting through my meadow. We have a wild flock with two adults and eight children.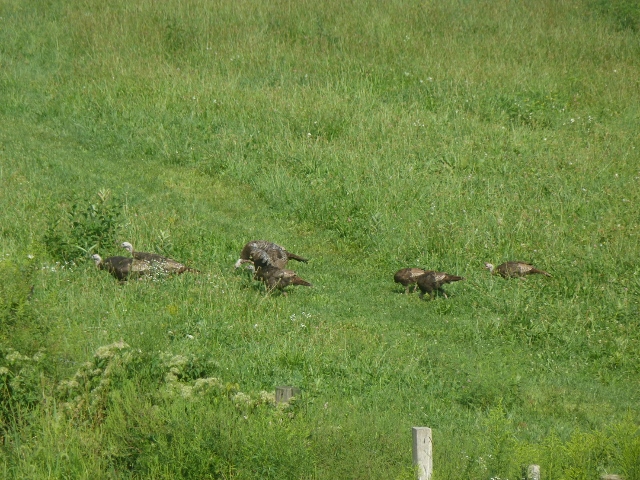 The horses are beginning to grow their fluffy coat. Here is My Merlin chillaxing in the barn. He is so funny; his lower lip hangs open when he is half asleep. Have I mentioned how much I love him? IRK. He has my heart.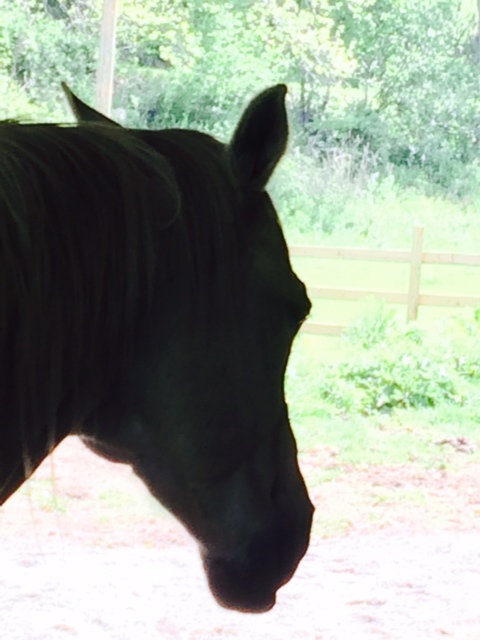 August is the month that we in the Blue Ridge Mountains count foggy mornings and put a bean in the jar for each foggy morning in the month. I keep my SNOW jar on my kitchen window. This tells us how many snow events we will have the next winter. I have been asked how accurate this method is. Well, for me, who is a lover of snow, I put a bean in that jar if I see just a little fog. And in the winter I take a bean out if I see just a little snow. My track record so far? I have always run out of beans before the snow stops. Those who have lived here longer say that they can hit it every year with their beans. I'm not there yet.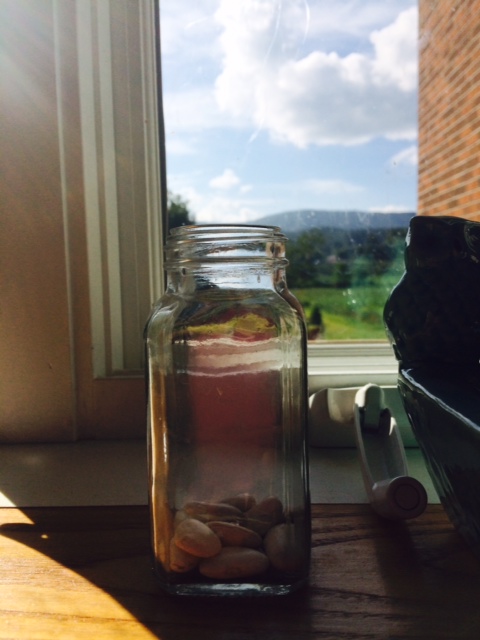 Way back in the late spring, early summer I planted a large field, close to an acre, with sunflowers and pumpkins. My Field of Dreams. I could just see it! When Autumn arrived~there would be beauty to share. Maybe the school kids would come and picnic and pick pumpkins and sunflowers. Maybe I'd set up a stand at the road. My Field of Dreams is a Field of Weeds. There might be some pumpkins growing underneath the tall weed cover; I just don't know. There are definitely no sunflowers. It didn't work out the way I had it pictured. I refuse to use weed killer, so the weeds took over the field before the pumpkins and sunflowers had a chance. Disappointment. And there are probably some snakes living in the head-high weeds too.
Late summer, early Fall is the time that the breeze blows through the windows, sending the curtains flying all over the place. Soon we'll shut the windows and build a fire in the fireplace. Ah yes, I need to order some firewood from my neighbor. We haven't learned how to cut wood ourselves yet. (It is on the list.)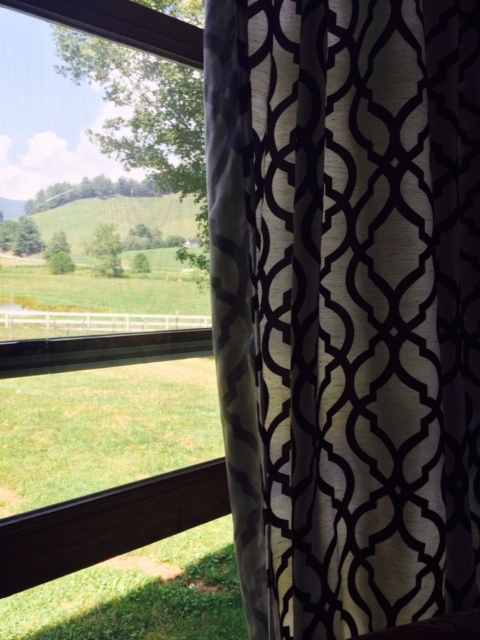 Bluebird babies have left the nest and are flying together all around the farm. I see them on fence posts, on the roof of the barn, on branches. They will be here all winter.
Hayrolls. Home made bread. All these things mean autumn.
Autumn Sedum is pink now. Soon it will change to a deep red. Hello, Bumble Bee! I didn't see you there.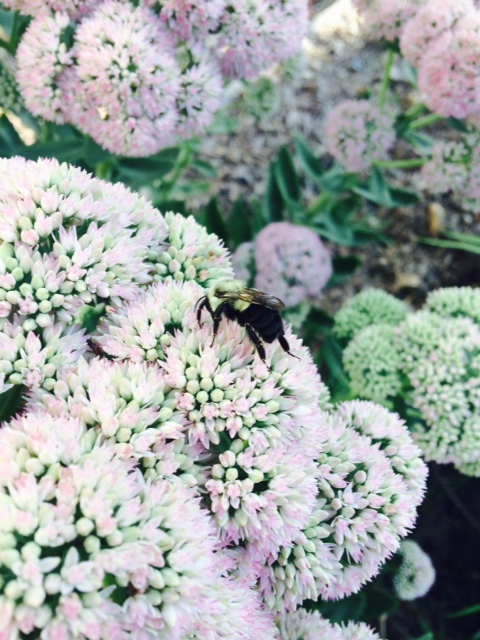 One problem I've had here the last few weeks is black snakes in the chicken house. Can you believe how calmly I just said that? I made the words as small as I could. I whispered it. Like I was saying that there was cheese in the chicken house, or a book, or a chair or something else totally innocuous. BUT NO. SNAKES. (That's the way I really feel about it. Big letters.) This is a big deal to me. Could be a deal-breaker for me. Two snakes in the last week. One large, one smaller. Neither poisonous. I am very freaked out about it. Hmmm, I have to say that I had noticed NO MICE lately. Now I know why. Argh. Anyway, snakes are the EXACT reason that I thought about NOT having chickens. All the snake stories. Snakes love chicken houses. Argh. I tell you what I should do. I should find a state park or zoo that does a snake class and I should take it to get over my dreadful fear of snakes once and for all. I am going to love them. Because, as you know, LOVE is the answer. It is true that I already like them, just not around me. I hate for them to be killed or die. I'd rather them just slither away. But there was one that was all laid out on the roost in the chicken house and there was no other choice. I was in the yard doing my snake dance and squeal while my husband took care of it. It is all I can do to go back into that snake den to gather eggs and feed my chickens. Do you know that the chickens didn't eat the parts that were left in there? Oh, is that too much information? Probably. Sorry. The other day I thought–well, they are not bothering my chickens, who are 20 times smaller than me, so maybe they will not bother me. My head hurts. This farmlife, whew, makes you grow for sure.
How about mums? Let's change the subject away from snakes to the flowers we all add to our yards and pots and porches this time of year. Lovely mums. Have you bought a pot yet?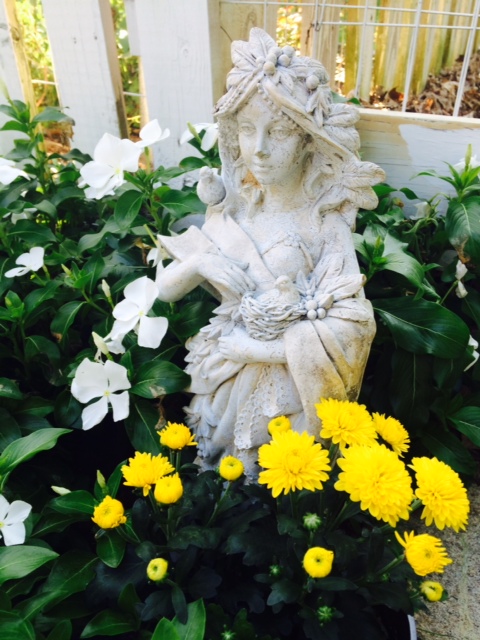 Another wonder of fall that I love, love, love is the fall garden.
For me, it is all about greens.
Kale, lettuce, endive, arugula, and on and on….
And also radishes and turnips.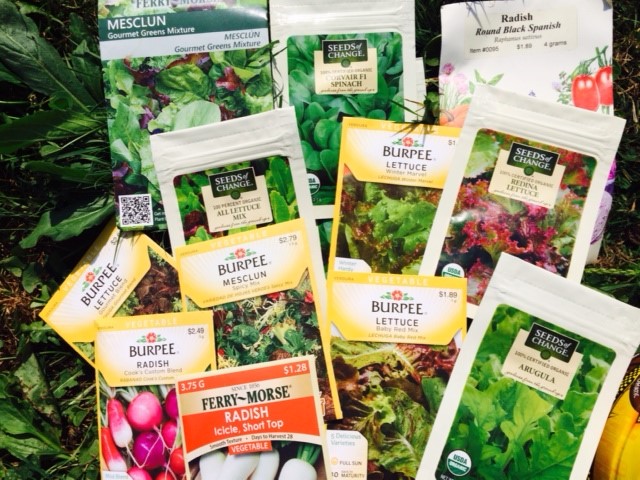 I know that I tell you every fall, but I'll tell you again. You must plant greens! It is so easy and the greens come up so fast this time of year. Here, you can see that I am using my manure fork for a garden rake. You loosen and level the soil.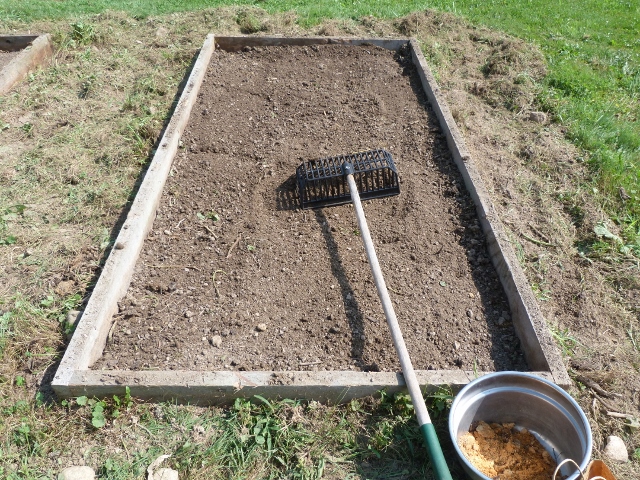 Get some seeds, sand, and a can to mix it up in. And then hand sow it. The sand helps with even distribution of the tiny seeds, a little secret taught to me by my Daddy.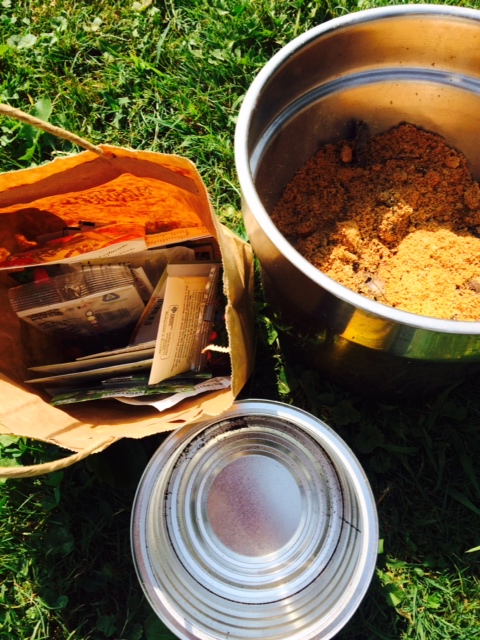 That dark thing in the upper left of the sand pot is a toad. When I put my hand in there I was like AH! But toads I can take.
Here we are. All done.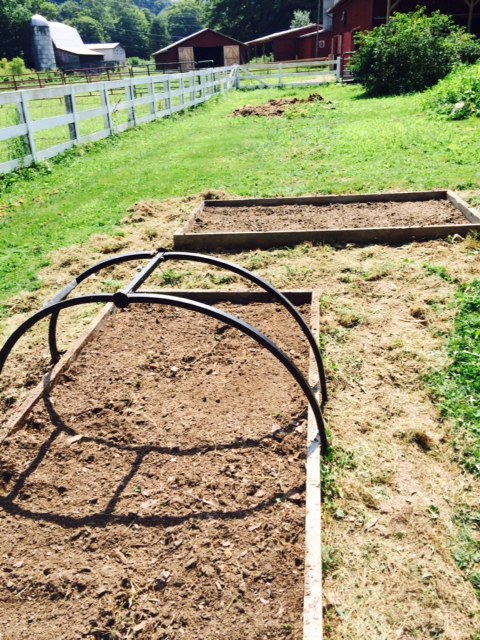 About ten days later, no additional work mind you, and I've got this: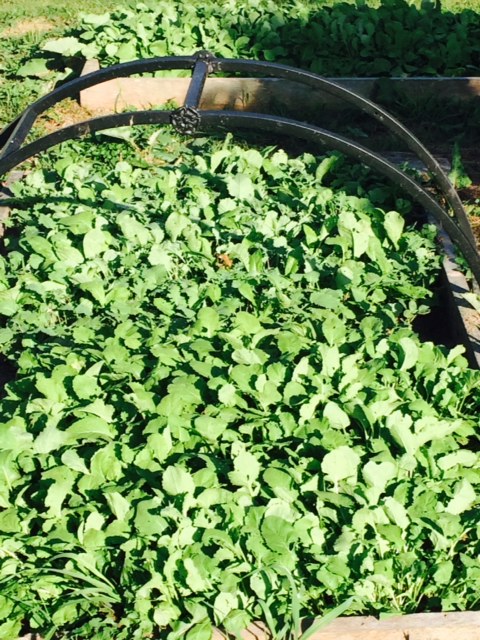 So much to enjoy this autumn.
"Try not to try too hard. It's such a lovely ride." (more James Taylor)
So, yes, this fall, let's ENJOY THE RIDE.
Speaking of a ride. Here's my ride.
I always write about My Soul Horse, Merlin, because, well, he is my Soul Horse. But we have three other horses. Cowboy Dan is the horse that I can ride without hitting the ground, which is a very good thing. Isn't he handsome? He's honest and easy. Good traits for a horse for a 52 year old beginner.
It's like this:
Cowboy Dan is simple; Merlin is complicated.
Cowboy Dan is steady; Merlin is temperamental.
Cowboy Dan is compliant; Merlin is stubborn.
Cowboy Dan is forgiving; Merlin is unsympathetic.
Do you see how it goes? My Ride is Cowboy Dan. But My Heart is Merlin.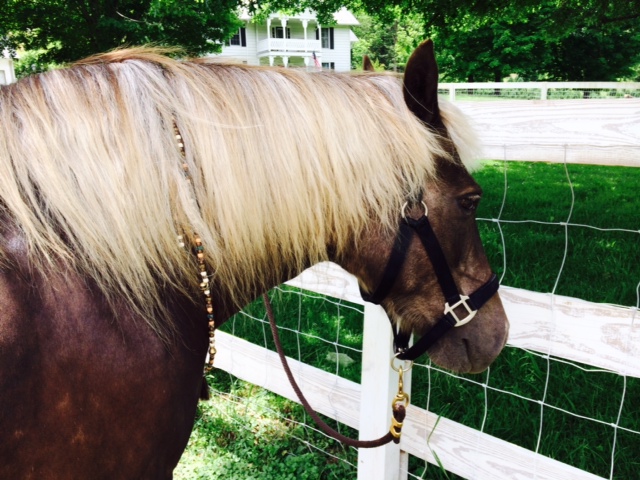 And yes, Cowboy Dan used to be known as Snickers. But when he became MY ride, I renamed him by combining the two names I always wanted to name horses. Cowboy, after the horse I went on a trail ride with. And Dan, after my Grandfather's favorite mule.
Ah, I just found the old post when I met Cowboy.
Hit me up with your autumn plans!
Until next time, Friends, savor the flavor of life!
Lots of love, The City Farmgirl in the Country, Rebekah