Dang, I'm sore. It's painful getting out of your comfort zone, isn't it?
Have you been outside your comfort zone lately? Won't you leave a comment and share with us how you've stepped outside? Or maybe you're thinking or planning some stepping out? Also, check out the POLL at the bottom of the post. Join in!
I think it's interesting how we each develop our own unique, personal comfort zones. Yours is different from any one else's. Where and when we feel comfortable is impacted by our experiences and environment. It's molded by what opportunites we've had and the ones we take advantage of. It's molded by our genes: what we are inspired and motivated to do; what we fear and avoid. My own personal comfort zone is very different from say, MaryJane's, who lived in the wilderness. Or from my Grandmother's, who raised ten children on a farm. I'm totally comfortable with confrontation or public speaking, but I generally stay in a fairly "cushy" (and cushion-y) setting, with my feet in shoes and firmly planted on the ground.
But. This weekend I decided to step out of my comfort zone and boy! Am I sore! Actually, I decided to push my whole family out with me too.
You see, we were at our Mountain Farm for a few days.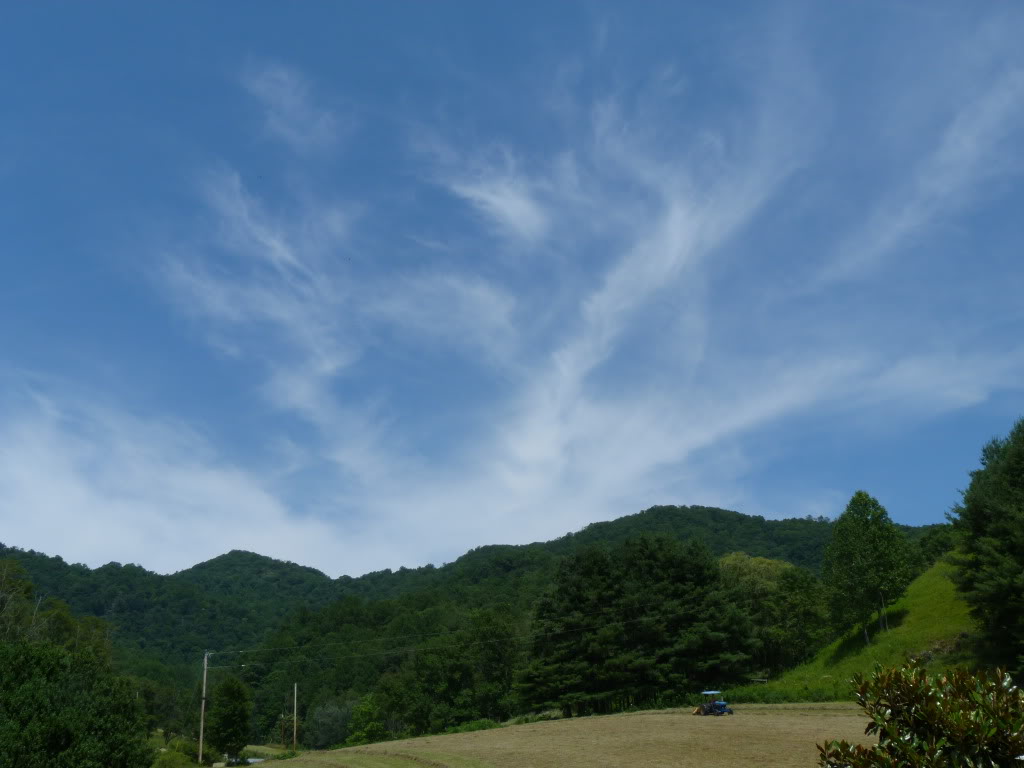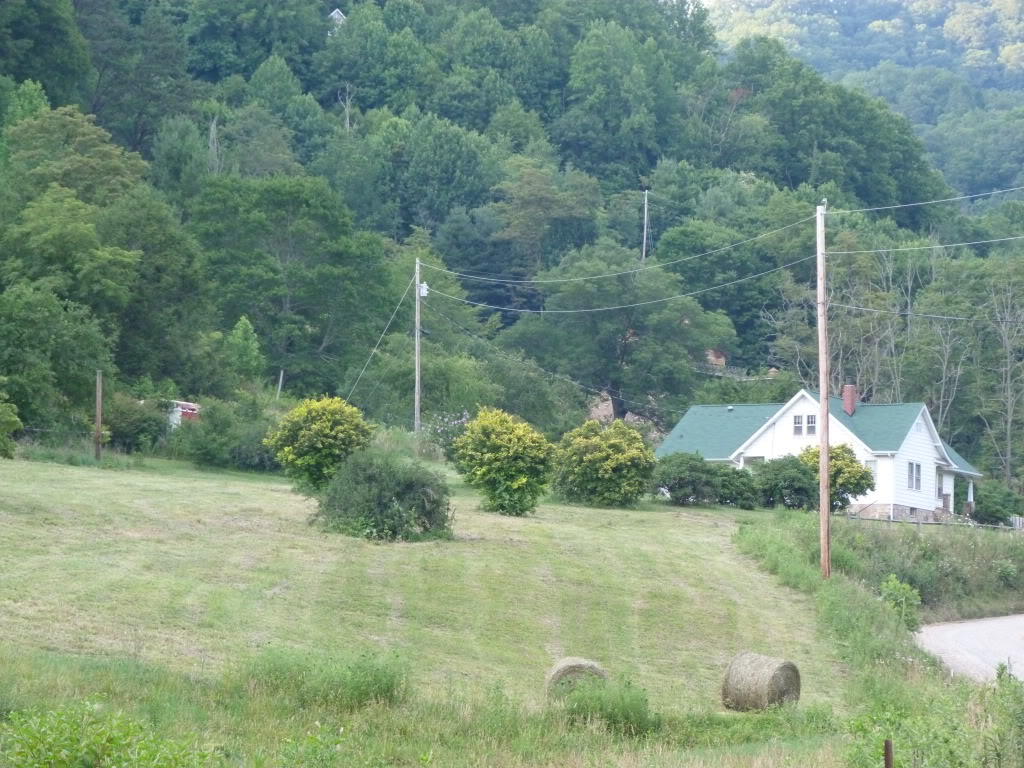 (Doesn't my new green roof that y'all picked out look awesome?! I love it!)
The first morning there, I woke up to quite a concert being performed right outside my bedroom window. The concert started before the sun rose.
Loud, clear, hopeful, sweet, persistent.
Long.
He sang and he sang and he sang.
So I got up, made a pot of coffee, and headed out to the porch. I sat in my rocking chair, trying to ignore the fact that rocking chairs need a good coat of varnish. I sipped coffee, listened to the bird, and waited for the sun peak out over the mountain. I work hard to think of nothing in particular while I sit here. I enjoy being unplugged, but find it's hard to be still. The sun came up over the mountain at 7:36 on this particular morning.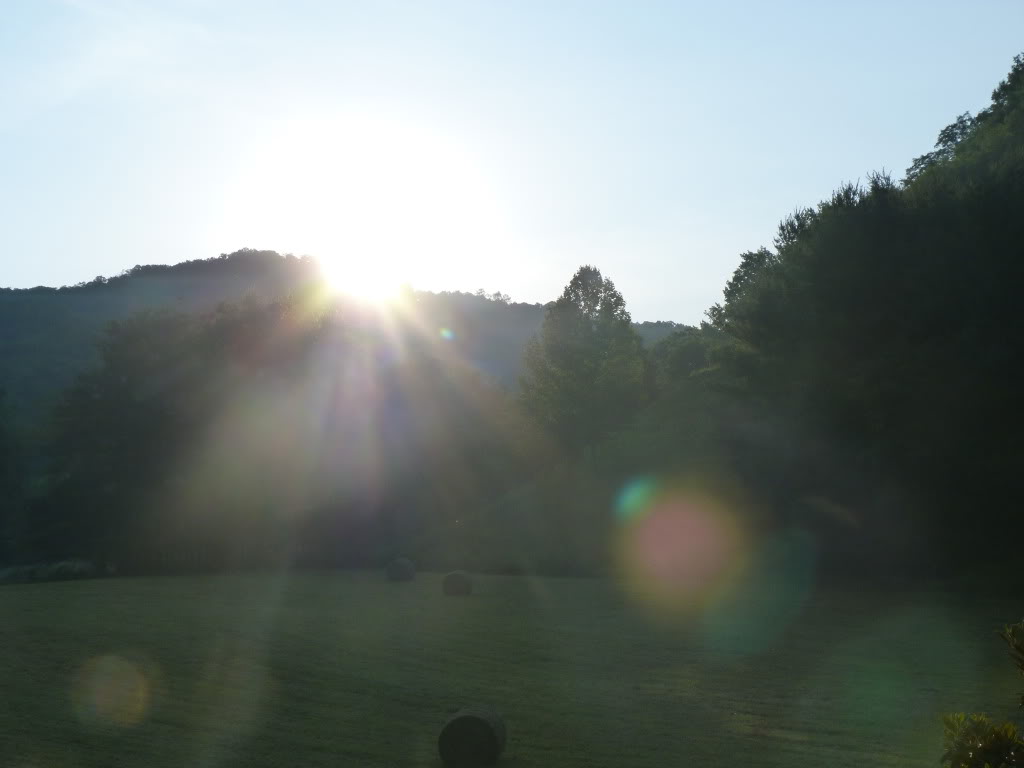 Once the sun came up, I took a picture of persistent singer.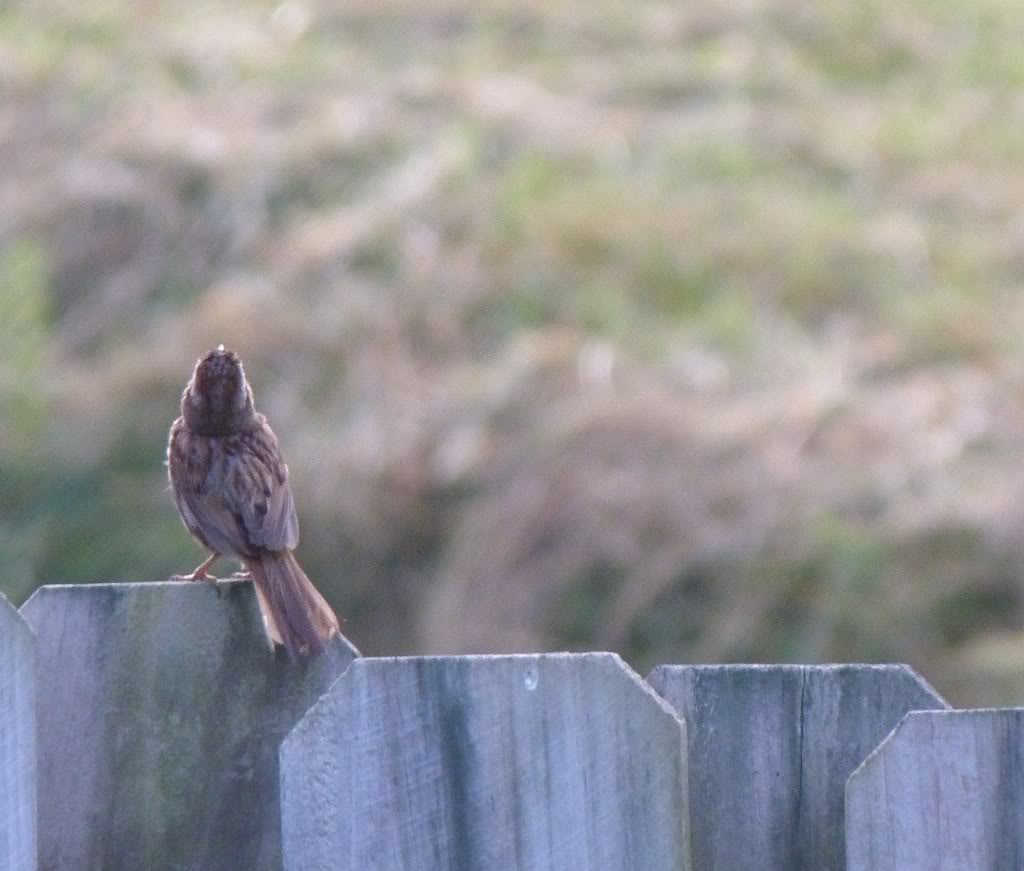 There are no words to describe the song.
Tweet? Nope. Twitter? No. Suhweeh-suweeh? No, not that either.
Here, the little bird sings as he lifts his head to the sun's warmth and light.
Soon he turned around to face me, singing all the while.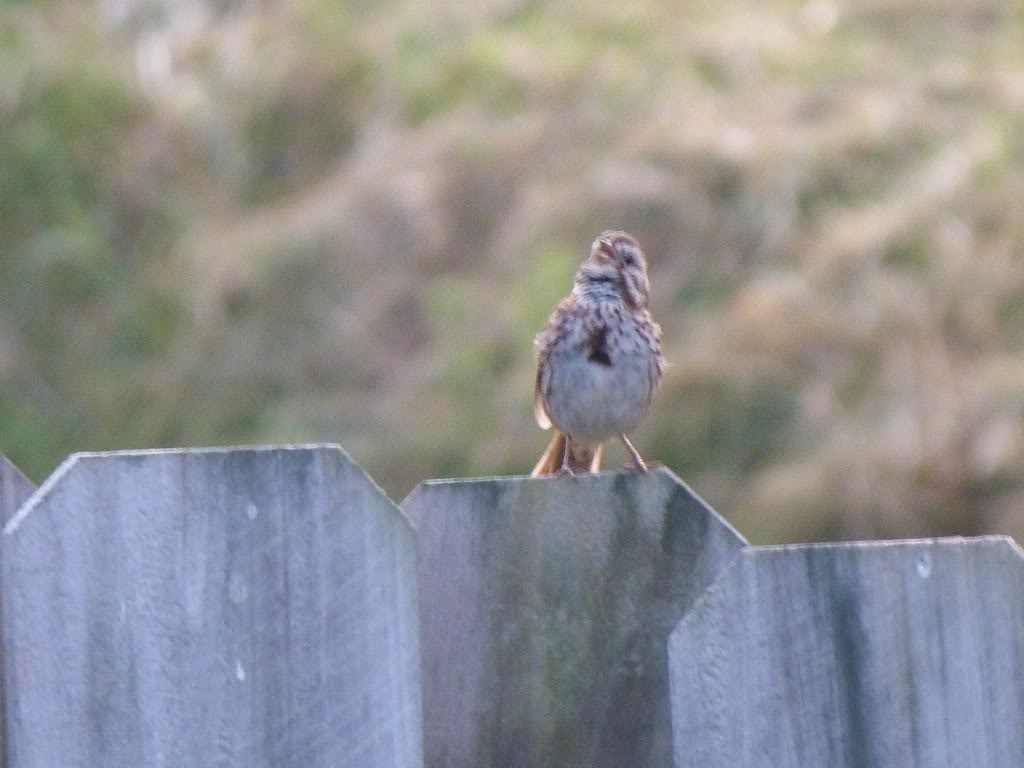 And that's when it hit me. A brilliant idea.
It is time to take my City-fied-Cowboy-Wanna-Be-Husband on a trail ride. He's talked for a long time about being a cowboy; but he's so busy being a venture capitalist that he never has the time to even wear the cowboy hat I got him 20 years ago or so. You wouldn't believe how supportive he is when it comes to my "Farmgirl" dreams; so, it's time I pushed him towards his Cowboy ones. And here we were, out in the country, the perfect place to be a cowboy. When he woke up, I told him about my horse ride idea. At first, he answered with much conviction, "No."
It's true; we had a lot of work to do at the Farm. It would take an awful lot of ignoring to drive down the driveway and away from all that needed to be done. But I worked on him, you know, with my womanly wilds and finally talked him into it. My 10-year old daughter was all over it immediately. She had taken a couple of horse riding lessons a few years back. (For some reason which I can't now recall; maybe it was for this day.)
I looked through the yellow pages and found a nearby horse stable. The first one was already booked. The second one had gone under with the economy. The third one was a charm. We set up a reservation. When the time came, we left the work at the farm, including varnishing the rocking chairs on the front porch where ideas simmer. We also left this: our neighbors working to take the hay off our hayfield to feed their cows later in the year. It is a great arrangement for both of us. Whenever I watch our neighbors work on or for their farms, I am struck by what hard, physical work being a professional farmer is. Truly.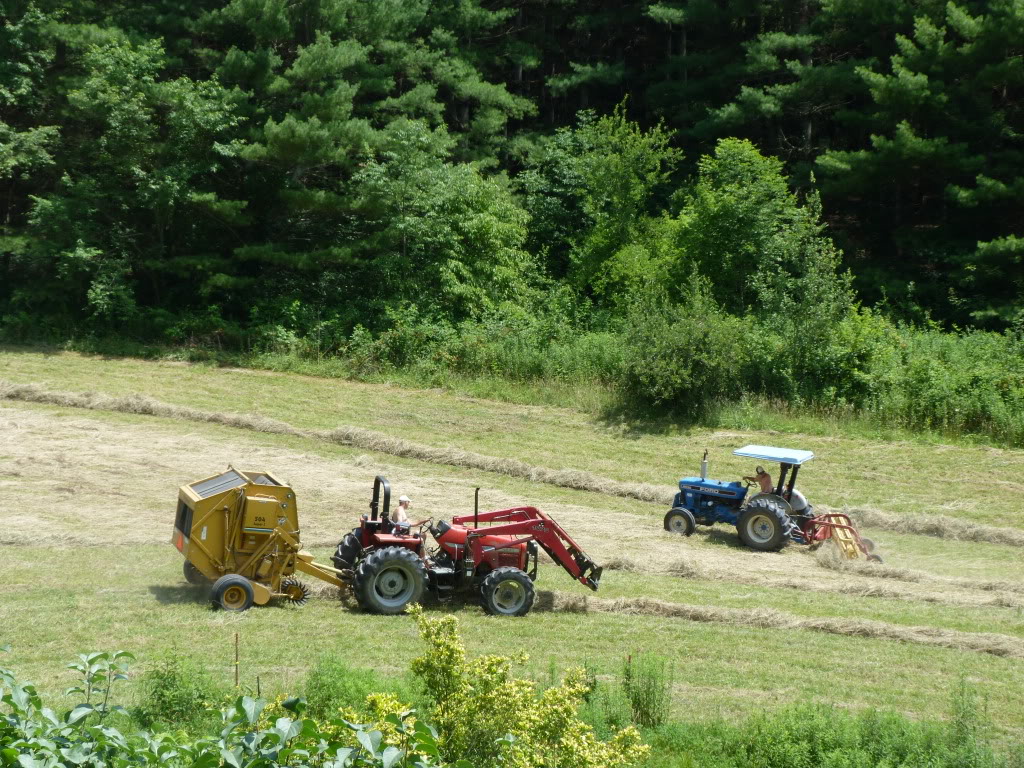 We took a right off a state road and drove right out of our comfort zone.
We drove and drove, down roads we'd never been down. We saw fly-fisher-persons in a river beside the road, waders on, poles in hand. We continued deep into a secluded mountain cove, down a dirt road. Where was this place? Were we lost? Should we turn around? Just when we were about to give up, we saw the sign for horse trail rides.
Now, before we go much further, I must confess: I'm no cowgirl. Y'all know that already, right? Sure, I have cowboy boots, but they came from the mall, not the horse store.
I have never had the opportunity to KNOW or APPRECIATE horses. They scare me. Big time. I confess further: I  envied the relationship Wilbur had with Mr. Ed. But, in general, if they don't talk, then horses are way too big for me for me to feel comfortable. I've heard that horses smell fear, so I must stink to high heaven to them.
On the way there, I asked my husband when the last time was that he rode a horse. "About 40 years ago," he said. He told us that when he was a boy, he loved horses and even took riding lessons. At some point, he was thrown off the horse and he never got back on. He became involved in music and sports.
Then he asked me the same question. For me, it had been well over 20 years, pre-husband. And I had ridden a horse just that one time. It didn't go well. I was on a "date" of sorts on a group trail ride. I hadn't admitted to my date that I had never ridden a horse before; I was just like "Sure! That sounds like fun!" When we reached the stable, I whispered to the guide, "Give me your oldest, slowest horse." He did; but even the oldest and slowest horse there wasn't old enough or slow enough for me. I did not have a great time on that ride. I couldn't keep the horse on the trail. Some things you can't fake. Knowing how to ride a horse is one of them. On that day, my horse and I spent a great deal of time apart from the group. He'd go off the trail, into the woods. Someone would come and guide me back out. I remember vividly how hard it was to stay on that horse when he would take me under low branches of trees. I was sure he was trying to force me off his back. He would also take off into a gallop with me barely hanging on for dear life. The guide finally tied my horse to his. Relief at last. I never rode a horse again.
Until today.
So here we are, about to get back in the saddle again. My husband, after 40 years. Me, after 20. This should be interesting. Doubt bubbled to the surface. What was I thinking? Why get out of the comfort zone on this particular day? The comfort zone is so….comfortable. And you know, safe. Something to be said for safe.
We got to the place and I noticed how large the horses looked. We met our trail guide and he helped us get ready for the ride. "Give me your oldest and slowest horse," I told the guide.
I didn't take my camera, knowing I couldn't ride a horse and take a picture; but, my husband took this with his ever-present Droid. Here's our guide, with my horse, "Cowboy," behind him.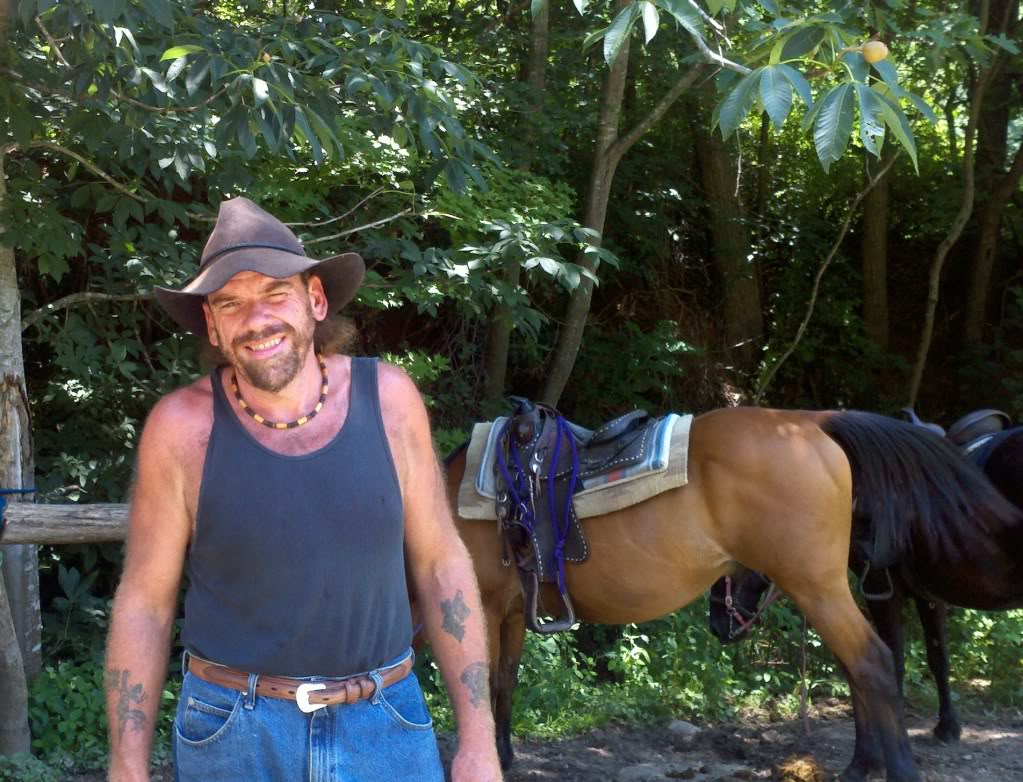 With a quick lesson in how to use the reigns (I was too nervous to comprehend what he was saying), we were off.
I don't know when I'd been more nervous and tense. Not only for me, but for my daughter, who looked tiny on her horse. The guide's daughter also went with us, thank goodness. She rode her horse, a mustang born in the wild, bare-footed. Yes, bare-footed. She must have been about seven and I'm sure I gasped out loud when she kicked off her flip-flops and jumped right on the horse. The two girls: our daughter and the guide's daughter.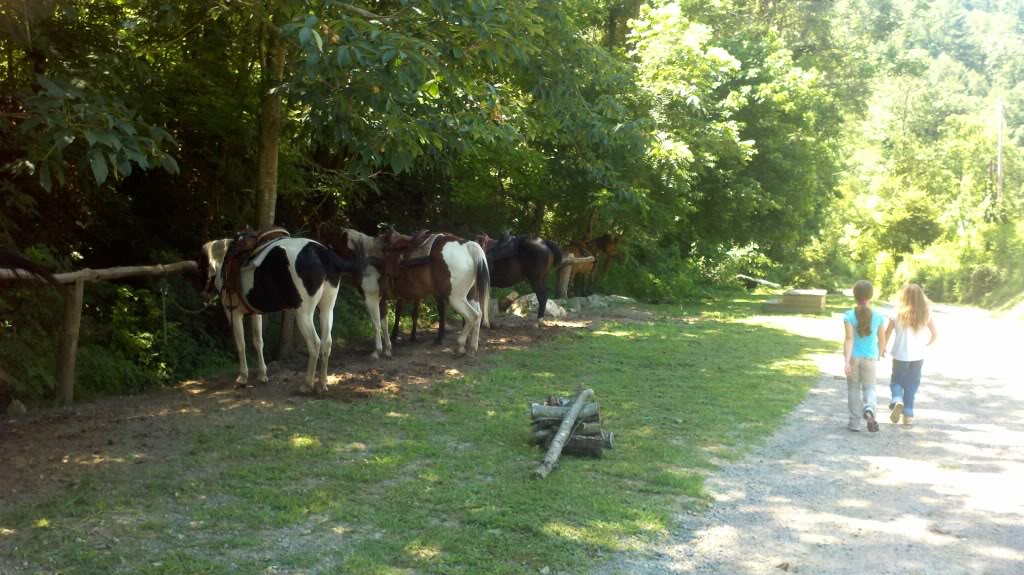 My husband got up on his horse for the day. He looked perfect: calm, in control, at ease, and cute to boot.
I brought up the rear and tried to make my grimace of fear look like a smile whenever anyone turned around to check on me. I held onto the reigns with one hand and with the other I tightly grasped that thing on the front of the saddle. Needless to say, my form was terrible. My feet were pigeon-toed in stirrups, my back was hunched over. I bounced and bobbed so much it felt like my teeth were bouncing too. I had no idea UNTIL JUST NOW—when I asked my husband and daughter why they aren't as sore as I still am—that you lift your rear up out of a saddle. At one point my husband turned around and hollered, "You okay back there?" I let out a fake "YeeHaw" instead of replying. What could I say? I'm dying back here? No, not only did I not want anyone to know it, I didn't want their JOY rides to be negatively affected by my not so joyous one.
We climbed rocky hillsides; we hugged steep drop-offs; we zigzagged down steep paths; we rode down dirt roads and through woods and across creeks.
I watch them up ahead; I see both my daughter and husband having a ball. Laughing and talking, visiting with the guide and his daughter. Bits of their talk made it back to me: the west and horses and boots and rodeos and life. All the while, each of them was somehow CONTROLLING THE ANIMALS ON WHICH THEY RODE.
And here I was, with the edge-rider: the horse that walked so close to every edge and drop-off that I thought we were going to slide down the mountain side before the day ended. The words inside my head, "Just a small mis-step of one hoof and…."
After a while, when my horse didn't throw me or drop me off the cliff, I developed an affinity for him. Here he was, dutifully taking me on this wonderful ride. I love the woods. I love the mountains. I love creeks. I thought about how my usual fear in those settings is of snakes; yet sitting high up upon this beautiful strong creature I am safe from those slithery, scale-y, and scary creatures. I noticed that the horse started to respond to my voice when I spoke to him in a sweet, loving tone. It was hot and steamy that day, he traversed difficult terrain in an area full of flies and ticks and briars. And here he was, carrying me along. Me, who didn't know what she was doing. He was patient and kind. And that's when the HORSE JOY struck me. During the rest of the ride, I adored this horse named "Cowboy." What wonderful, amazing, gorgeous, strong creatures they are. Now I know what you are talking about when you talk about your complete love for your horses. I get this whole horse thing now. I totally get it.
Now, don't think it was all roses after that. It wasn't. Even though I came to appreciate and yes, love him, I still didn't know how to ride him or control him. What happened the first time I rode a horse also happened this, the second time. I somehow once again got off the path. This time we were on a dirt road, thank goodness. Cowboy took me off into someone's front yard. He checked out the bird feeder and the flowering bushes. I tried to get back on the path: nope. When I realized I couldn't, I called out for help. And that's exactly what I yelled out to: "HELP!" When I got back with the group, my husband was laughing so hard he was crying.
What an afternoon we had. It's fun there, out of my comfort zone.
For me, it was the discomfort zone. I still have a sore back, a sore shoulder, and a very, very sore backside. The sore back and shoulder, by the way, got me out of weed-eater duty at our Farm, so I "ain't" complaining. And this morning? I caught my husband looking at horses and horse farms on the computer. So, you just never know.
What about you? Won't you tell us about a time you got out of your comfort zone? Are you sore?
It's short and sweet, won't take much of your time. Stop by a cast your vote. It will be interesting to see how many of us do or don't have a horse and how many have horse dreams. Or feel free to tell us below in the comments.
Until next time, Friends, savor the flavor of life!
And get out of your comfort zone if you get the chance.
Lots of love, The City Farmgirl, Rebekah