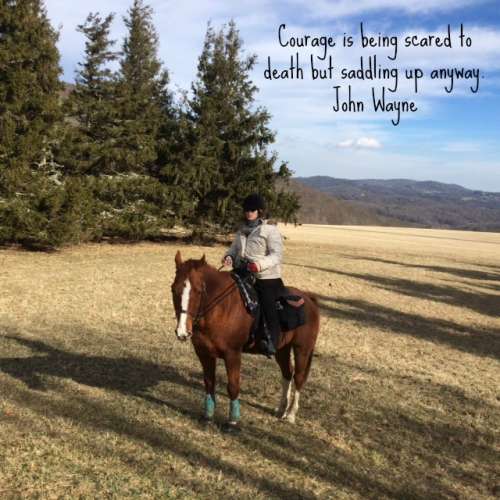 This is me (me!), the other day, out in frigid temperatures, riding Andre.
If you could zoom in on my face, you would see two things: fear and joy.
Well, I just did that. Zoomed in on my face. And I was wrong. What you see is intense fear. Only fear. No joy. My face is very serious and very scared. The joy, I guess, is deep down in my heart, down in my heart, I've got the joy, joy, joy joy down in the heart….
Even though I have 4 horses whom I love and care for, I ride none of them.
Why? Three reasons.
1. I don't know HOW to ride a horse.
2. My instructor moved away before I learned HOW.
3. I live in the middle of nowhere where I have not been able to find another instructor/trainer (or even person who knows how to ride) to help me.
Oh, okay. Four. At least FOUR reasons.
4. I love them, but I have a great fear of horses. Very great.

When I was home for Christmas, my Daddy reminded me of camping trip we went on when I was a young'un. We went on a horseback ride at the campground. My mom and I shared a horse. I was tiny and sat in front of her. Mom was scared to death and clinched onto me with a grip and fierceness that left me complaining. I guess her fear of horses trasnferred into my body that day because I've had nothing to do with them most of my life.
Until I moved to this farm. And DISCOVERED them. And got horse fever. My daughter (who is 13) tells me I'm like a 9-year-old when it comes to MY horse Merlin. Yes, well. That may be true. Here's what I gave him for Christmas. A sparkle-y halter. I want to get him some glittery hoof polish to match.
Okay, back to why I don't ride my horses.
Let me add Five. At least FIVE reasons.
5. When I found my soul~horse, Merlin, he came with some "baggage" which, when combined with my lack of skills, means trouble. Yes, I've hit the ground. Which is why I don't ride him….
Yet.
Merlin. My one, my only, my true Soul~Horse. I've always thought he had some unicorn qualities, very magical. Don't you love the way his mouth seems to smile? Hold on, I have to kiss the computer screen. xxxxxxx. (the "x" is the kiss part of OXO, right?)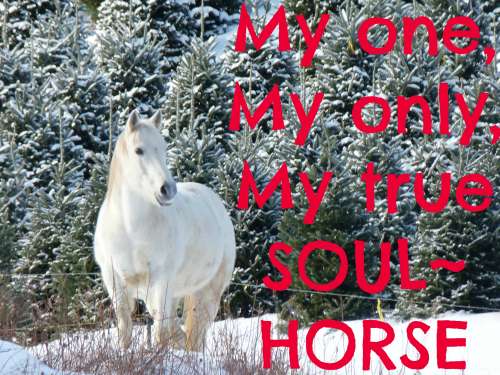 Sometimes I call him M & M. Magical Merlin, Magnificent Merlin, Majestic Merlin, Mersical Merlin, but best of all, M & M stands for
MY Merlin.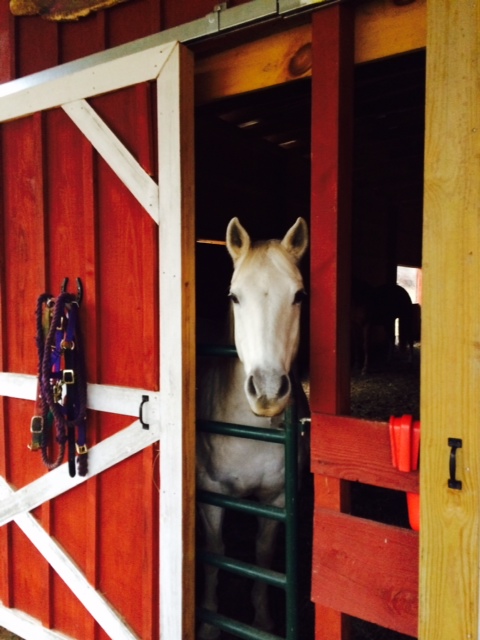 See, I always thought I would ride him one day. That was my dream. Saddle him up and ride him through the Christmas trees.
But when my instructor/trainer moved away, I abandoned that dream. Instead, I decided that I would just love him and care for him with my feet safely planted on the ground. No, I wouldn't dream of riding him any more. Because, you know. The ground is, like, hard. And I'm like, 51.
And then this wonderful thing happened to me. My instructor, who moved 2 hours away, called in late fall and wondered if her horse, Andre the Giant, could winter at our farm. She was moving to an apartment and needed a place for him. Do you know what this meant? She'd be coming to my farm again! YAY! Win. Win. Win. Win for her. Win for me. And win for Andre the Giant (because the animals here get some serious TLC.)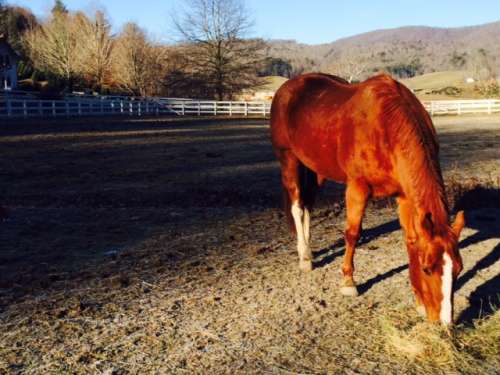 So. Then this other wonderful thing happened. My instructor asked if I'd like to trailer the horses to a beautiful place and ride on some well groomed trails. Who me? Who are you talking to? Don't you remember me?! I can't do that. I can't catch the horses or load the horses or trailer the horses or saddle up the horses or ride the horses.
Yes, you can, she told me. You CAN do it. Just visualize it and see it and set your mind to it. Besides, she said, she would ride my challenging and moody Soul~Horse Merlin and I'd ride her gentle, sweet, lesson horse Andre. Isn't my instructor the best? I know, right.
Early one morning we began the process of gathering everything we needed for the 10-mile trail ride. It was sunny, but cold, cold, cold. C~O~L~D! The day before, as I tried to get a "leg up" on the process, I got my truck and trailer stuck in the mud. That the opposite of a "leg up."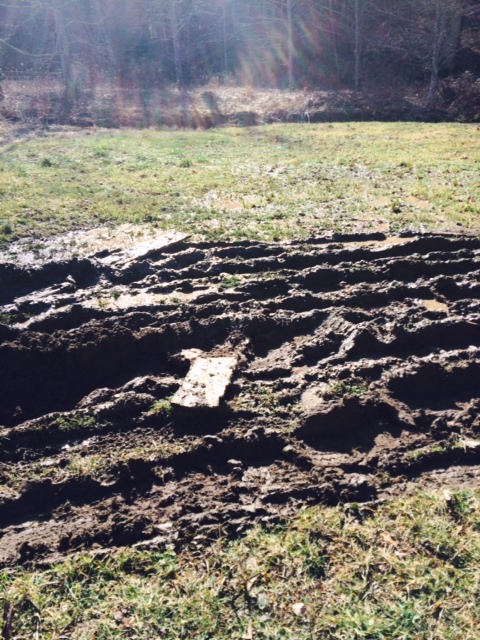 It looked like I'd not be able to get it out in time to go on the trail ride the next morning. BUT. Then a neighbor came and rescued me. AGAIN. Yes, again. What would I do without my generous and kind neighbors???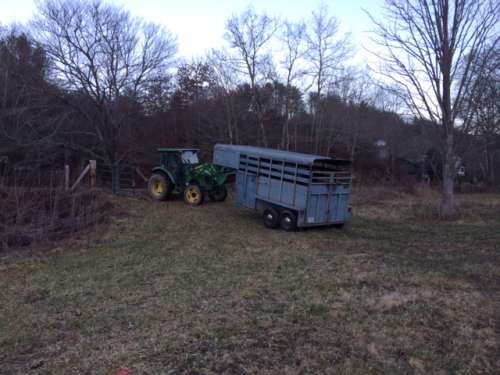 The next morning it took quite some time to load everything up. Whew! Saddles, horse boots (Merlin doesn't wear shoes), saddle pads, helmets, bridles, halters, hay nets and hay, girth, etc etc etc. Horses need lots of stuff. And same for me. I had layers and layers of clothes. Leggings and long johns and riding pants. Two pairs of socks. Two pairs of gloves. Hand warmers. Foot warmers. A thin toboggan for under the riding helmet. Lots of layers on the top. Underneath my heavy barn coat, I wore a fluffy fleece hoodie, a thick sweater and my riding shirt. And underneath that, I wore a special t-shirt (starring my very own unicorn, horse Merlin). My daughter has a matching one and she wore it to school that day as well, for my good luck: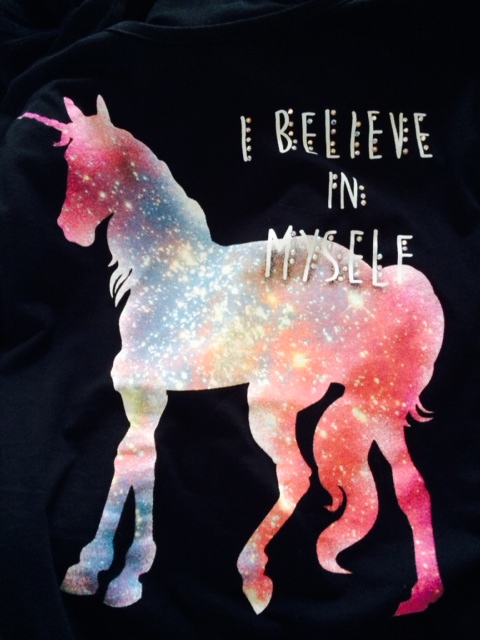 And I wore some pretty sassy riding boots that I've had for 2 years, but have never worn.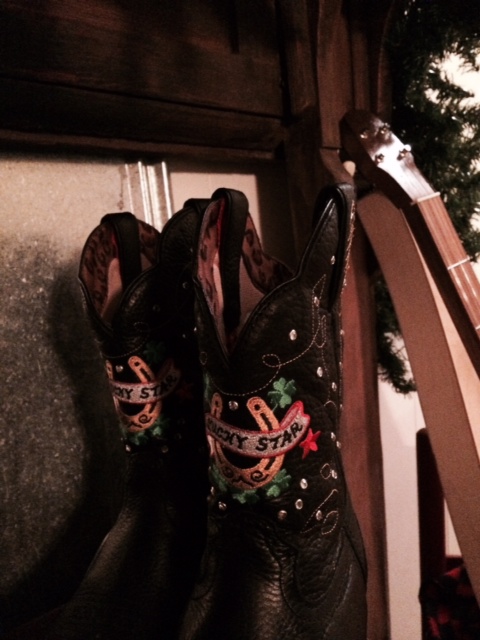 We finally got all the stuff and the horses loaded and headed down the highway. WooHoo! I stayed in my lane the best I could and tried to miss pot holes and bumps. What an adventure I was having already and wasn't even to the trail ride yet!
Our destination was Moses Cone Park, located in Blowing Rock, NC.
Oh. Y'all.
Moses Cone Park is a historic site located on the Blue Ridge Parkway. There are over 3600 acres of forests, meadows, wildflowers, orchards, lakes. A very rich and successful man, Moses Cone, purchased this land for his "summer" home. And what a "summer" home it is!
It is a grand house that was completed in 1901. It is on the National Register of Historic Places. (here's the scoop on who Moses Cone was.)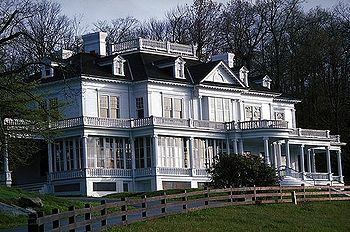 Image from wikipedia. When I was there, the grass wasn't green. haha
The coolest part (to me) was one of Moses Cone's many hobbies. He enjoyed carriage rides. So he cut over 26 miles of carriage roads throughout his property so he could ride around in his carriage to see the land and beautiful views. Today, those roads are used for horseback riding.
So my instructor gathered a group of her cool, horsey friends and we rode the carriage roads.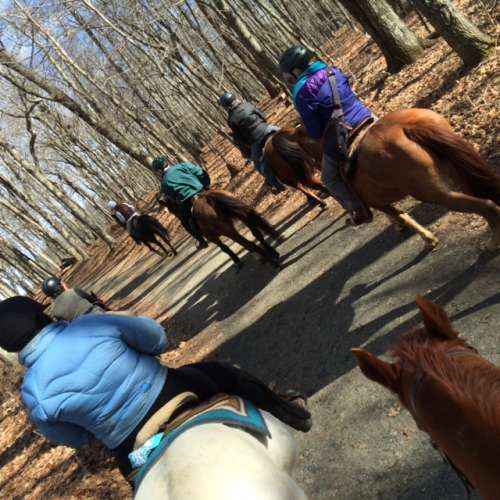 That white horse is my Merlin. And riding him is my instructor, who, did I mention, rocks.
I am bringing up the rear, which is a position I like, with Andre. I took this photo through his ears.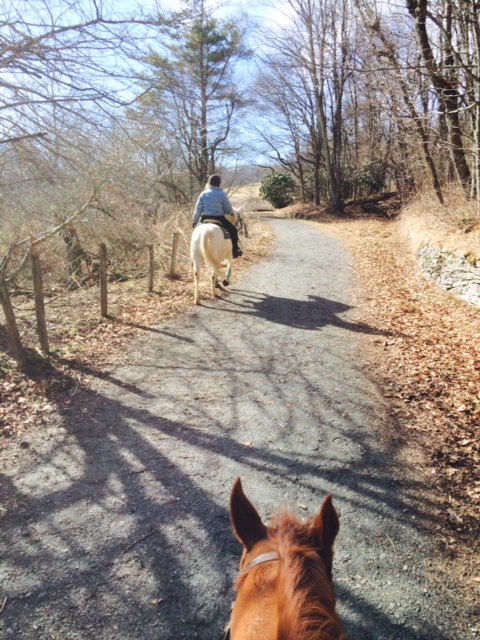 One thing I really liked about this ride was that I got to admire my honey-bunny Merlin all day.
At this point, all the other riders were well ahead of us. They even galloped across an open field. Not me. I like the Clip, Clop, Clip, Clop. I'm more of a MOZEY-er. "Let's mozey on down this trail…." I had one goal for the day: STAY IN THE SADDLE. That's been my mantra since a good friend of my husband's, Ed, gave us a beautiful saddle. I told him I kept falling off the horse. He said that I need to just STAY IN THE SADDLE. So that was my goal on this day. Stay in the saddle, stay in the saddle, stay in the saddle. Especially since Andre is huge. Looooooooong way to the ground.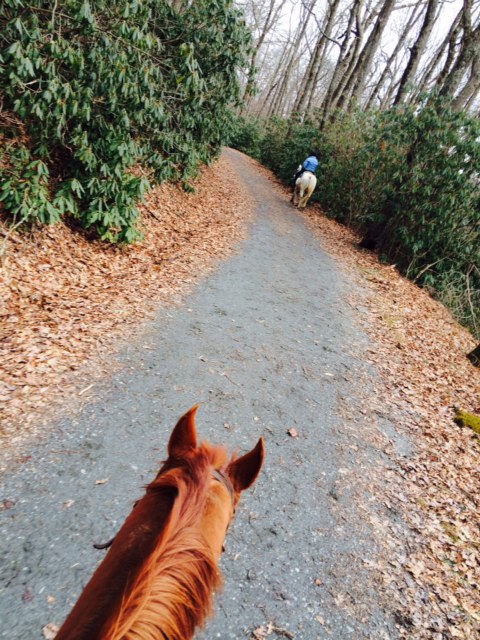 And then my instructor turned around and said, "Are you read to move out?"
I didn't even know what that meant. Move out? What? Pick up speed, she told me. Yeah, might as well. So we moved out. And I didn't fall off. And it was like a dream.
I couldn't believe the way it felt when the horse went into a "canter." His head comes up so high I thought we were going to fly into the air. I hollered with delight.
I took tons of photos with my phone, but they all pretty much look like the two above.  Andre's ears and Merlin's backside. One day, it will be Merlin's ears and Andre's backside because I'll be riding that boy! And together, we are going to fly.
Hold tight to your dream. Don't let it slip away.
It was one of the most AWE-filled days of my life. I LOVED it. I especially liked riding in the cold. Funny thing is that when we first started, at the bottom of the mountain, I got warm in all my layers. I thought, "I'll just take this heavy coat off, throw it in the woods, and pick it up on my way back down." I am SO glad I didn't do that. Once we climbed the mountain, I was a-FREEZIN'. The wind was blustery and frigid. All our faces were red and wind-chapped. It was a blast!
Here's the cool group of women at the hitching post where we took a break.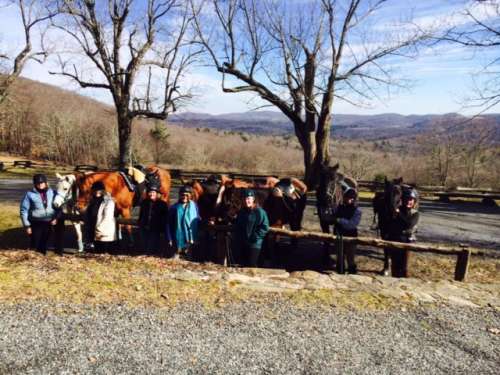 My instructor and Me. Merlin and Andre the Giant. At the Moses Cone Manor.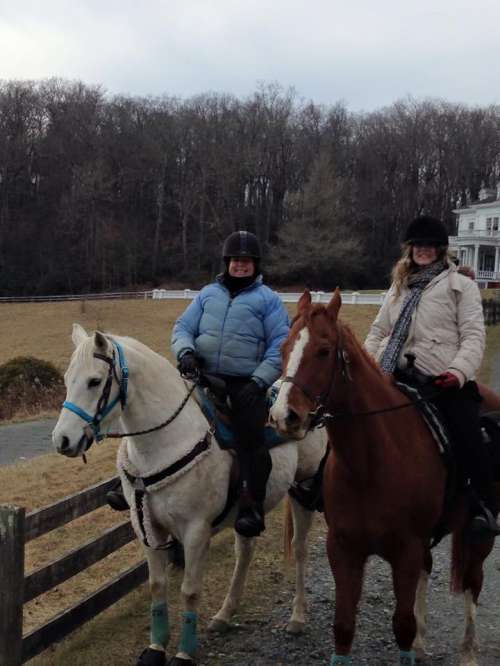 Here we are, just Me and My Soul~Horse.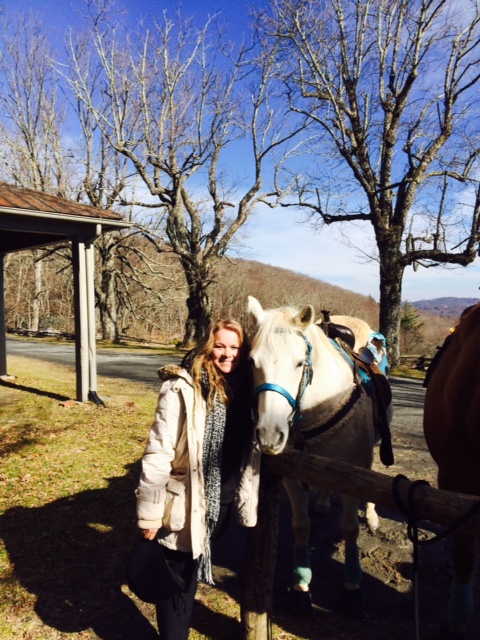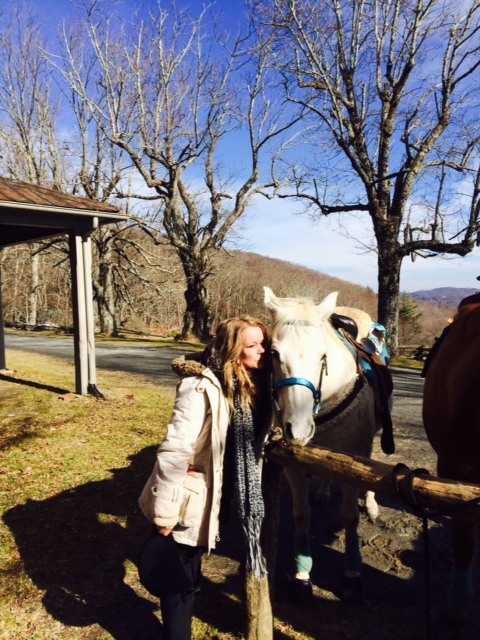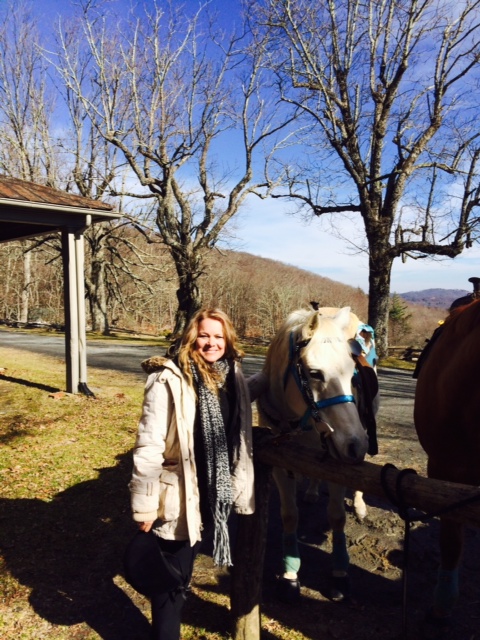 That photo series pretty much sums up my relationship with my Merlin. See the way it is? Yep.
Anyway, it was one of the most incredible days of my life. No joke. The beauty of the place was incredible. The other women on the ride were friendly and fantastic and patient with this newbie. At one point as we rode in the forest, the big group had divided up into several groups of women. I had one group ahead of me and one group behind me. I just kinda hung out in the middle ALONE enjoying the ride. I could hear the chatter and laughter of both groups, but I just stayed there and soaked up the moment and movement of the horse. In that place of clip, clop and contemplation and joy, I got tears in my eyes. Check me out. Who would have thunk? Out here riding a horse on a magnificent trail. I am staying in the saddle, Ed! Baby steps, I know, but I even drove the horses here, I mean COME ON. My life has sure changed from a few short years ago. This is spectacular. I admired the tall trees and the wild rhododendrons. I think about nature and God and the gift of this very day. I recall a quote from Emerson that was on a sticker my mom recently sent my daughter. "The wonder is that we can see these trees and not wonder more." So I wonder and gaze and immerse my thoughts in this moment, every single detail of the moment, yes, this incredible moment.
When another rider caught up to me to chat, I wiped away the tears and blamed them on the cold wind. ("damn wind")
Life is good, My Friends. Make up your mind to do something and DO IT. You can. And if it brings a tear to your eye? All the better.
ENJOY the ride.
Until next time, Friends, savor the flavor of life!
Lots of love, The City Farmgirl learning to live in the Country, Rebekah
ps One of the good things about having a blog is that I can go back and remember what I did and how I felt THEN. I know I wrote one about a trail ride I went on before we moved to a farm. Let me find that post. Here it is.