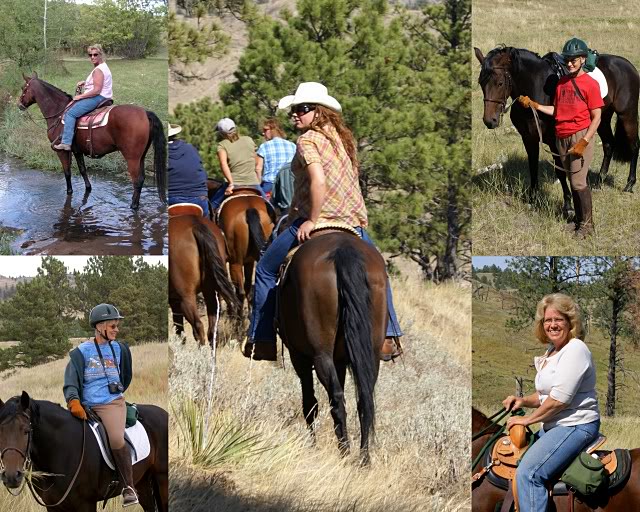 Once upon a time, a horse-crazy gal had the crazy idea that it would be fun for friends from all over the country to meet and ride together. Several years later, the ride has become an annual event when summer is about to give way to fall. The location setting is the largest park in the U.S.A. that specifically caters to "horsefolk" – Fort Robinson State Park, located in western Nebraska. All in all, there are 22,000 acres that offer miles of smiles for trail riders! Swing your foot in the stirrup and join us for a virtual ride back into history.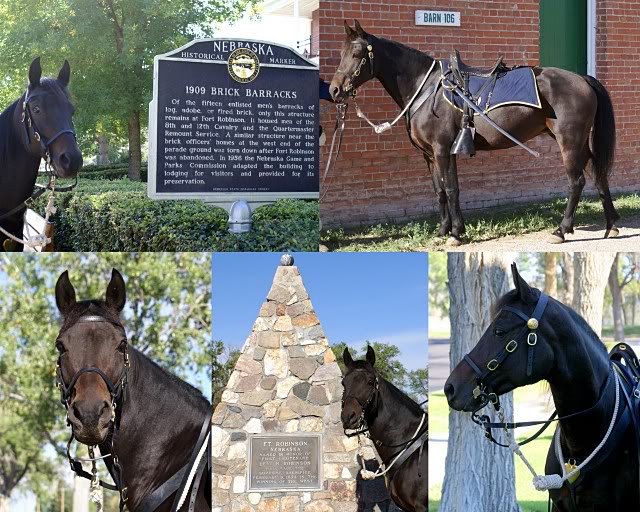 This is the history lesson part of the tour. In 1874, The U.S. Government authorized the establishment of a military camp at the Red Cloud Indian Agency near what is now Crawford, NE. The area was once home to some 13,000 Lakota Sioux. The Indian chief, Crazy Horse, surrendered and later died at Fort Robinson, marking the end of the Native American horse culture of the plains.
Fort Robinson later became the world's largest Cavalry Remount depot and at it's peak was home to 11,000 head of horses and 7,000 head of mules. During World War II, the fort was the site of the military canine training center as well as a prisoner-of-war camp for German soldiers. The fort also served as a training base for U.S. Olympic equestrians and was known in military circles as the "Country Club" of military installations. In 1955, a new chapter for the fort began when it was acquired by the Nebraska Game and Parks Commission. The scenery is the "High Plains" at it's best…rolling hills of grass divided by ripples of pine ridges and striking rock formations.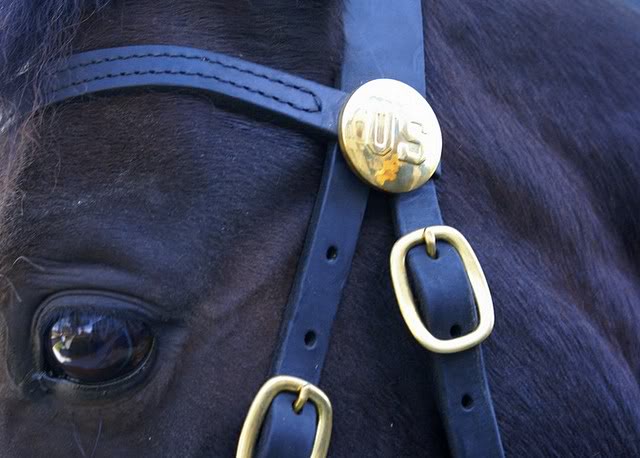 The fort complex was restored to historic perfection and has been beautifully maintained. The officer's quarters, barracks and assorted buildings serve as present day guest quarters. "Fort Rob" isn't just for horsefolk though, thousands of people enjoy the park as an affordable and ideal site for family vacations, reunions and various other get-togethers. There is an indoor swimming pool, stream fishing, two museums, and a lovely golf course just a stone's throw away. To learn more about Fort Robinson, visit
http://www.stateparks.com/fort_robinson.html
Ok, the stage has been set and you now know why "Fort Rob" is the perfect getaway location for a bunch of horse-crazy friends. However, all vacations require some prep work beforehand so that you can comfortably wave bye-bye to everyday life for a few days. If you have a garden, the end of summer is when the bulk of your vegetables and fruit are ready to can or freeze. And, so it was with me, but even more so for my friend, Anita (below), who is a 10 on the farmgirl scale! She has two milk cows, sheep, beef cattle, poultry, a huge garden, an orchard and hundreds of acres of hay meadow. Needless to say, she had a lot to get done before we left.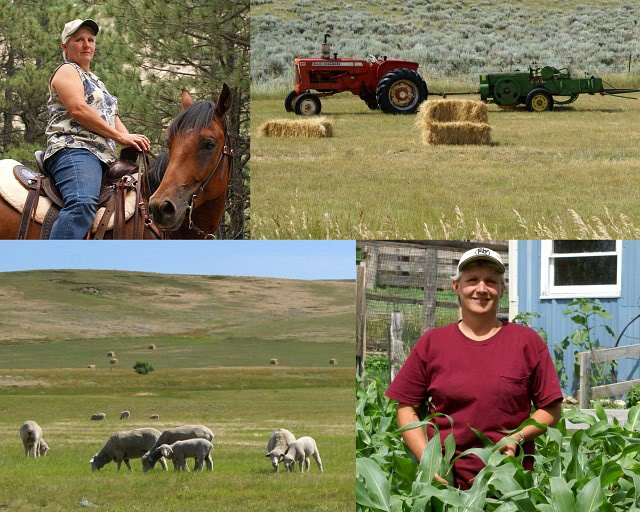 The last detail was to relax, knowing that our dear husbands would make sure everything got watered in our absence. Anita and I both are waiting on tomatoes; the fact that they're running late this year worked out just right. I pruned and then pickled some small green ones before I left and cut off a lot of leaves too in the hope that it would hasten the ripening time.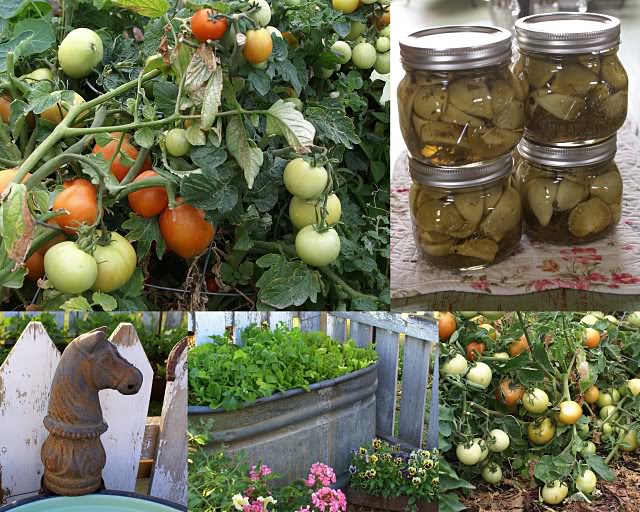 Our annual trip to the fort is planned well in advance and my long-time galpal, Linnea, always makes reservations for our cabin and stalls. Linnea, by the way, is the one who several years ago dreamed up this "meet & ride" shindig for trail riders. This last ride was our 8th year. In the top photo, she is wearing a pink blouse and resting her horse in the creek. Alrighty then, enough chit-chat…let's go ride!!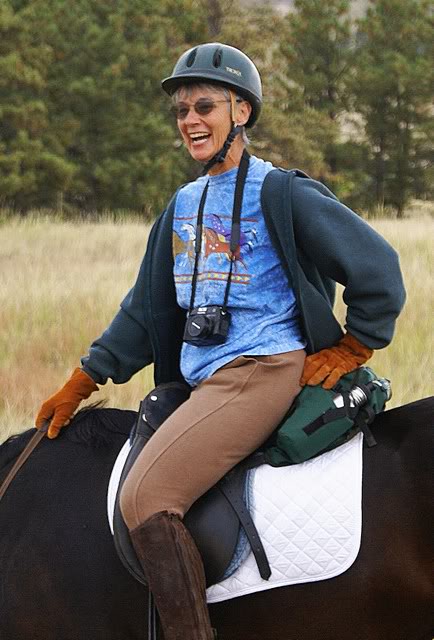 Chestine and Teri drive all the way from northern California with their horses for the ride.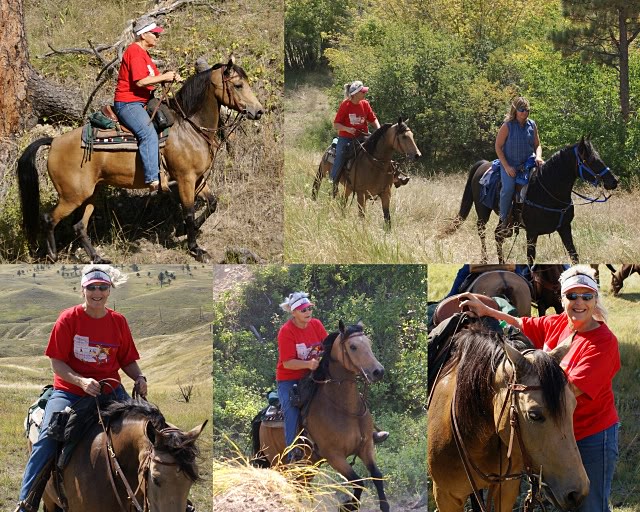 Other friends sometimes fly in to Rapid City, SD and then get a rental car and make the drive of a couple hours to the park. Several of us have brought extra horses for those who fly to the ride.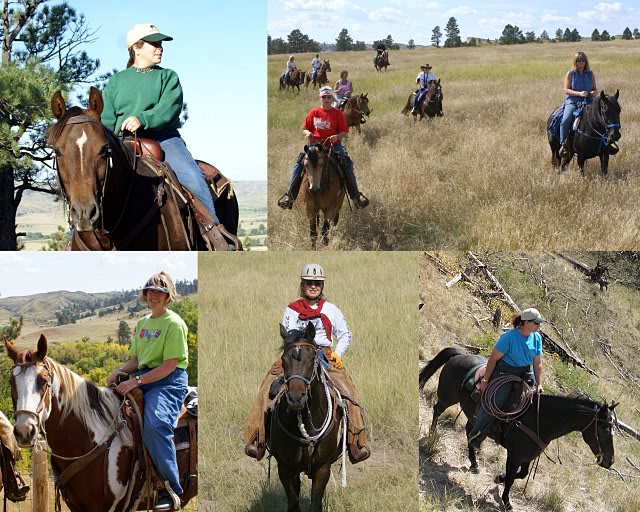 Many of us have Morgan Horses, but not everyone rides a Morgan. We're horse lovers at heart (ALL horses) and the best breed is a good horse no matter how the pedigree may read. We don't care if you ride a purple dinosaur.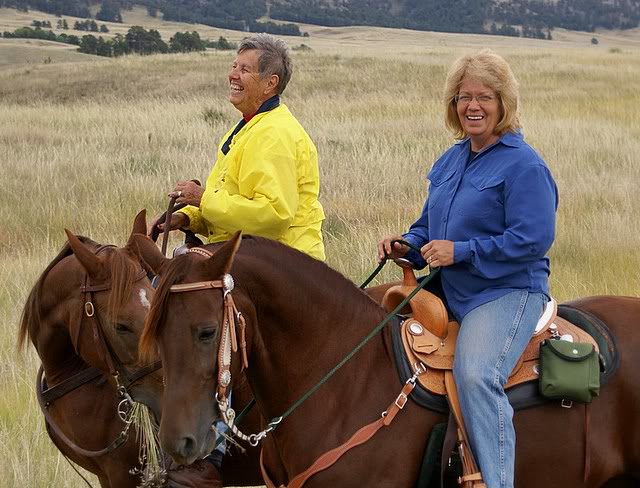 The fun begins at daybreak when we go to the barns to care for the horses. Then, we grab a little breakfast and then we RIDE. We may ride for a few hours or several hours a day and sometimes twice a day. We eat too much, laugh too much and talk too much!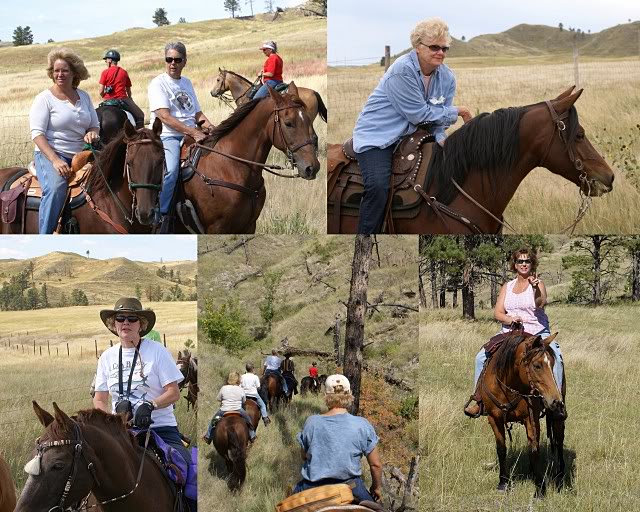 The ride focuses on horses…sort of… but our beloved horses are only part of it. They're the vehicle (literally) that enables us to spend time with old friends, new friends and friends we may meet for the first time at Fort Rob. We share more than an addiction to the mixed perfume of horse sweat and saddle leather. Oh, and the relaxation…the Cicadas sing you to sleep at night and our horses nicker greetings to us in the morning. Have you ever heard a horse walk on real cobblestone? The floors in the stable barns at Fort Rob are the original cobblestone. To a horse lover, the sound of a horse walking down those old aisles is soul music.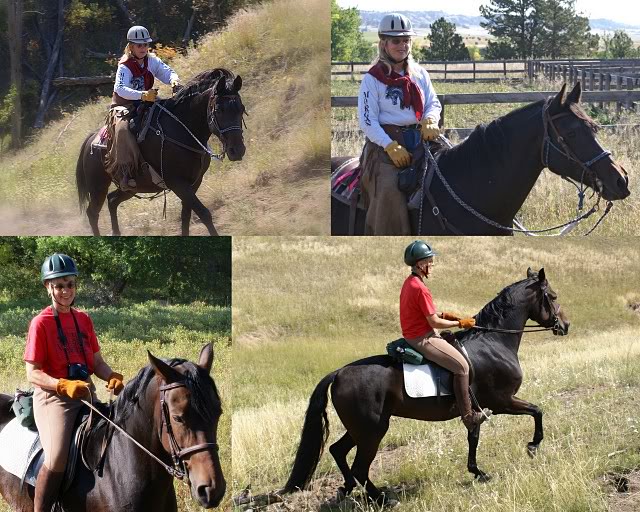 As individuals, some of us ride western, some ride English and the rest of us are a blend of whatever fits us. We have in our group: advanced dressage and western riders, ranchers, show horse gals, drivers, trail riders and rookie riders too. We come from every walk of life…nurses, oil-field workers, veterinarians, accountants, school teachers, ranchers, lawyers, truck drivers… etc etc.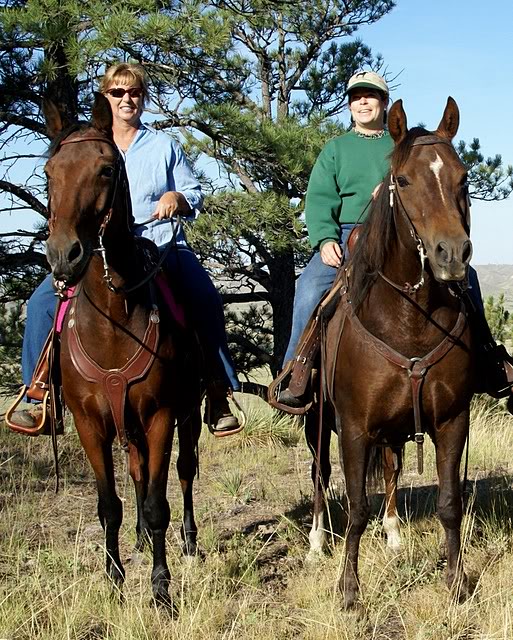 Some of the gals bring their husbands as well as their horses. The ride isn't a "No Boys" project, but the numbers are rather one-sided. There are a LOT of horse crazy girls out there who never outgrew being infatuated with horses. Many an old-time cowgirl in the era of the Suffragette knew that "peace of mind", adventure, and a very real sense of freedom can be had on the back of a fine horse. When you look at the world from the saddle, you're three feet higher off of the ground and somehow it offers a better view of the world and even of your own life. Well, it is true for some of us anyway. Winston Churchill said "The outside of a horse is good for the inside of a man." He was so right. (Above: Linnea and Sue)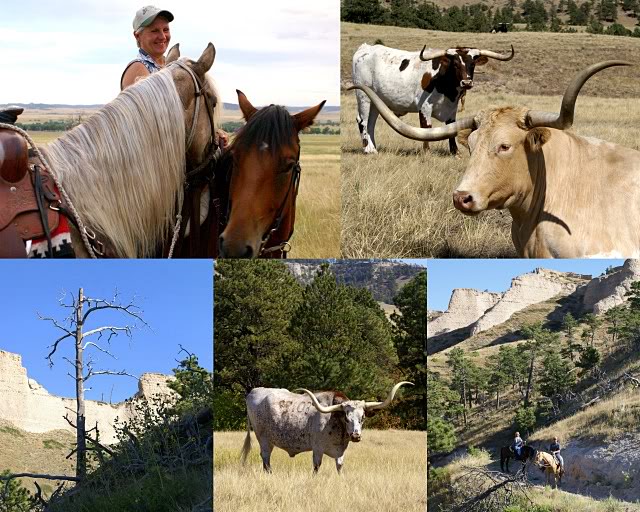 My 3 year old filly, "Ribbon" was our youngest "attendee" this year. Going to Fort Robinson was her first big trip away from home – her maiden voyage. She was as sensible as an old veteran, never took a bad step…a horsey angel and I'm blessed to call her mine. Below: Anita holding Ribbon while I took the photo. Anita is riding "Mac", Ribbon's older half-brother.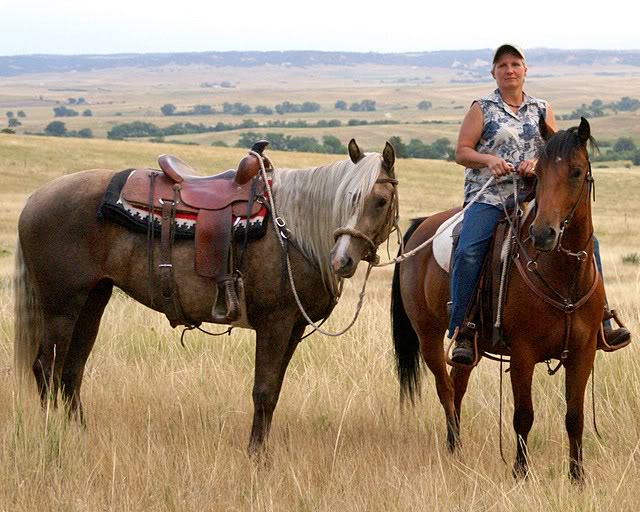 There was another item on my weekend agenda. I ordered a custom saddle awhile back and I needed to have the fitting appointment so that the order can be completed. Sean is a friend of Linnea's and he is a saddle maker for Double H Ranch Saddles (CO). He also owns a Morgan Horse (Sammy) that Linnea bred. Anyway, Sean came to Fort Rob with Linnea for the ride, but he also came to get my saddle order fully underway with a "fitting". After I sat on the saddle tree several times and answered his questions about pressure points, he then did the preliminary work by rasping the tree to fit my "bones". In the beginning, there are all kinds of pressure points and the goal is to eliminate them so that in the end when you sit on the bare tree, all you feel is even contact and "balanced".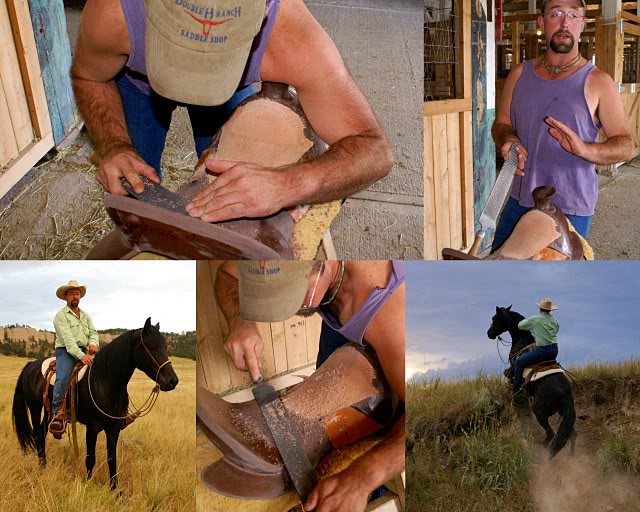 Sean is an artist in cowboy clothes. His leather tooling is…is…well, I will just have to show you later when my saddle is done. Words can't describe his work, nor can I make any of the most complimentary words I know fit his remarkable gift. I AM SO EXCITED to get my saddle. It will fit my body and my horse's too…and it will have tooled/carved pansies all over it. Below: Sean and Sammy at sundown. It was so hot that we rode in the evenings til "dark thirty". The moon was full and the prairie was "lit up" because of the moonlight shining on the tan grass.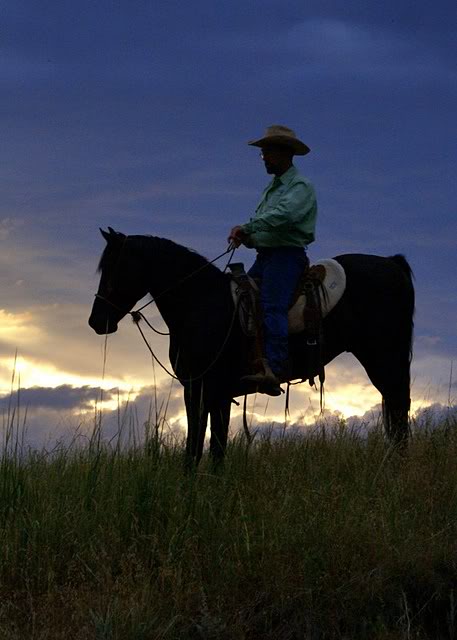 As I finish this article, I'm sitting at my desk in my pajamas and it is 1:30 in the afternoon. My husband didn't think I had the guts to tell you :o) …but, there it is. I'm absotively, posilutely pooped via too much fun. Lucky for me, there is no dress code for a blogger. Ribbon was happy to be home and so was I. There is no softer pillow than your own. Now, on to canning tomatoes. Ya know what? They can wait, they'll just be a deeper shade of red tomorrow.