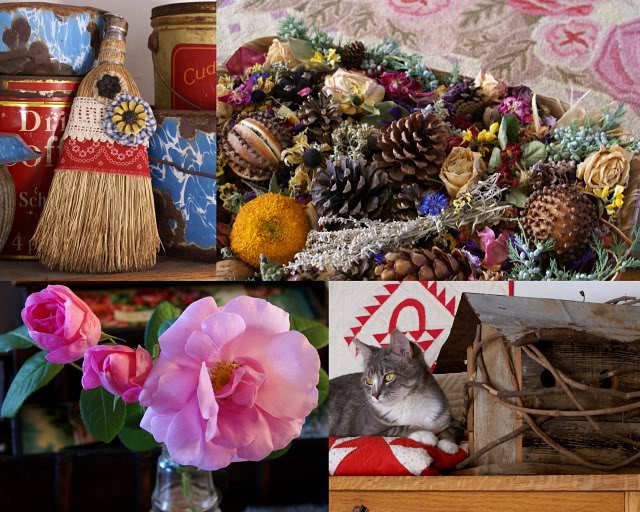 Summer is when bees are as busy as bees get and this summer has been a busy-bee summer for me. Question: How come I seem to be busier now than when I was younger? I thought slowing down a little is what us "vintage" farmgirls get to do. Turning 50 a few years back was a wake-up call. I was suddenly aware that my age was no longer just a number. If you're 40 or younger and want to see what lies beyond…well, I'm on the trail ahead of you and I found some cowgirl "pearls of wisdom" to share.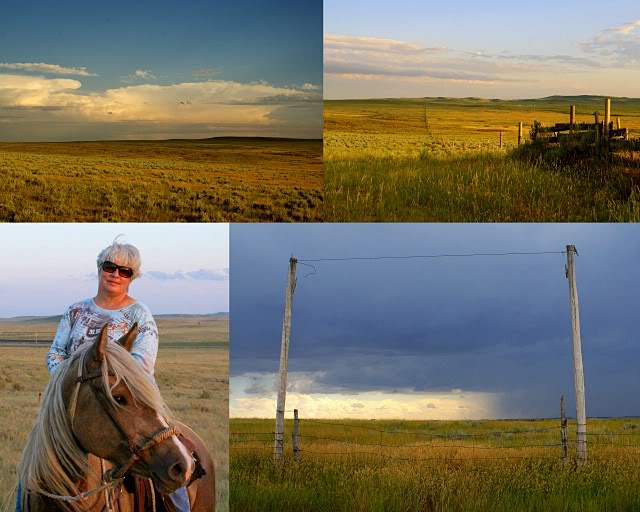 Getting older doesn't sneak up on a person, but you can feel like that is what happens if you're in denial. I wouldn't look at or own being middle-aged and then one day I was 50! Being a 'coffee' brunette was a fib I purchased for 20+ years. The golden years for me came early in the way of silver hair at age 35…but I was NOT going to surrender to gray. A little over a year ago, the time had come to talk turkey with the woman in the mirror. She's an uncompromising truth-teller. Several things she was telling me became one crystal clear point: No longer would she be denied some of the perks of getting older. Perks? There are perks in the late afternoon of life? Justifying naps is not a perk. So what are they?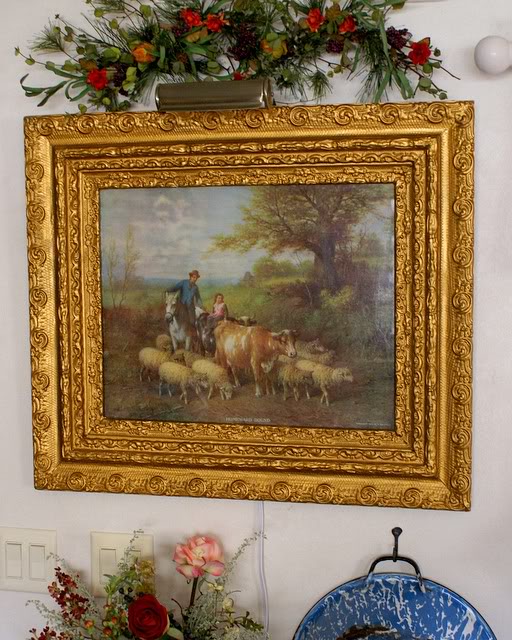 Well, for one thing, you get to go back and grow up all over again…and it is better the 2nd time. There is a quickening, a revival of sorts. This is true if you want to get happy and go forward that way. Here is where this applies to those of you who may not relate to this article as easily as others in my own age bracket. It is better to start early so that you're really good at it before you get "here". What does growing up again look and feel like? The above image is an example. I no longer look at what I like or what I ought to become from a distance. I don't have that kind of distance to work with anymore. No longer do I hold my dreams close at bay. I wasted far too much time waiting. I love old things that exude a quaint and charming feeling – the print above is late 1800s, the glass and frame are original and I love the pastoral scene of a boy and his sister bringing the milk cows and sheep home. This piece isn't trendy or fashionable. It just tickles my fancy and I bought it! For some reason, I struggled most of my life to muster the courage to be 100% Me all of the time…keeping my feet firmly there. Getting older brought me to the door I needed to pass through. If only I'd realized sooner that the perks of getting older could be this interesting…and fun.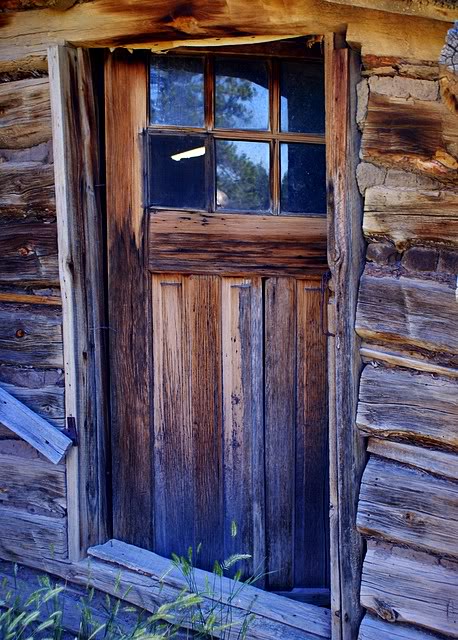 What has this thread on aging got to do with "potpourri, pickles & pearls"? Everything…everything. The content within our years gets more concentrated at this end. I think that ideally we're supposed to become more of what and who we really are…and better at it than we were earlier on. We ought'a do more and more of the things that we really ought'a be doing. Capice? And so, it stands to reason that if this is true…a more vibrant and pleasant fragrance lingers when we leave the room. Rather than being a 5 on the you meter, be a 10. Truth be known, this new found emphasis on "self" turns out to be much more about others since the giving part of you also becomes more concentrated.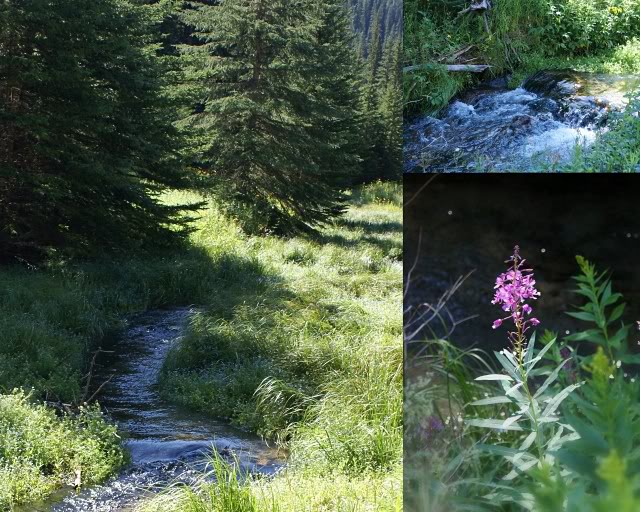 Making new friends should happen to us throughout our lives. We're in danger of becoming "root bound" if we don't. Newly discovered friends are gifts from above and over the last couple of years, the good Lord provided a nice little shower of them for me. The "farmgirl" sisterhood figured into how it played out. MaryJane was a glittering spark in my own "quickening". I so needed a spark…to sparkle. I needed a new spark for my old campfire. Some of the other sparks have names too. First came Anita, then Lisa, then Jennie, then Michele.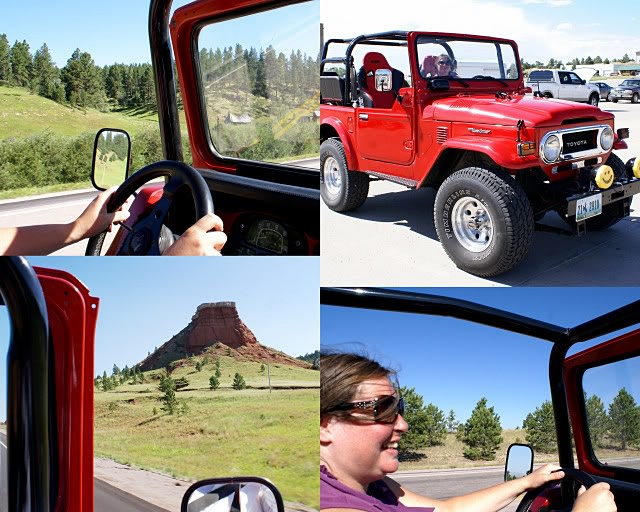 Michele. She's 35, I'm 54. We're buddies. How can that be? I could be her mother. But, we're really not years apart…we fit together like peas & carrots. We like so many of the same things. We understand each other and delight is the result. I can't say what I do for her, but I can tell you what she's done for me. I don't feel young again, I feel joy. I have a friend who woke up a free spirited farmgirl who had slipped down into a sort of resignation funk. (I must say here that this is the special and unique ability of friends…apart from family and spouses.) The other day, Michele and I went on a cruisin' field trip in her open-top Land Cruiser. WooHoooo! We drove on the old highway routes through the nearby Black Hills (see both photo collages above). It was heavenly…the wind in my hair, fresh air, warm sunshine…and my diamond of a friend giving me the gift of an incredible day. We stopped along the way so that she could show me her favorite scenic spots and other places she says we'll need to revisit in the fall. I was thrilled to learn of another wonderful trait in my new friend: she loves to linger…and "take it all in". So do I! We then "did" lunch and went "antique-ing". I bought a large cupboard for the mudroom/porch we're building. I've longed for such a wonderful piece of antique furniture for so many years. I feel revved up, newly inspired. I recently found a vintage fan…cleaned it up and placed it on my Hoosier-desk. My landscape "oasis" project and "junk garden" that I created this past spring is all apart of this growing up again theme. Hmm, maybe it is more like growing fresh, new leaves. Yes, that is more fitting.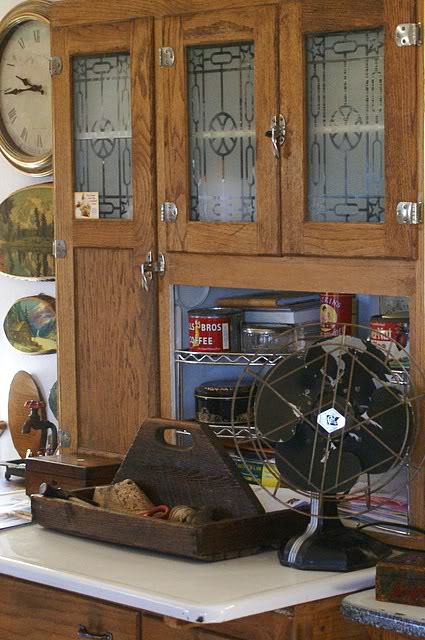 Have you ever surrendered favorite old things and not just old things…but old interests? I gave up gardening several years ago when we homesteaded here and the climate + landscape appeared to be tougher than I was. That was then, this is now. I'll no longer be denied. Pickles and Dilly Beans are on today's To-Do list. There's also thirteen pounds of Nanking cherries in the freezer waiting to turn into pretty red jelly. Lots of jars of canned goods will make their home in my new "old" cubby when she gets here. BY THE WAY, lest you think I am a wellspring of energy…I am not. I've been on Synthroid since I was 18 (low active thyroid). Energy is something I've never had an abundance of. But, I've always had a lot of want-to. So, I try to make things happen the way I can do it and I keep my eye on the target. Being a finisher can happen in pieces. Naps aren't a new thing for me…I've just accepted them with greater ease. Now they're POWER naps instead of looking at sleep downtime as if I'm an energy dud.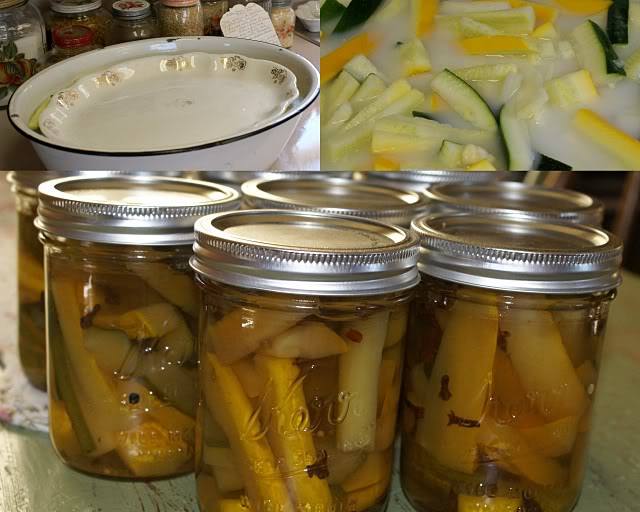 Blue… "splattery" blue enamelware to be specific. Totally twitterpated over it. I'm not a high-dollar collector though. I've liberated several pieces from old homestead sites. Trivial little stuff isn't trivial if it helps you smile from the inside out.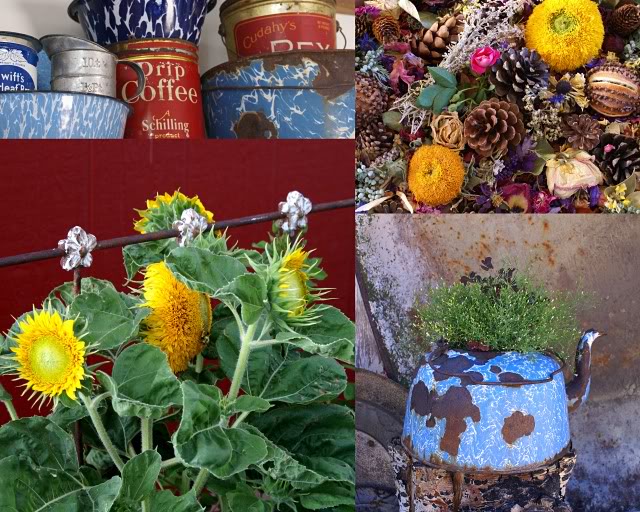 Potpourri? I'll call it a symbol of the things we hold onto throughout our lives… "little" things we cherish. I've made potpourri for many, many years. It lets me bring the outside inside. Each little petal, flower, twig or natural trinket is like a pleasant thought or a memory. I have a large birch bark basket whose sole purpose is to collect my sentimental coffee table "mulch". Every year or so, I toss out the old stuff and start over with a fresh batch and then add to it over the year…pine cones and flowers from trail rides, roses from my Beloved, orange pomanders from Christmastime…etc etc. There are some things that need to stay in the mainstream of our lives. For me, a love of animals and enjoying the great outdoors are on the top layer of the list.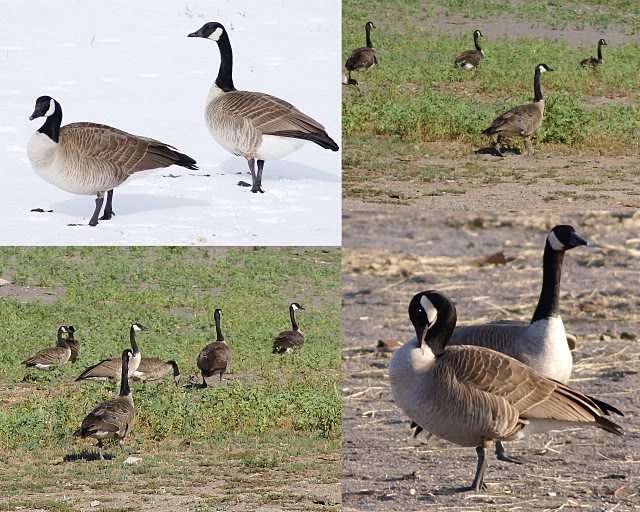 The "Canada Goose" gander that I raised several years ago returns here with his mate every year. It always feels like a miracle when they show up in the pasture in late March. I feed them bread and grain until things green up. Then, they come to eat less frequently and one day they leave to go wherever they prefer to raise their family and I shan't see them again until the following spring. This year they rewarded me with a first. They nested nearby. I know that in some parts of the country Canada Geese are seen as a messy nuisance. They were once extinct on the Great Plains – not so now. Every victory for wildlife is hard won.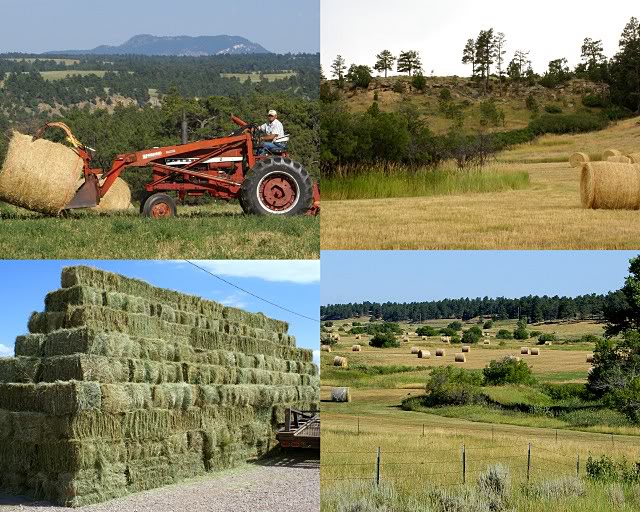 Every victory in ranching is won by hard work. Haying time means long hours day after day after day. My husband has hauled thousands of tons of hay over the course of his life. Now that I'm older, I also have an enlightened view of work. I'm lucky, no blessed, to feel hardy enough to be able to still put in a good day's physical work. My health is good and I no longer take it for granted. Now there is a pearl. If you have your health, just about anything is possible and the world really is your oyster. It is not just a cliche`.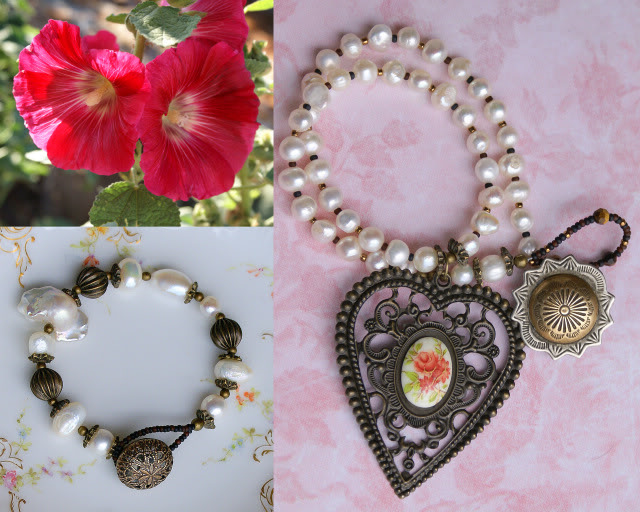 Pearls. I was so wrong about pearls. I thought they were plain. Now, I am a pearl junky – I love pearls of all colors and shapes. Pearls are for farmgirls, little girls, old girls, cowgirls, chic city girls, rustic country girls, all girls. Pearls are for bluejeans, business suits and little black dresses. In the feel good movie of the year, Julie & Julia, Julie's longing for a pearl necklace like the one that Julia Childs always wore, illustrates my point. Pearls are timeless symbols of real worth. And, something more…they're made by a humble creature with little more than "dirt" to work with. Pearls make you feel special. The shimmery lustre that you see on a pearl is imparted to the wearer. That is why in this girl's opinion, every girl ought'a have pearls to remind her that she's a point of light in a world that really needs "pearl girls"…of all ages. MaryJane is a farmstyle pearl girl – here she is below, all gussied up for an evening affair.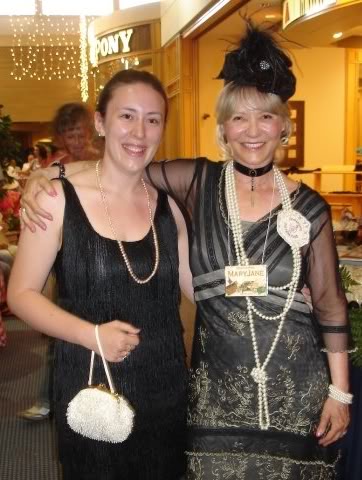 Now, a lesson from cast-offs…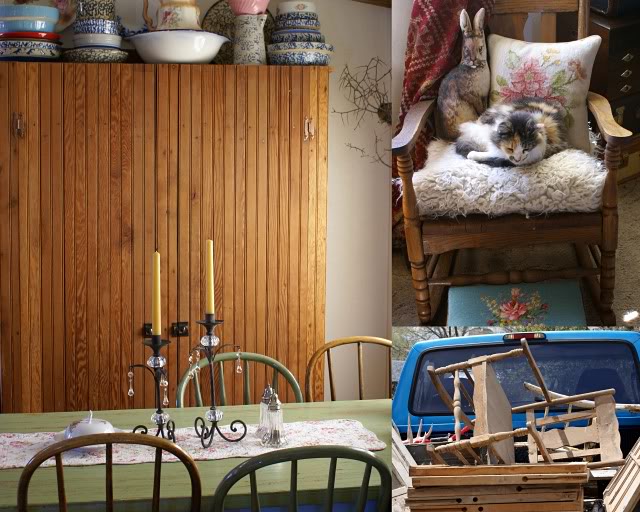 The lesson was for me, but I'm sharing it. Ok, so I'm not what I used to be. Here's the thing: parts of me are better! Not the parts that gravity affects…we'll leave it at that. I'm talking about the important parts…the inner parts, the soul part. Maybe some of you will be better sooner than I was. Some of you are better to begin with. But, back to the lesson. My old renovated furniture pieces are role models. They were junk. I too felt junky not so very long ago. The above cupboard was covered with years of barn filth, the rocking chair was left in a shed to dry rot and it was wearing cob webs and spatters of bird poo. The harvest table was a ten dollar purchase at an auction. Each piece needed an application of TLC, but first they needed a new attitude and they needed someone to help them feel pretty and purposeful again. That was where I came in…and then the lesson (like Tung oil) sank all the way into my own being.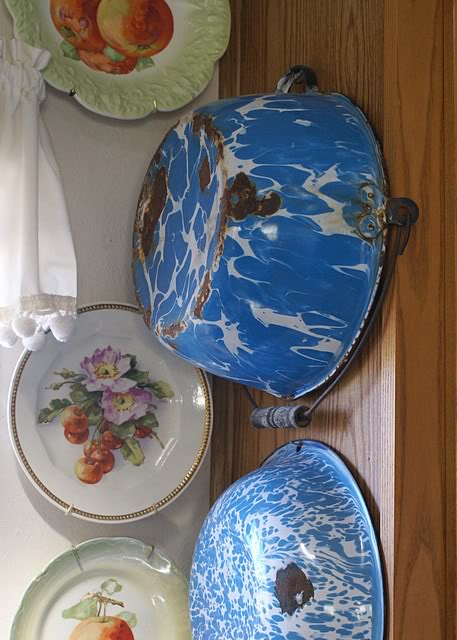 "To thine own self, be true"…blue. Also, be kind and stay fresh. Nurture in yourself both humility and esteem. Portion the latter out thoughtfully. It will have to last you a long time. The "who you are then" will thank you for thinking ahead. That is the trail I'm riding on now. You see, there's a little old lady up yonder (I hope) and she's counting on me to bring her fresh supplies.