Since January, I've been training to become a Certified Master Gardener. Currently a "Master Gardener Intern", I'm amazed how much more I've learned, gardening since age seven. Learning about the diagnostic aspect has been my favorite – like "plant CSI", identifying diseases, bugs and other issues.
Gardening's long been in my blood – a need to be outside and in earth. As any gardener can attest, sometimes things aren't always perfect. We've had a late season, a wet spring, and a 'buggy' summer. I've noticed more, ahem, "imperfections" in my garden, appreciated more breathtaking beauty outside than inside any art museum, and also considered that invaders from outer space had landed on some of my plants.
After planting veggies this year, all was going pretty well, until in June I noticed "holey" leaves on my potatoes (and I don't mean blessed). The culprit? Little orange and black, three-lined potato beetles. Pretty, with their Halloween coloring, but damaging.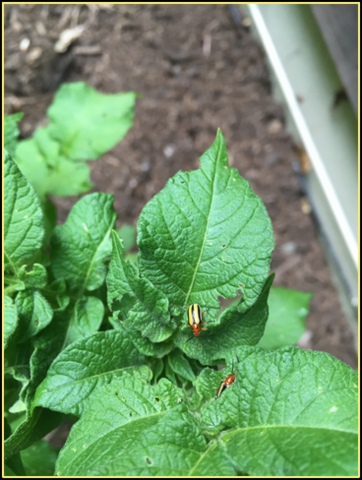 For control, I picked them off into a jar of soapy water, also checking under the leaves where eggs are laid. Spraying under leaves with non-toxic, organic kaolin clay keeps bugs off or depositing eggs.
Recently, Japanese beetles appeared, which start out as grubs in the ground.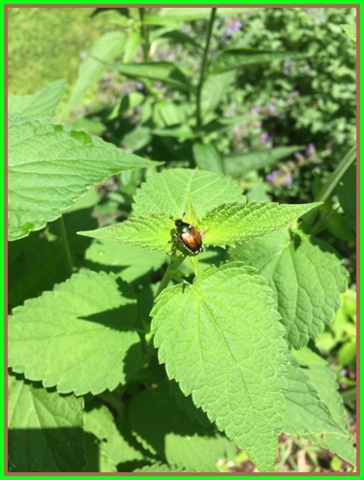 I've learned a valuable lesson: do not use bag traps that lure beetles! The pheromones that lure the beetles actually bring more beetles to the yard! I've been vigilant in picking them off into soapy water, which hasn't been too big a task. I've less beetles attacking my plants than previous years, and no mess. Chickens like to eat grubs, so there's population control there, too.
Regardless of the weather, I've enjoyed beautiful blooms this year.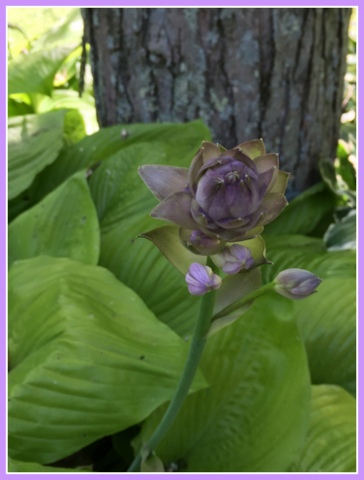 It's not all "wine and roses". Not everything thriving is a "good" plant. Invasives, like Oriental Bittersweet, can choke and kill other plants and trees. On the Connecticut state "Banned" list, unfortunately, many don't realize just how bad it is, using the vines with orange berries for fall decor!
Always wanting to garden organically, I cringe when in garden centers, overhearing homeowners say they "just spray everything" with broad spectrum, toxic pesticides! Doing so wipes out good bugs, too –  those that are beneficial, pollinators, and "good bugs" that help keep "bug thugs" in check (plus it's toxic for us)! There's beauty and balance in nature. All my work and time spent is rewarded when I see blooms, and notice the "little world" that occurs within my garden and woods.
Noticing things like frass, chewed holes, and spots are clues to what's happening with a plant.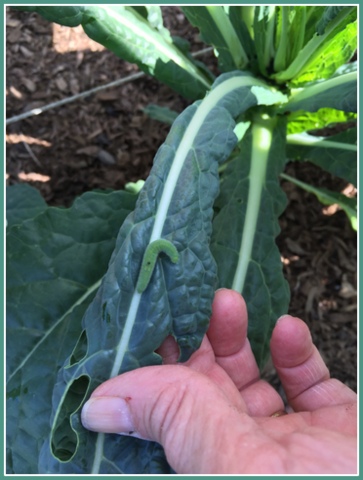 One day, I noticed strange things dangling on my azaleas: funny, fleshy-looking growths on  leaves, looking like little "ears". I had discovered galls. These freaky-looking things occur on different plants from different sources, and are really interesting!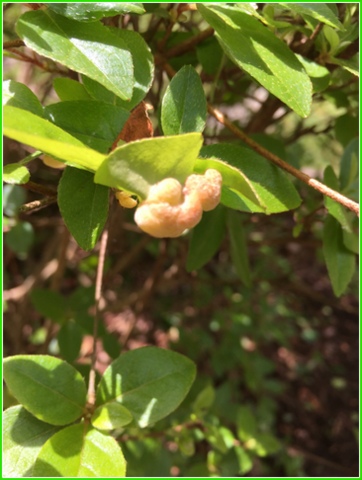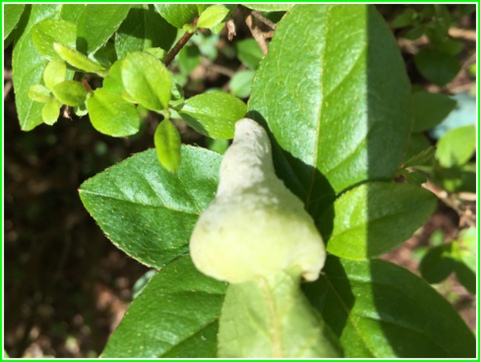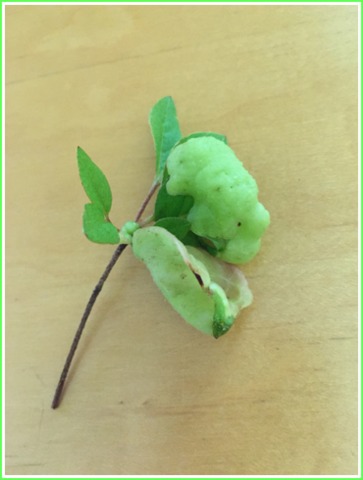 Azalea leaf gall is caused from a fungus, thriving in wet weather. My plants weren't too badly affected, and chemical control isn't really recommended anyway. Azalea leaf galls are even edible (no thank you)!  I trimmed away affected areas before white spores appeared, making sure to clean up and discard any of the debris. Sanitation's important in any garden: cleaning debris from under plants, trees, and bushes and sanitizing tools between cuts or before going to another plant can drastically cut down on all sorts of issues.
I've noticed other, very interesting plant galls. I love the cringe-factor reaction galls draw from my 13-year-old daughter, who thinks knowledge of such garden things "creepy and cool" is pretty neat. Galls on plants and trees can form from different sources like fungi, bacteria, viruses, or insects and mites.
Some of my maple tree leaves have Spindle Galls formed from mites. (These generally don't cause harm).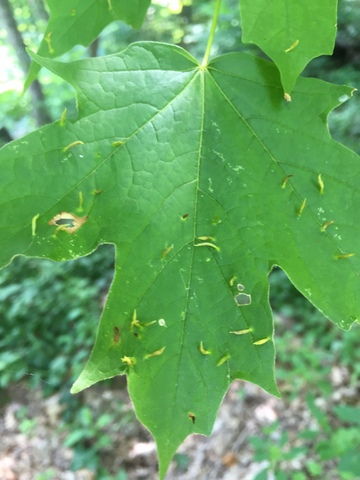 I noticed these tiny, bright red galls on veins of a sugar maple leaf. They're formed from a maple gouty vein midge (Dasineura communis), a fly that feeds on the leaf from inside the gall, then breaks through to the other side. Neat, right?
The following two photos were shared with me by Plant Pathologist, Joan Allen, from the University of Connecticut. Can you guess what this is? No, it's not something from outer space…
It's a Juniper tree with Cedar Apple Rust! This fungal disease needs two host plants for its life cycle. This tree looks like it's been decorated!
Gardening to me isn't just having a green lawn, pristine flowers, or delicious fresh veggies. There's a whole world within our world, and good, bad, and sometimes even ugly aspects are part of it. I'm embracing that, and enjoy noticing these wondrous happenings.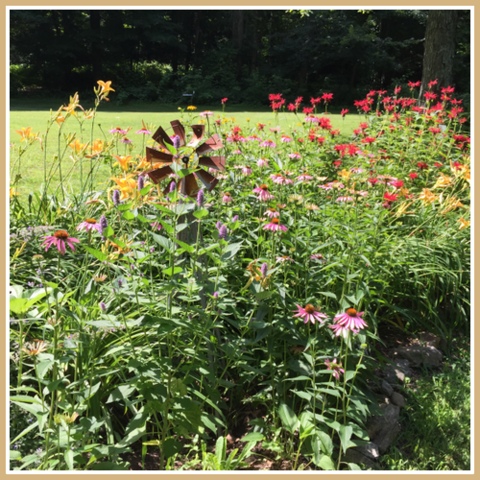 What's happening in YOUR garden? Let me know you stopped by in comments!
Until Next Time…Farmgirl Hugs, Nicole