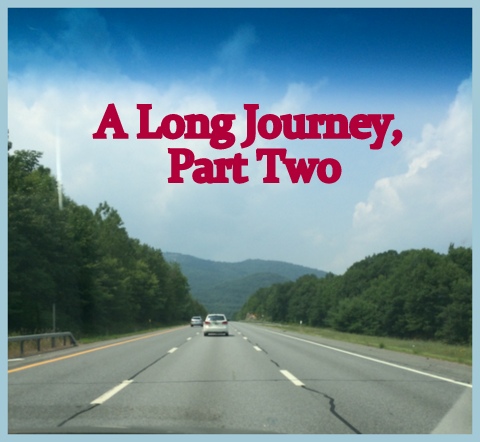 Gradually, I started feeling very "off". Symptoms multiplied as weeks wore on. I'd have the will to be active, but physically couldn't keep up. We were worried. Would I ever feel like myself? Was there something doctors hadn't found?
I  felt mentally "slower", absent-minded. I'd forget what I was saying mid-sentence. I'd teach knitting lessons I've taught for years, but stumble on my words or how to do a particular stitch. Blogging, I'd get stuck trying to find the right words.
I was tired, but didn't sleep – no more than four to five hours a night for a year.
I'd sometimes stutter, something I never did before. I got winded easily.
If I was on the right medication, taking it correctly, if my thyroid "numbers" were where they were supposed to be, then why did I feel awful? What was it?
Always Mother Hen, I find difficulty asking for help when it's me in need of a helping hand.
Only a few close friends knew what was happening, but it was becoming too difficult to hide how I felt. On really bad days, I felt miserable. On good days, I tried to be my "old self", but  rested frequently. It was like a frustrating hamster wheel.
I saw several different physicians, and felt like a hypochondriac. Insurance-weary doctors pressed for time would read my chart, see "Hashimoto's" and dismiss me. One told me I was "over forty… it's down-hill from here". One even suggested my illness was triggered from the stress over the Sandy Hook shooting! Others agreed something else was going on, but couldn't pin point it. The medication I was on wasn't helping me feel better. I felt as if I spoke but the doctors couldn't hear me.
One doctor promised to switch me to a naturally-derived medication if I tried being gluten-free for six weeks first. I did as I was told. (I also tested negative for Celiac disease). I found it frustrating and was always hungry. I felt it difficult to stay gluten-free and organic/preservative-free simultaneously. (I did realize I was eating a lot of gluten)! I felt better at first (from less carbs), but soon was miserable, yet I wanted to switch to the naturally-derived medication. Returning to the doctor six weeks later, the doctor decided not to change my medication after all. Going gluten-free didn't change anything for me at that point, in fact, my thyroid antibodies increased.
One day my husband had a new client, a scientist working for a pharmaceutical company. She told him she thought I sounded like a "Lyme" patient, who'd had it too long and was having it wreaking havoc on me. She recommended a doctor friend specializing in chronic Lyme.
Eight months of near-daily calling and begging for an appointment (they were booked solid but added me to a "wait-list") their office recommended another doctor who might help. Soon, we had an appointment.
My husband went with me to see the new doctor, who listened without judgement, even working with me through his lunch break. After some discussion, he asked a series of questions, broken into four sections; a score over 46 "points" was a good indication that Lyme may be present. I scored almost double that in the first section alone! He ordered more thorough blood testing (not all tests represent all the possible "bands" for tick-borne illness). I was positive for Borrelia – the '22nd band' was positive.
He prescribed antibiotics (that I'd take several weeks), discontinued the medication I was taking, and started me on several homeopathic supplements. Soon I felt relief not felt in months. At first, my skin tingled, and because of the antibiotic; I had to avoid the sun completely. My energy soared, I was clear-headed, my aches disappeared, my stomach woes stopped. Soon I was back to being bouncy and energetic! Those close to me noticed.
After a few months, I was "me" again!  Following up, my thyroid is working again (med-free, over a year later). After another tick bite in the fall, I ended up with similar symptoms, but after antibiotics was soon back to normal.
I am much more careful now outdoors!  My daughter says she "got her mama back". I'm active physically and mentally, grateful that my persistent husband and a kind, thorough doctor didn't give up. I still need to lose some of that weight, as well as continue to be mindful of how I feel and be closely monitored by my doctor, but for the most part I can say all is positive.
I learned when it comes to health, don't give up, do your research, and be your own advocate.
I have since met so many people like me that have suffered due to a tiny little tick, and the season is in full force. Being outdoors is a wonderful thing, but watch for ticks. They may be small but can cause a huge impact…I never would have imagined just how much.
Until Next Time…Farmgirl Hugs, Nicole
www.facebook.com/suburbanfarmgirlblogger