Like so many farmgirls, I experienced the feeling of "coming home" when I recently discovered the wonderful world of MaryJanesFarm. So many things I could relate to … then came the adjacent acreage in the area of "common ground." Inspiration on many fronts quickly followed suit. MaryJane fast became this cowgirl-farmgirl's muse. As you may know, the Muses were nine spirit sisters of Greek myth, each one presiding over and inspiring the arts and science. Musing is an extension of the word, referring to creative thought that may fuel great ideas or inspire poetic prose. In either case, I felt the word and its many applications fit my mission to a T.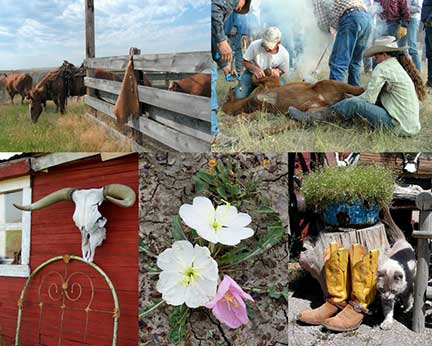 I have 20 years of professional 'design for hire' experience and a little more than that in marketing finished works, as well as free-lance writing. I can't stay away from any creative medium that sparks an interest – hence my choice for the title of this piece…The Cowgirl Muse News. Exploring creativity and encouraging it is my calling. Ranching is how I make a living and the great outdoors is my studio of choice.
What is true of other Farmgirls is equally true of me. Being a Farmgirl is a condition of the heart and a place where your spirit feels especially welcome, like a wonderful childhood memory of when you walked through the door at Grandma's house.
I live in a part of the world that to most folks would look like a chapter out of Mary Jane's "Outpost" book. I'm looking forward to sharing Wild & Wonderful Wyoming with you. Photographs that wear the label 'The View From My Saddle', musings, earthy & whimsical craft ideas and whatever else tickles my fancy are soon coming. Welcome to the ranch. Saddle up Farmgirl, get ready to ride…daylight's a'burnin!