.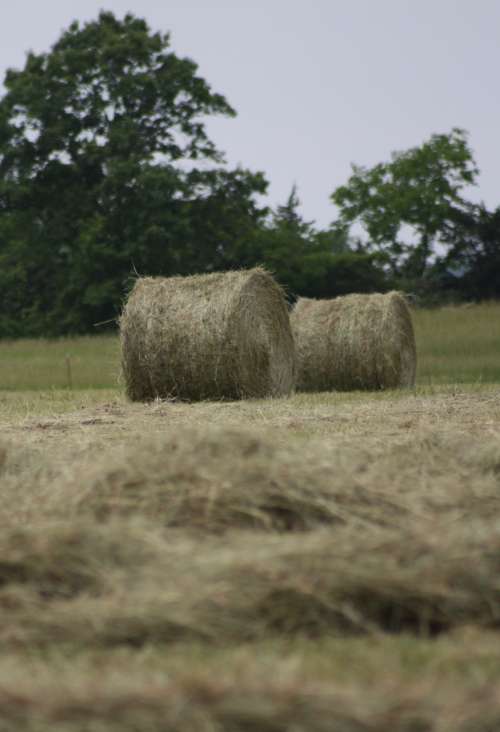 .
Having lived my entire life "out West" where hay was something you drove a long ways to buy (and paid a premium price for) it is still a novelty to me to live here in the South where we have our very own hay field!  We've had a lot of hot and humid days already this summer and the hay has been growing right before our eyes!
.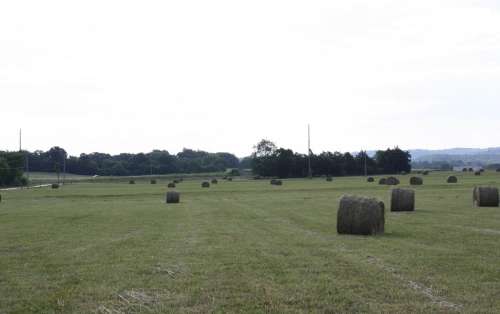 .
Maybe it won't interest you, or maybe it is just commonplace to you,  but I still find the whole hay harvesting thing very interesting.  So I decided to share the process with you today!  We are incredibly lucky that we are able to have our hay taken care of by a local couple and they do it for a certain percentage of the hay crop.  Which works great for us, as we don't need all of it anyway.
.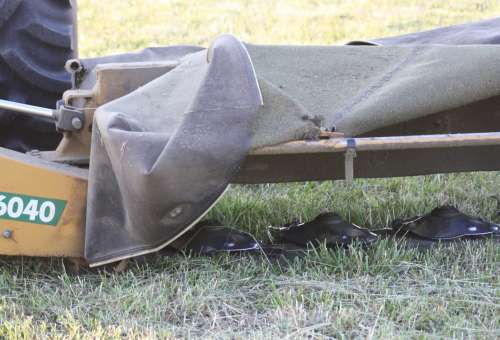 .
I walked down to the hay pasture with my camera and tried to capture, in pictures, what an incredibly interesting job this is!  These are the blades of the mower up close. They look a whole lot different than our bush hog!
.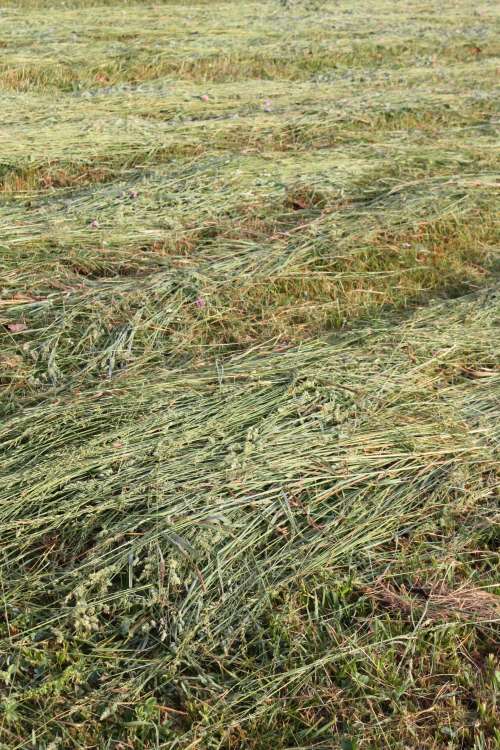 .
When the field is cut, it looks like this. It is rather interesting as it cuts the grass hay and then just lays it over.  It is completely different than what it would like if it was mowed.
.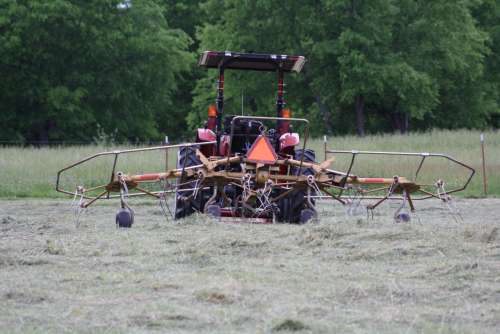 .
Then next is the tether machine. It picks up the hay and throws it around til it lands on the ground in a sporadic manner. This allows it to get better air circulation which helps in the curing or drying of the hay.   I didn't manage to get pictures of this piece of equipment in motion.
.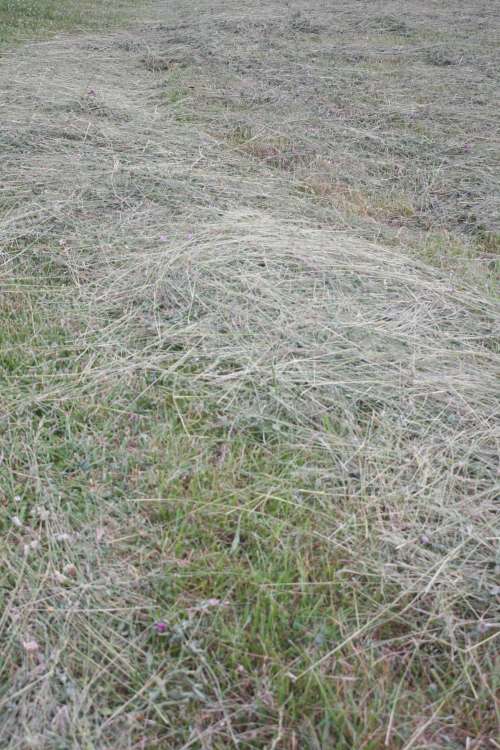 .
At this point it is really important that the hay doesn't get wet – I'm always impressed by how well they time the cutting of the hay! This first cutting this spring was done after 3 weeks of good heat and growing time… and 2 days before the rains hit!
.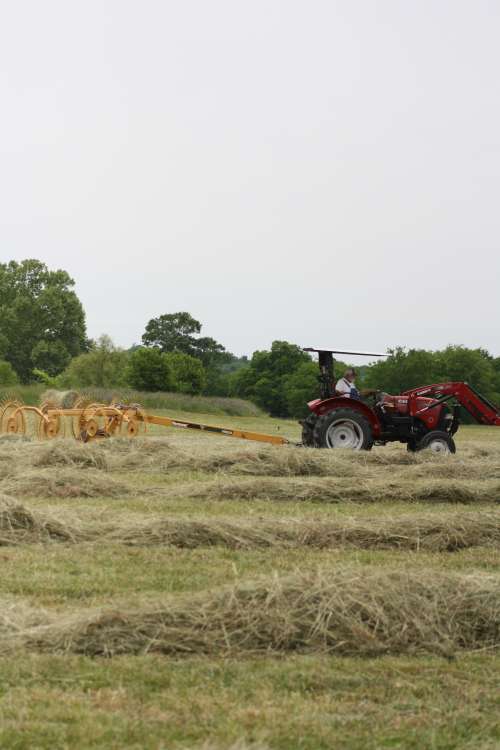 .
After it is properly dried then they come back with the hay rake and they rake it into nice long parallell rows called windrows. It is really interesting to watch how the rakes bring the hay together into a nice row.
.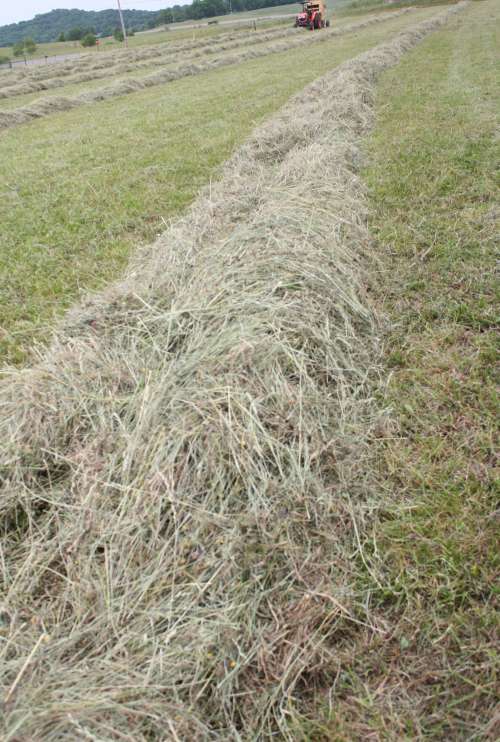 .
I think the windrows are beautiful.
.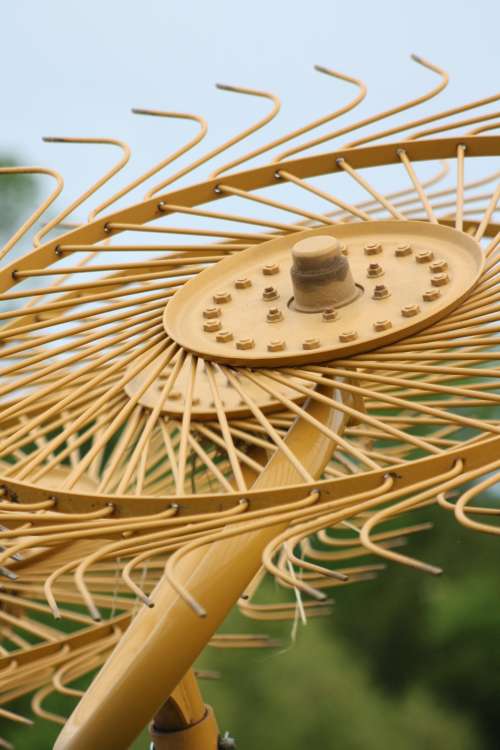 .
The hay rake is a very interesting piece of equipment.  I love the rakes – I think they would be very cool yard art!
.

.
Then along comes the baler just gobbling up those perfect windrows of hay.  Instead of a series of pictures, here is a little video of the hay baler in motion!  There must be some electronic device that lets the baler operator know when the bale is finished as he stops his tractor and sits a few seconds while the baling twine is wrapped around the bale, and then all of a sudden the door opens and the bale rolls out.  I never tire of watching it.  My grand-girls were with me and they loved it.
.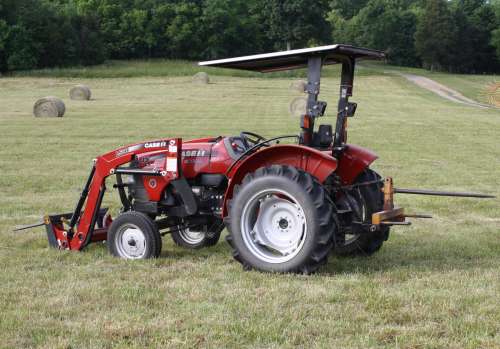 .
Once the whole field is baled they put these hay spears on both the front and back of the tractor. This allows them to pick up and carry two bales at a time. They take them up out of the field where they stack them next to the tree line for us.
.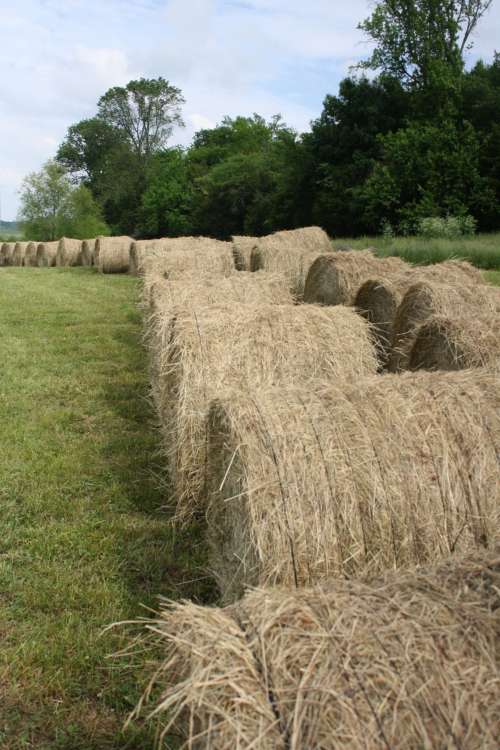 .
Big, beautiful rolls of hay and two more cuttings to go this summer.
.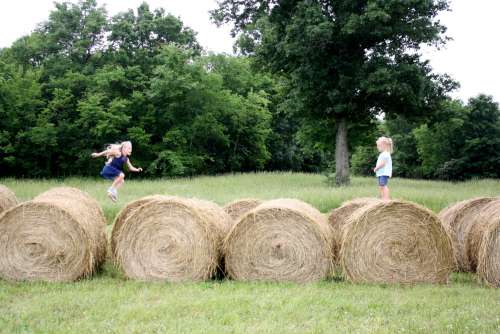 .
There is such a fun excitement that we feel in seeing those hay bales all lined up and ready for storing.  And our grand-girls?  They love playing on them (and so does Belle)!
.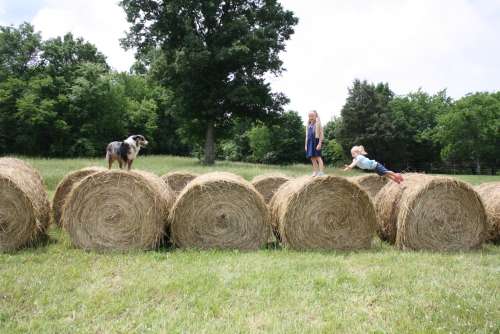 .
This was the first summer my littlest grand-girl had the courage to jump the bales!  I actually caught her in action!
.
So what do you think… am I crazy how much I love our hay?  Or is that a normal Farmgirl thing?
.
Until our gravel roads cross again… so long.
.
Dori