.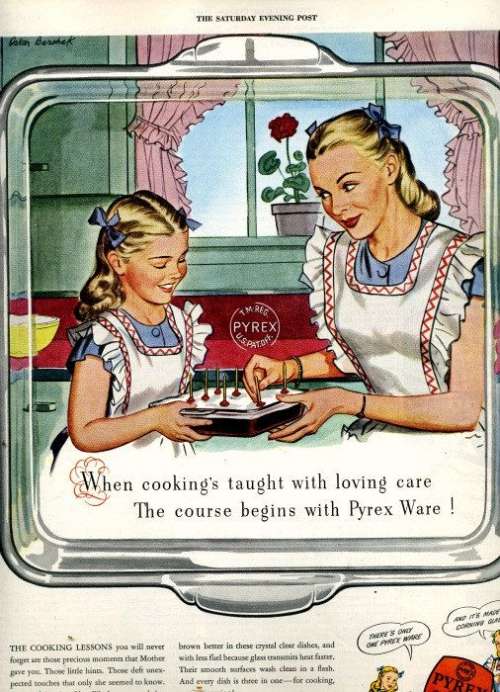 .
Did you know that Pyrex Glassware is 100 years old this year?  I don't know about you, but I love my vintage Pyrex.  I've been enjoying doing a little reading about the history of Pyrex and this comes directly from their website:
.
"The idea for Pyrex Glassware came from the industrious wife of a Corning Glass Works scientist who was frustrated with her unreliable casserole dish. Knowing the strength of the railroad signal lantern glass her husband worked with, she begged him to bring home something she could use in the kitchen. Voilà, the Pyrex baking dish was born. Two years later, Boston department store Jordan Marsh placed the first order for Pyrex Glassware. The rest, as they say, is history."
.
Isn't that a neat little piece of history attached to the amazingly beautiful vintage Pyrex that crosses our path?  I think it is interesting that it was really the Farmgirl spirit 100 years ago that said, "I need something that will work better than what I have" and she got it!  (I think there might be a little lesson there!)
.
I have numerous pieces of vintage pyrex that I love hugely and use every single day.
.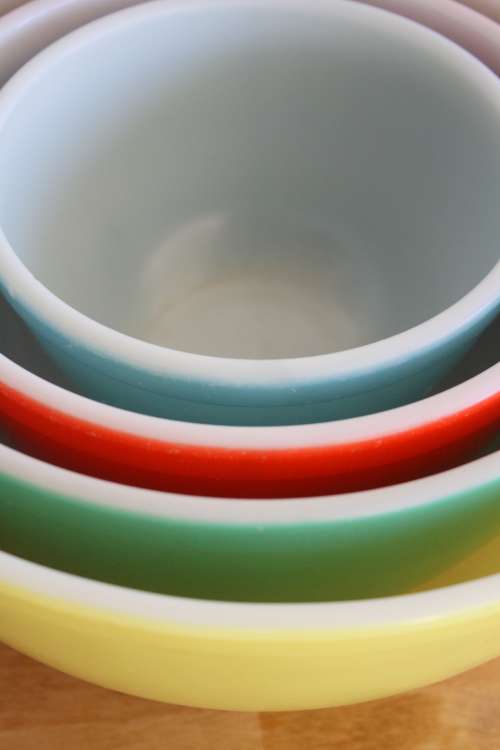 .
Probably my favorite are the nesting bowls.  I found out that Pyrex made these bowls in 1945, they were the first nesting bowls that Pyrex made and the first time they dabbled in color.
.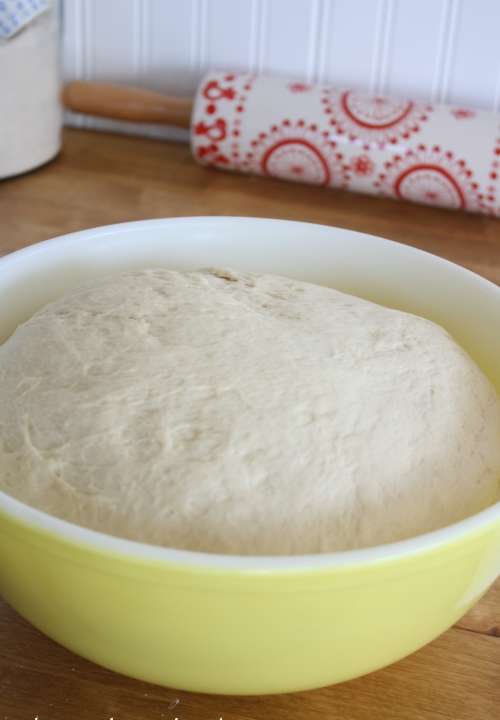 .
I use the yellow one when I make my bread dough.  It is large enough to give it room to rise perfectly.
.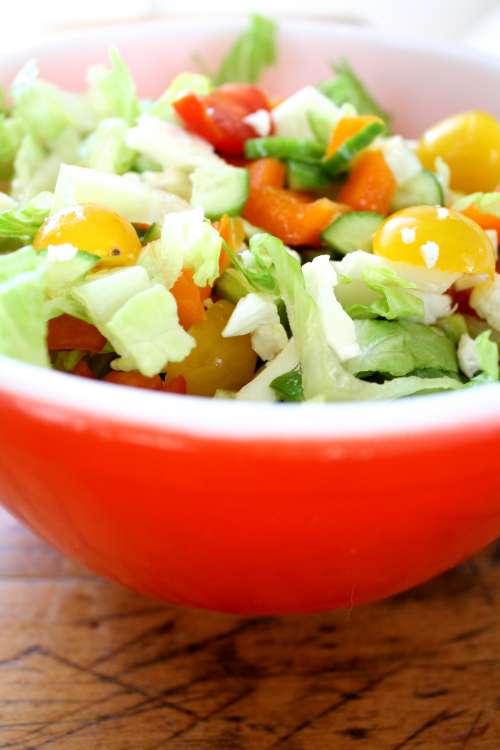 .
I love using the smaller red size when I make my daily salad for lunch!  It is my favorite bowl to eat out of.
.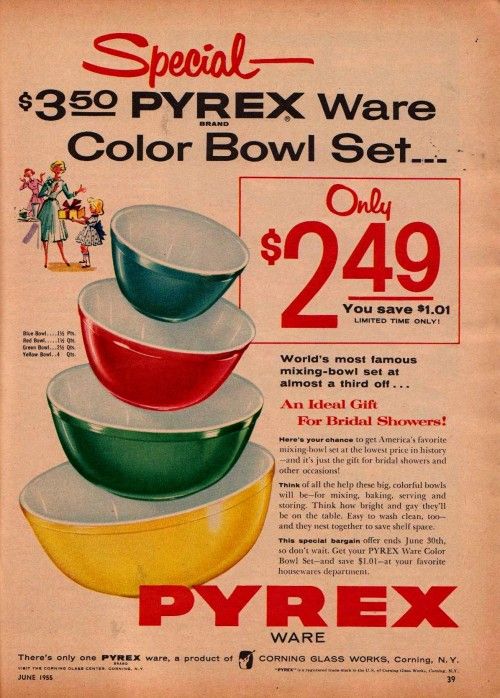 .
In all my reading this week about Pyrex I came across this ad for these nesting bowls.  I think it is darling.
.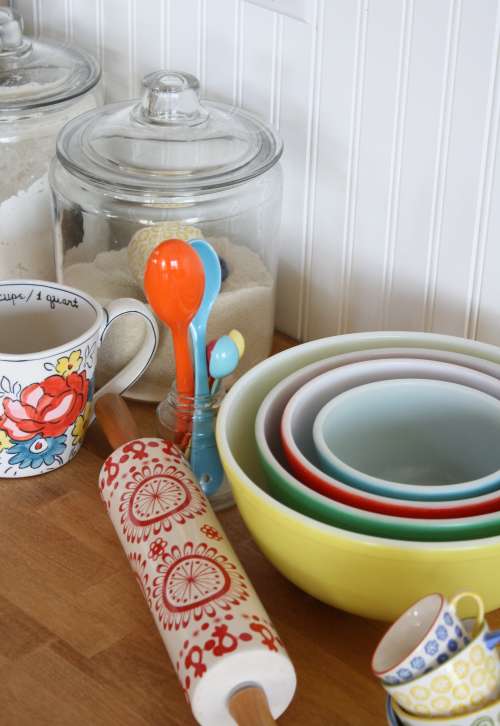 .
I keep my nesting bowls handy to my baking area because I use them that much.
.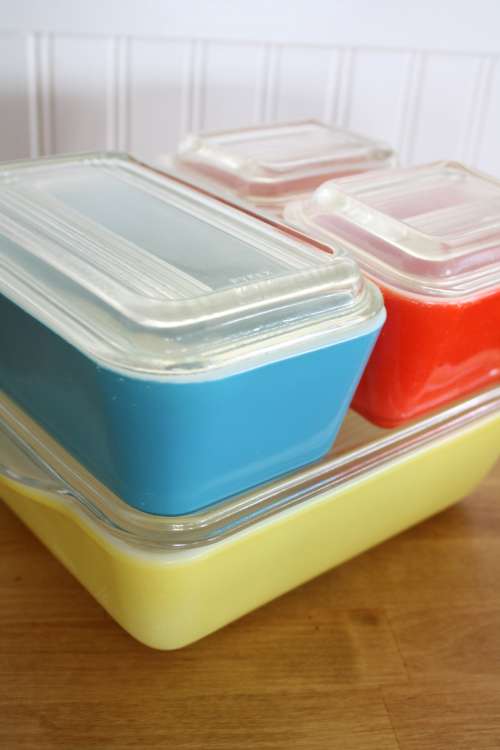 .
And then there are the refrigerator dishes.  Oh how I love these.  I'm one of these Farmgirls that hate plastic.  I really don't have any plastic storage containers in my kitchen. I use the vintage Pyrex refrigerator dishes almost exclusively for storing food in the refrigerator.  And even though I have a few new pieces, they are way back in my cabinet and I always use my vintage ones first!
.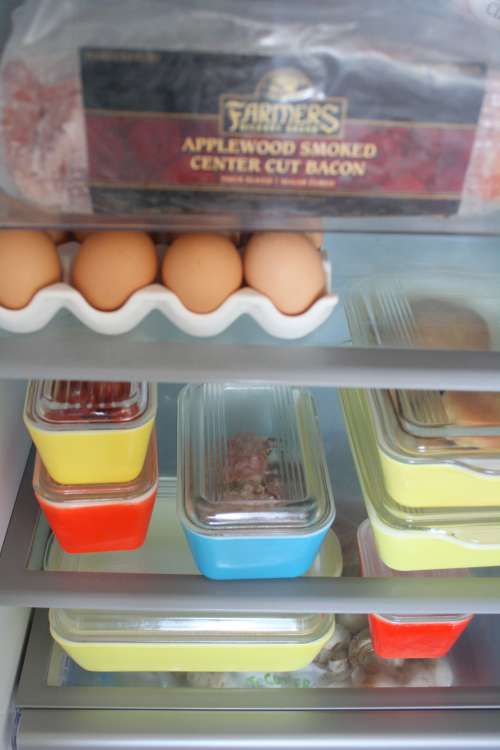 .
This picture shows you how awesome they fit in the refrigerator.
.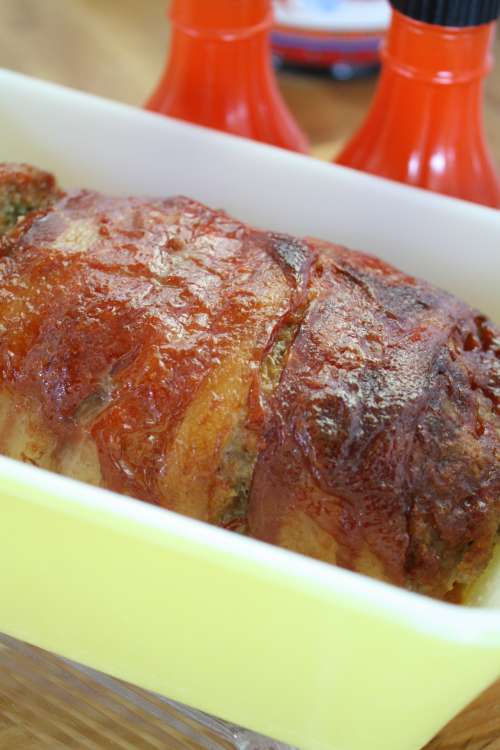 .
I also never use a microwave (can you believe I don't even own one?) and I love that the Pyrex goes straight from the refrigerator to the oven.  Or the oven to the refrigerator!  My husband loves meat loaf and the little yellow Pyrex refrigerator dish is the perfect size.
.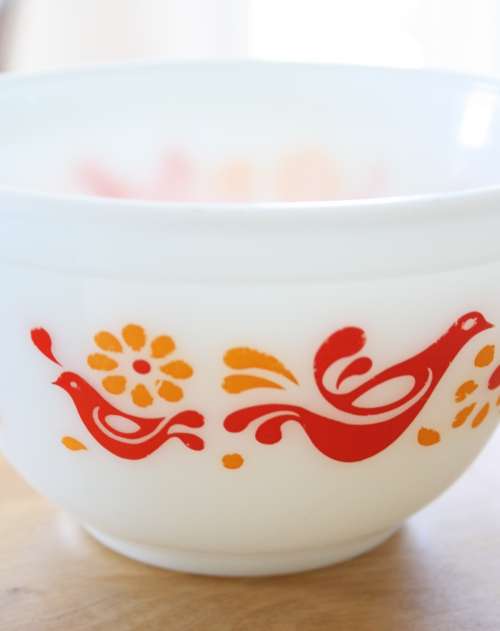 .
There are so many patterns, colors, and designs.  You can look up Vintage Pyrex on Pinterest and just about scroll into infinity!  But probably one of my favorite designs is the one above, the Friendship pattern.  This one was made in 1971 when the country was all about peace and love.  That makes me happy!  I wish I had more of this pattern, and honestly I did.  But we made a huge move 2000 miles across the United States and somehow my other pieces did not make the move with us.  Someday, I'll replace them.
 .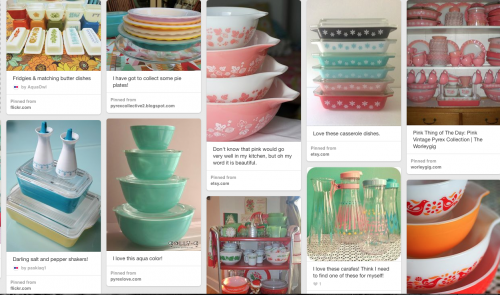 This is a screen shot of part of my Pyrex Pinterest board!
.
I recognize that deep in my heart I would love to own all sorts of sets and styles.  I also realize that I have to be really careful in collecting or I will never stop!  I think it could turn into an addiction very quickly!
 .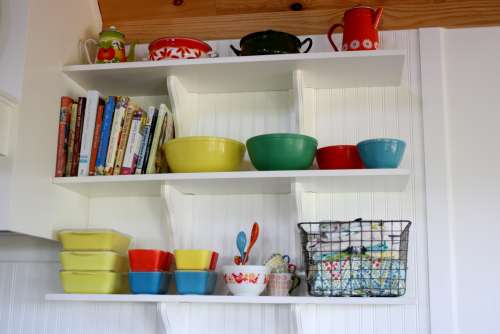 .
But I have these perfect open shelves above my baking counter in my kitchen that I keep my Pyrex on… and I'm really thinking a few more styles, patterns, and colors would look so awesome.  What do you think?  (Smile!)  Can't you just see those shelves above overflowing with vintage Pyrex?
.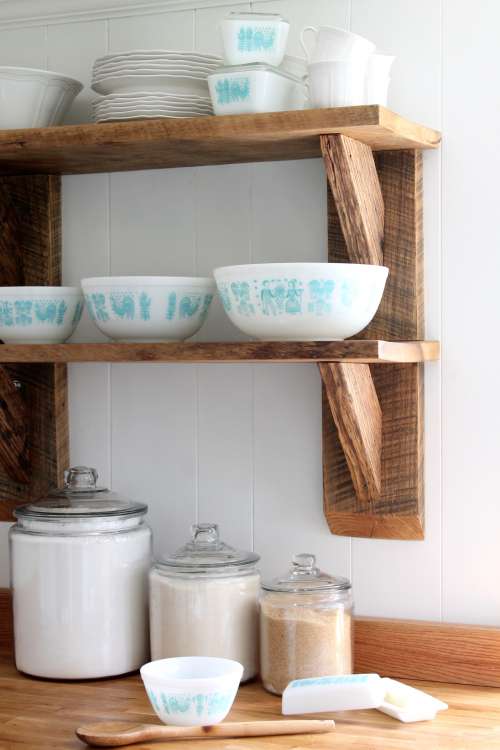 .
I have purchased full mixing bowl sets for my daughter and my daughter in law and they love them as much as I do, which makes my heart very happy.  The above picture is in my daughter's kitchen and is the set that I gave her a number of years ago.  She also keeps hers handy to her baking area.
 .
.
One of the most important things I can say about owning vintage Pyrex is to never put it in the dishwasher.  They were made before dishwasher days so the color will very quickly fade if not washed by hand.  Some people would find that an inconvenience, but I never mind washing mine in the sink.
 .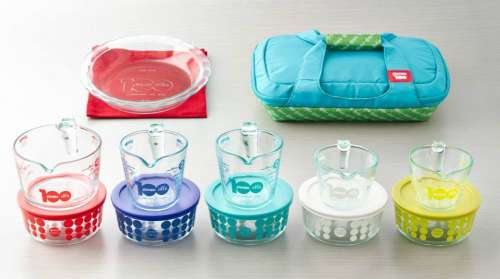 To celebrate their 100th Anniversary, Pyrex has made some fun new pieces you can collect.  I like the measuring cups, so I'm thinking I may get a few of those.  I love that Pyrex still makes their glassware in the United States, they are 100% BPA free and they are still made to go from refrigerator to oven.  They are also microwave and dishwasher safe now.
. 
What pieces of vintage Pyrex do you own and what are your favorites?   Let me know what piece you'd like to buy to celebrate 100 years of Pyrex – new or vintage?
 .
Until our gravel roads cross again… so long.
 .
Dori