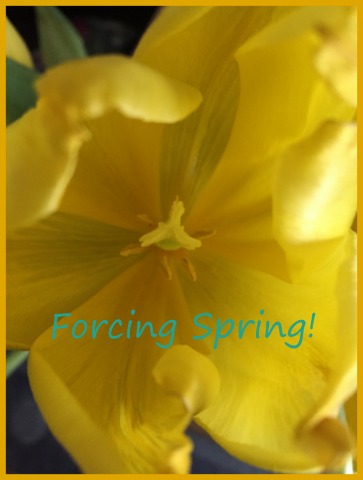 It's not spring, at least in New England! With Easter coming, warm-weather items in stores, and not a bloomed daffodil in sight, we're making it spring!
I'll be honest. I love four seasons, but spring isn't my favorite here. It's not warm enough to wear sundresses and sandals, and most of the time it's grey and damp, especially this year! Everyone I know is so sick of the cold and wet. It might have thawed a bit, but it's going to take abnormally longer to get the grounds warm and the ice melted!  As I am writing, snow is falling again! I'm ready for a spring kinda' mood! Forget the electric bill, I've turned on lots of lamps…otherwise it feels like the Batcave!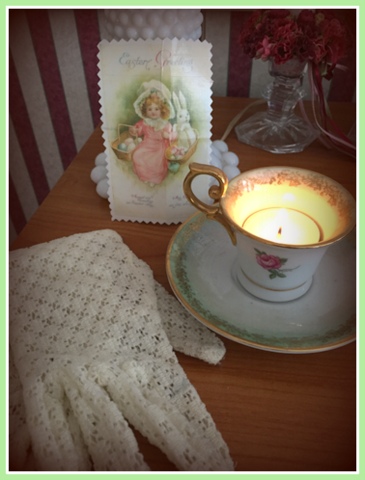 In Texas, Easter meant warm enough weather to wear a new sundress.
I always did the same with my daughter, though she had to include a coat. We also always dye Easter Eggs. I remember my mom let me "paint" boiled eggs with food coloring all year long as a kid, not just at Easter. Now my daughter and I experiment with dyeing eggs using natural things such as beet, still enjoying this tradition together even though she's older. I turn the hard-boiled eggs into deviled eggs. Add chopped dill into your basic deviled eggs…it turns them into divine eggs! (It's too cold when ya open the fridge and think, "Gosh, it's warm in there.")
This year, my daughter and her Girl Scout troop volunteered to hide eggs and assist with Newtown Parks and Recreation's Annual Spring Egg Hunt. We were afraid the snow would hide the eggs, but the turnout was great, and everyone had a wonderful time.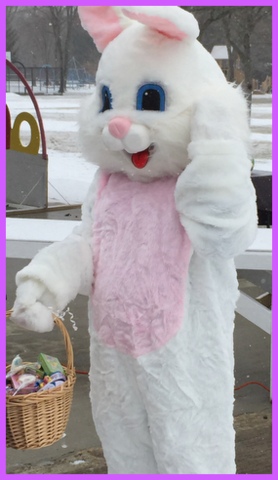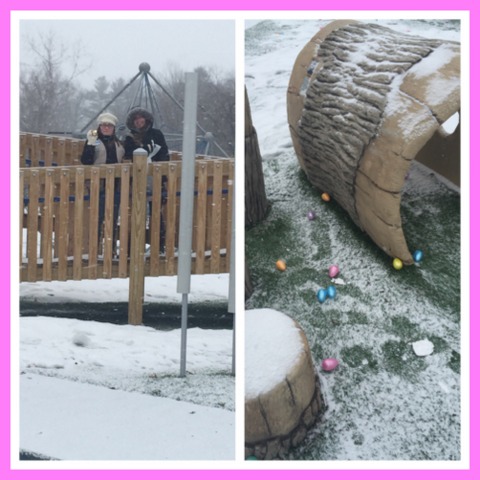 It was bittersweet for me to see Audrey being the "big" helper…just a few years ago she would've been hunting eggs. I'm so proud of my girl, and my scouts. It was freezing, but you get to the point where if you never leave the house because of bad weather, you realize you never leave the house. Ever.
It's winter outside, but I'm making it spring inside, with spring decor. I also "decorate" with chocolate. (When all else fails, there's always chocolate to perk us up). I've got two lovely chocolate bunnies for my family, for Easter Day, from Bridgewater Chocolate (http://www.bridgewaterchocolate.com/), made in Connecticut by a former New York City chef from Sweden (Swedish chocolate is my favorite)!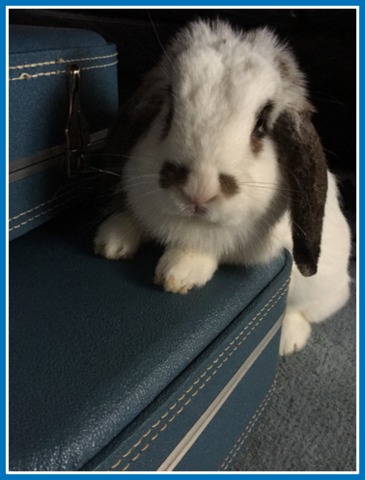 We also have our own real "Easter Bunny"! Patches is one of the prettiest bunnies ever! I love her mop of wild brown fur on top of her head. Many people think bunnies are good Easter presents, not realizing the maintenance involved. I wouldn't let my daughter have a pet rabbit when she was younger. Rabbits are very delicate and can break their backs from twisting if frightened or held incorrectly, and aren't always just little docile balls of fluff. Ours gets cranky at times, forcefully thumping her feet when displeased. She growls when she wants a treat and is denied (she's only allowed two a day). She doesn't get along with other rabbits, and gets nasty if someone invades "her" territory. Their cages need to be kept clean, they have sharp teeth and nails, and they need exercise every day. Too many bunnies are discarded after Easter when owners realize they're a commitment, just like any other pet. We love our bun and all her quirks, and she really loves my daughter! Spending time with our pets keeps cabin fever blues at bay!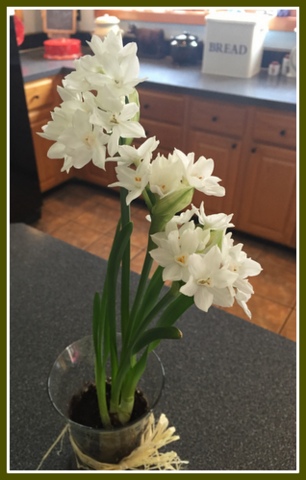 Flowers inside help, too. We forced paper whites to bloom. Paper Whites are my favorite bulbs, long-lasting and fragrant. Drop the bulbs in the middle of almost any container in seed starting mix, keeping the soil moist like a wrung-out sponge. (Beware, they're very toxic to pets, so put them where animals won't get near them).
I'm setting the table with bright spring linens to make meals feel special. I received a set of these beautiful, vintage mid-century glasses for my birthday, manufactured by Culver Glass, originally from Brooklyn and known for its 14-karat gold detail. These babies won't be caught near a dishwasher!
Speaking of meals, I've pulled out favorite spring recipes. I'll leave you with my Cheesecake Pie, which graces my Easter Sunday table, and is my favorite potluck dessert.
You'll need one graham cracker crust. I prefer making my own, using organic ingredients.
To make your own, use 18 graham crackers or 1 ½ cups crumbs, mix with ½ cup melted butter (1 stick) and ¼ cup sugar.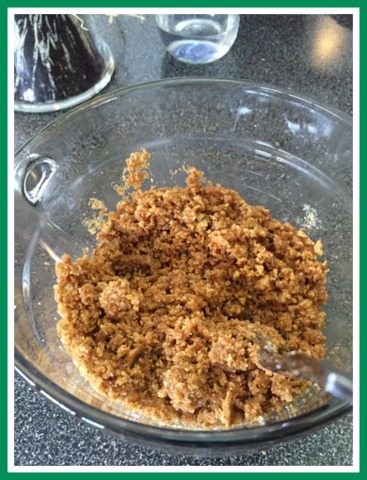 Press the mixture into a pie plate using wax paper and the back of a spoon (the wax paper keeps it from sticking to the spoon). Chill while mixing the pie filling.
For the filling: Take two (8 oz.) packages of cream cheese (Horizon brands makes a good organic one or for a lower fat content, use two bars of Neufchatel cheese – works just as well). Beat with 2 eggs (or 4 egg whites), ¾ cup of sugar, ½ tsp.vanilla, and 1 tsp. of almond extract.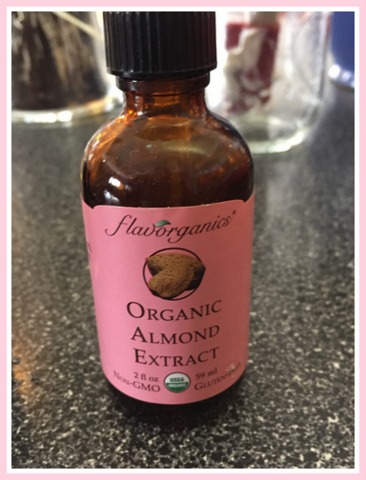 Pour into the crust. Bake at 350 degrees for 35 minutes or until set and a toothpick inserted in the middle comes out clean. Do not let it brown too much. Refrigerate before slicing.This pie is great on its own, but you can also garnish with fruit or fruit sauce.
ENJOY!
Until Next Time…Farmgirl Hugs, Nicole