.
When you have weather like this it is time to sit and sew (after you sled with the grand-girls of course)! My craft room is my happy place.  One of the things that makes me the happiest is to pull out some fabric scraps and create!
 .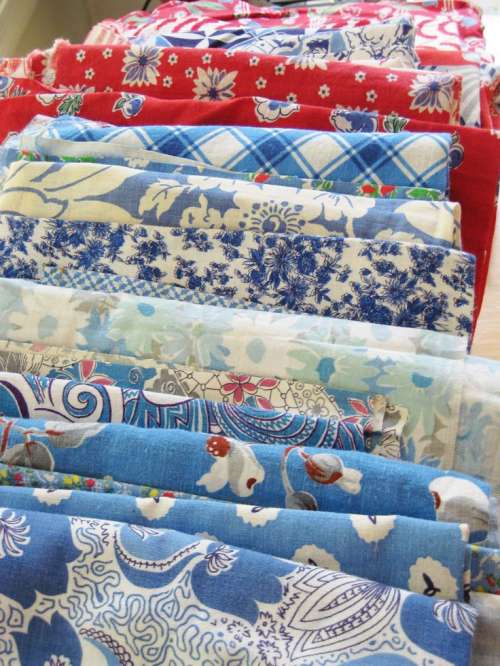 .
I also have certain types of fabric that really, really get me excited.  And you want to know something very Farmgirl-ish?  My favorite fabrics are the 1930's Feedsack fabric.
 .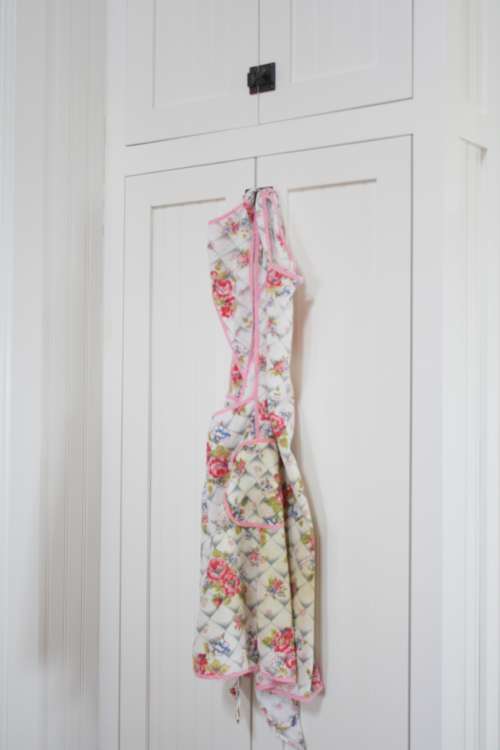 .
I love hearing stories from my mother about how exciting it was when she was a little girl and she would go with her parents to purchase supplies.  She would get to pick out the decorative flour and sugar sacks that they used for making aprons, bonnets, clothing and quilts. The apron in the above picture was my grandmother's – it is yellowed with age but still my very favorite apron! 
.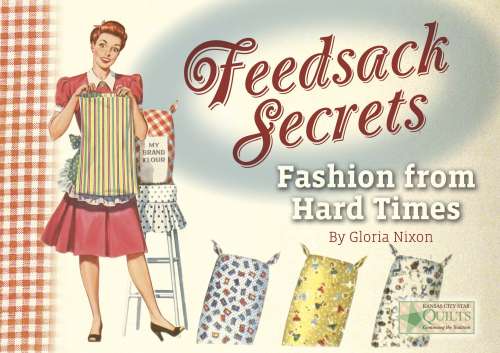 .
At a time when resources were limited, the fabric from these bags was almost as precious as the contents inside them.  When mills started producing sacks with prints it was with the hope that ambitious women would convince their husbands to buy additional bags of feed and supplies in order to have enough fabric to complete a dress!
.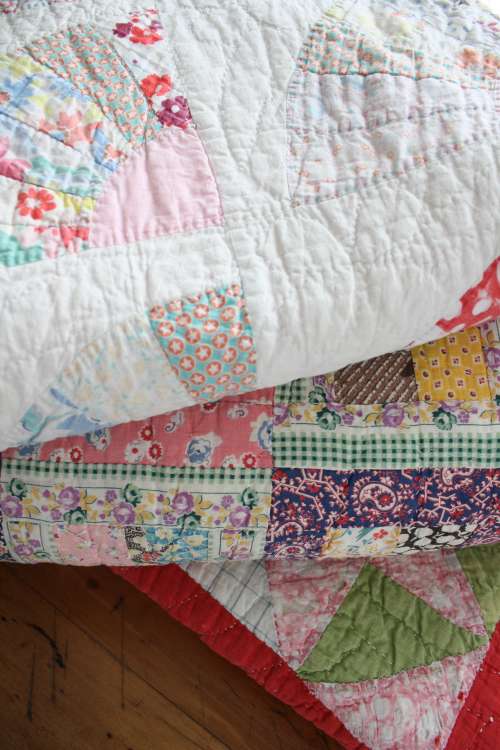 .
I have a few quilts made from Feedsack fabric that have been passed down to me from loved ones.  I cherish them.
.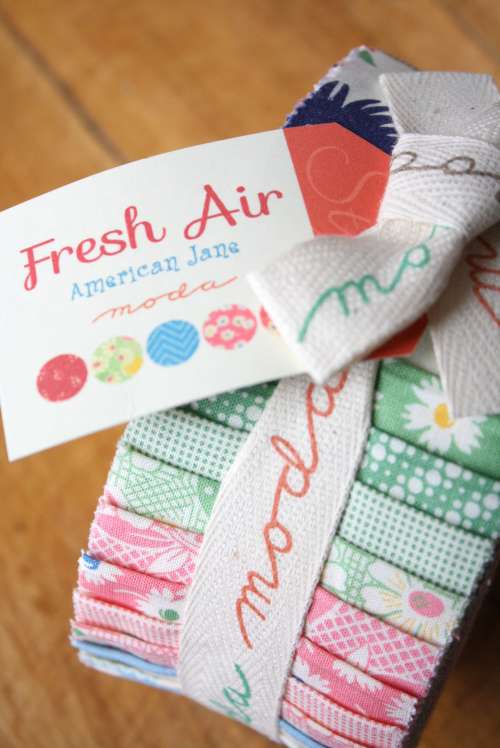 .
Today you can purchase some of the original Feedsack fabric on ebay, but there are also a lot of 1930's reproductions that are beautiful.
.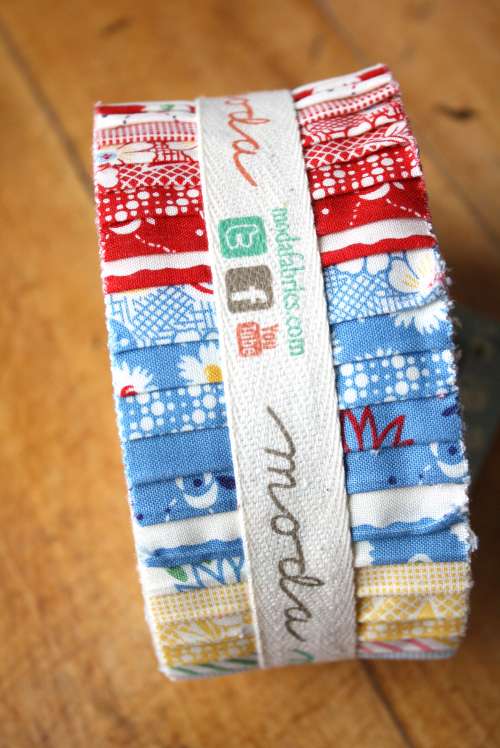 .
One that is out right now that I am really enjoying is Fresh Air by Moda.  It is a very fun 1930's vintage look.
.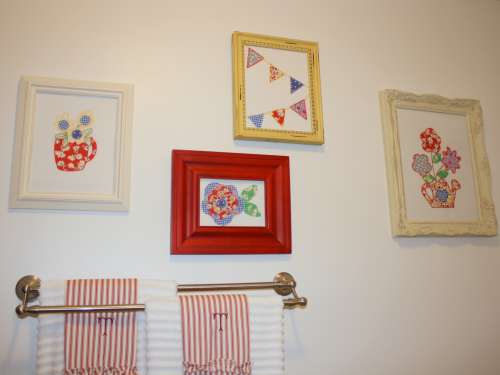 .
I've enjoyed using different Feedsack reproduction fabrics for many projects.  One of the projects I love the most are the pieced and embroidered art work I made and framed for my bathroom.  The reds, blues, yellows, and greens go so well together and make such a statement when you enter the room.
.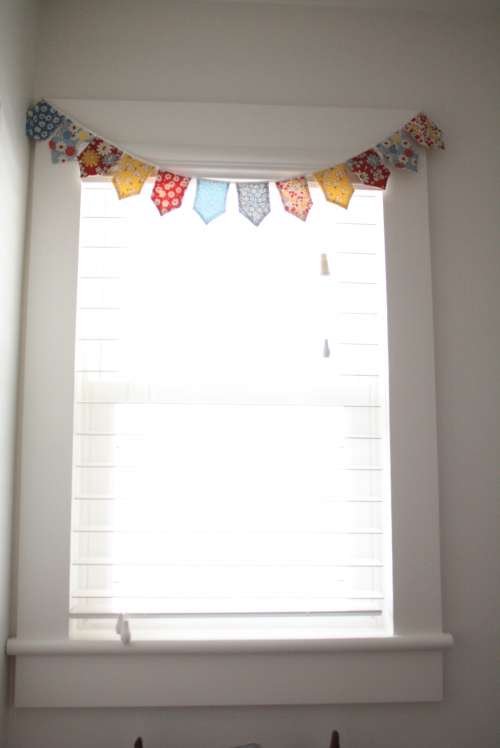 .
Recently I decided the window in the bathroom really needed a little boost of color, but I did not want a curtain.  I'm sure you've seen all the buntings on Pinterest and Etsy these days? I decided it was time to make one.
.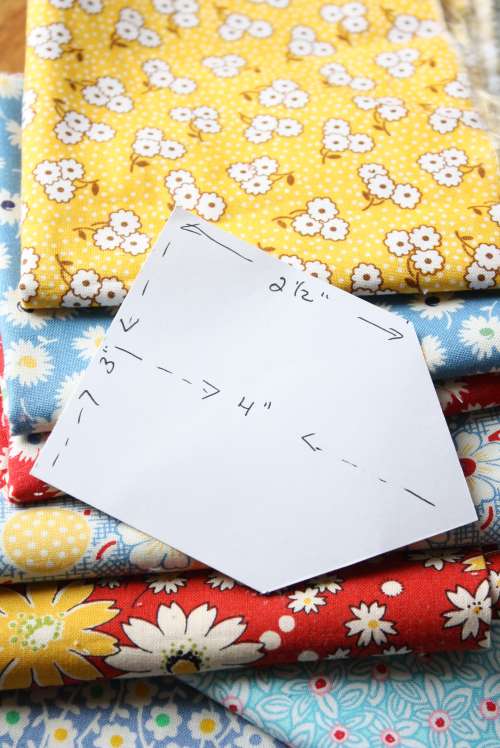 .
However, I wanted it small and a little different than the standard triangular shaped ones you see everywhere.  So I drew up a little pattern and got busy.
 .
It was such a fast and simple project I decided to share a little tutorial so you could make one too!
.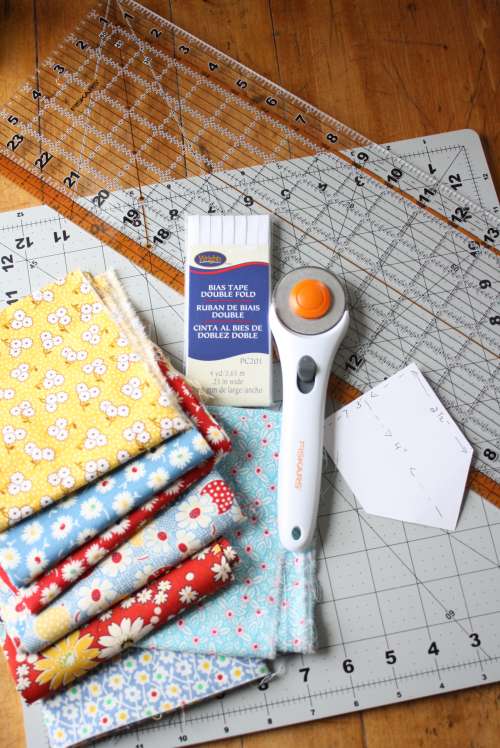 .
Here is what you'll need:  fabric scraps, self healing matt and rotary cutter (not necessary, but sure makes the job easier), your little pattern and a package of double fold bias tape.
.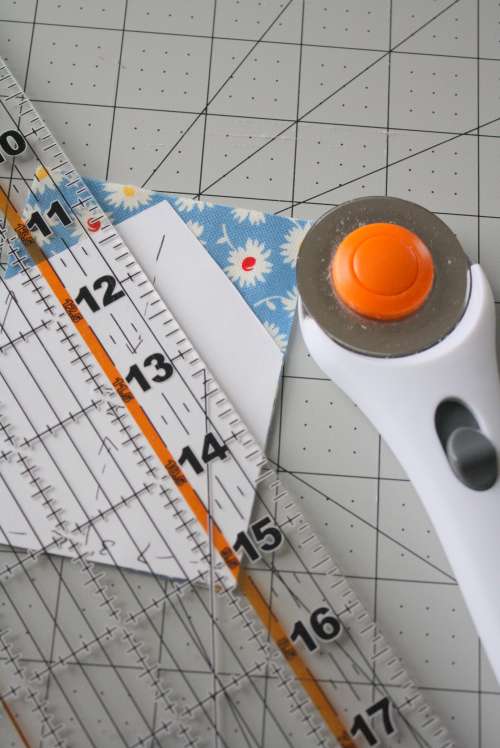 .
Cut your fabric to size using your pattern and rotary cutter.  You will want to figure out how many little bunting pieces you'll be making and then cut two of each (a front and a back).
.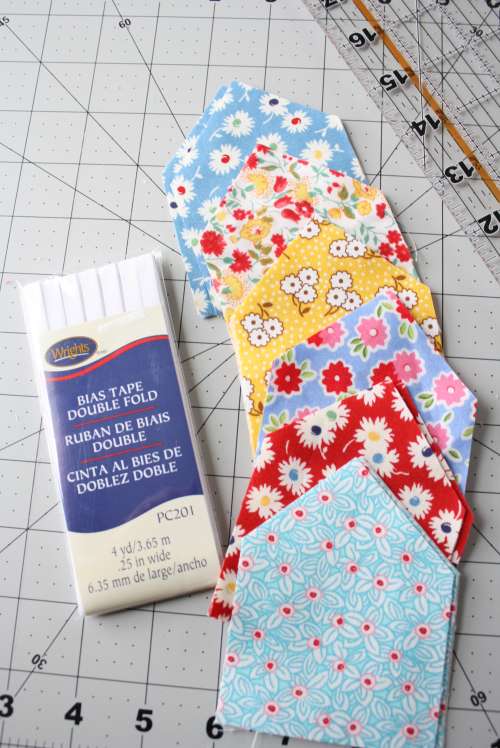 .
I was making enough for a 2 foot wide window, and I calculated that I needed 12 little pieces for my bunting so I cut 24 (4 of each fabric scrap).
.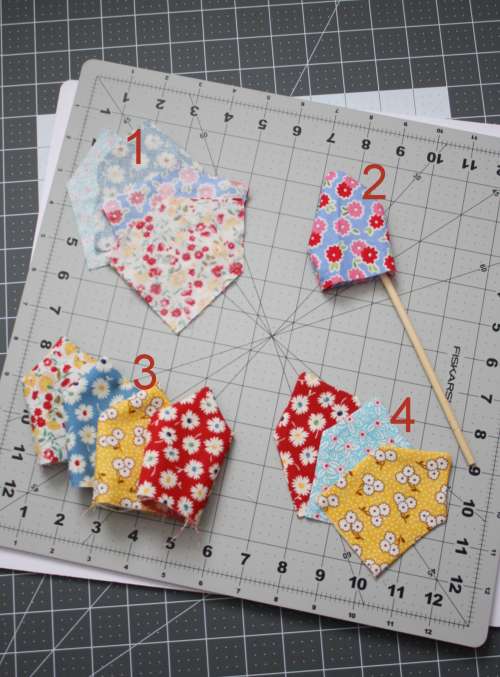 .
A few easy steps above: 
1) sew right sides together with a 1/4 inch seam allowance, leaving top end open 
2) turn right sides out, using a sharp instrument
3) push corners out thoroughly
4) press flat with a hot iron
.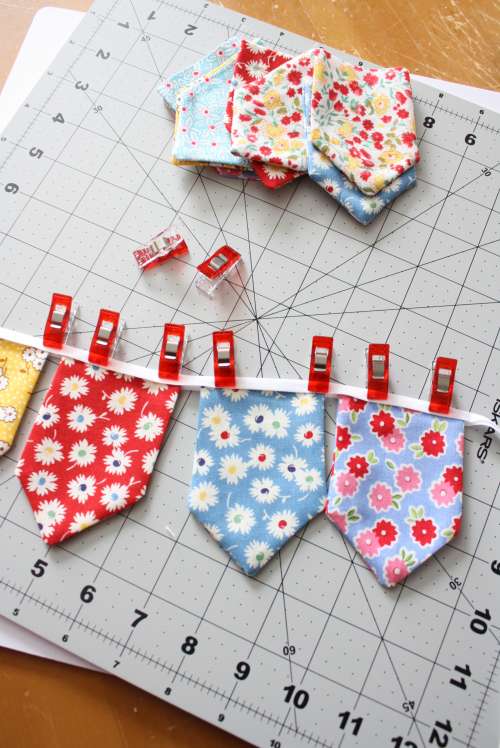 .
Now place each piece into your bias tape.  You can either pin them, use Wonder Clips, or just use your fingers to hold and sew as you go.  They don't need to be spaced perfectly.
.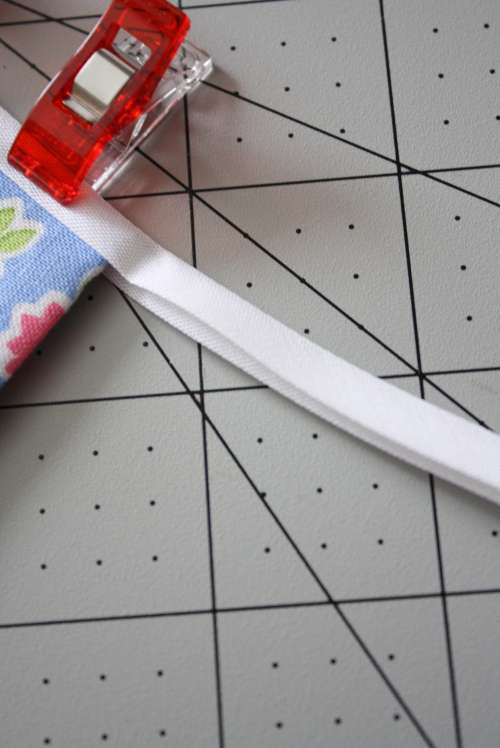 .
If you can see in the above picture, the bias tape has a bit of a longer side… that is the side that you want to the back of your fabric when you slip your little bunting pieces in.  The reason for this is because you can sew very close to the bias edge on the top and still completely pick up the back of the bias tape.
.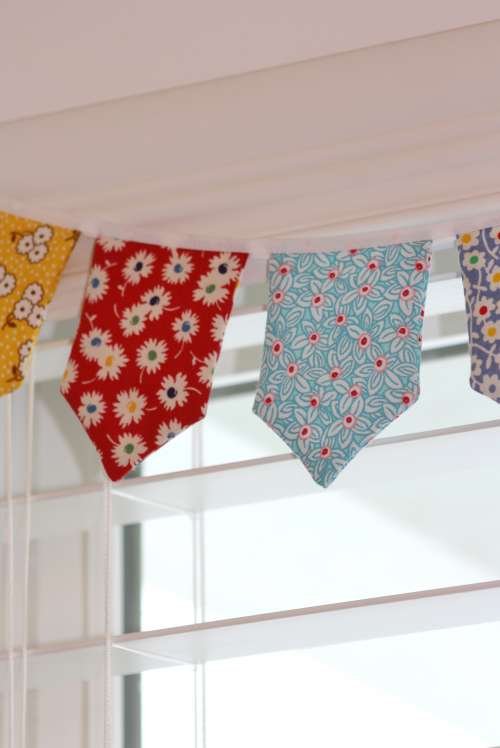 .
And that is it!  I hung mine by attaching to the top of the window trim with little thumb tacks.
.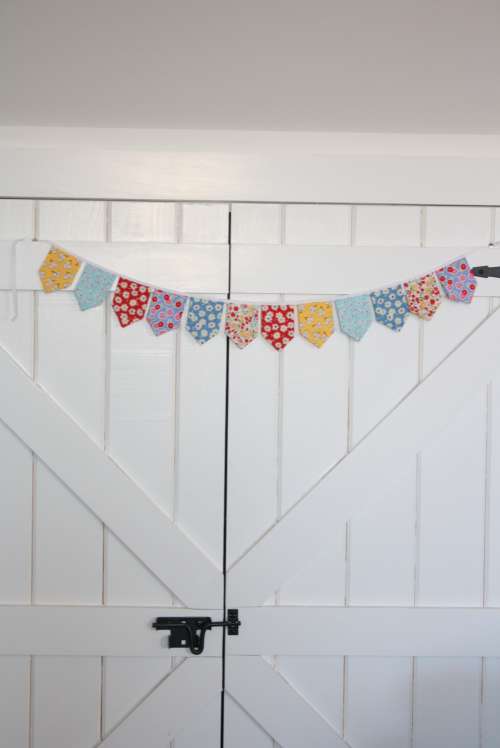 .
Isn't it funny how some of the simplest projects give us the greatest amount of joy?  This bunting just makes me smile!
.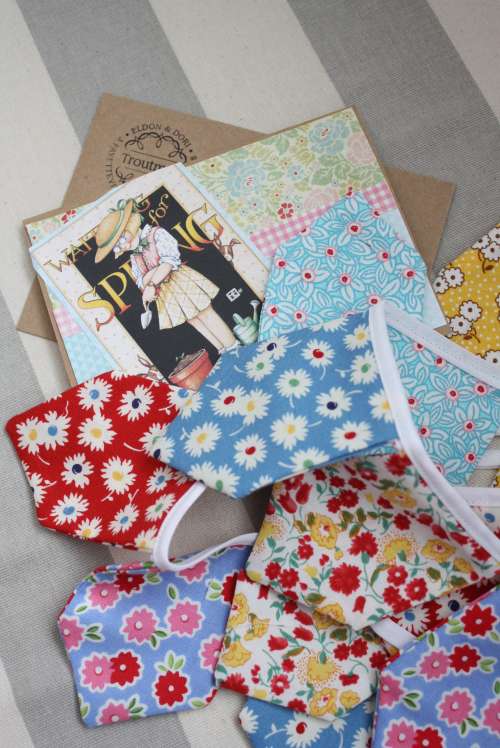 .
It also makes for a fun gift for a friend that you know is waiting for Spring just as much as you are and a colorful little bunting is a fun way to brighten a day!
 .
I'd love to know what you've been working on while waiting for Spring!  (And if you make a bunting, email me a picture!)
 .
Until our gravel roads cross again… so long.
 .
Dori
 .
P.S.  Just to prove that we DO get great sledding snow here in Middle Tennessee here is a little video of my daughter and I sledding down our hilltop (I'm in pink Carhart of course)… and yes, my throat hurt from screaming and laughing!