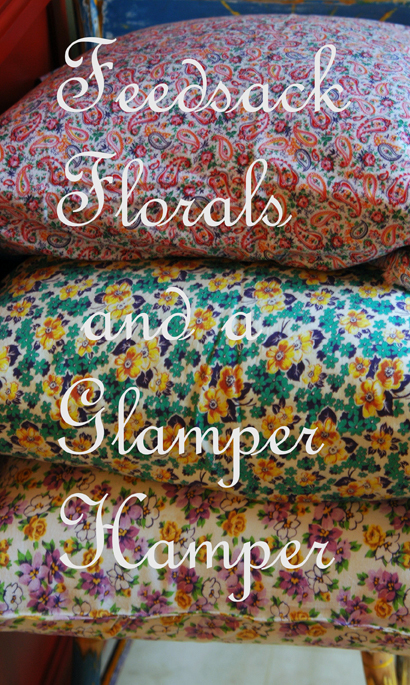 Dear Sisters,
Happy March! Only 20 days until spring and I'm counting each one! I've got a case of cabin fever like you wouldn't believe. We New Englanders almost skated by with another mild winter but February brought the Blizzard of 2013 leaving thousands without power for as much as a week or more followed by more snow, rain, sleet, wind and colder temps. The BEACH farmgirl is living with a house full of Crabby Patties, herself included! No wonder I'm craving the sight of spring florals, lace, colorful, crisp, cheery linens, sunshine, and a warm breeze blowing through my hair. That's not likely to happen anytime soon so while the wind whips outside I've been whipping up some farmgirl sundries that SCREAM SPRING for my booth at the Antique Mall…
Come on in and check out my one-of-a-kind Feedsack Floral pillows and the GLAMPER HAMPER I made to help chase away those pesky winter crabbies.
Depending on the season the things I do creatively speaking change. Like most artists, I like to dabble and it's been a while since I revved up my sewing machine for more than just a quick project. Signing up for a booth space has really gotten my creative juices flowing for sewing again! While searching for ' lots' of vintage linens on EBay I stumbled upon several vintage feedsacks/flour sacks with the prettiest florals and it was love at first sight!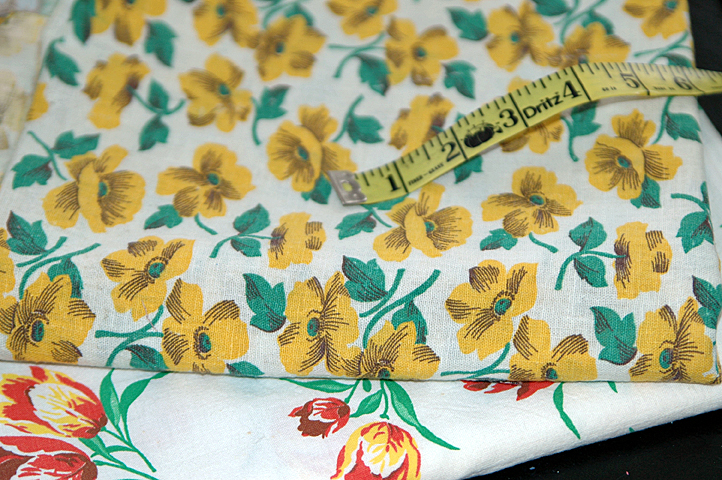 Working with this fabric makes me feel like a warm spring day inside! Just what the Dr. ordered to battle the winter blues.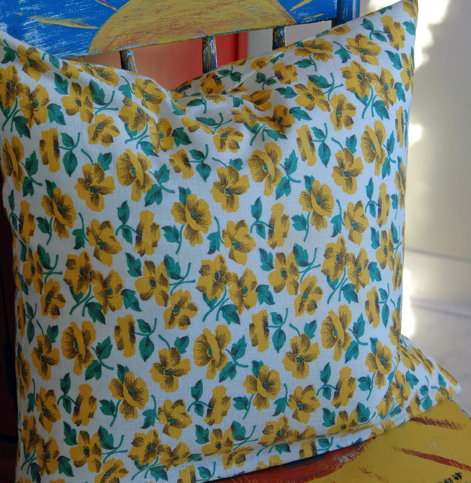 I found the perfect lavender, green and yellow floral prints to go with my hand painted china cabinet in my booth.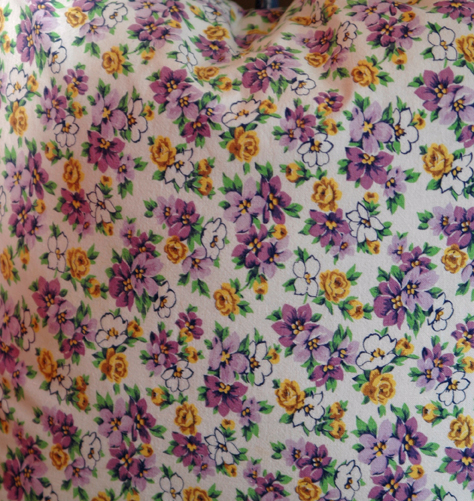 Here are two pillows in my booth! I love the juxtaposition of the glamorous shiny metallic paint finish and gold leaf with the soft, muted florals on of the feedsack fabric. I call it Farmgirl Glamour!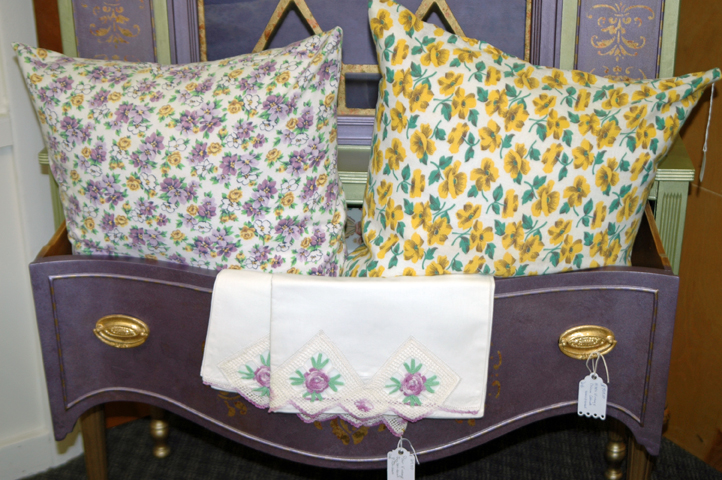 If I'M having this much fun discovering feedsacks imagine what the rural women of the 1930's – 1960's must have felt like when they purchased feed for their hens and flour for their kitchens in these beautiful sacks? Farmwives were known for making the most out of these cheery prints making everything from aprons, doll clothes, feedsack quilts (very collectable today) hand towels, curtains and PJ's for their young'uns. They often traded prints with fellow farmgirl sisters to gather enough of one print to make a dress or a skirt. I wish my chicken feed still came in these lovely sacks today don't you? Manufacturers stopped making fabric feedsacks in the 1960's when they switched over to paper and later began producing vinyl bags ( which are also upcyclable ) Some of the old feedsacks, floursacks,feedbags can still be found with marketing labels on them.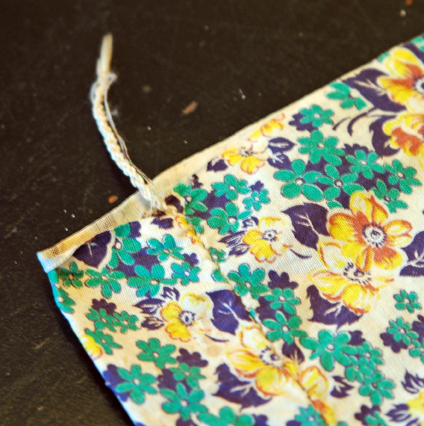 This one arrived as a full sack still together with the draw string cord still intact.
All of the others have come washed and open ready for a project or added to a collection. I'm not collecting them because I think they are way too pretty to sit on a shelf and not be put to good use in some fashion! What else can you think of to make with feedsack fabric? Here's a little more in-depth feedsack history for ya at Sharon's Antiques! And, for more inspiration for creating with feedsack fabric check out pinterest of course!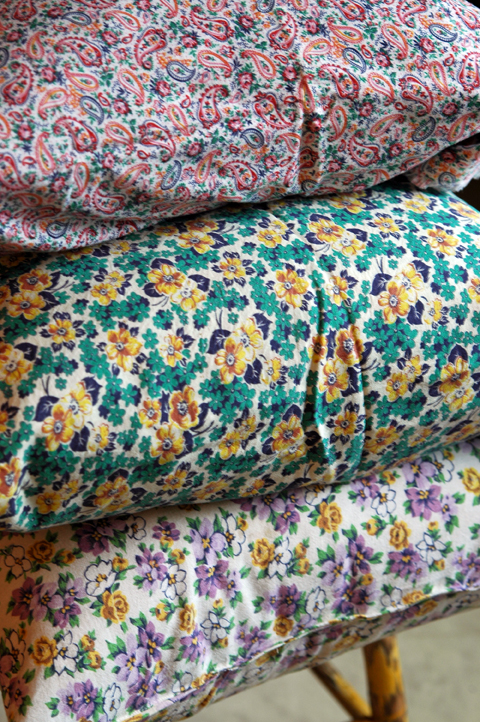 * Be careful when you're bidding for feedsacks that the description says " full open sack " because many Ebayer's sell them as fat quarters or half sacks for quilters and collectors and I wouldn't want you to be disappointed when your pretty fabric arrives. A full sack can be as large as 36 x 44 inches.  Just right for 20×20 pillows or other small sewing projects. Also, make sure you are not purchasing a reproduction. Most descriptions will say whether the fabric is vintage or a reproduction. This is true when shopping for all vintage linens on Ebay. I was fooled by one shop keeper who was selling a lovely battenburg tablecloth under the labels vintage linens 1930's – 1960's and they were made in china. Ugh! They're beautiful but I was a little dissappointed when I opened the package and  saw they weren't truly vintage.
Let's see. I feel like there was something else I wanted to share with you. Oh, yes! I promised you a Glamper Hamper!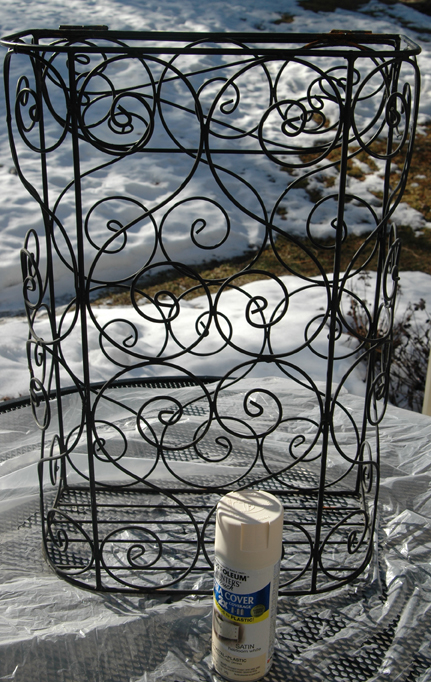 I purchased this vintage ( I'm thinking 1970's) wire hamper on Ebay because I have a thing for swirls…I put it in the shop for a few weeks but it just looked so homely sitting there rusted at the hinges with no real purpose shining through. I brought it home and gave it a little re-do! Nothing a little farmgirl imagination and some Heirloom White spray paint, burlap, a vintage hankie and some ribbon couldn't fix!  Here is my Glamper Hamper! Ta Da!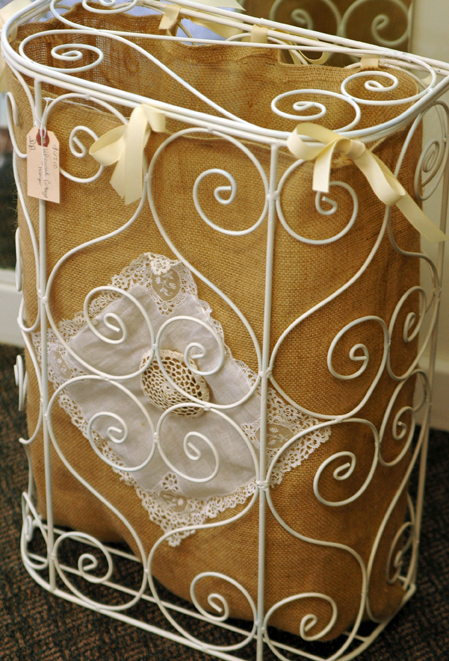 It's perfect for your romantic vintage inspired glamper. And, just the right size for a few days away and delicate enough for your prettiest petticoat or party dress!
Until our next shoreline visit~
Follow your creative sparks with passion and confidence and don't worry too much about where you headed. Just have fun along the way and keep those creative fires burning!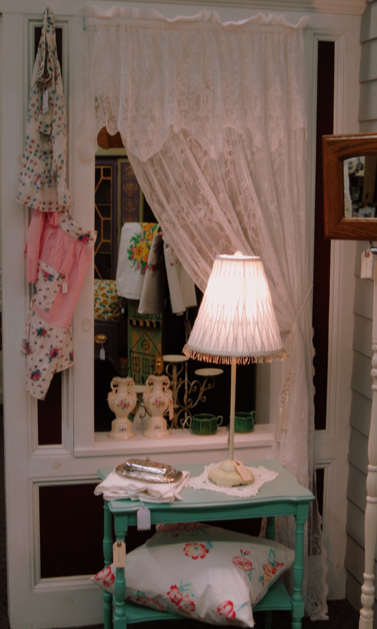 BEACH BLESSINGS and much love,
Deb xo