There was a time when every home had a cookie jar, filled with some sort of delicious home-baked treat! A favorite old cookbook advises keeping fresh-baked goodies on hand at all times, not only for after-school snacks, but "just in case company drops by". I was once told, "One is a piece, two is a couple, three or more is a collection". Loving all things "vintage", cookie jars are no exception to my adoration. A jolly blast from the past, you'll find them peeking out at antique stores, thrift shops, and flea markets. They're a great way to add whimsy and cheer to a kitchen, and don't just have to hold cookies….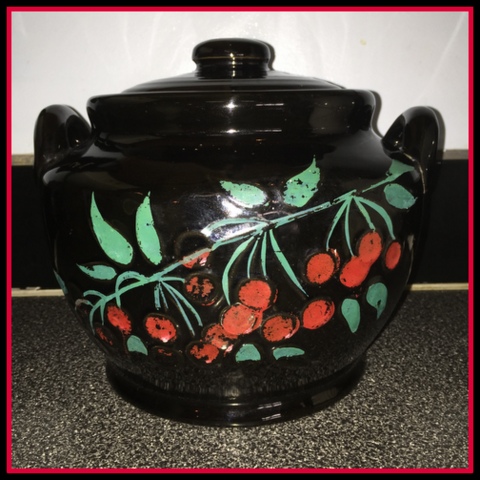 My kitchen is truly the hub of my home. My "theme" is "cherries" and "chickens" . The cherry theme was a popular motif in the 1940's and 1950's. This shiny little jar is what started my craze for all things "cherry". I found it at a flea market about fifteen years ago, but knew I just had to have it. I'm sure you know how that goes!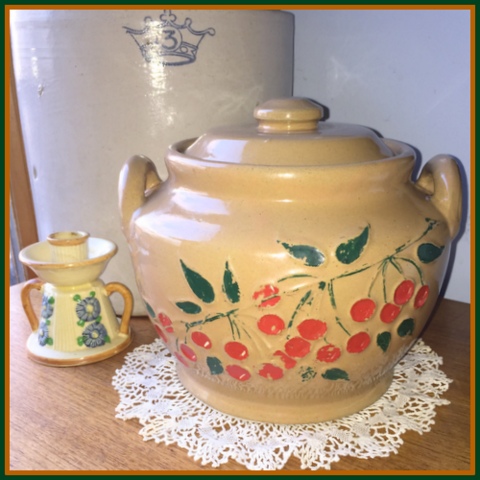 I love the bean-pot shape. I later found a second one, in a color similar to Yellow Ware. I use it to hold cookie cutters that are not in use.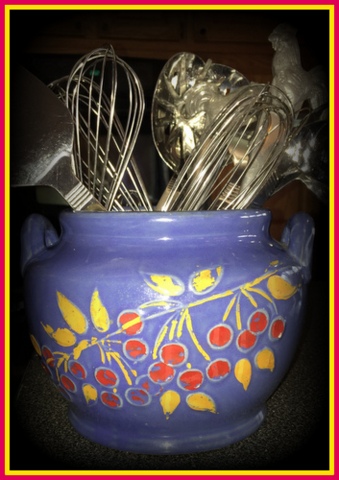 A blue one I found had no lid, so I re-purposed it to hold cooking utensils next to the stove. I know the jars are old, probably 1940's, with "cold painted" cherries. None are marked, and try as I might, I still don't know for sure who manufactured them. (If you know, please do tell)!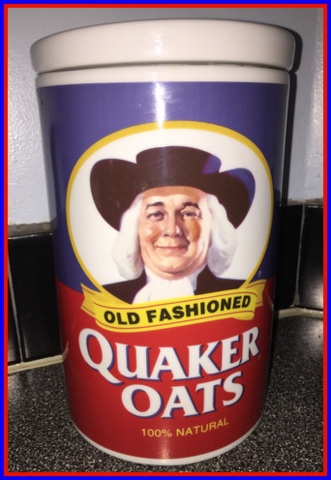 Vintage cookie jars had personality! Animals, people, fruits, and veggies were all popular themes, as well as were advertising jars. When I was a kid, my mom always kept a "Quaker Oats"  cookie jar on the counter, made by Regal China (and she kept it deliciously stocked). When I saw a similar one at the flea market, nostalgia kicked in. Mine is a reproduction, commemorating the Quaker Oat company's 120th year in 1997, but I love it just the same. This jar holds instant organic oatmeal packets for those occasional manic mornings when stove top oatmeal isn't an option.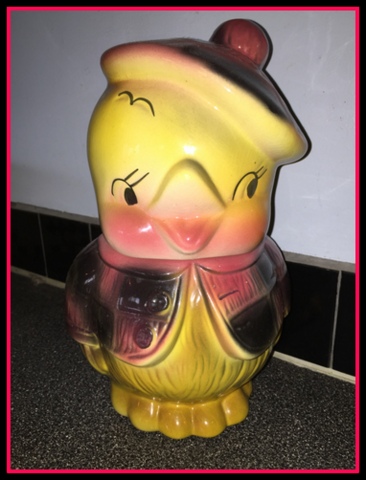 I received this vintage chick jar by American Bisque from a dear friend. His jaunty tam and sweater just crack me up! He sits by the sink and holds fresh, unused sponges. American Bisque made many popular jars, some featuring popular cartoon characters.
McCoy, Hull and Red Wing are a few other manufacturer names who made popular past-era cookie jars. How do you know if a jar is a reproduction or an true original? For one thing, original jars usually have "heft", weighing more than reproductions. It also helps to really know as much as you can about a particular company and their identifiable traits when buying an antique piece. Mine are all simply pieces that I love, that make me happy and create a warm, homey atmosphere in my kitchen. In a fat-free, gluten-free, sugar-free-filled world (blech!), vintage cookie jars harken the past with a sweet nod to much simpler times. That, and they're just so darned cute!
Are you crazy for cookie jars, or  have a special "kitchen collection", too? Tell me about it!
Until Next Time…Farmgirl Hugs, Nicole