It has been 7 weeks now I've had those baby chickens. Well, they aren't babies any more. They were babies for about a week and then they grew and grew and grew. Wow. They really do grow up fast. I don't guess I've ever witnessed anything like it before.
I have learned many things from those chicks by welcoming them into my farm, my home, and my heart. Today I'm going to share Seven Lessons I've learned in Seven Weeks from my Sixteen Chickens.
Now when you read this post, you might think I'm boycotting using apostrophes. Nope, I'm not. This crazy blog program deleted them all. So Im going with it. And maybe I should boycott them? Just for the summer?  Lazy days of summer and all. Okay, Im in.

Lesson 1.
You want it more if someone else has it.
I can put down a plate of bread crumbs and fruit pieces. A whole plate. But all it takes is one chick to pick up a piece and start running with it and they all want that ONE piece. It doesnt matter that there are 20 more pieces exactly like it over there in the plate, just waiting. Nope. They all want that ONE piece thats already taken.
This is chicken nature; this is human nature.
Lesson 2.
The jokes apply. 
I have one blonde chicken.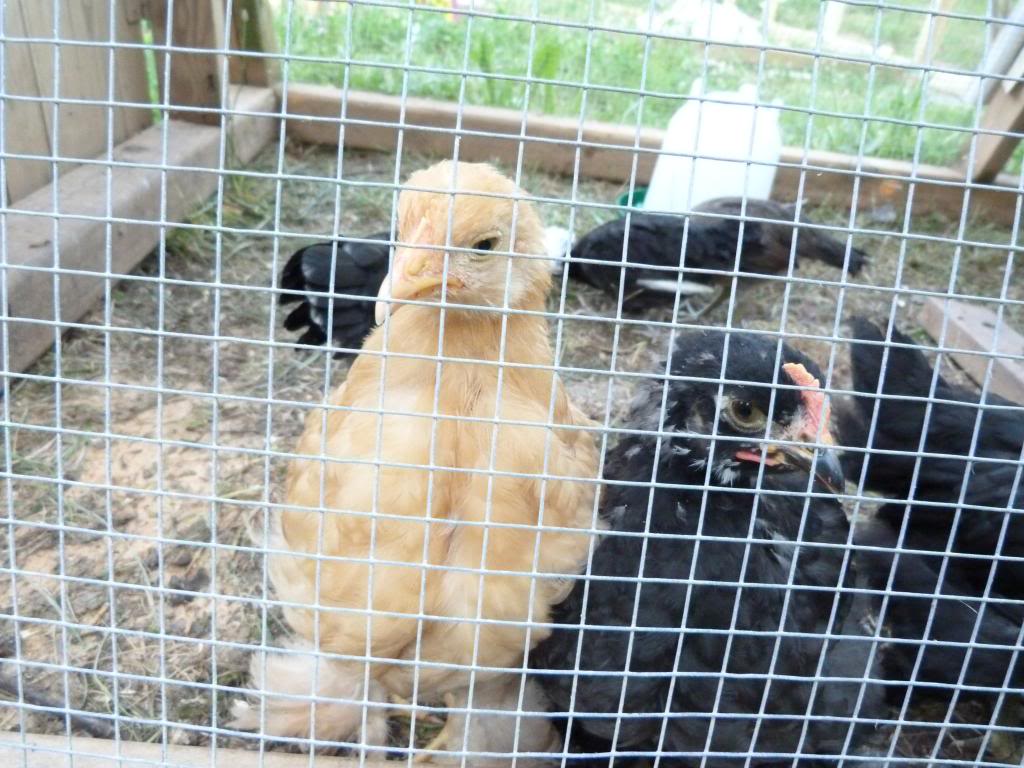 She isn't the sharpest tool in the shed. Shes a Buff Cochin with beautiful feathery legs and feet. Simply stunning. Her eyes are an enchanting green.  However, she cant find the door that everyone else just flew out of.  "How did they do that?" she cocks her head in confusion. And she pecks at her feet thinking they are worms. What she lacks in brains she makes up in gorgeousness. We call her Barbie. See the resemblance?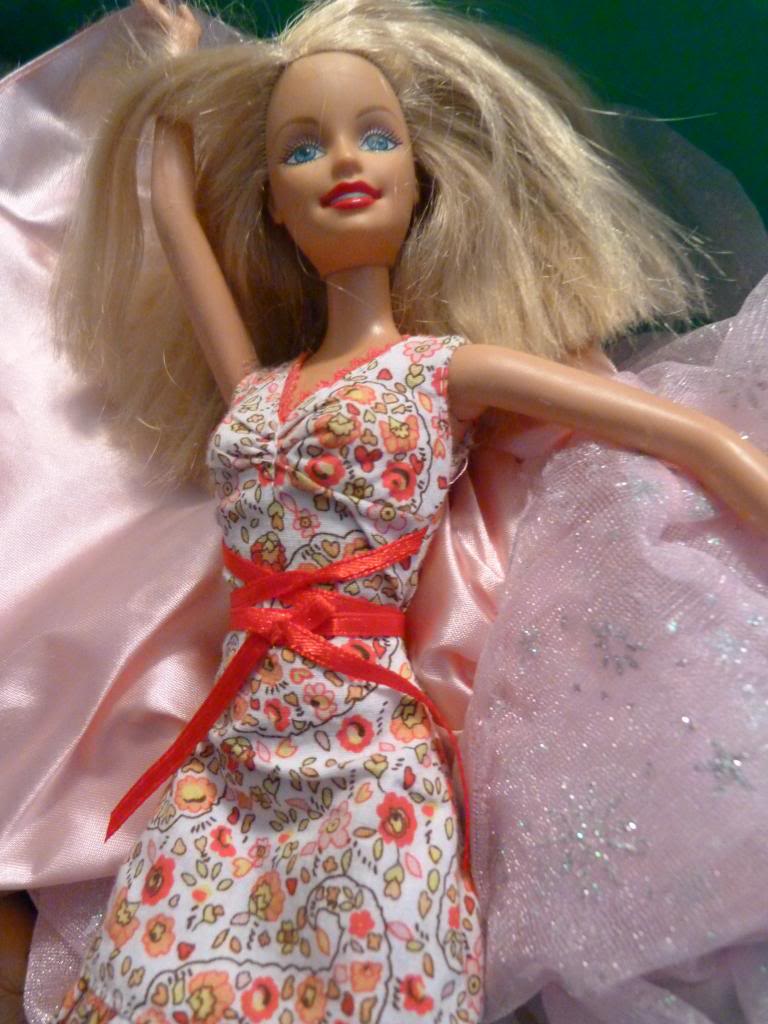 Barbie Cochin is a ding-dong. All blonde jokes apply. And I can say that because I used to be blonde.
(What did the blonde say when she saw the Cheerios box? OMG, donut seeds!)
The other Cochin, the chick beside her in the picture, is a Black Cochin. The black one is engaging and curious, a very smart bird, she or he is. (We think he might be a Roo, which suits us fine!) Cochins are calm and friendly. Great chicken pets.
Lesson 3.
There is a reason that being scared is called being chicken.
Chickens are afraid of almost anything and everything. They scream and freak out. They run and scatter. I fully understand why people with no courage are called chickens now that Ive spent time with chickens. I still don't get why its called the chicken dance, though.
Lesson 4.
Chickens have individual, unique personalities.
I never knew this. If I had known this, I would have stopped eating them a long time ago. I have 16 birds and each one is different from the others.
This ones personality is as different as her hairdo.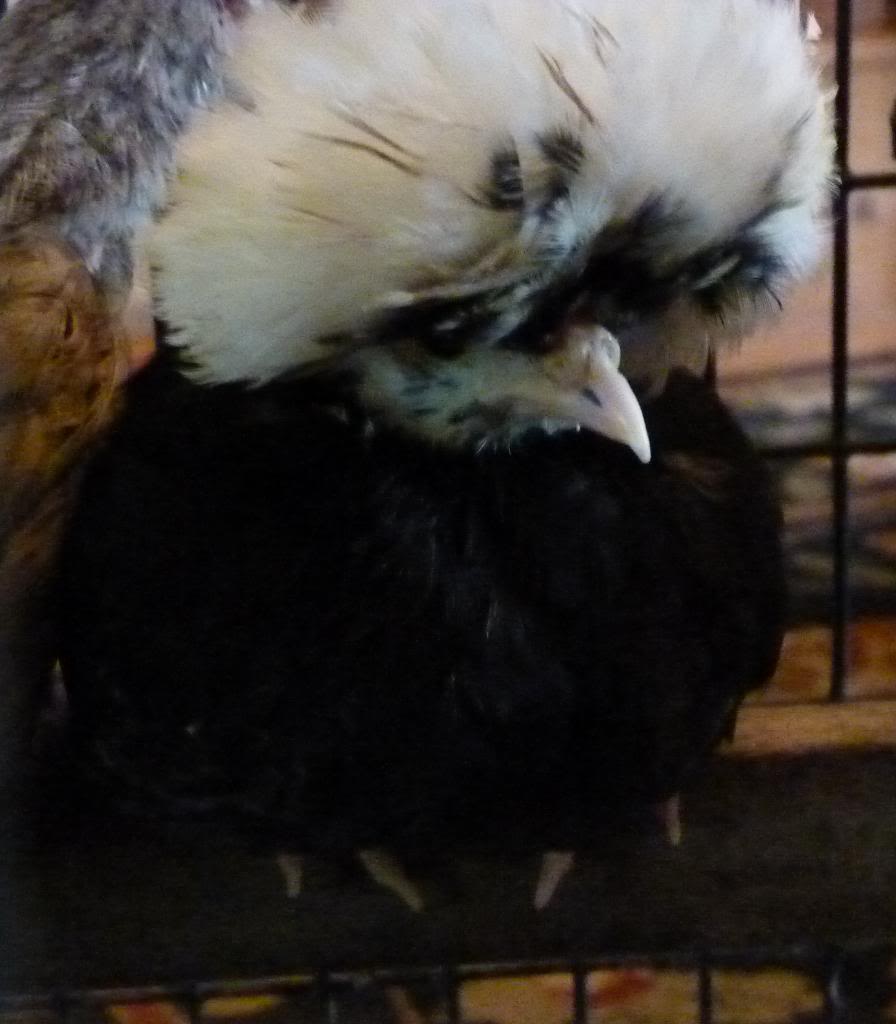 All my birds are different. I have a sweet, sweet, sweet friendly bird. I have a bold, courageous, friendly bird. I have a bird that is flighty and crazy and wild. They are each different from the other. Chickens are precious and unique.
Lesson 5.
Fresh Air and Green Grass is good for everything.
Because my hen house project is so ~~S~~L~~O~~W~~, I jumped at the chance to take a small chicken coop off someones hands. What I've been doing the last week or so is to take some of the chicks outside each day. Its so cute how theyve already learned the drill. I take the cage in their room in my house and I let some of the birds jump in the cage to go outside.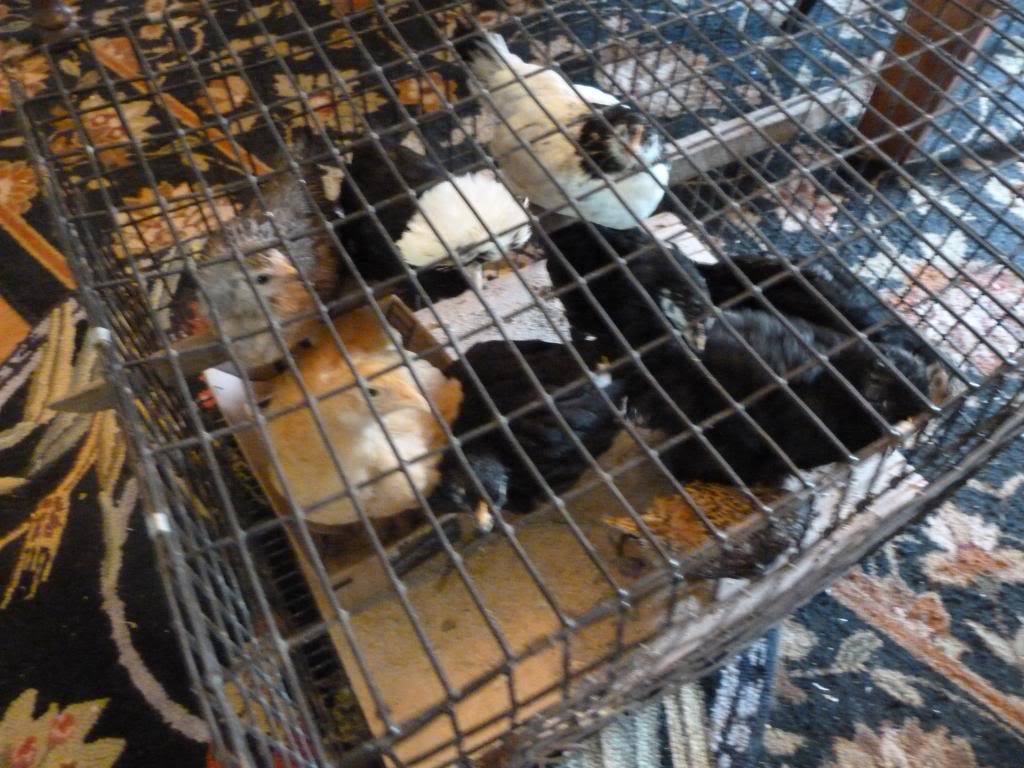 I loved seeing them touch their feet in the grass for the first time.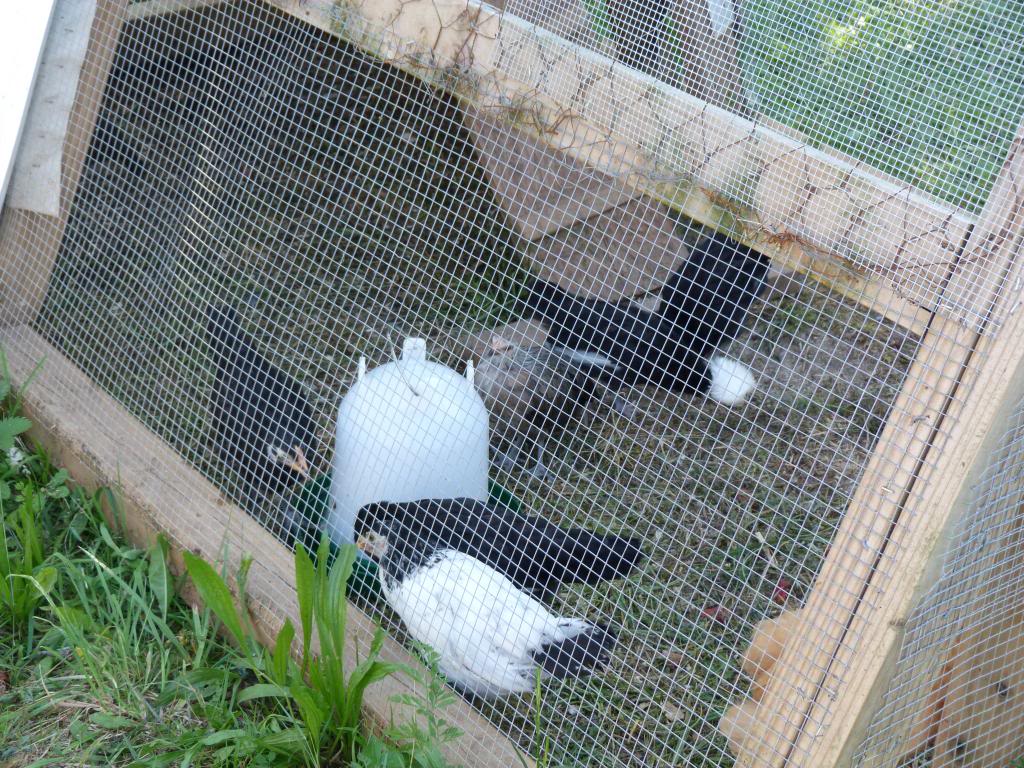 It was so funny. The first time, they were sooooo "chicken" and timid to leave the cage. Not any more. Now they fly out one after the other, excited to be outside again. They come back in every night and join the ones who didnt go out. Crazy, I know; you dont have to tell me. I'm well aware. Who provides outside day care for chickens? That would be me.
So the lesson here is when you get the chance, go outside. Even if you are afraid, do it. Jump in and take the trip. You never know what you'll experience out of the house.
Lesson 6.
You can accomplish things you never thought possible.
Heres the current status of the hen house.
My facebook friends helped me decide on the shutters. And can you make out the stained glass window above the door?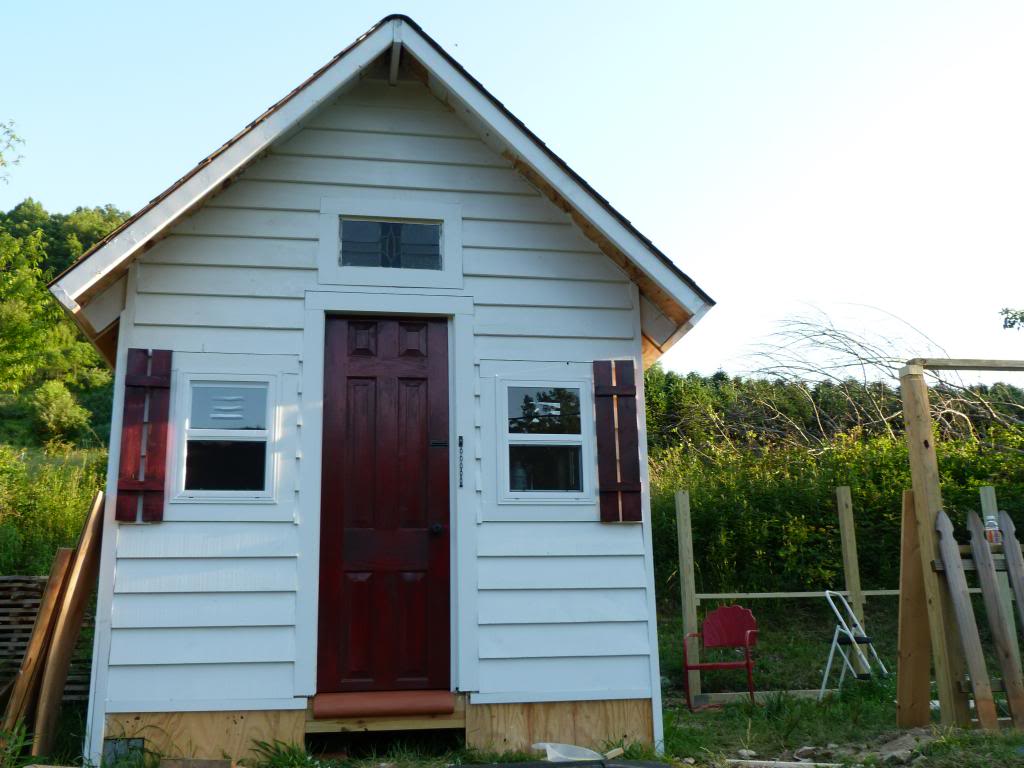 When I started this project, I couldnt hammer a nail in straight. I actually told my husband that the problem was THE HAMMER. He said, "Really? The hammer???" I was serious; I thought it was because the hammer was too light-weight with my lack of arm strength.
It was not the hammer.
I can now hammer a nail straight and steady.
And now I have learned how to use this baby.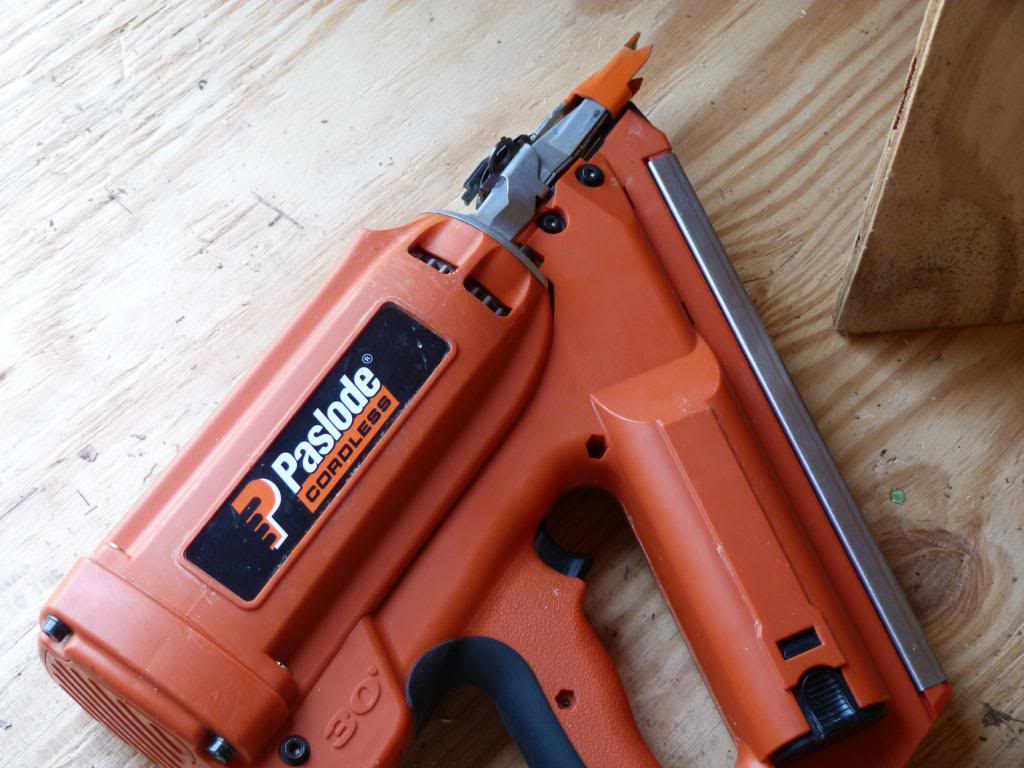 Its like a machine gun: rat, tat, tat, tat, tat. And youre done. Its a thing of beauty. I put up these interior walls in no time at all.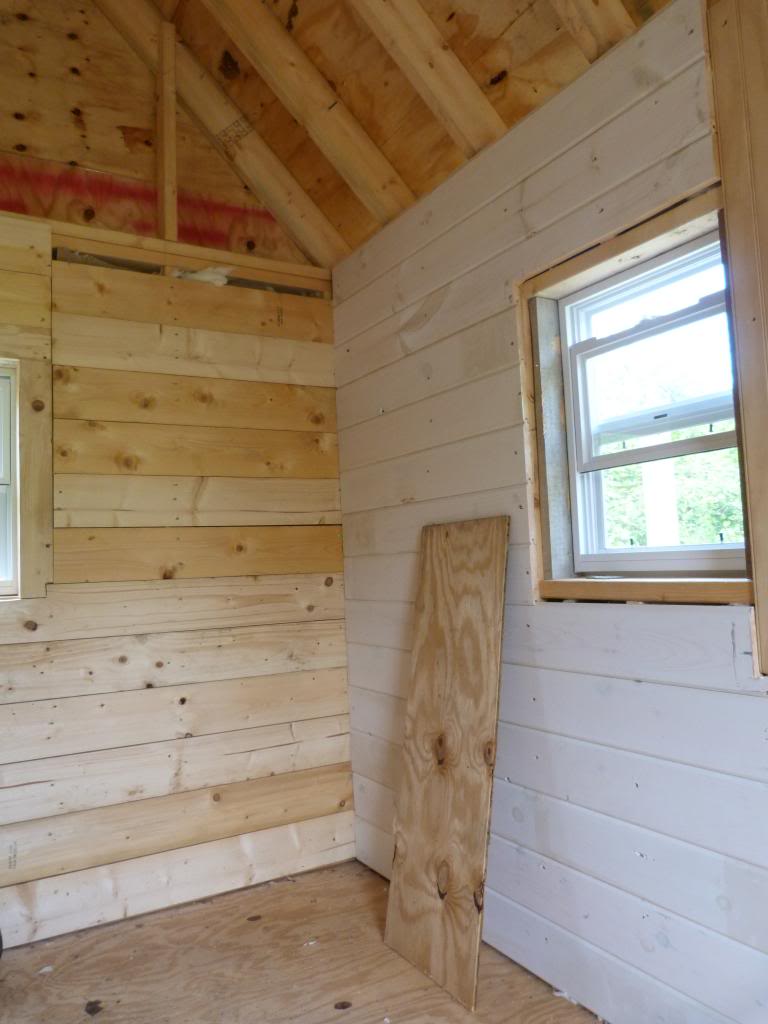 My hubs did the cutting (Ive stayed away from the saws so far) and I did the rat, tat, tat, tatting. They dont match because this is all scrap from our previous project. I dont think the birdies will mind.
Another thing I learned was how to cut insulation. Yes, indeed, there is insulation in this hen house. I dont have power, so thought Id better insulate it.
A fella told me that he had not insulated his and his chickens were fine. "No big deal," he said, "In winter, their combs get a frost-bitten, turn black and fall off. They grow back." Um. No thanks. Should I have told him that I take mine outside for chickie day care? No, I didn't think so.
Anyway, I was cutting on the paper side until someone stopped by and told me to cut on the insulation side. What a difference that made! Cutting on the paper side was slow and arduous. Cutting on the other side was smooth and easy!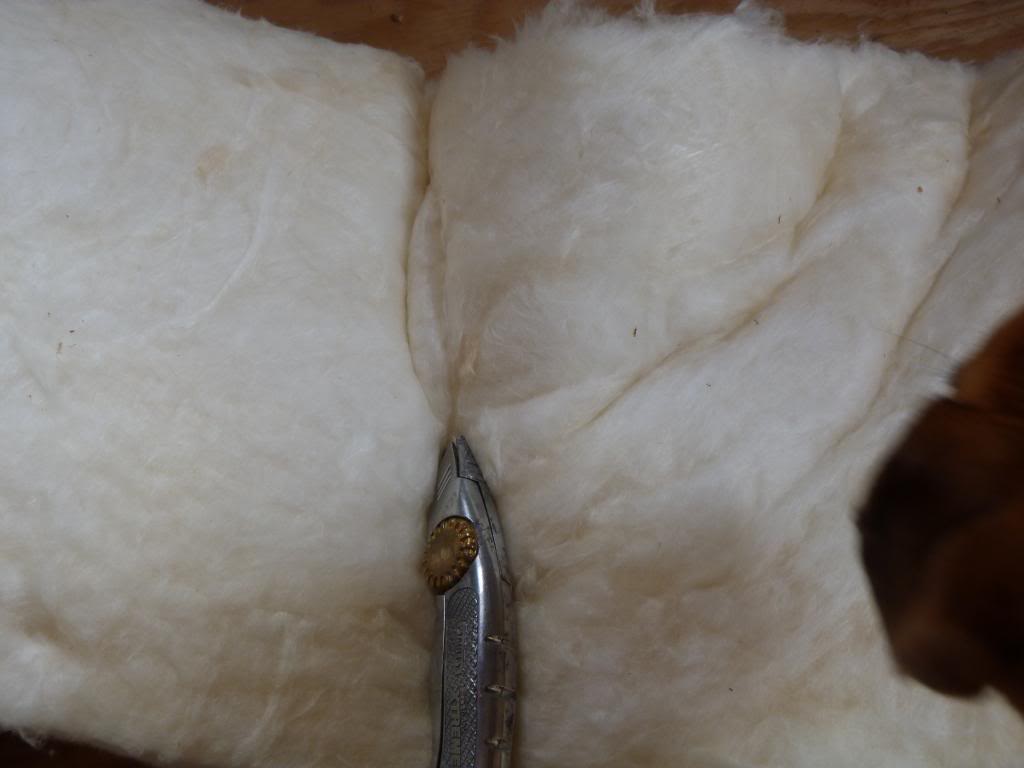 I bought a $20 piece of scrap linoleum at the local home improvement store for the flooring. Do you see why it was only $20?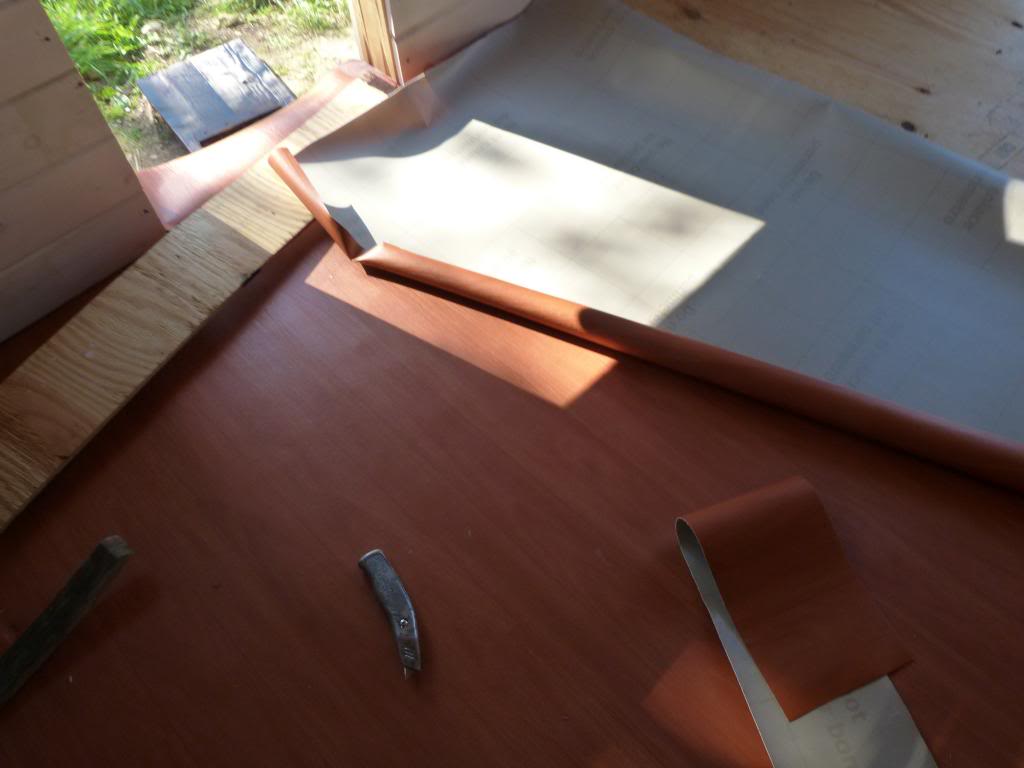 Yes, it is orange! But I like orange, what can I say. I figured that it will be covered in a bedding material any way. All I had to do was cut it to size. It took no time at all. I just had to work around and keep moving a certain rocking chair. Check this out.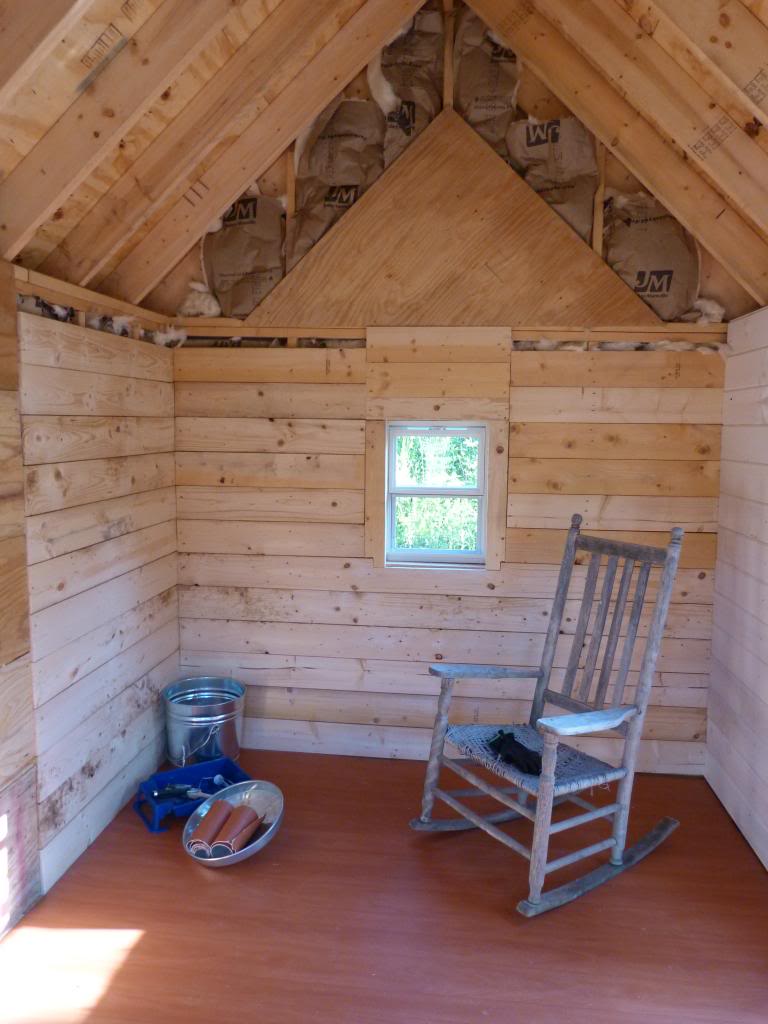 We built the house around this old rocking chair. Unbelievable. I took it in there so I could sit down every now and then and drink some water. It is an old chair that came out of the barn here. And somehow, without thinking, we framed the house around it. The doors are too small for it to fit through. Its not going anywhere. How funny is that?!
Lesson 7.
There is nothing quite as delicious in summer time as cantaloupe and blueberries together in the same bowl.
The combination of those two flavors is heavenly. chicks love it and so do I. Tis the season for fresh fruit! I have a few blueberry bushes I need to plant hThe ere; one I dug up from my old house. Next year Im planting cantaloupe in the garden. For sure. For me. For my birdies.
Talk to me.
Until next time, Friends, savor the flavor of life!
Lots of love, The City Farmgirl in the Country, Rebekah