I'm still here in New Mexico with my parents. We've been talking a lot about the old days of ranching in the West and some of the things that stood out in my parent's minds as vital to survival, not only for their own families but also their livestock. Of course one of the most important was water.   This was where that most amazing invention came into play – The Windmill.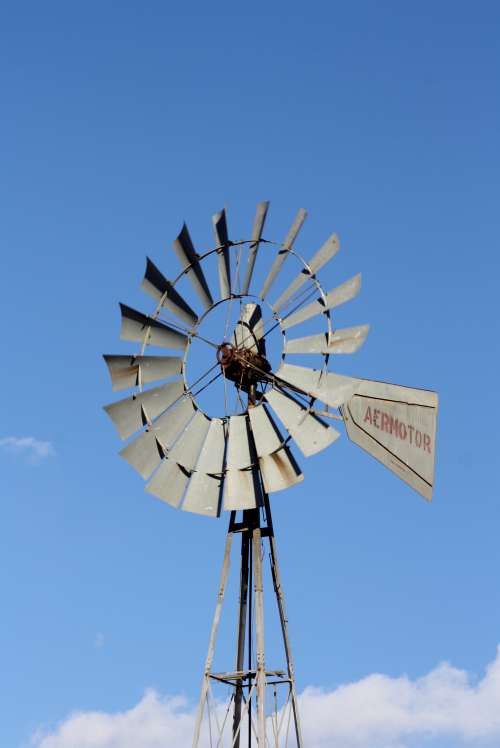 I asked my mother if she would be willing to be a part of this blog post. She very happily picked up pen and paper and began writing.   Following is her memory of the time she was six years old and understood so clearly the importance of water.
The Sounds Of Home
I am six years old – big enough to set the table for breakfast. I hear the windmill squeaking as it starts to turn. Daddy says, "Well, Ma, it sounds like you'll be able to do the wash today". We have been saving on water lately for we've had very little wind.
I hear my brother stamping the dirt from his feet on the door step outside the kitchen. He empties the last of the hot water from the kettle into the wash pan on the stand for each of us to wash and comb our hair before breakfast. He refills the kettle so water will be hot to wash dishes. My sister washes the dishes, Mother pours boiling water over them and lifts them out. I dry them.
The wind is picking up speed now. As it whips the vane of the Windmill, the wheel comes full toward the wind and turns. The sucker rods begin to lift and water is gushing out into the tank mounted on the windmill platform. I love to watch it work. Soon we will have water piped in to the house, but I hope we keep the water bucket with the dipper. Water tastes so good out of a dipper.
When Daddy and my brother were digging our well, they started early every morning. I watched as they shoveled dirt out to the side. Then soon they climbed down a ladder and only their heads showed. As the well got deeper they took turns, one shoveling and filling a bucket while the other drew it out and dumped it. I remember my brother shouting with glee when they hit water! What a wonderful day that was!   Then the water bucket was lifted by a windlass and carried back and forth.   Now at last we have a windmill and our own good pure water.
~ By Carol Dunagan Smith ~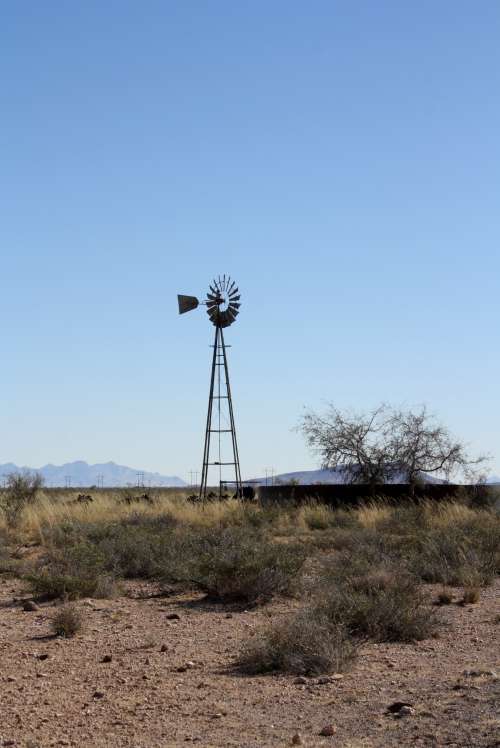 I guess after living in the South for several years now I've gotten used to the rain, full ponds, and rain barrels. Being back here in the "boothill" of New Mexico, I've been thinking about windmills and how important they are to the Rancher when the average rainfall is no more than 10 inches a year and the ability to pipe in water is practically impossible.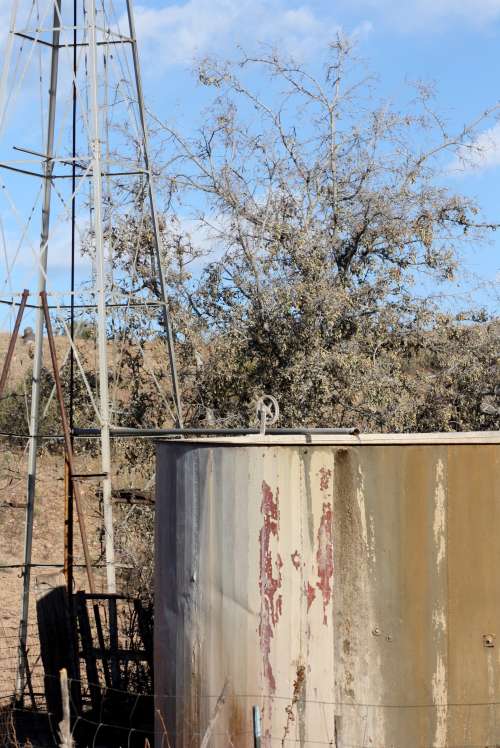 If you look closely in the above picture you can see the water pouring out of the pipe into the tank.
Windmills are vital for providing water for the livestock as well as for the wildlife.
My mother said another important part the Windmill played was as a look-out tower!  She said they would climb it to see if they could find a missing cow, or to see what vehicle was in front of the rolling dust a mile away, or to see where their Daddy was working!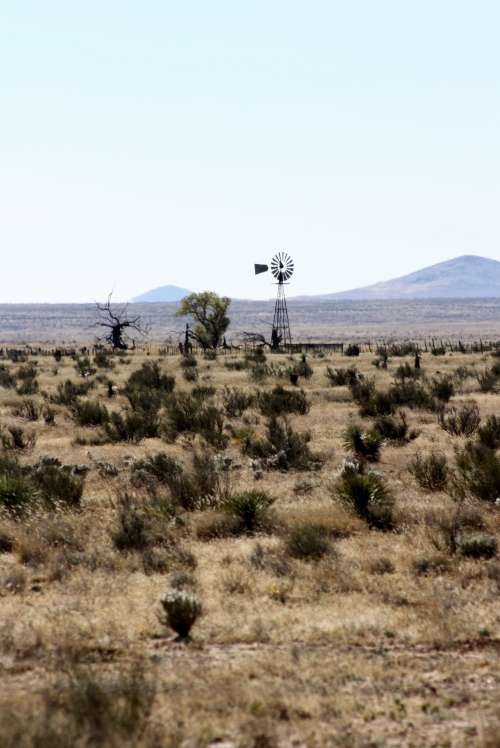 Something that you will almost always see when you see a working windmill, is a shade tree!  It very likely will be the only shade tree you will see for miles.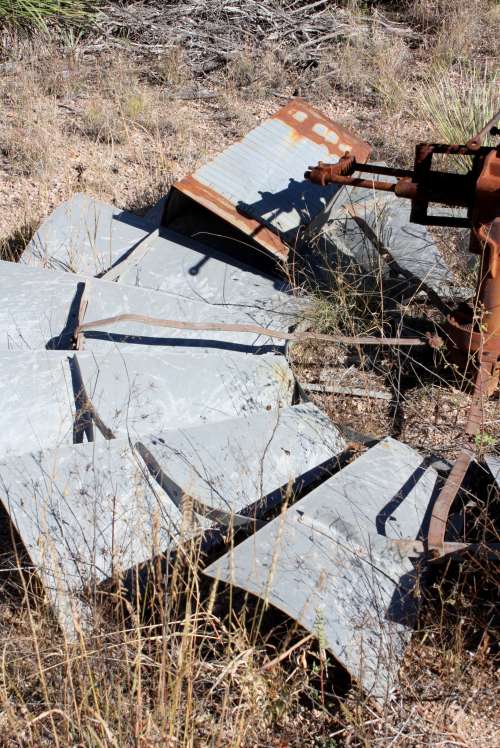 Windmills require a lot of maintenance to keep them up and working.  If the vane breaks off in a heavy wind storm, it will very likely bring down the whole wheel.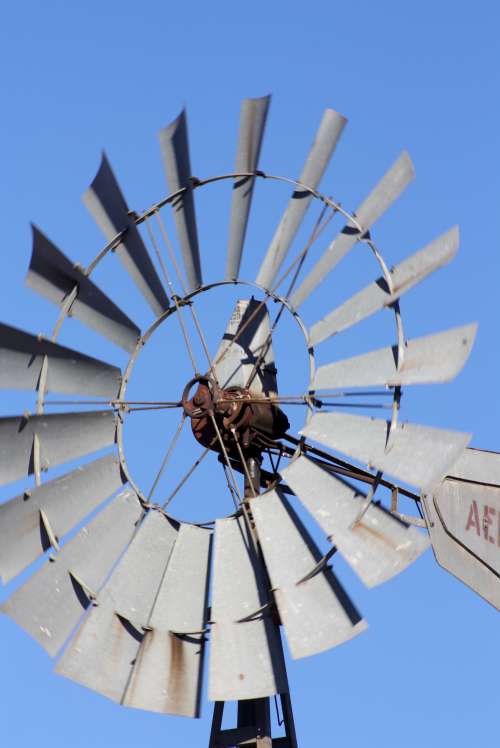 One of the neatest sounds is the sound of the wheel blades as they are rapidly turning in the wind.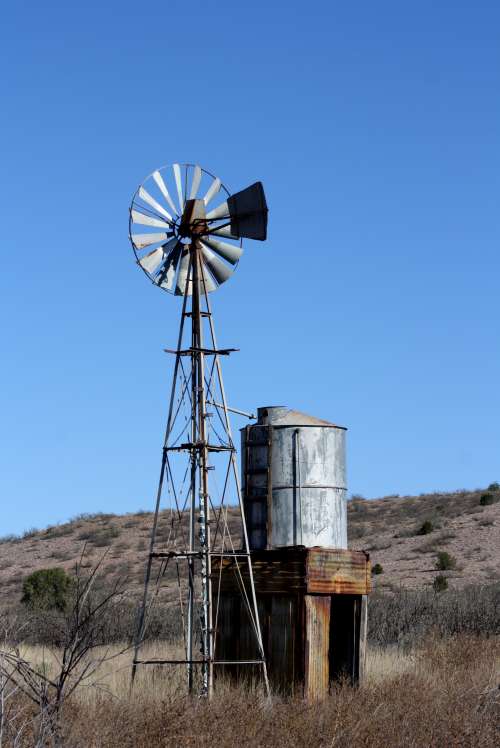 The water storage varies from one windmill to the next… some are in holding tanks on a high platform and the water is piped elsewhere.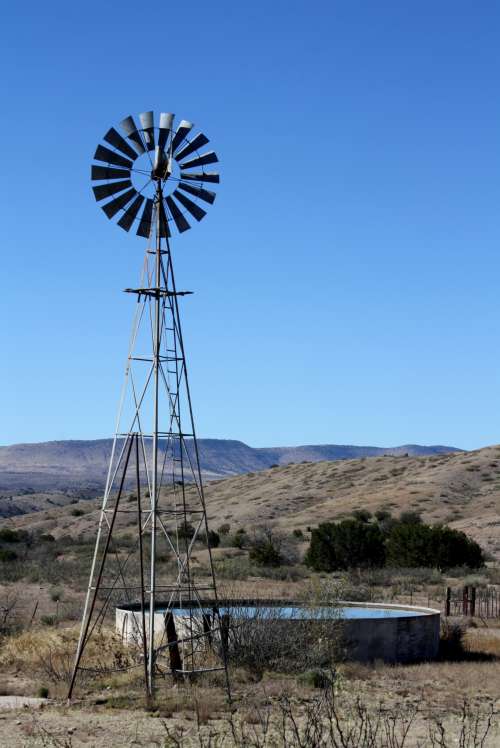 Some have a large stock tank that holds the water and is piped to a small trough in a corral  a short distance away.  The tank in the above picture is perfect for swimming in!  Most of us Ranch kids learned to swim in a tank like this one!
At my parents Ranch (which I didn't get to visit this trip) they have a Windmill that pumps water into a large stock tank in the ground.  (Similar to what we would call a pond in the South.  They do not call them ponds here in the West!)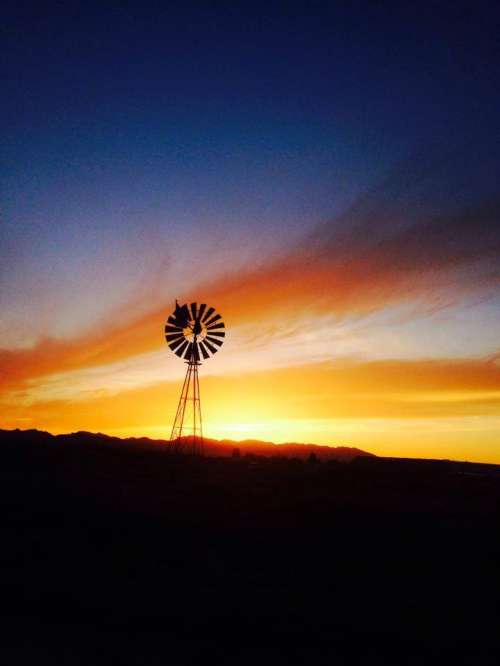 The above picture was taken by my cousin on their Ranch in Arizona.
Windmills are such a beautiful part of my heritage.  I wish I could pick one up and take it home with me to Tennessee!
For fun, here's a little video I took just in case you've never seen a Windmill in action!  Sorry for the wind noise… but after all, that is what makes the wheel turn!
I have so loved this time with my Momma and Daddy.  We've talked so much about their lives, stories and memories.   I will treasure this month for a long time.
And my mother?  She has actually written and published a book about the life of her Mother, an early Pioneer, homesteading in New Mexico.
Until our gravel roads cross again… so long.
Dori
P.S.  I'm still working on an Interview with my Daddy.  Unfortunately, it is a lot more work than I thought it would be to get him to talk about himself!  He said, "I'm no more special than any other small time Rancher"!