UPDATE: NANCY ADCOCK WINS THE ALMANAC. WOOHOO!
"Your Mama wears combat boots to church."
Rebekah, as a 6th grader
May Farm Report from Rebekah's Farm
Ah, well…..the thing is…..the farm is coming along…..not so much.
The garden. The visitors. The chicks. The horse. The giveaway. And. The combat boots.
Here we go. In reverse order.
The combat boots.
"Your Mama wears combat boots to church."
See back when I was a child, we KNEW how to insult one another. That quote is one of the things we used a lot in the little town I grew up in.
One of my presents for my 50th birthday was this pair of green combat boots.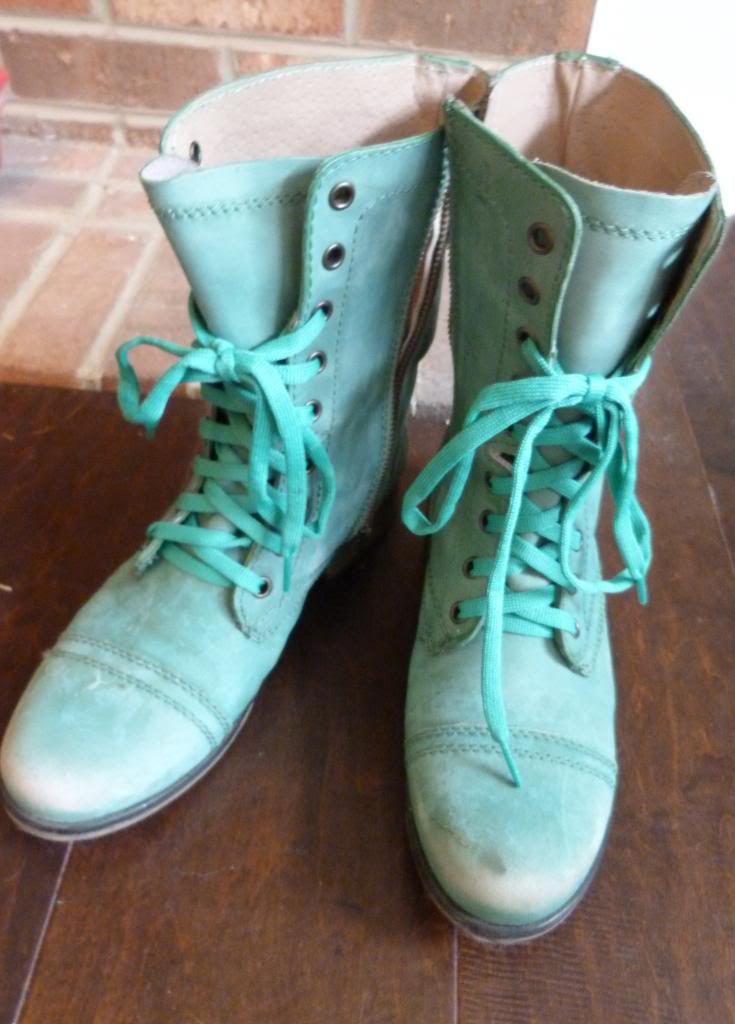 One of my other gifts was the freedom to wear them whenever and where-ever I want to. That freedom was a gift I gave myself; it comes with turning 50. So I wore them to church under a black long skirt. I told my daughter that if someone said to her, "Your Mama wears combat boots to church" that they'd be exactly right. She told me that these days the kids just say, "Your Mama." What?! That's it? Just "Your Mama"? That's supposed to be an insult? Your mama WHAT? I don't get it. I just don't get this generation. Are they really so lazy they can't think of something specific to say about each other's Mama's. (haha. I get to say these kinds of things now that I'm 50: "I just don't get this generation.")
Anyway. I wore them. They looked super cute. And they almost match my new truck.
Have you discovered the Greenhorns website? http://www.thegreenhorns.net/ I bet you have already. Very cool and informative. Well, I ordered two of those Almanacs and am giving away one. http://www.thegreenhorns.net/category/media/almanac/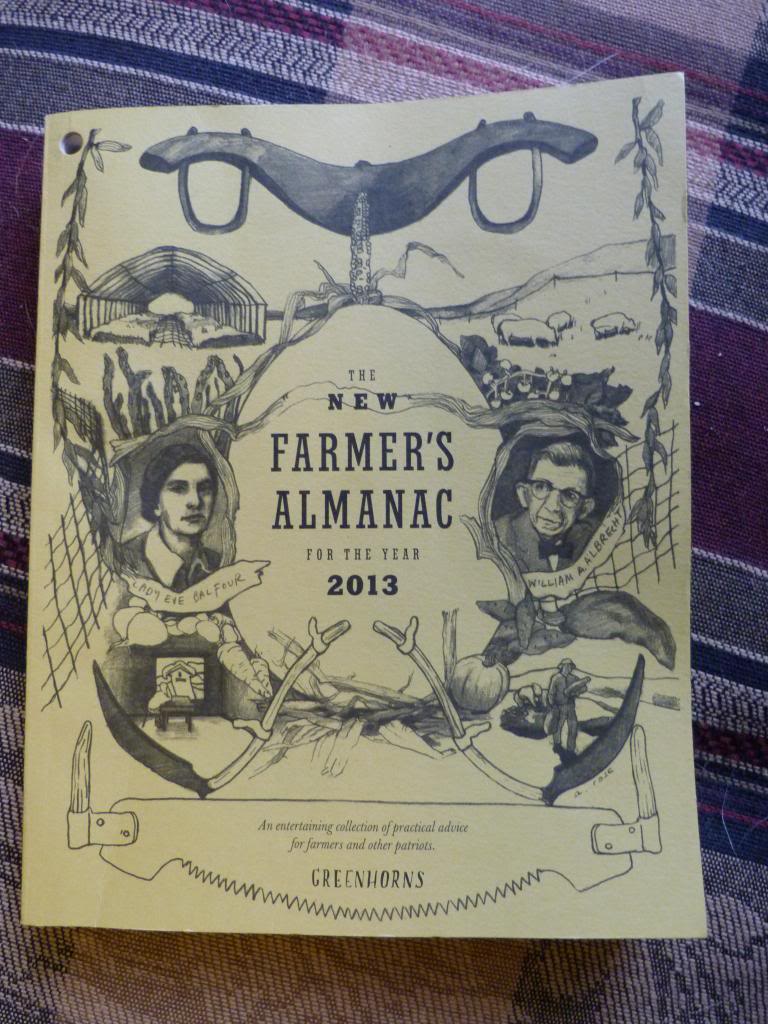 One for me, one for you. Make a comment, facebook me, or send me an email to enter (email address is rebekah at maryjanesfarm dot com). I'll draw a name and send it to the winner to enjoy.
Also take some time to explore the wonderfulness of http://newfarmersalmanac.org/. You'll be touched with the Audio Almanac. Beautiful!
The horse.
My Great White Horse is headed to Boot Camp.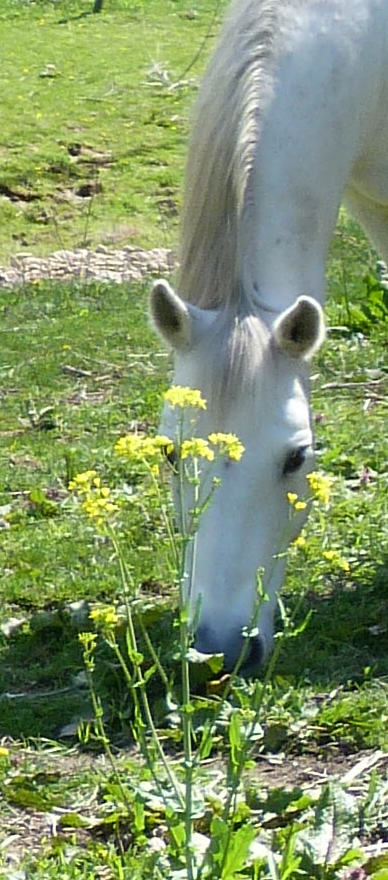 I know I didn't mention it before but My Sweetheart, the horse love of my life, bucked me off. Wham and I'm on the ground. It hurt my feelings more than it hurt my bum. And, believe me, my bum was bruised, so you can imagine my feelings. But it was a wake-up call for sure. I can no longer ignore the fact that he needs some tuning up. He's not exactly the bomb-proof, family horse he was represented to be when I bought him. I'm not complaining though, because I do indeed LOVE him madly and believe he was supposed to come to me and be mine forever. I'm dreading him going because I love him so much. I'll miss him. In fact, I miss him already and he hasn't even left. But I bought him to RIDE him, not just to LOVE him and LOOK at him and GIVE him treats. It. Must. Be. Done. So he'll be going this week. I hope it will be only for a month or so. How long he's there really depends on how well he does. The sooner he 'gets with the program,' the sooner he'll come back home to me. I believe that he wants to be good; he just forgot how to be.
The chicks.
I never in a million years thought we'd love these little chicks the way we do. We ordered 17 chicks from Murray McMurray in Iowa. I ordered the mystery ornamental hen collection. We received them in the mail on April 22. They are 4 weeks old now. They grow so fast you can almost see them growing. They are growing LIKE WEEDS!
Several weeks ago we lost one. I don't know what happened. She was droopy and listless. I held her and tried to get her to drink some electrolytes; but she died while I held her. It was awful. We had a funeral for her and buried her under the old oak tree.
That night I served chicken for dinner. It just kinda struck us then. My daughter (12 years old) said, "No way." I said, "Yeah, no way." My husband said, "Way." So he ate the chicken dish and my daughter and I ate rice and salad. Looks like chicken is off the menu at our house. I've always had vegetarian tendencies because I love animals so much. Think I'll explore beans, pasta and tofu a bit more. And I have the best recipe EVER for cheese enchiladas. I'll post it over at www.rebekahteal.com. So fantastic and easy. Here they are before I popped them in the oven. So good!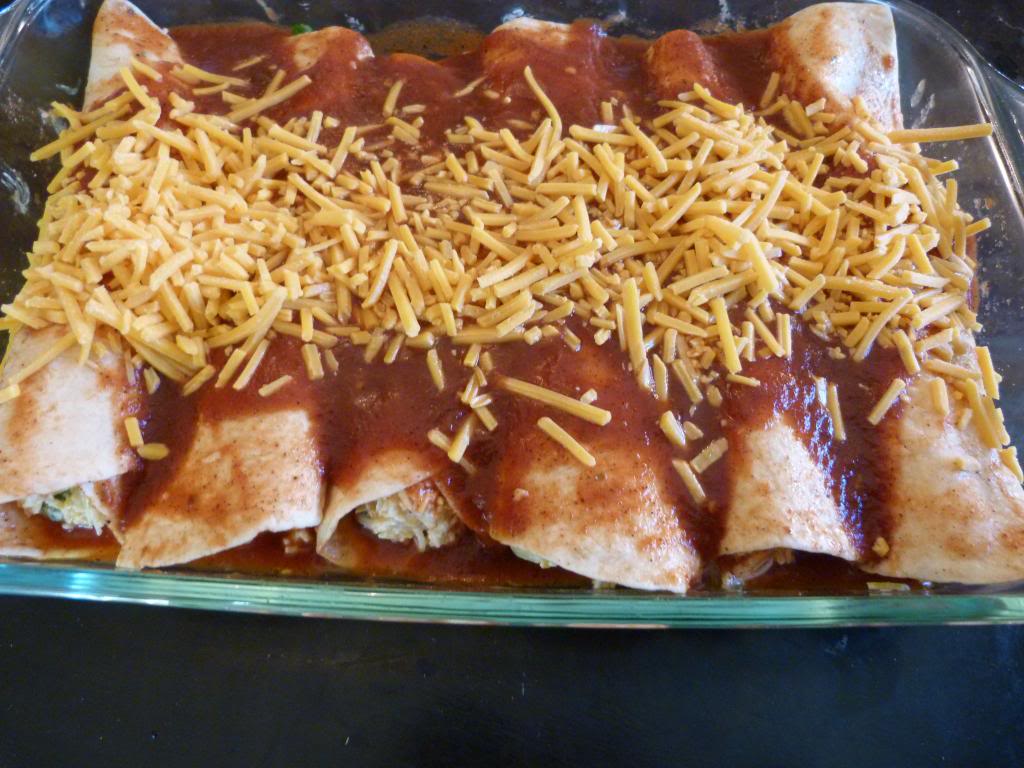 I love having these chickies in the house. I can go and check on them constantly. There is one we think is a Sicilian Buttercup.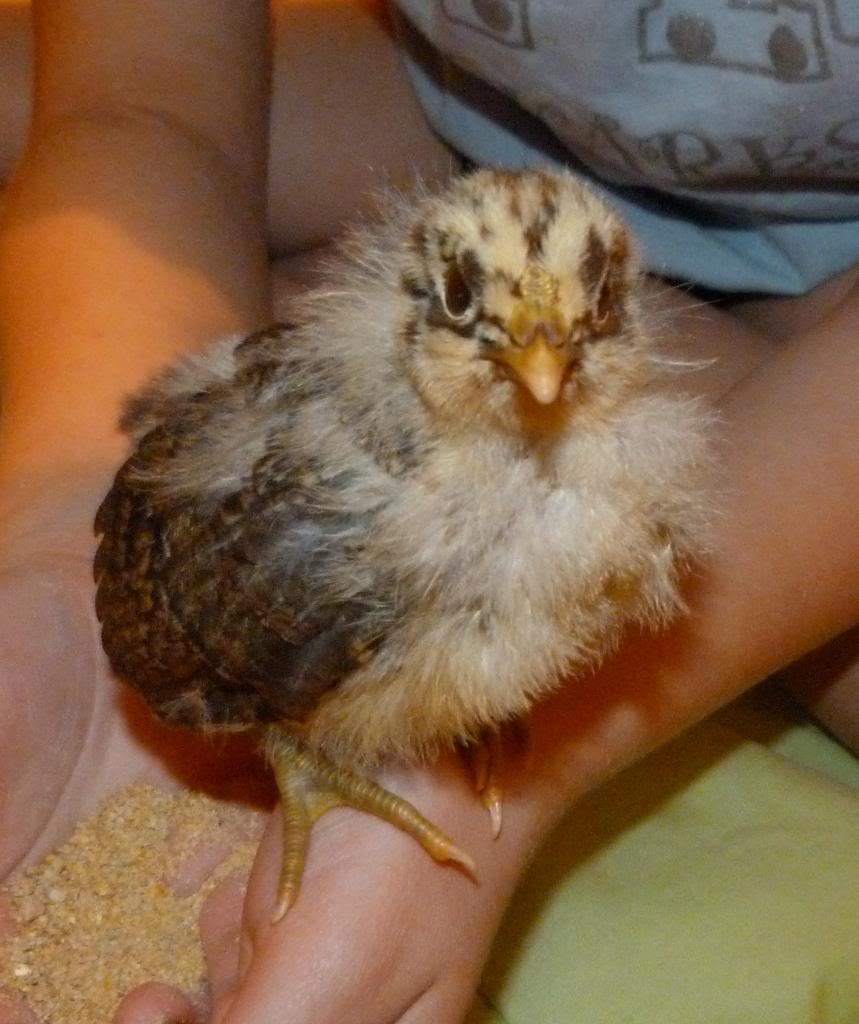 Sweetest Chick Ever
As soon as you pick this baby chick up, she falls asleep in your hands. She's precious, precious, precious. When I first thought she might be a Sicilian Buttercup, I looked them up. Most resources describe them as unfriendly and skittish so I didn't think that could be our little chick. I'm pretty sure it is, so there ya go. She's the friendliest bird in the bunch and not skittish at all. Just a little doll. We call her Tiger.
The other bird that stands out from the bunch big time is our little Black Cochin.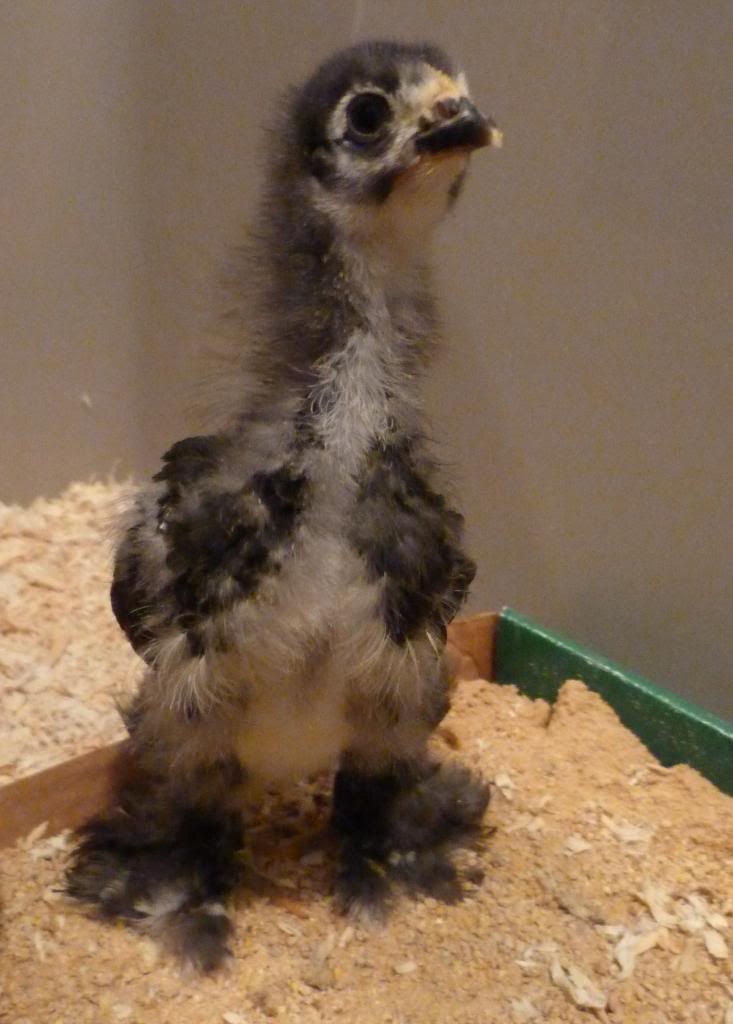 Cutest chicken EVER hatched!
She is easy to identify because of her legs and feet. They are covered in feathers. She, too, is a little angel. Friendly and curious and smart and calm. We haven't named her yet.
These two on the roost are White Faced Black Spanish chickens. We think!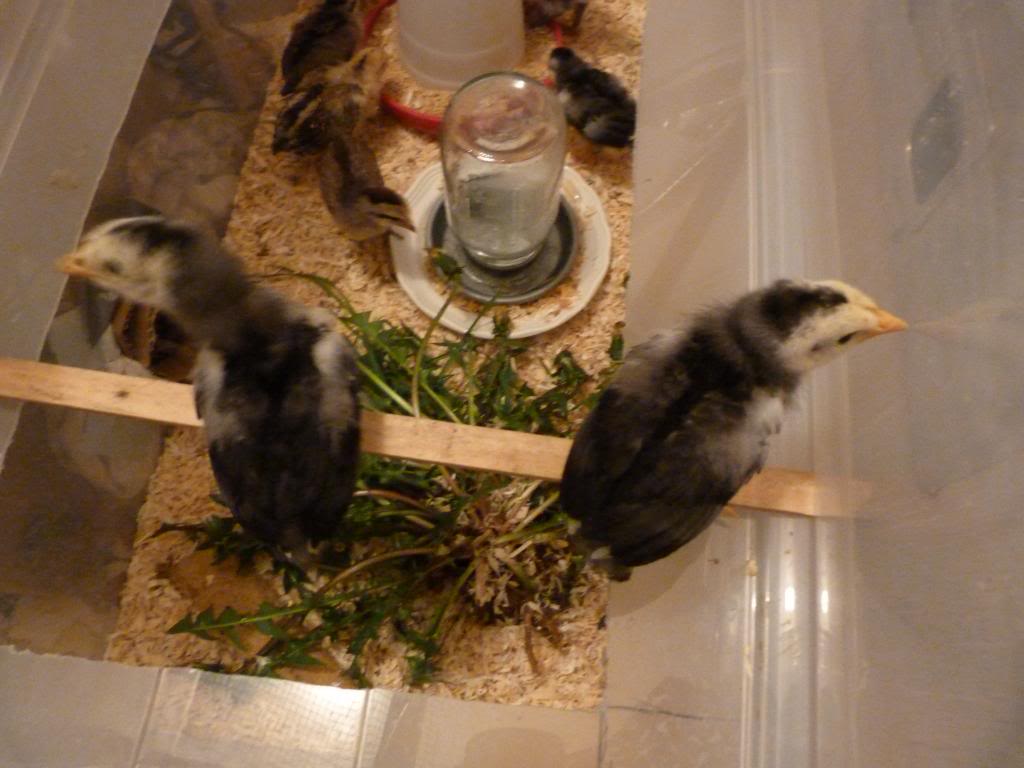 We have a third White Faced Black Spanish that we believe is a rooster. He is bold and brave. And he is larger than the others. There is a certain look in his eye that I can't define. He gets up on the roost and flies down on everybody, causing a stir. He's pecky and pushy. We will be very surprised if that bird turns out to be a hen. Of course, keep in mind….we know NOTHING about chickens. NOTHING.
But I look forward to having my very own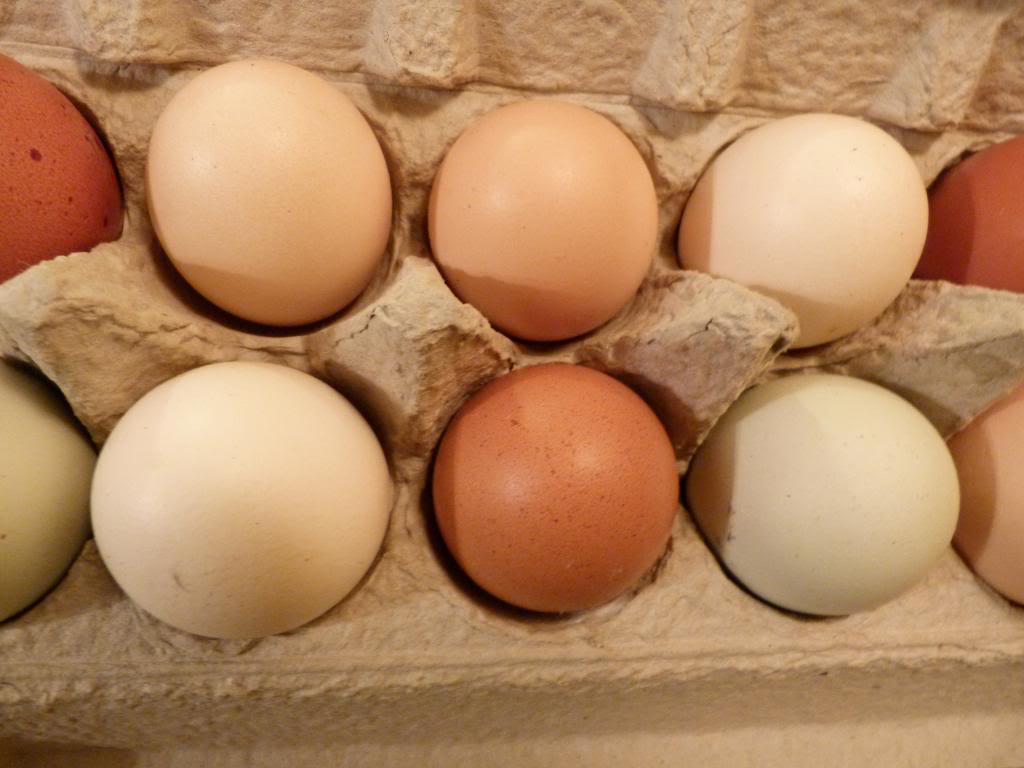 .
Currently I get mine from a neighbor.
The building of the chicken house is coming along slowly. I think this is why they tell you to have a house before you order the chickies. It is going to take longer (and cost more) than you could ever imagine.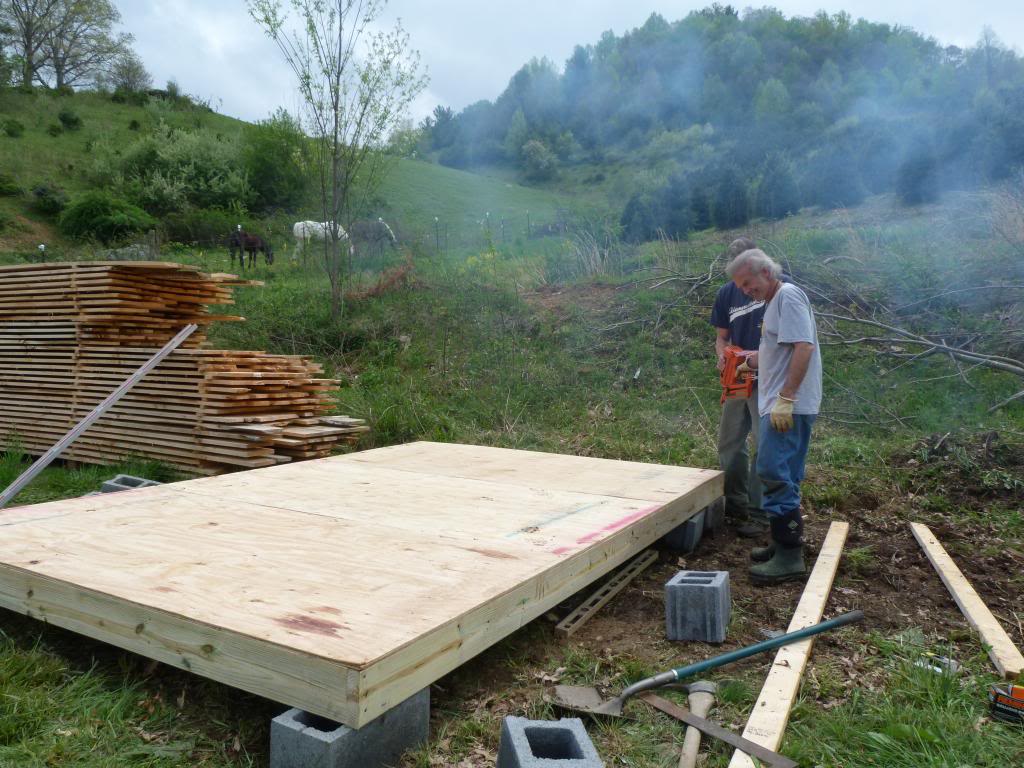 But, as I mentioned, I don't mind them in my house. Well, except for the smell. There is no way to cover up that smell. I've felt like they need more space, so I keep putting on additions for them. I take a cardboard box and cut a round hole in the side. I then hook them up together. For one, I used a tube that the birds can walk through, a tunnel connector. The other one I was able to simply tape together. The birds seem to enjoy the different apartments. Cute things.
The garden.
The list of reasons why my garden progress is stalling:
1. It's been raining for weeks. 2. I don't have a tractor or tiller that works. 3. I'm rather overwhelmed and unsure where to start. 4. Did I mention the rain?
1.This weather! The ground hasn't dried out in weeks. You walk across the meadow and hear squishy noises. Look down and you can see the water with each step. Soon you feel it in your shoes; your shoes and socks are soaked. That's the way it has been around here. More rain is predicted for this week. This is encouraging the weeds to take over the property. Like the phrase I used a minute ago when I was talking about my chickies "growing like a weed." I get it now. Weeds grow faster than anything else. When there is no chance to mow or weed-eat in between the rain storms, well, the weeds get out of control fast.
The good side of that is that many of the weeds are wildflowers with beautiful flowers.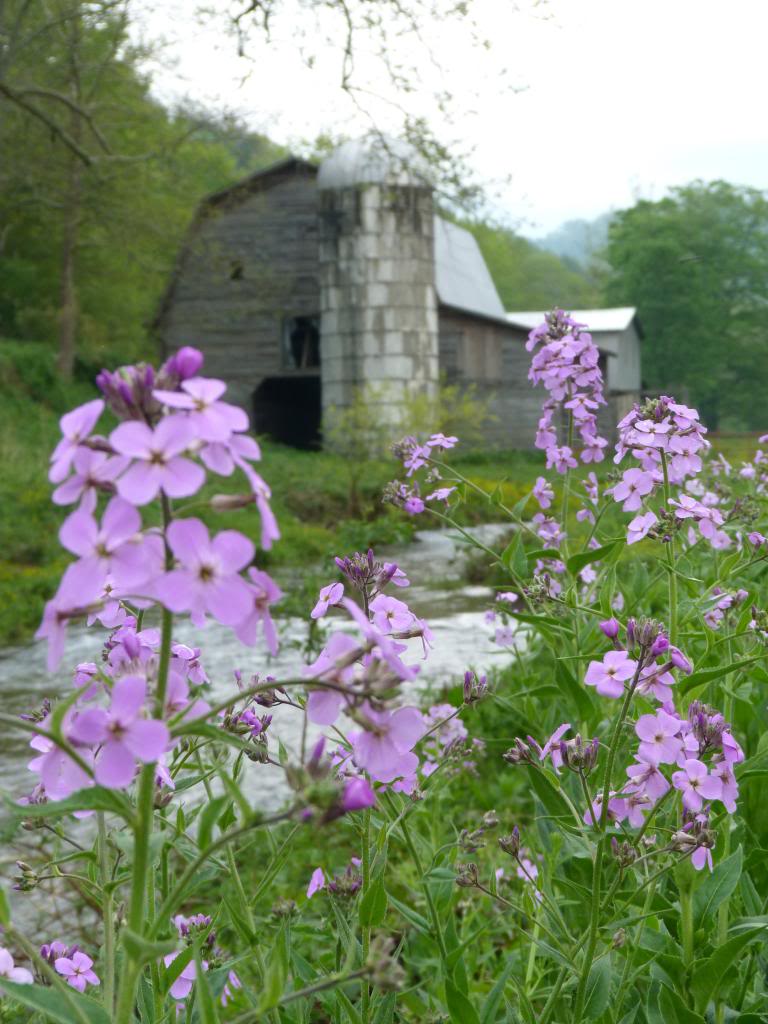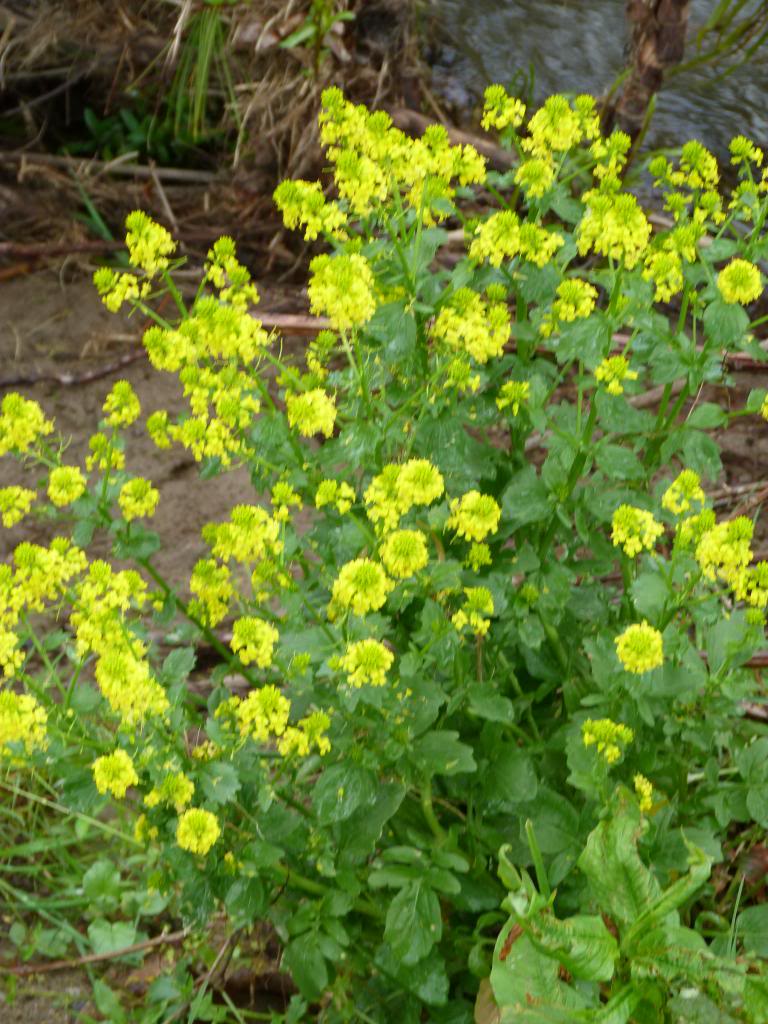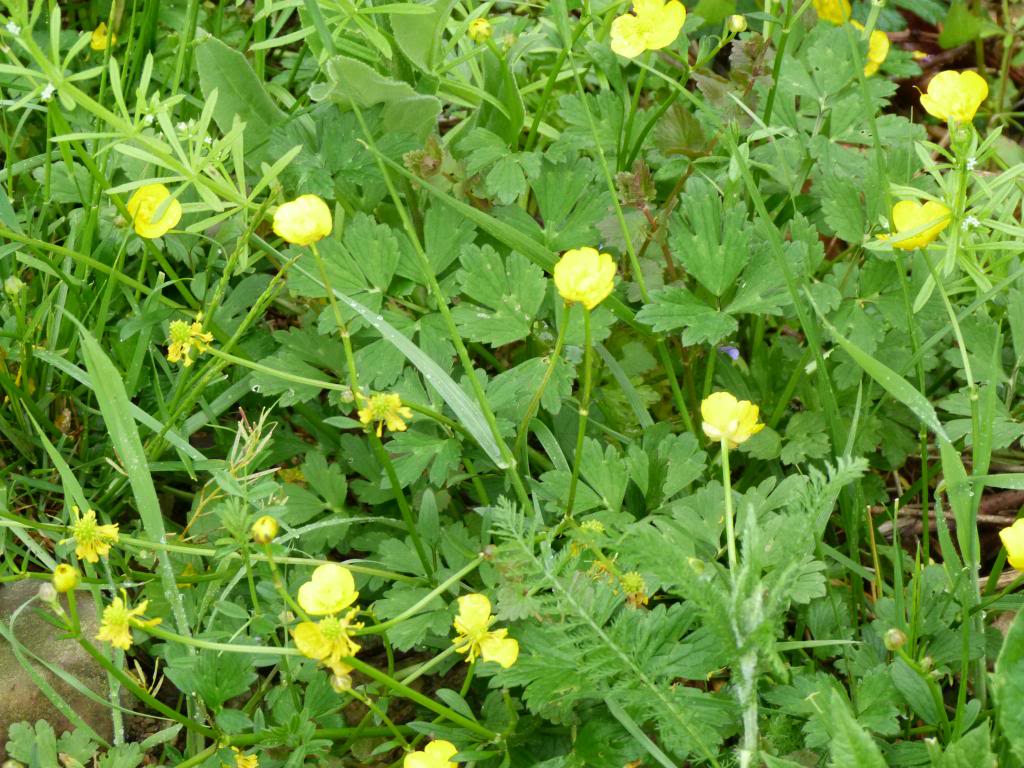 I am currently farming weeds. A "weed farmer" I am.
2.The hunt for a reasonably priced tractor hasn't gone well. I have found a couple of older CUTE tractors, but they won't get the job done. And, the price of the newer, larger tractors is just too much right now. The tiller from our suburban garden has gone ca-pluey, so we don't even have that right now. And, shall I add to the mix that there are still fallen pine trees on what I hope will be my kitchen garden spot. Zero progress on a garden.
3.Wait. No, that's not true. I was in the Feed and Seed store buying some chicken starter and I saw this collection of seeds by the register. I couldn't resist.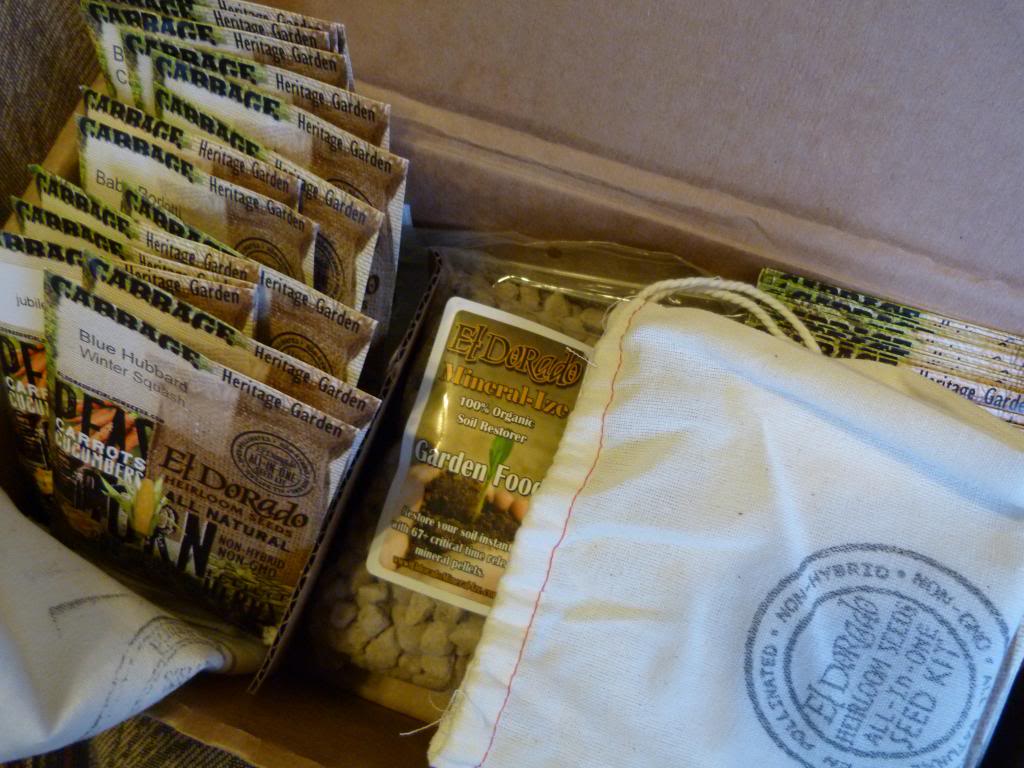 These seeds are non-GMO, all natural, non-hybrid, heirloom. It was a great price, but has made me feel overwhelmed.
Look at this list and you'll see why.
The kit includes:
Blue Hubbard Winter Squash
Lincoln Pea Jubilee Watermelon
Scarlet Emperor Bean
Yellow Indian Woman Bean
Appaloosa Bean
Dapple Grey Bean
Baby Borlotti Bean
Butter Scotch Bean
Pigeon Peas
Eye of the Goat Bean
Black Valentine Bean
Black and White Calypso Bean
Mayflower Bean
Red and White Calypso Bean
Marrone Bell Pea
Chamomile Herb
Dill Boutiquet Herb
Thyme Broad Leaf Herb
Italian Basil Valention Herb
Lemon Balm Herb
Forest Green Parsley Herb
Oregano Herb
Yellow Globe Turnip
All American Parsnip
Yolo Wonder Pepper
White Bunching Onion
Waltham Butternut Winter Squash
Purple Plum Radish
Mary Washington Asparagus
White Sweet Spanish Onion
Purple Top White Globe Turnip
Tender green Mustard Green
Sugar Baby Watermelon
Scarlet Nantes Carrot
White Wonder Cucumber
Delicious Cantaloupe
Pumpkin Ct Field
Edisto Cantaloupe
White Icicle
Cuban Sweet Fryer Pepper
Red Romaine Lettuce
Chioggia Beet
Golden Ace Cabbage
Waltham Broccoli
Black Seeded Simpson Lettuce
Jack-O-Lantern
Imperator Carrot
Bloomsdale Long Spinach
Detroit Dark Red Beet
Roma Tomato
Cherokee Purple Tomato
Black Krim Tomato
Brandy Wine Yellow Tomato
Marglobe Supreme Tomato
Delicious Tomato
Brandy Wine Red Tomato
Beefsteak Tomato
Bradley Tomato
Mortgage Lifter Tomato
Rutgers Tomato
Arkansas Traveler Tomato
Self Blanche Cauliflower
Quattro Stagioni Lettuce
Copenhagen Market Cabbage
Georgia Collard Green
Whew!! I mean—check that out!! How's that for some seeds! Can you believe that collection? All those seeds and not one ounce of planting instructions. Ouch. I've got my work cut out for me FOR SURE. I guess I'll start by planting what I know how to plant and go from there. I'll start some tomato plants inside in a cardboard egg carton. I think the Mortgage Lifter Tomato sounds like a real winner! We can all use some of that.
Am I too late? Maybe that's why the seed collection was such a great deal. Hmmm.
Hey-Speaking of cute things with feathers…
The visitors.
Our visitors lately have had feathers.
Three little ducks. See them? With their heads in the water? My ducks are all in a row. (If only.)
This is our pasture. Puddles have formed in the low spots from all the rain we're getting.
A Great Heron also visited our pasture puddles.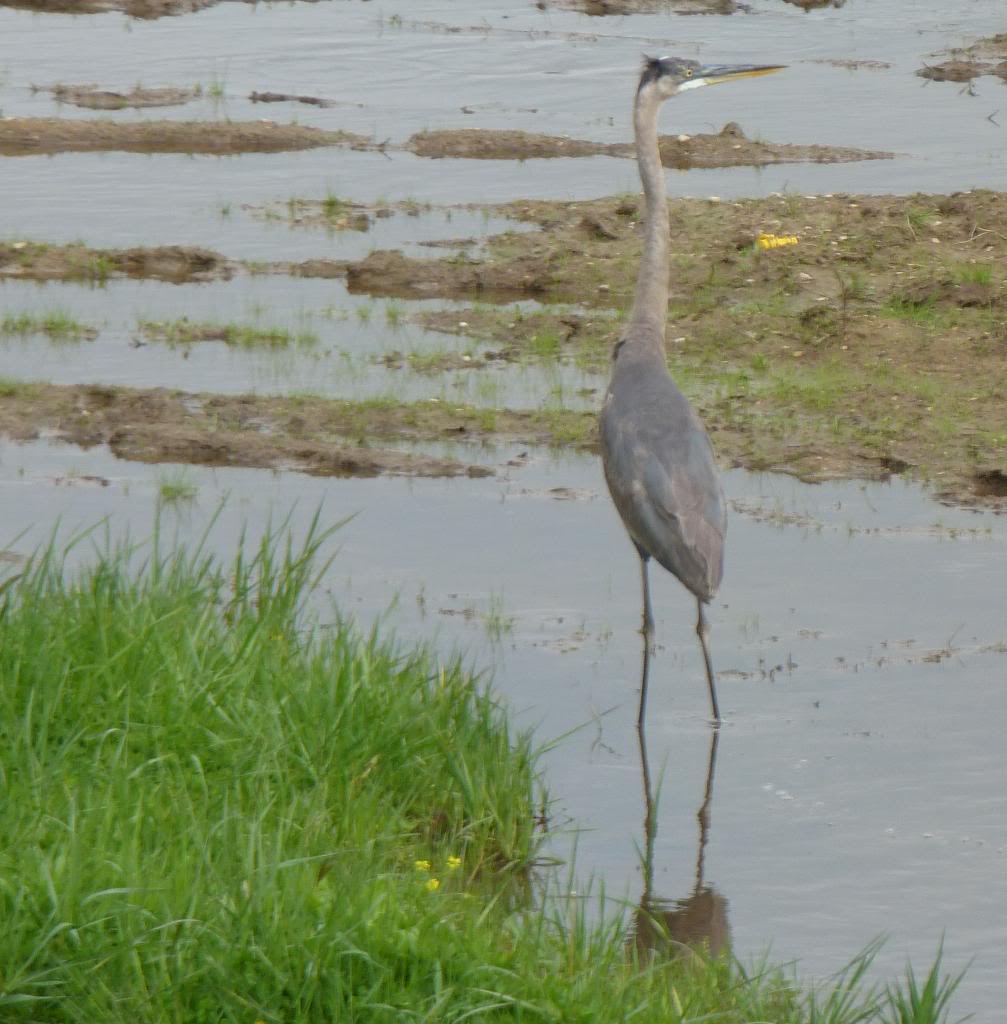 A white turkey.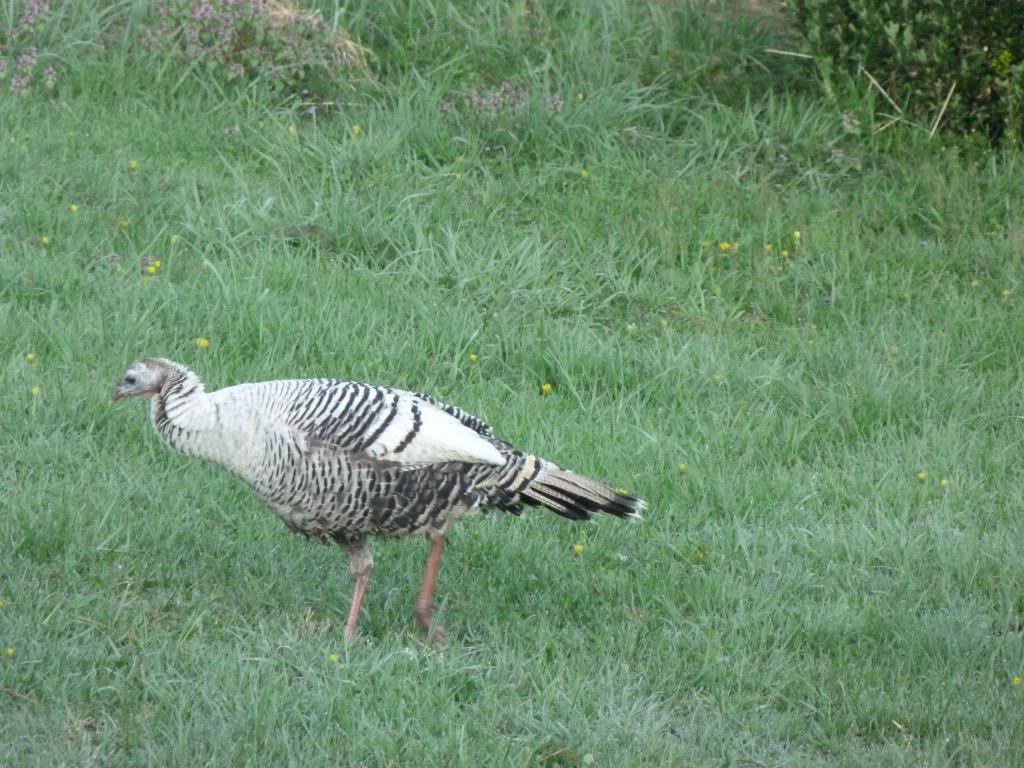 (turkey season just ended. she's safe!)
An Indigo Bunting.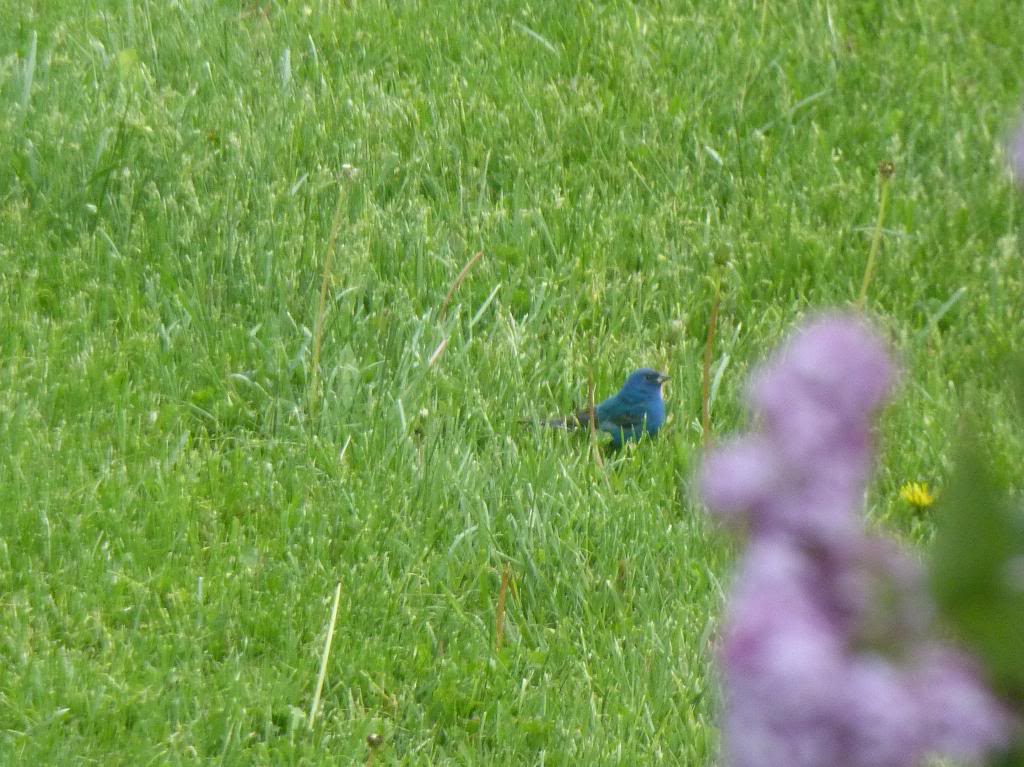 So that's the update. Hope to make some ACTUAL progress by my next post! ha!
SO HEY! What's happening with you?! Don't forget to leave a comment or contact me to enter the drawing!
Until next time, Friends, savor the flavor of life!
Lots of love, The City Farmgirl, Rebekah