Did you know that last week there was only one state in the nation, Hawaii, that did not have temps below freezing? Colder weather and shorter days aren't a bother for me, since winter forces me to "slow down" a bit. I'm also excited because it's about time to deck the halls! I've been crafting more lately, too, and crafting is always more fun with friends. Grab your best gal pal and a cup of hot coffee, and let's re-purpose some ol' ice skates!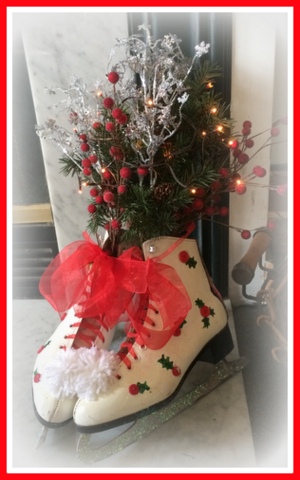 My friend Andrea and I are very much alike. We both adore the 1940's, anything vintage, and love crafting. We especially like crafts utilizing re-purposed materials, and love the idea of old ice skates sitting next to a hearth or hanging as a winter's decoration. Great minds think alike – why not decorate the skates? Andrea had extra pairs in her garage she's picked up at tag sales and thrift stores.
For the first pairs, we met on a Saturday. I made us a lunch of quiche and hot kale salad with dried cranberries. We ate quickly, excited to start on the skates! The first thing to do is clean the skates, inside and out, and remove the laces. It's fine to discard the inside arches, since the inside won't show. Remove any rust from the blades with fine steel wool.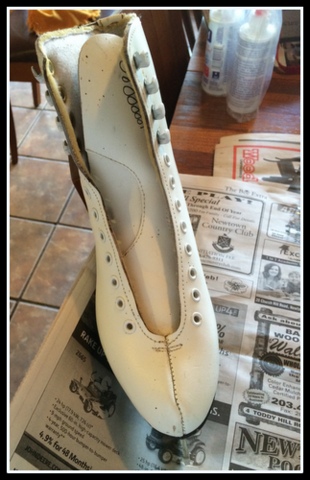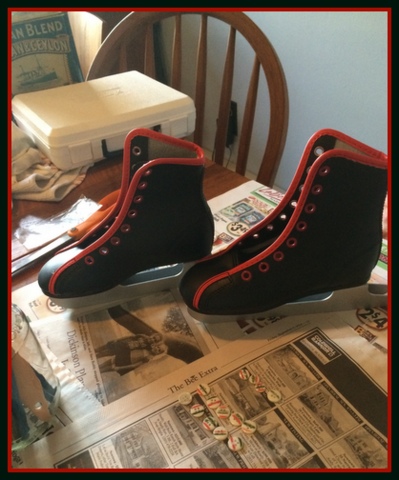 Next we mapped out our plan. I decided to paint a whimsical holly design on my figure skates, using acrylic craft paints. Since Andrea's skates were originally little boys' skates, she decided to keep the decorations a little simpler. Andrea had brought her button tin, chock full of vintage buttons.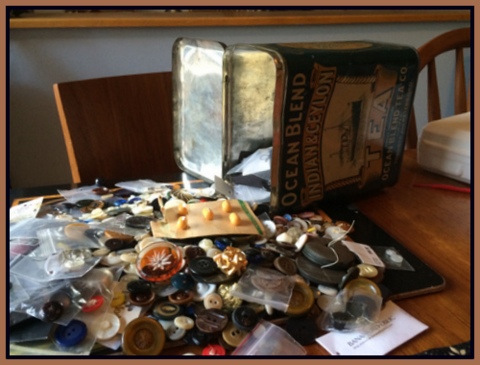 Instead of painting berries with the leaves,  I attached little red buttons. We used hot glue to attach buttons to our skates.
To dress up the blades, we used iridescent glitter, and Beacon's 3-In-1 Glue, purchased from Amazon. Because I painted onto my skates, I sprayed a clear varnish on top to keep the paint from chipping. I recommend doing this step after putting the glitter on the blades and allowing them to dry thoroughly.
For the laces, I used red translucent ribbon in a small width, threading through the holes using a tapestry needle from my knitting bag. At the top, I tied large bows from matching ribbon in a larger width, and added some brass jingle bells. Finally, I made two white pom-poms for the toes using Wool-Ease yarn in a white with just a hint of sparkle.
I decided these skates would sit by the hearth, so I "stuffed" the tops with faux greenery and holiday picks. I used mini lights purchased at Jo-Ann Fabrics and Crafts for around $4.00. The battery-powered light box sits hidden in the boot, sticking up just enough to turn the on/off switch. Stuffing the boot with rags holds the light box in place and "holds" the shape of the skates.
For our next pairs, we met at Andrea's for yummy panini sandwiches. This time, we envisioned girly, pink skates with white branches. After cleaning the skates, we taped the soles and blades using painters' tape.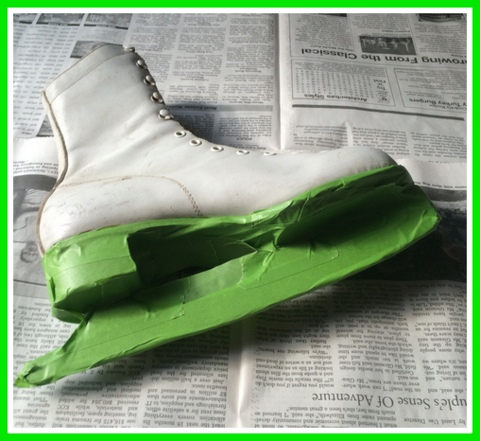 We spray-painted them "Ballet Slipper Pink", purchased at Wal-mart for around $3.00. This paint was perfect because when dried, it looks like shiny pink patent-leather. For two pairs, we needed two cans and two full coats.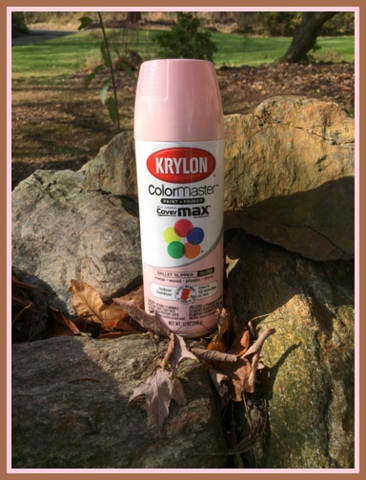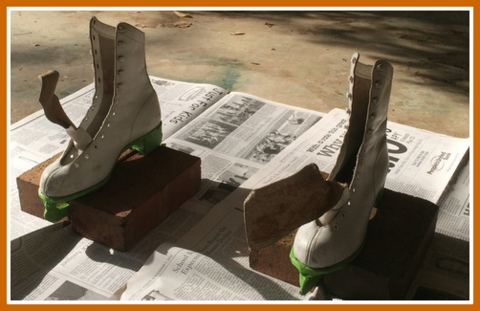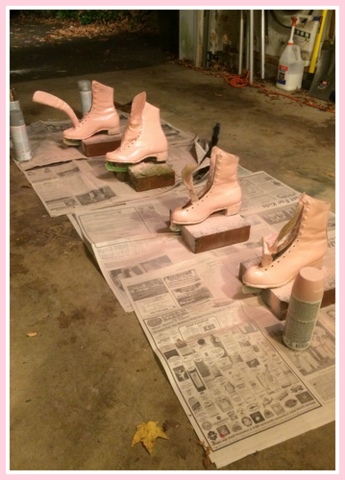 The skates needed to dry a few days before they were no longer "tacky".  After removing the tape, scrape off any drips carefully, and touch up the soles using black craft paint and a fine brush. For the blades, this time, Andrea dusted them with super-fine silver glitter ordered from Amazon. This glitter hides "less than perfect" blades and adds a super touch of "bling".
Next, we hot-glued faux fur around the tops of the skates.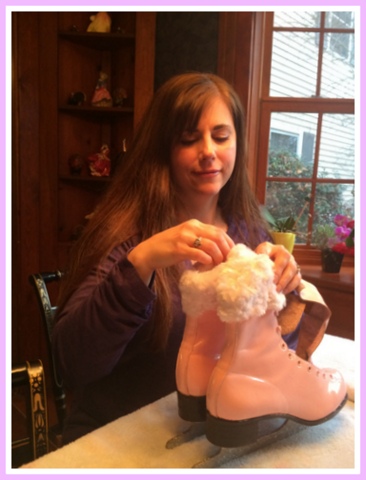 This time, we used white satin ribbon for the laces and bows, and silver bells. I tied my bows twice, for a frilly effect. Tying the skates together helps them stand up.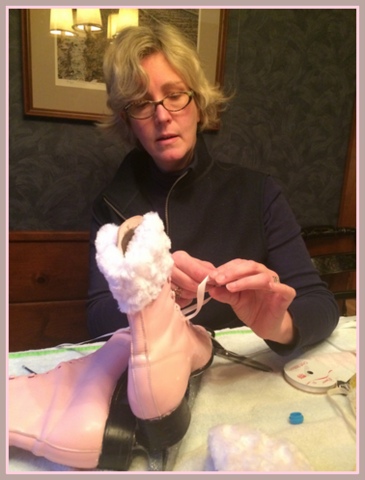 Voila! A beautiful, Victorian-inspired decoration that could be used as a hearth accent, or as a centerpiece.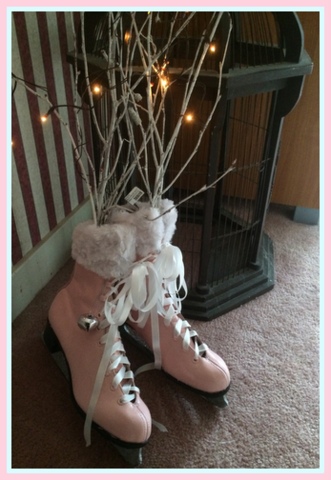 I've recently noticed expensive, less fancy, decorated skates, some with resin, fake skates, in catalogs and shops. Our creations were created at a fraction of the cost, including the skates. Every winter, when I put them out, I'll remember how much fun they were to create, and wonderful time spent with a dear friend.
Wishing you all a wonderful, warm and Happy Thanksgiving!
Until Next Time…Farmgirl Hugs, Nicole