Be bold in your actions. All life is an experiment.
The only way to make sense out of change is to plunge into it, move with it, and join the dance.
Last night before my daughter drifted off to sleep, she said, "It's our one week anniversary here. I've had a great week at our new farm…"
YAY! I have too. And so has my husband. But what a gift my daughter's words were to me.  Sure does make this move easier for the young-un to be happy too.
Yep, we've officially been here for a week. We pulled in the driveway late last Sunday evening in the midst of an awesome lightning storm.
The 3 dogs, cat, and child were eager to get out of the car. The parents (us!) more so. But we all had to just sit there in the gravel driveway beside the old farmhouse and wait on the storm to let up enough for us to make a mad dash for the door. Poor Gracie, the kitty cat. She was the most traumatized by both the long car trip and the run in my arms through the pouring rain. Soaked.
Thirty minutes prior to that, I had silently brushed away tears away from my eyes. James Taylor (who never fails to speak to me profoundly with his music and as you might remember, is my imaginary friend) came on the radio singing "Carolina in My Mind." OMG.
"In my mind I'm gone to Carolina, can't you see the sunshine, can't you just feel the moonshine, ain't it like a friend of mine…."
Carolina is where I was at that very moment. Carolina is the place we dreamed of living. The mountains of Carolina is where we wanted a farm. And here I am!
So this particular time when I hear JT sing that song, when my car is packed with some of my worldly belongings to move there, I can't help myself: tears. I wonder if I deserve this, to have my dreams come true. I think, "Not in my mind JT, not ANYMORE…it's for real. And just maybe for life."
And so I am here. And Carolina is not JUST in my mind anymore.
And now I have been here a week. Seven days in the country. Okay, here we go, Seven Things for my Seven Days here.
Pack an over-night bag when you move.
I didn't think about this. We just assumed we'd get there early enough on moving day to unload. Nope! So we didn't have pajamas that first night. Much less a comb and a toothbrush. And my poor daughter didn't even have shoes. She had packed every single pair up in a moving box marked "My Shoes."
Actually, I tell you this for you. Because I hope to never ever ever ever ever move again. Ever.
I don't thrive on technology after all.
My computer was down for days (almost all seven) and I did NOT wither up and die. As it turns out, I loved it. I felt free. I was not going crazy to join the "real" world. I was a-okay with it. La-La land, head in the sand, I-have-no-idea-what's-going-on-in-the-world ain't so bad.
Our phone wasn't hooked up yet, we don't have TV (still), the computer wasn't ready to go, and I was okay. Really. It was fine being "unplugged."
When everything finally got working enough for me to pull out my laptop, I read enough news to want to be "unplugged" again. I mean, really. Randy Travis? Drunker than Cooter Brown, butt nekid, lying in the middle of the road after he crashed his car is bad enough. But he's arrested for the felony of threatening the police officers who responded? (Allegedly, of course.) Is the earth tilting funny or something?
However. There is one thing I missed without technology and missed it terribly: YOU! I did indeed miss my sweet steady Farmgirl friends! (PS I still can't get into my emails, so if you've sent me one I haven't gotten it yet.) And I've missed visiting with you on facebook. I'll be back soon. I can't wait to catch up with everything going on in your corner of the world!
I'd rather be outside than inside.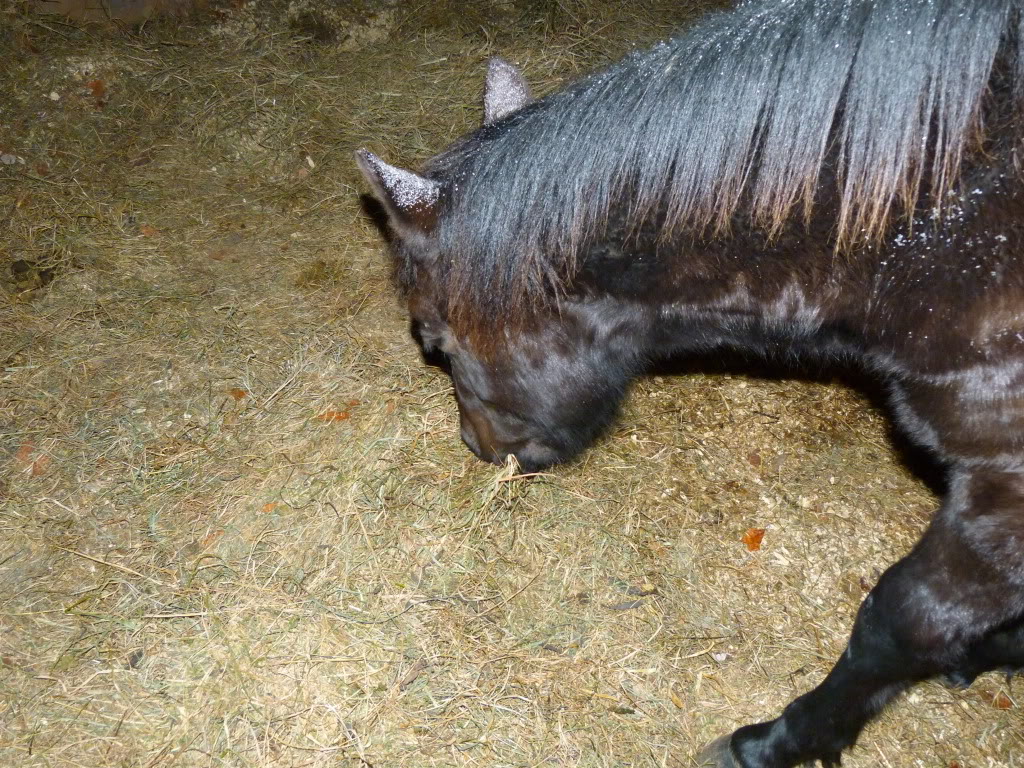 wildflowers by the creek
Not news to me; I knew this already. But I just haven't been in a place conducive to living it. This farm, MY FARM(!!!!!!), just
 begs to be breathed, admired, loved, groomed, and touched outside.
As a result, I have been outside more in these past seven days than I have in the preceding seven weeks put together. It's just so pleasant and pretty here.
Sure, there is TONS to be done inside the house. And I'm doing plenty. But the outside is unbelievable. How could I not be out rather than in? And hey, winter is coming, right? Plenty of time for inside taking care of the house.
I am OUT right this very minute. Sitting with my computer under MY maple tree in the front yard. Oh my. This is living.
My daughter is amazing.
We got here Sunday night; she started a new school on Wednesday morning. She was fine. She's already made friends. She likes her teachers. She's happy.
Kids are so resilient and flexible. Adults are less so. I wonder why we lose that when we grow up. Maybe we know too much? Maybe we are spoiled and demand too much?  
When she got home from school her first day, we took the long walk out to the mailbox on our gravel drive. (My mail man drives a red Jeep Wrangler, by the way, how fabulous is that?) On the way back, she commented on how clear the creek was. The day before it had been muddy and murky and I had said that I wouldn't step a foot in it looking so cloudy and creepy.
"Would you get in it today?" she asked.
"Yep, I would. Nice and clear. I could see exactly where to step," I said, adding in my head, "and any snakes swimming by!"
"Well, you want to?" she asked me.
 "Yep," I said, "As a matter of fact, I sure do."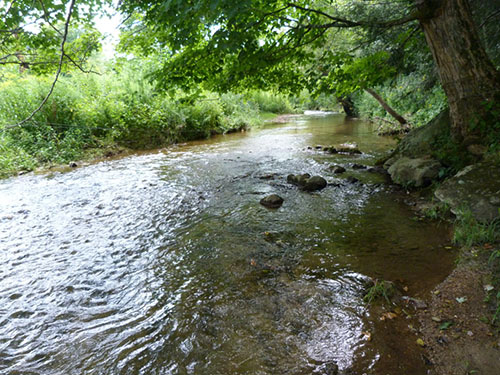 this is our creek at a different spot. this particular place is far more inviting (less snakey!) than the place where we were the day I'm telling you about.
"Wait, do you have any cuts on your feet, legs or hands?" I asked, thinking about the flesh eating bacteria that we now all know live in streams and waters.
Then I looked at the path to the creek. You know what I thought? "Snakey."
("I can do this, I can do this, I can do this…" I chanted in my brain.)
"Well, let me walk first and you take my steps behind me, okay?"
"Okay!" she said, "Scaredy cat."
(She was right. Her Mama is a scaredy cat around snakey areas. BIG time!)
Anyway, we got to about six feet from the water and I realized that the creek bank was all mud and horse manure. Bleh.
Here is Bunny, one of the sources of the manure in question. (Not my horse, btw, she just lives in our pasture.)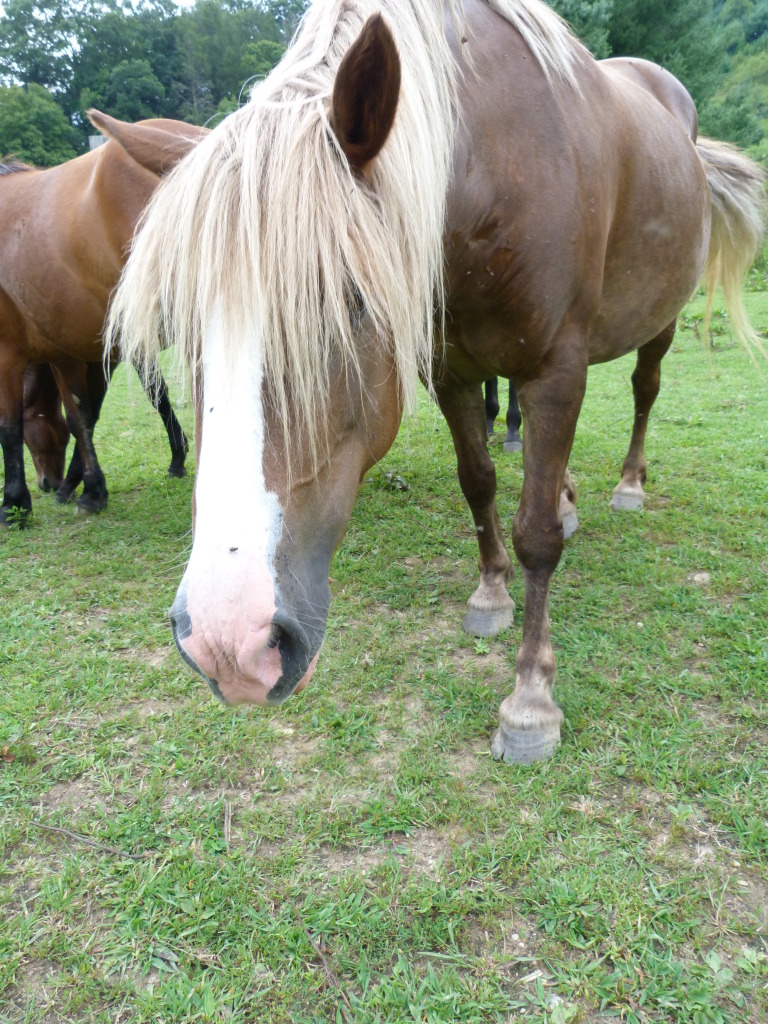 My brain again, thinking but not saying it out loud, "Animal manure? That carries all kinds of bacteria. Maybe even worms?"
But I decided that kids have probably sloshed through all kinds of muck to get to a creek. That we'd be fine.
So we sloshed through the dark-brown-whatever-it-was to get to the creek. My daughter wore her flip flops to the edge of the water; I parked my socks and sneakers up on the bank.
And we had a blast. We walked around in the water, almost fell a dozen times on the slippery rocks. We found all kinds of beautiful stones, caught the leaves floating by to make wishes on, and enjoyed the fast rushing, COLD water.
Now, about those flip flops she left on the water's edge. On Sunday they were mine. But when we moved, as I mentioned, she accidentally packed ALL her shoes in the moving box. That box was now in the front of the trailer and impossible to get to. So, she wore my orange leopard flip flops in the car as we drove to our new home six hours away.
When we went to the school the next day to meet the new teacher, we still had not come to her shoe box in the trailer. So, I took a pair of scissors and cut off the back of my flip flops so they would fit her better. Those were the shoes at the edge of the water now. Orange, leopard print adult flip-flops cut to fit an 11 year old. She loves them.
Anyway, when we were ready to get out of the creek and go back to the house, I looked at the path we had to take to get out of the creek thought (once again), "SNAKEY!" So, I told her that we should RUN out of the creek, grab her flip-flops and run up the muddy/manure bank. Once up there, the grass was lower and I felt safer. So we did. But as soon as my foot stepped on the muddy bank outside the creek, my feet sank down at least 12 inches into the muck. So that got her giggling; and me too. Then I slipped and fell in it. By the time I got to the top of the bank, my jeans were covered in mud and she had lost a flip flop in the soft muddy mess.
We came in and tossed out clothes in the washer. Then we had to take showers because we were covered in that mud/manure mixture. I don't know when we'd had so much fun.
I love living on this farm.
And.
Good news! My husband just went out to the muddy creek bank with a shovel. He dug down and found the shoe!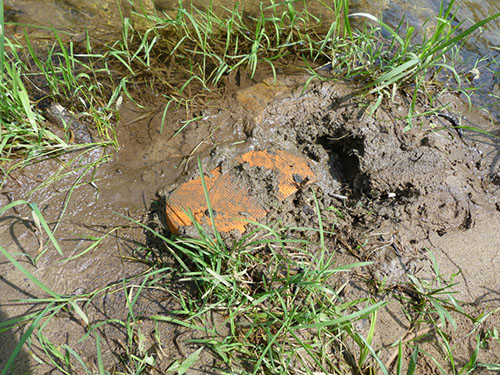 Number Five.
I still have too much stuff.
I have a new goal of becoming unencumbered by stuff. Physically and also emotionally. I have purged the easy stuff, the things I didn't mind so much parting with. Now comes the more difficult. The things I like and use. Some of it must go! This house is just too small to hold all our stuff! My mantra is detach.
Always hope in the future.
There is a saying here that for every foggy morning in August there will be a snowy day in winter. The "ritual" that accompanies that is to put a dried bean in a jar for every foggy morning. Guess how many foggy mornings we've had so far? SEVEN! Whoopee!
Winter weather is one of the reasons we moved here. Snow dreaming!!
Dogs were made for farms. Farms were made for dogs.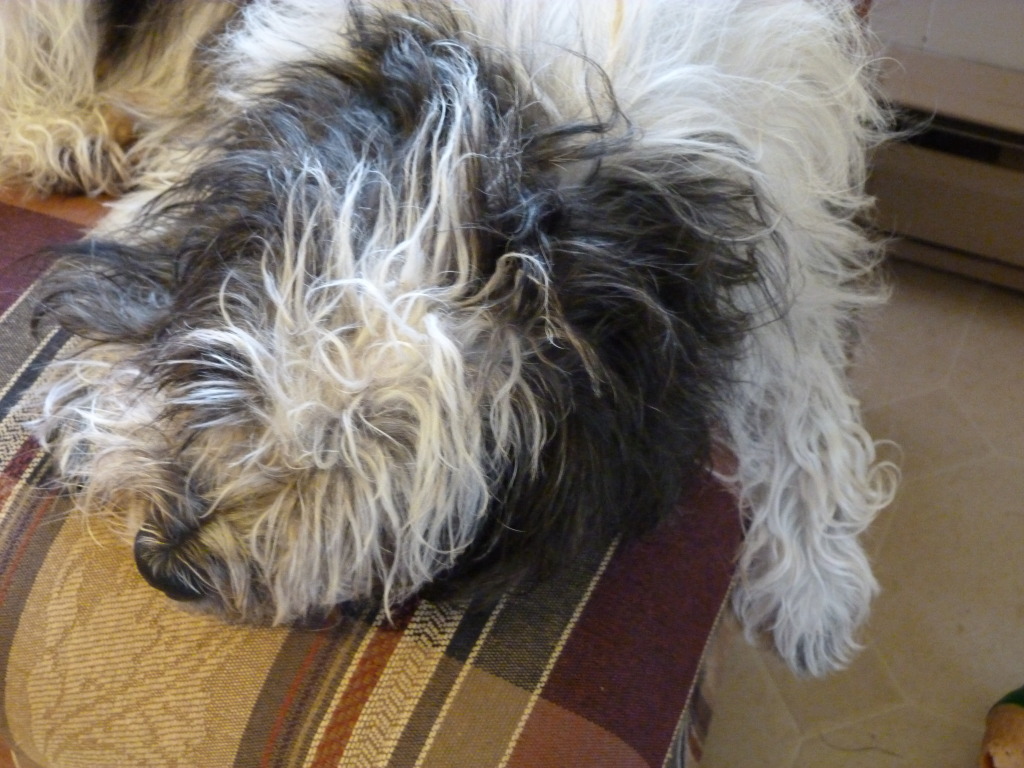 Oreo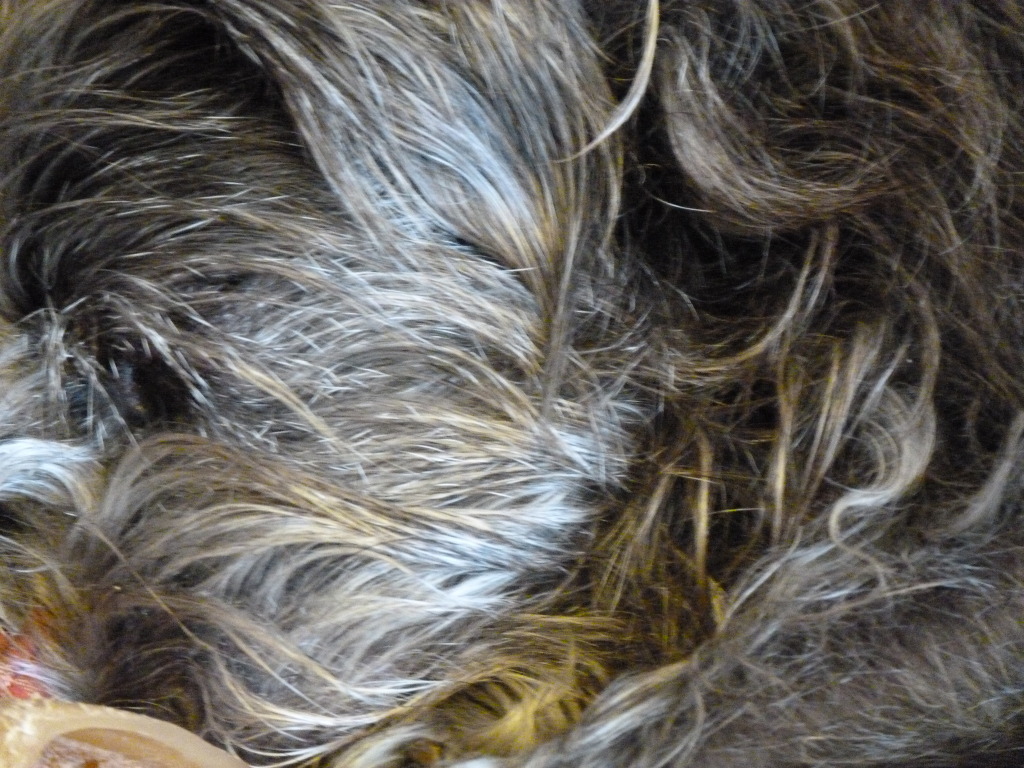 Strudel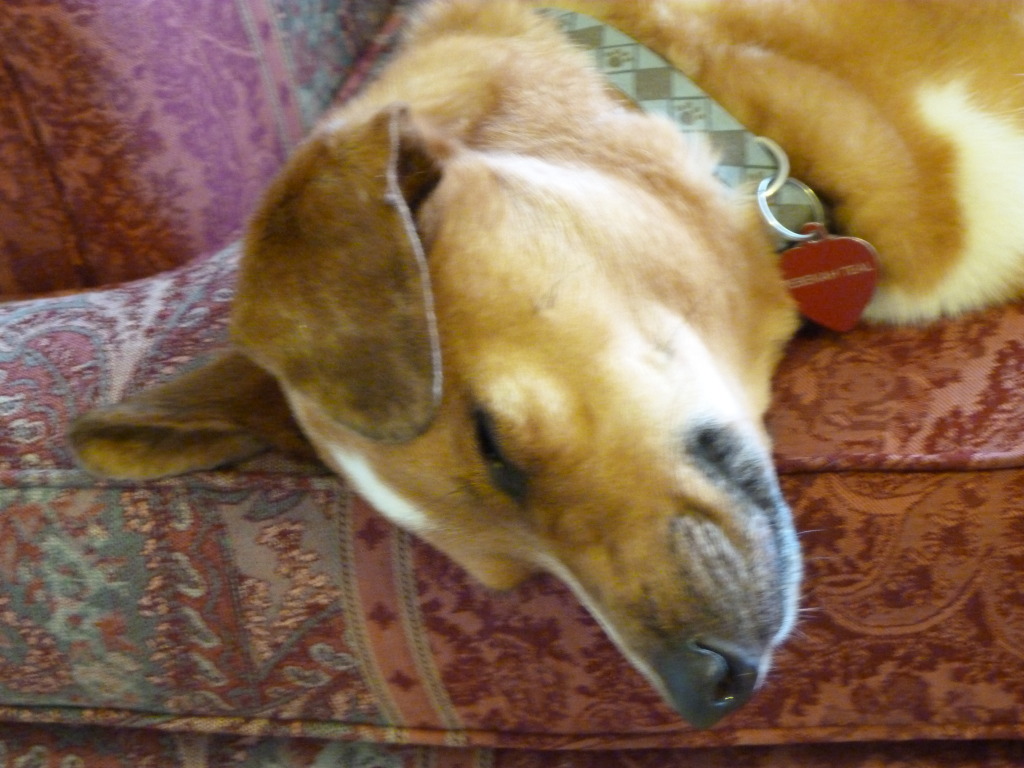 Blue
I look like that too, I just don't have a picture of myself to show you. (thank goodness!)
Until next time, Friends, savor the flavor of life!

Lots of love, The City Farmgirl, Rebekah
Oh, wait, wait, wait. Can I add Number Eight?
Here it is: You were right. Thank you for your comments and emails of support and love and laughs. Every word brought me encouragement and strength. I have no idea what I'm doing in this farm, and neither does my husband, but we'll be fine. I can tell that already after just 7 days. I am indeed dancing with this change, just like that quote says!