Tell me about your truck and I'll tell you about mine.
I'll go first and then it is your turn. Share in the comments, via email, or post a picture of your truck on Facebook (here I am). We want to see your truck, real or fantasy!
I wrote about Elvis, my truck, in the latest issue of maryjanesfarm magazine, on newsstands now. (Buy a copy if you haven't! Or better yet, subscribe and get it delivered to your mailbox!) There is a reason you didn't see a picture of Elvis accompanying the story. I think it really boils down to this: love is blind.
First let me tell you how Elvis came to be mine-all-mine.
One block from the courthouse where I worked in 1991 or so, and right beside the Dairy Queen, was a used car lot.
I walked by it every time I walked to the DQ. And during this particular time in my life I had a strong affinity for (possibly addicted to) "Mr. Misty Floats." These were an icee/slushee-like concoction, with a big dollop of DQ soft serve ice cream in the middle. My favorite flavors were grape and blue raspberry. (The DQ quit serving Mr. Mistys a while back.)
Here ya go. I found an old photo of a DQ poster. The Mr. Misty Float is the red one on the right. Man, those were good.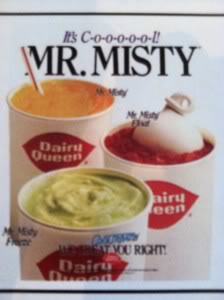 Anyway. There were a lot of late afternoon walks to DQ from my office.
One day, during that walk, what do I spy in the used car lot?
A fun truck.
Yep, dark blue, all jacked up with over-sized tires, spot lights on the top, and the words "hard body" on the side, with a sport stripe. The owner/salesperson was outside as I walked by, so I hollered something like "Cool truck!"
And he hollered back, "Come take it for a spin!"
And next thing I know my feet were walking me right over there to that fun blue truck instead of on down the sidewalk to the DQ. (My feet are wild hairs, taking me places that I'm not quite ready for.)
Buying a new car was the farthest thing from my mind. I was not even considering it. No need. My car was fine. And purchasing a truck is something that never EVER crossed my mind.
But there I was. In the used car lot beside the DQ, talking to Doug, the owner, about this fun truck. He asked if I could drive a stick, handed me the key, and told me to take it for a ride. And I did. I waved good-bye to Doug and went on a real live joy ride.
The truck and I bonded right away.
I told him he was handsome, and he told me I looked good behind the wheel. I complimented his gitty-up, he complimented mine. Something about this truck made me smile.
When I brought it back to Doug, he said, "Let's make a deal. What do you have to trade in?"
I said, "Oh, no, no, no, no, no. It's a nice truck, but I don't need to buy a car right now, much less a truck." And the next thing I know, in the very next breath, I was giving him the year and make of my little sports car. (My mouth is a wild hair too, getting me involved in things I haven't even thought through.)
So I went home that night and told my hubs about the jacked-up blue truck with spot lights on the top and the words "hard body" on the side, with that sports stripe. "I'm about to buy it, I love it so much," I told him.
Laughter. Confusion. Shock. More confusion.
My Hubs is a Mercedes kind of man. (The story of the Mouse and the Mercedes
is here
, if you missed it.) For me, his wife, to actually want to purchase AND DRIVE a vehicle like I had just described to him was beyond his comprehension. It didn't make any sense. He thought I had lost my mind.
But I convinced him that I did, indeed, want THAT truck in all its glory. I asked him to go with me to see it. So we went.
It is no exaggeration to say that when he got out of our car and saw THAT truck, his mouth dropped open. He was very surprised, even though I had accurately described it to him the night before.
I remember this as though it was yesterday. I can picture his surprised face and his initial speechlessness.
Then, when he found words, he asked me, "What would you do with THAT?!"
And I recall exactly what I said, confidently and strong: "Haul things."
Don't ask me what I intended to haul. I could not have answered that at the time. But, let me tell you what. I have hauled SOME THINGS in that truck over the last 20 years. Seriously hauled SOME THINGS that needed to be hauled. But I was a lawyer, for goodness sake, what did I intend to haul?? I couldn't tell you.
So when he asked, "What things?!" I just smiled real big, and said, "Just all kinds of things…you know, this and that….and the other….."
I'm laughing now just thinking about it. But truly, with no good reason to be found or had, I traded in my Mazda RX7 and bought THAT truck.
And it's been a blast ever since.
You know what? I can't drive that truck without somebody wanting to buy it off me. Nope, no way, not for sale. Maybe I should a sign in the windshield "Nope, No Way, Not For Sale."
Funny. A few years back, an older woman rang my door bell. "Can I borrow your workers for a minute?" she said, "I'd like to talk to them about a project at my house."
Befuddled, I say, "Workers? What workers? There aren't any workers here."
She points to my truck in the driveway and says, "Are they at lunch?"
I understood then. "Oh, no, m'am, that's MY truck, not workers."
She apologized for her mistake, walked sheepishly to her Jaguar (no lie, it was a Jag!), and drove away.
So, it you pictured Elvis as a classic, old Ford or Chevrolet, that's not quite right. I'm here to set the record straight, keeping it real. Here is Elvis, my beloved truck and long-time friend.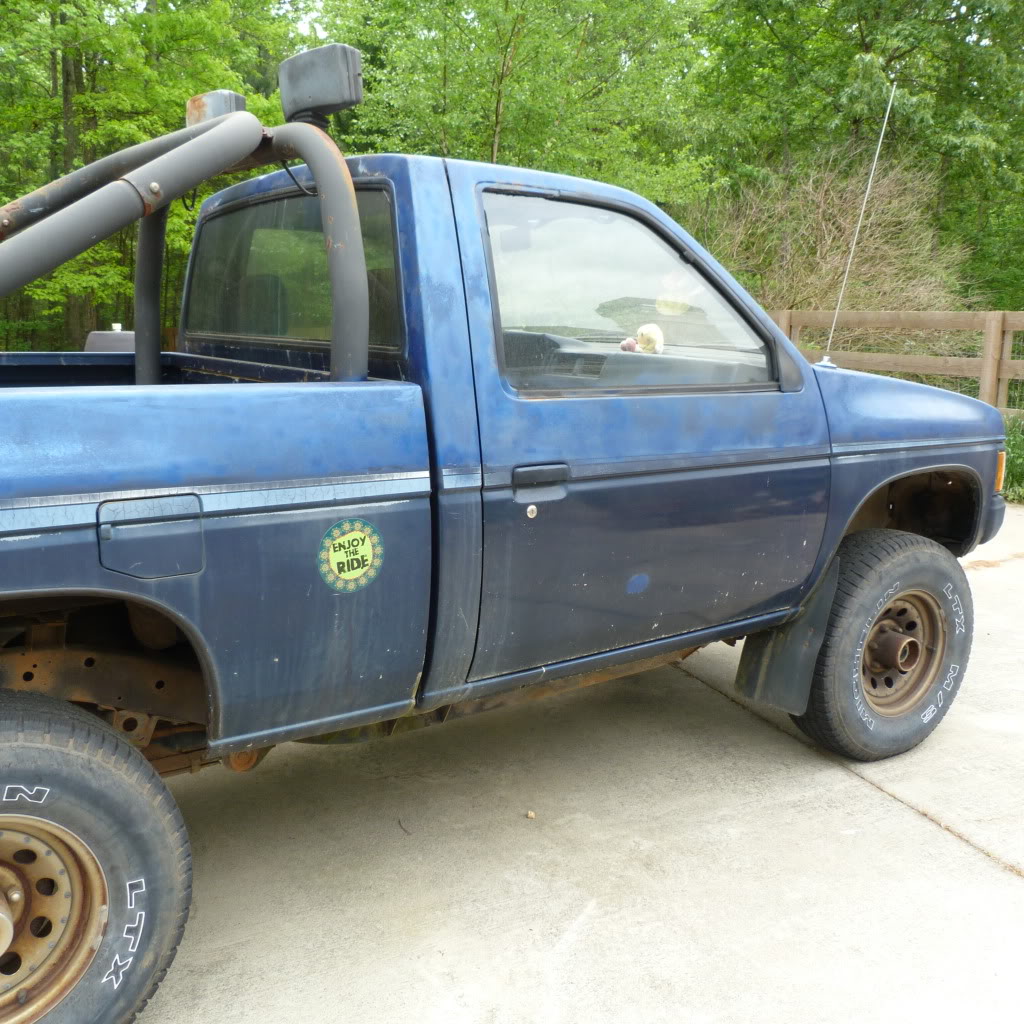 Oh, and you can even see that faded yellow stuffed smiley face on the dash that I mentioned in the column. See there? Doesn't it just make you want to go for a ride?
I've always told my daughter that she could have Elvis when she turned 16. She thought that was cool until she turned 10 or so. But now, I think she fears it. She wonders if I'm kidding or not. (I am. Nobody can have my truck!)
So, he may not be the most handsome thing to look at, but we have good times in my truck. We roll down the windows, turn up the crackly radio, and haul things. All kinds of things.
Now tell us about your truck (or dream truck!)
Until next time, Friends, savor the flavor of life!

Lots of love, The City Farmgirl, Rebekah