Happy October to all my Farmgirl Friends!
This post is the second half of a story I began two weeks ago. So…. if you haven't read the first half, you will want to read it first by going to that post here.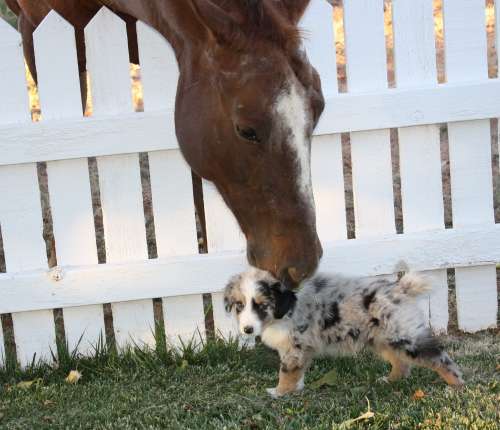 Six week old Belle in the front yard at our previous house… trying to keep her out of the horse corral, only to have Promise come find her when we let her out for her evening run!  
When we last talked I told you Promise had a little something on her side that helped her finally adjust to her new home. That was Belle, our little Australian Shepherd dog. We bought her when we still lived in Utah – she was a tiny little 6 week old ball of fur. She immediately took a liking to Promise and would sneak into her corral every chance she had. We tried everything we could to keep her out. It was very worrisome – this big horse and this tiny little fluff ball at her feet. Promise was so tolerant, which was a surprise as she never liked sharing her space with anyone else before. The bond was immediate.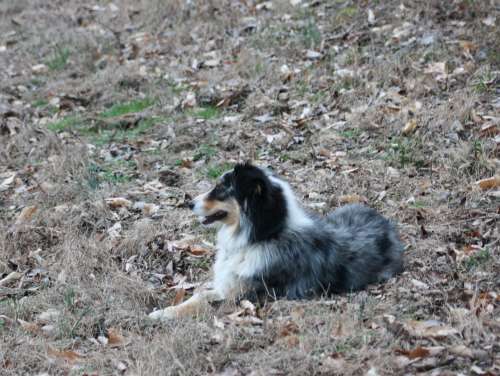 Belle loves to lay on the top of the hilltop on our Tennessee farm where she can keep an eye on everything going on below!
When Belle was about six months old we moved to Tennessee. She had quite the life on our new farm, as she had all sorts of land to roam and she was the happiest dog you can even imagine.
Except that her horse was a mess. I already told you that water was a very big issue for Promise, as she was used to drinking fresh water in her trough and now all she had was pond water. And that also required that she leave the hilltop and walk a distance down to the pond. She was NOT going to leave that hilltop. So, I catered to it. If you can believe it I started hauling water from my daughter's house a mile away to fill up a small trough. (We had no running water on the farm yet.) It was a huge undertaking, requiring numerous trips each day to keep the trough full. But I was so thankful she was drinking, I didn't even comprehend the problem I was creating.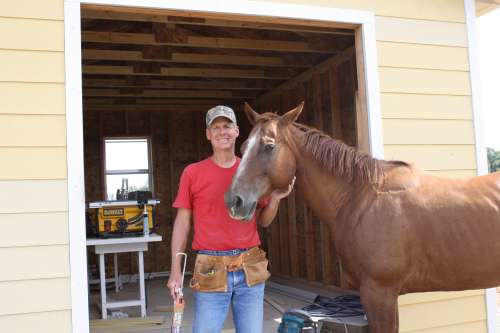 Eldon working on the tool shed, Promise "helping" as usual!
 We were building a tool shed and every time my husband turned around, Promise was inside the shed with him.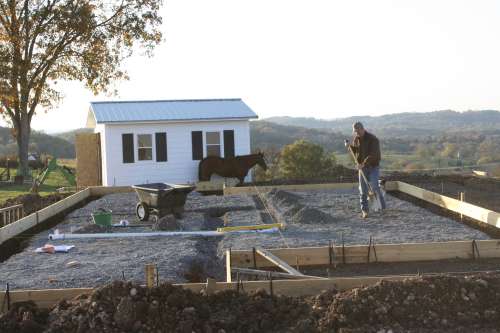 Promise standing watch as my husband worked on our house foundation.
About this time we began the excavation and earth work to put in utilities on our hilltop. Promise was a huge nuisance. She was still such a mess that she dogged our every step, standing directly behind us regardless of what we were doing. It actually became a safety issue.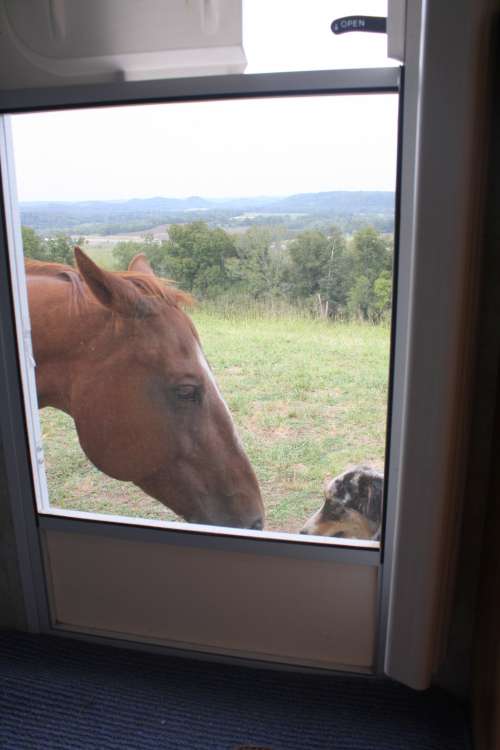 I heard a knock at the travel trailer door, opened it and guess who was there?
We were living in our travel trailer while we were building our home.  And this was a very common thing to be greeted by both Promise and Belle when we opened the door.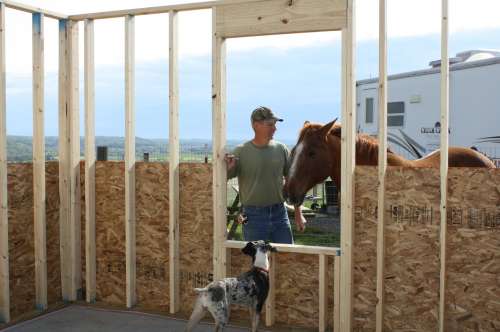 Promise totally involved in the building process!
Every wall that went up on our house, Promise had to inspect it.  She was way too curious for her own good.  And we began to worry about her causing damage to our new home as well as to herself.  So we put up a temporary fence around the construction site and began the steps to wean her off of water on the hilltop.  My husband said, "Enough is enough. We've got to get this horse off the hill and get her drinking out of the pond and hanging out down there with the cows. No more watering her up here."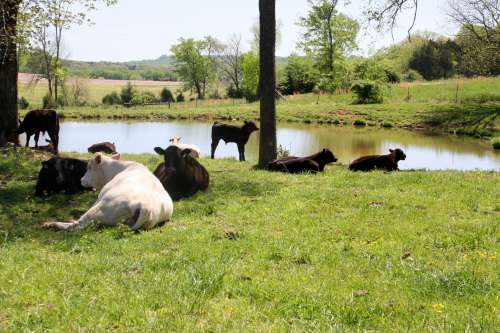 Our lovely pond under the cool shade trees.  (The cows loved it…. why didn't Promise?)
Eldon would halter Promise and walk her down to the pond several times a day where she would stand and not drink. That old saying sure proved true: "You can lead a horse to water, but you can't make them drink"! He would take her halter off and she would turn and run back up to the hilltop as fast as she could, Belle right with her. We gave up. It became a matter of either she will drink, or she won't.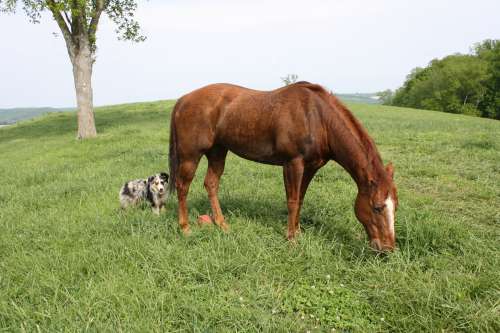 Promise… stuck on the hilltop.
So… Belle took it in her own little doggie hands and began to lead Promise down to the pond. She would run a few steps ahead and give a little bark and whine, calling her horse. Promise would follow, then stop. Belle would run a few more steps and whine and Promise would follow. At first we could hardly believe what we were seeing. This went on for days until finally Belle managed to get Promise all the way to the pond! And with Belle coaxing her, Promise drank. And with Belle's encouragement, Promise would spend a little more time each day down in the shade with the cows.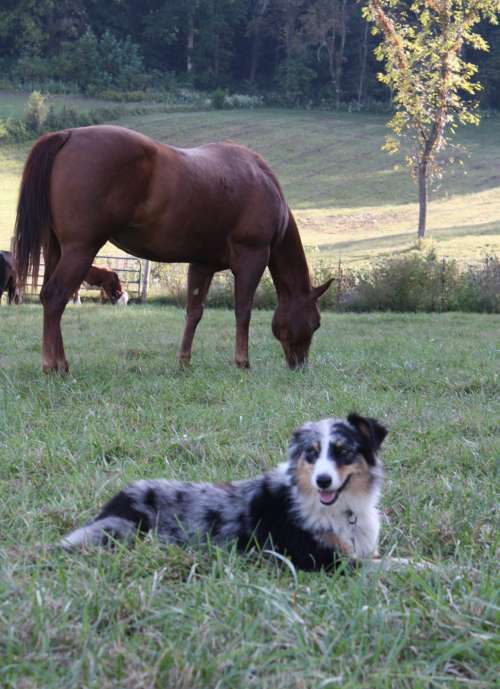 Finally!  Promise content and happy grazing at the bottom of the hill by the pond.  
That was the beginning of Promise's long journey into becoming a happy horse once again. It did not happen overnight. It actually took about two years before we knew she was back to her old happy self again.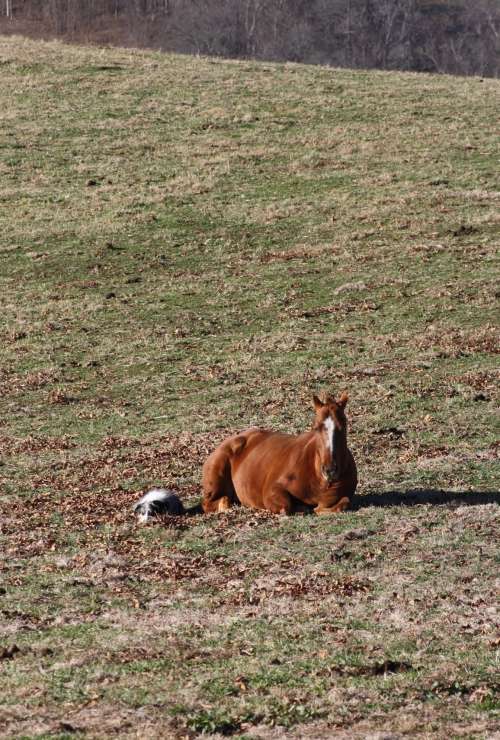 Those two are inseparable. Promise naps in the warm winter sunshine, Belle naps too.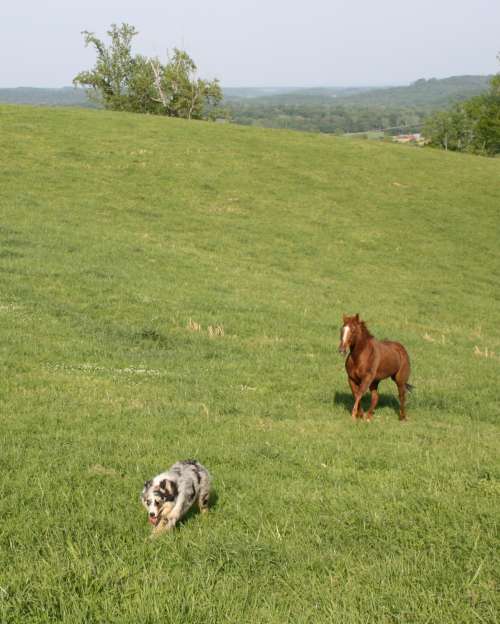 Promise gets excited and rips around the farm, Belle rips around with her.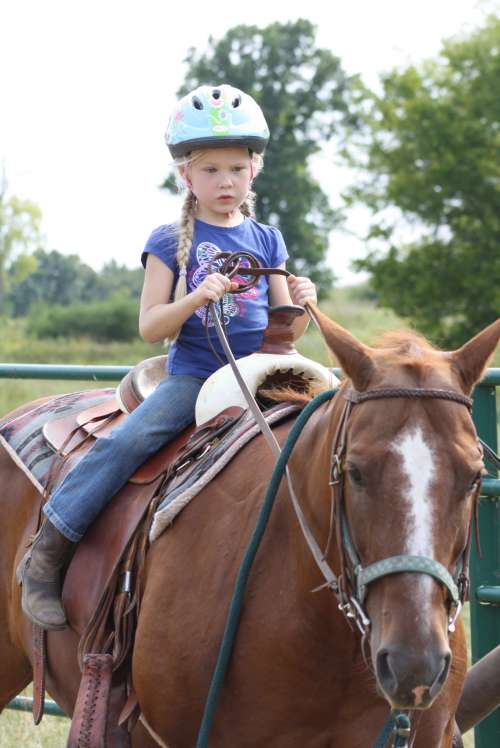 Our grand-daughter – her first riding lesson from Promise!
I'm so thankful that what Eldon said all those years ago proved true… "This horse has a lot of promise"!  And I'm even more thankful that she finally adjusted and is a happy horse that not only loves her Tennessee Hilltop… she loves the pond too!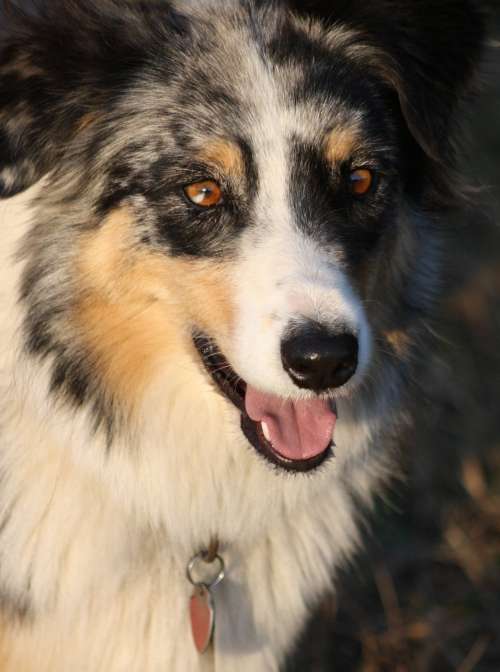 Belle… the best dog a horse could ask for!
It is not an exaggeration to say that Belle saved her life and I'm pretty sure Promise knows it!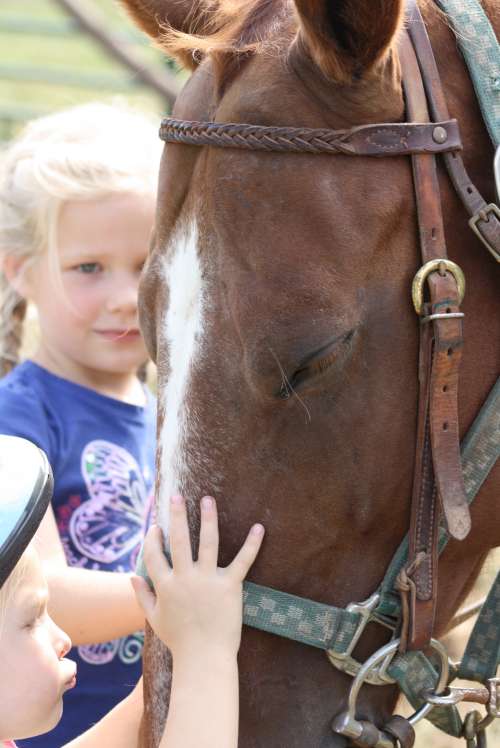 We love you, Promise.  
Until our gravel roads cross again… so long!
Dori