First of all, I would like to say thank you for the warm welcome I received here from our Farmgirl readers and bloggers!  I am so excited to be here with you!
Many years ago, back where we lived in Southern Utah, we bought a little two year old Quarter Horse. We had a terrible time coming up with a name for her and so we decided to sit on it for awhile. In the mean-time my husband voiced a few times that he thought she had a lot of promise. Well… before you know it, he was calling her Promise and it stuck.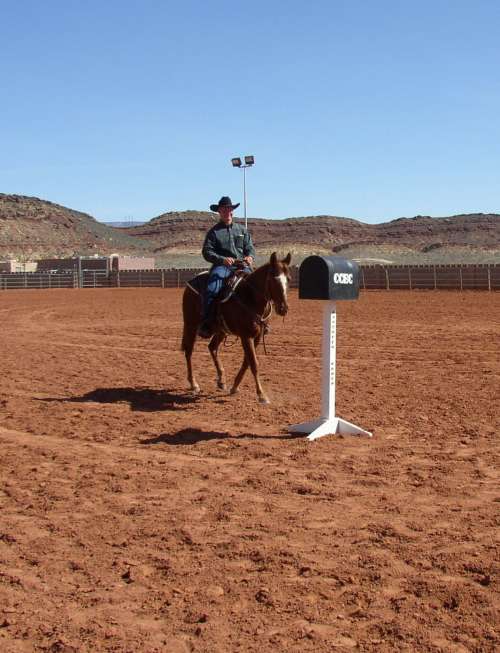 Our son showing Promise as a two year old in a Western Trail Class.
She's a funny horse and I thought you'd enjoy her "story".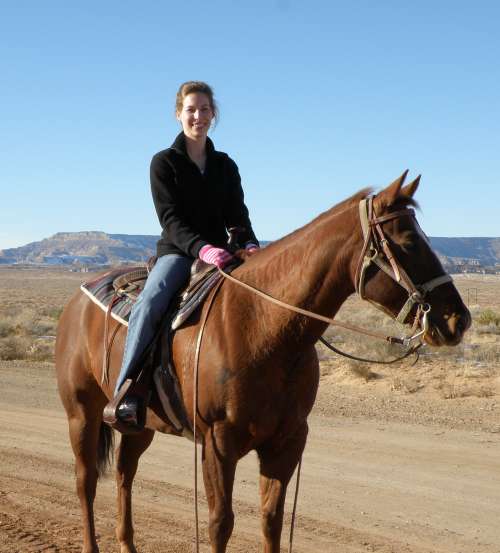 Our daughter and Promise at our home in Utah.
Where we lived out West, in our little acreage in the desert that bordered the Grand Staircase National Monument, she had a large horse corral with room to walk around and a barn to get out of the weather. She was ridden frequently and was a very happy and content horse.  Life was just how she liked it.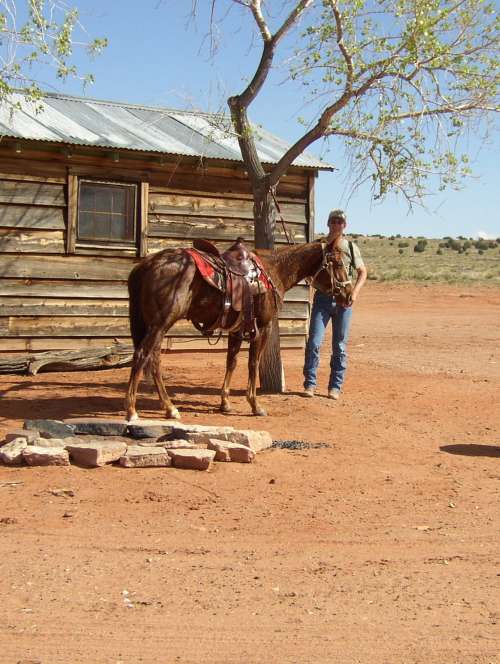 A little sheep herders cabin near our previous home in Utah where my husband and son loved to ride.
If you're at all familiar with the Southwestern desert of Southern Utah, you would know there are few trees and even fewer blades of grass. A lot of tumbleweeds and lots of nice pink sand! So Promise grew up with her breakfast and supper delivered to her morning and night in the form of the very best alfalfa hay and grain. Every day we topped off her water trough and always made sure the water in the trough was fresh and clean.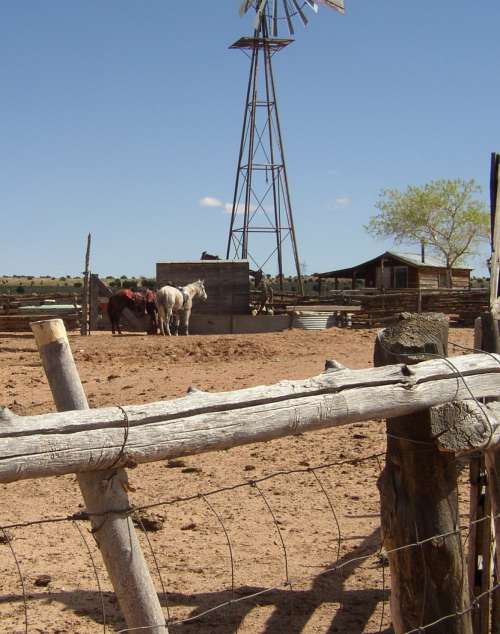 The corral next to the sheep herders cabin.
After we bought our cattle farm in Tennessee (but years before we actually got to relocate to it) we would say, "Promise will be so happy when she gets to graze that green grass and have freedom to run all over the farm".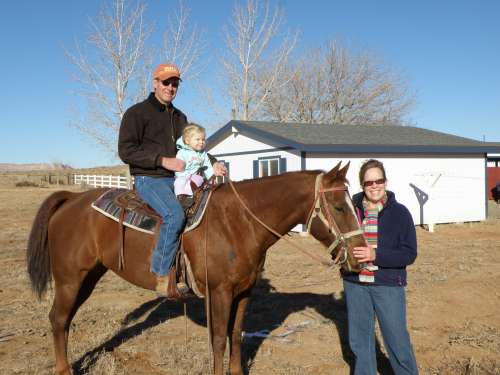 My husband and I and our little grand-daughter, Jillian, at our old home in Utah.
The day finally came when we moved. I cannot possibly even describe to you what we went through with that horse. It is a miracle we didn't lose her. First of all, she had never had to graze before, she had never even seen green grass, so eating was a real problem. Obviously we had brought hay from "home" for her to eat during the 3 days of travel across the United States and we had some left over so we tried to slowly wean her off the alfalfa to the luscious grass. She would not eat the grass. As in… Would. Not. Eat. It. We had no choice but to just stick it out until she finally decided she had to eat.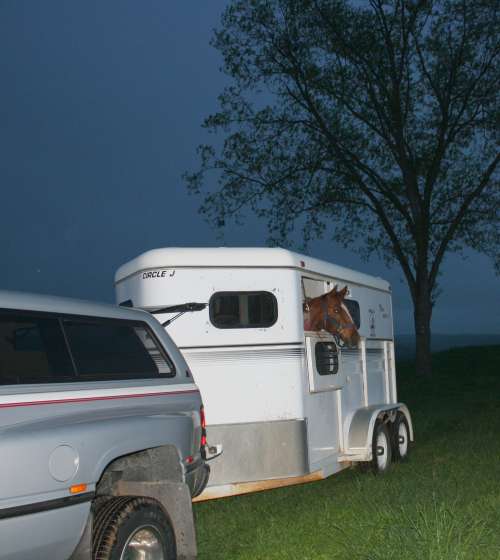 The evening we pulled into our farm in Tennessee – 2000 miles from "home".  
The next huge adjustment was that we had no barns or sheds or structures of any kind on our farm and she had never in her life been around trees. She had some kind of a mental block about getting under the trees for shade and protection. There are amazing woods on our farm, but she refused to go in them. We moved in April so by the end of May when the humidity hit she just stood in the hot sun with her head hanging to the ground and the sweat pouring off of her.  She paced the farm, refusing even to lay down.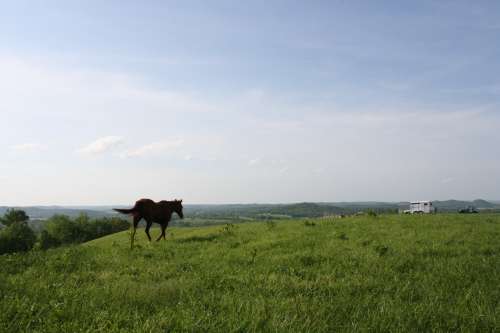 She yearned for home. She would go to the horse trailer and stand and since we didn't have any structures yet, my husband was using the back of the horse trailer to store his tools. So every time we would open it she was right there ready to jump in.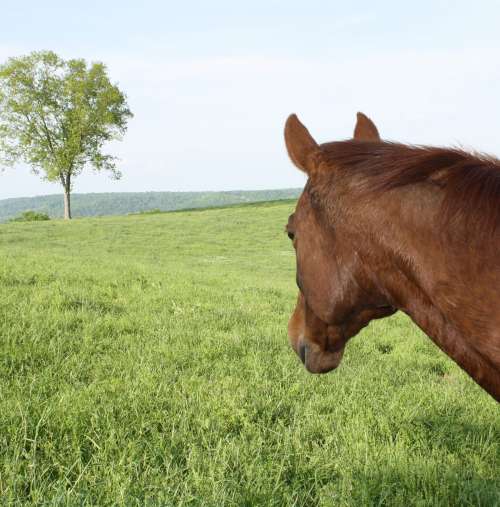 Is it just a coincidence that she was always looking "West"?
But the bigger problem was water. She was used to nice fresh water. Certainly NOT pond water that she had to walk to the bottom of a steep hill to drink. Our pond is amazing with rain water draining into it and constantly filtering out the other side, so the water is actually quite clean and fresh. Promise refused to drink. We had no other source of water on the farm yet.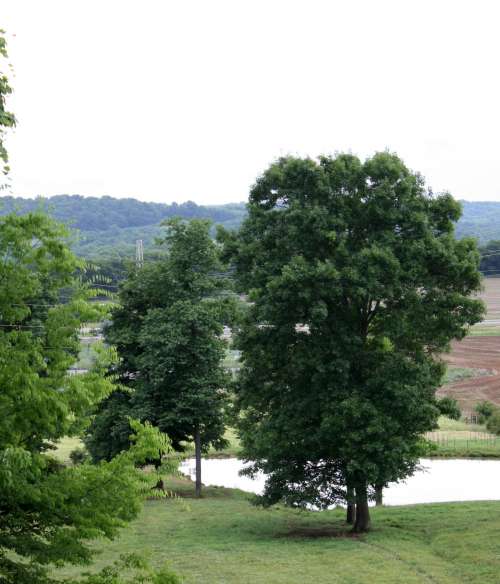 Our pond in Tennessee.
But Promise had a little something on her side that was the motivating factor to get her out of her "depression" and helped her adjust and eventually enjoy her new life. That was Belle, our Australian Shepherd dog.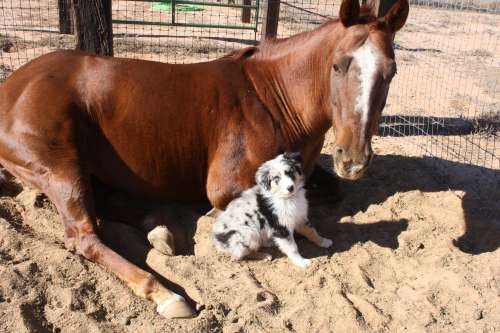 Promise, relaxing in the warm Southern Utah sand with Belle, who decided as a six week old pup that Promise belonged to her!
I've run out of time now… and this is a long story. Come back in two weeks to see how Belle saved her horse!
(Don't you just hate it when you're left hanging?)
Until our gravel roads cross again… so long.
Dori