This is a two-fer. Two-fer-one. Two totally unrelated topics, squished together in one post.
Topic Number One. Family. What does your family mean to you? Who do you include in the definition of family? And here's the big question of the day: What do YOU do to nurture your family bond?
I came to the conclusion this week that each family member has a job, a duty. And that's to nurture the family bond.
But the thing I haven't figured out is how to do that. We all know that a family is what you make it, right? But specifically. Exactly. Precisely. What? What does each member need to do to help it along?
I mean, is there something a parent can do to make sure their children like each other? Is there something children can do to make sure they grow up liking each other? Is there someway to assure that there is a close relationship between the children and the parents?
Do you notice a pattern in families that are falling apart? And for families that are thriving?
One of my observations is that families seem soooooo busy; maybe they don't have time to work on their relationships with each other. The kids are involved in a different activity every night, the parents are tired and distracted, the teenagers are texting their friends, and the computer is a constant distraction for everyone. Where does the family unit fit into all of that? Do you think it's falling by the wayside? That everybody treats it like it is last on the list of priorities?
I visited with a family last week that has me thinking about this. I was so uplifted to watch them together. There was the Mom and Dad, with two grown daughters and their children. One of the sets of grandparents was there, as was one of the daughter's husbands. I observed them. It was wonderful. It was inspiring. It was refreshing. It was so different from what I usually see.
Since then, I've been wondering what they were doing that other families weren't? How do you grow a family that is so very close? What kinds of things can you do to make sure everybody gets along with everybody else? I also wonder what the secret is in keeping the kids close to home once they grow up.
So I'm starting a list, and I hope you'll help me with it.
Things Family Members Can Do To Make Their Family Unit Stronger and Healthier
1.

      

Eat together (If children in home, then most nights. If children are grown, then every Sunday.)
2.

      

Engage in genuine communication (some families can't talk without arguing; some families can't talk openly to each other)
3.

      

Create rituals together
4.

      

Share hopes for the future together
5.

      

Show each other lots of love and acceptance
6.

      

Talk about memories and repeat family stories
7.

      

Like Mother Teresa said, smile at each other
WHAT ELSE??????? If you have time, please leave a comment and help with this list.
Topic Number Two. Gardens. What's going on in your garden? Fall gardening here is all about greens and herb flowers.
I've got some salad greens and some baby radishes.
I planted my other greens late, so they are still little tiny babies. I love the way the shadows of the picket fence hit the turnip green bed in the morning. Stripes!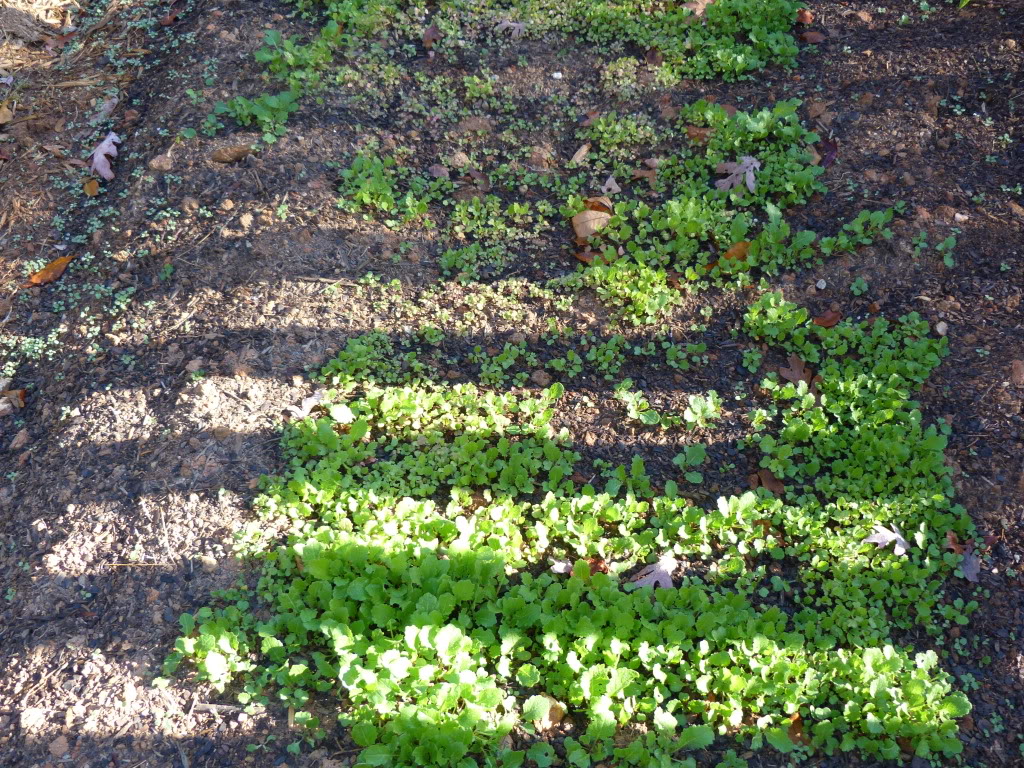 Since mine aren't ready, I've been hitting the local farmers' market. We have been eating turnip greens. Mustard greens, all kinds of kale, like Russian red kale and Tuscan kale, broccoli rabe, even beet greens. Oh! And the beets have been yummy this year from the market. I roasted some beets and turnips together (peel, cover in olive oil, kosher salt, rosemary, thyme and freshly ground pepper. Oven at 400 degrees. YUM!)
I've also got a banana pepper plant that keeps going and going and going. My father-in-law brought it to us this spring and that baby hasn't quit producing yet. I couldn't tell you how many peppers we've picked from this plant. 100's!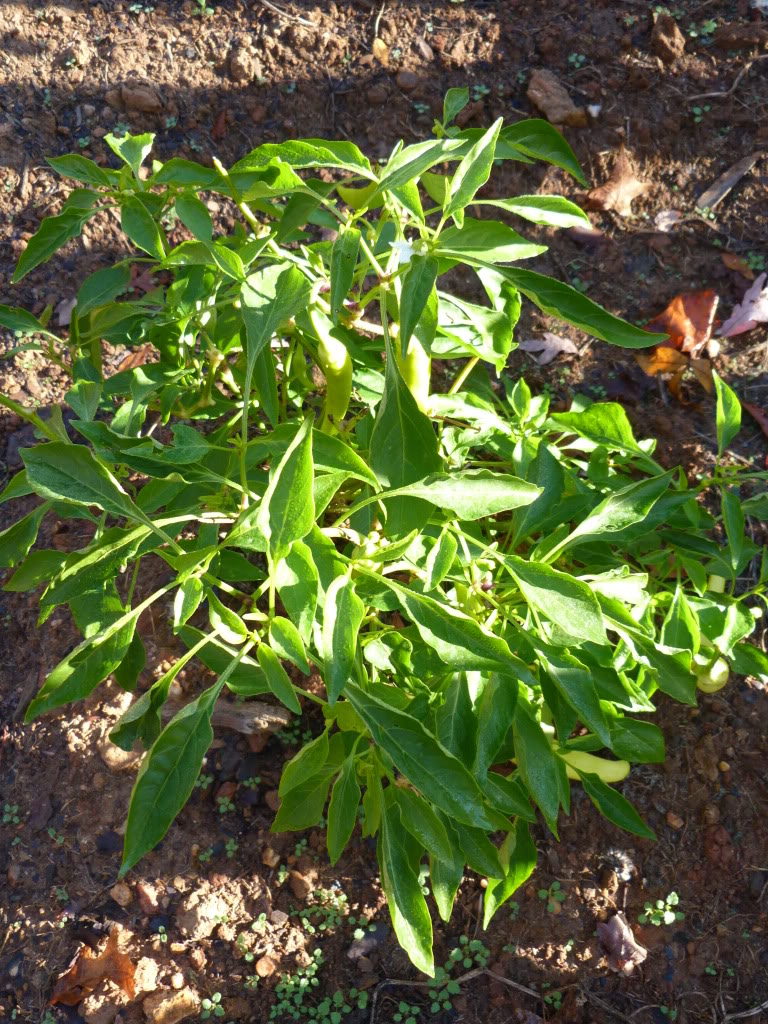 This is the first year for my asparagus bed, so I'm not sure what to do with it at this point. The ferns are turning yellow, so I hope that's normal. I need to look up what to do with the plants for the winter.
And guess what? I also picked up a shitake mushroom log at the farmers' market. I was so excited when I saw it. My yard doesn't grow grass well or vegetables well, but law-hidey, it goes mushrooms like you wouldn't believe. So I couldn't resist. I leaned the log against a tree when I got home, and I've already got my first mushrooms!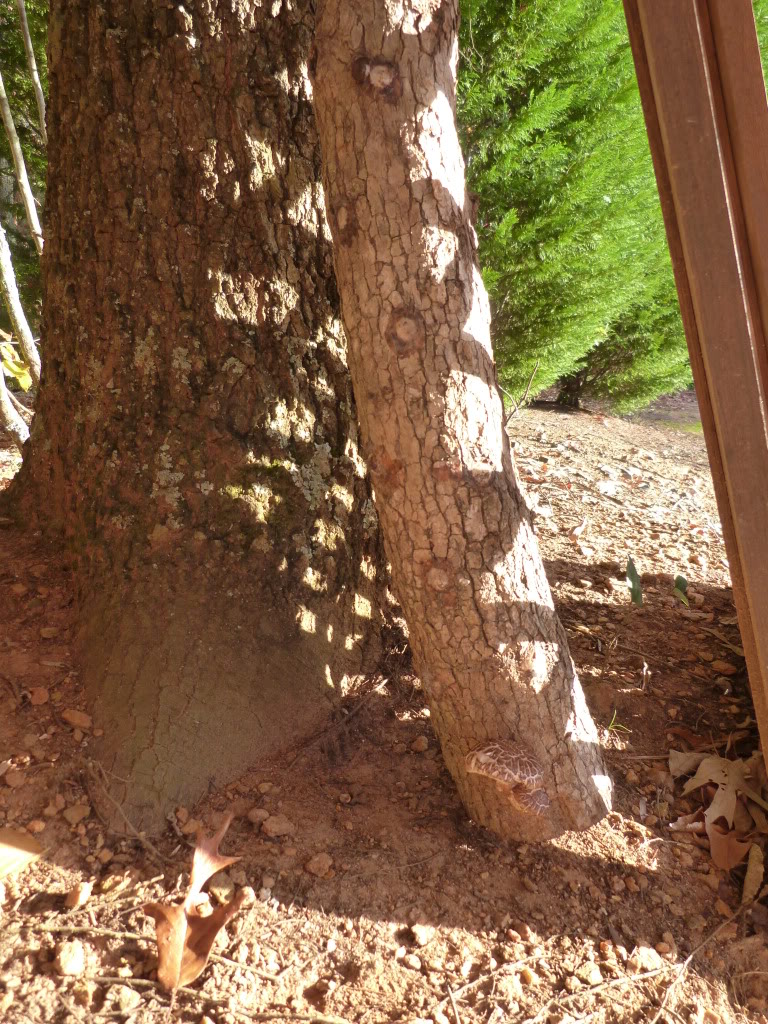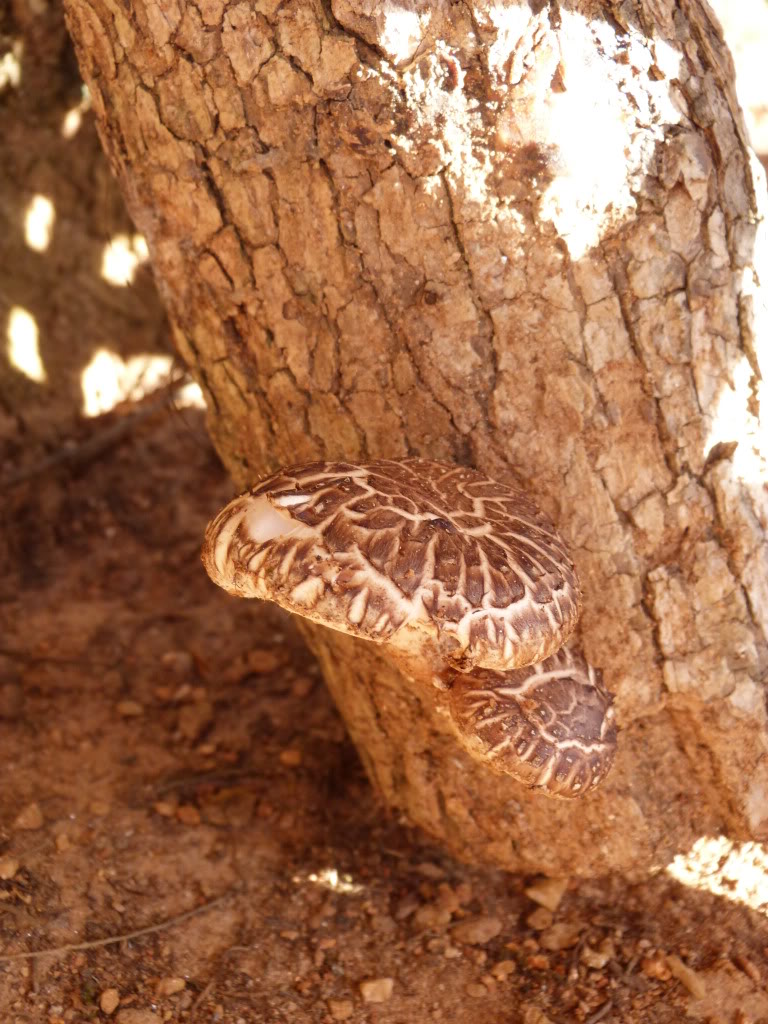 And do you remember me talking about TOO MANY YELLOW TOMATOES? Now, I prasie each and every little yellow tomato I see. I've got one plant that I didn't pull up and that booger is still producing. Lots! And now I love them because they are as close to a tomato as I can get. Attitude is everything, isn't it?
The herb tarragon is such a winner in the garden. In autumn, it is covered in little delicate yellow flowers. I ADORE adding my tarragon blossoms to salads. That burst of licorice flavor in the salad is so refreshing.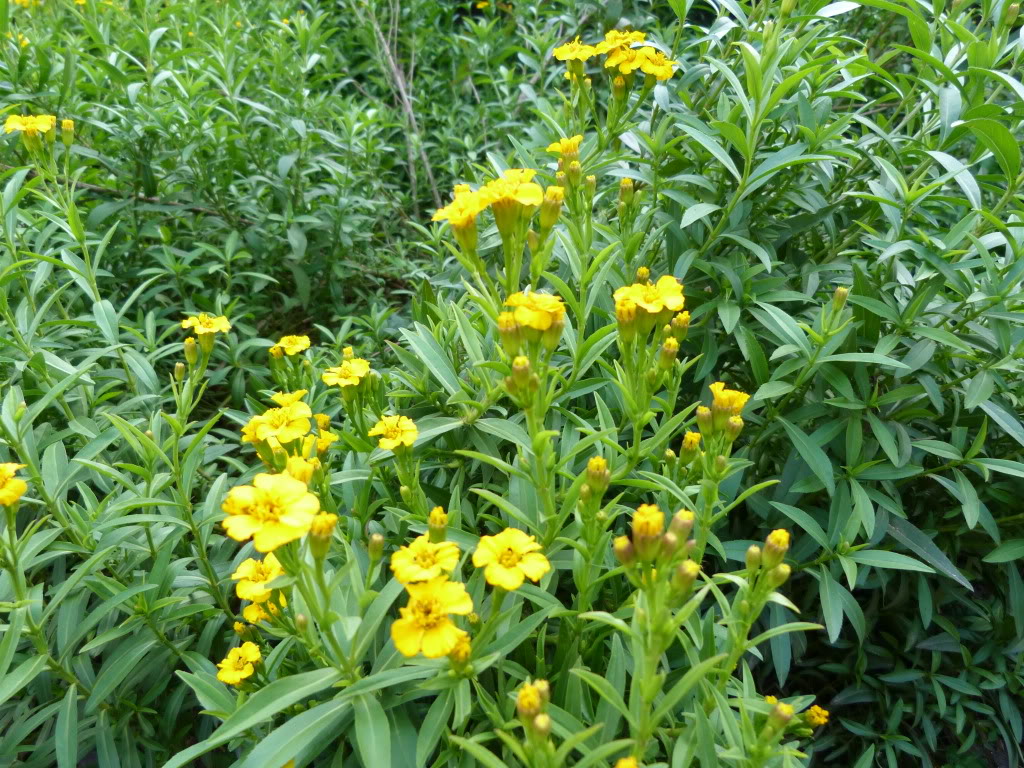 My mountain mint is also in bloom right now. Very pretty, though I haven't tasted the flower.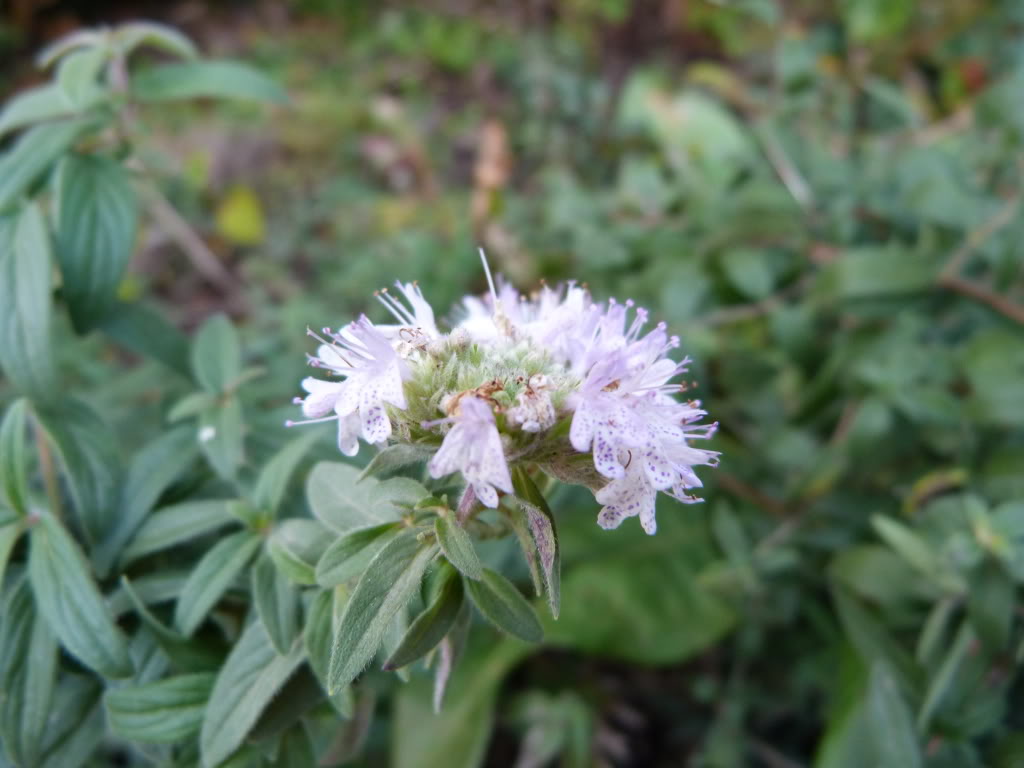 My mystery herb is blooming again. Beautiful, but still a mystery.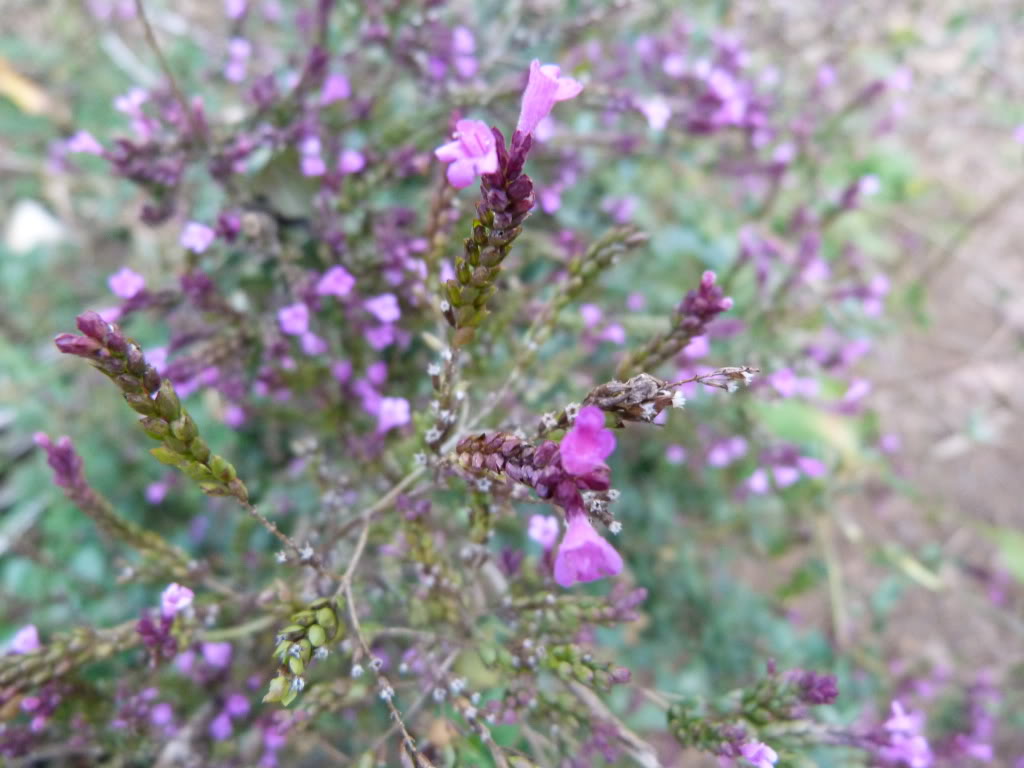 And what's this? A baby strawberry! Wrong season, sweetie pie.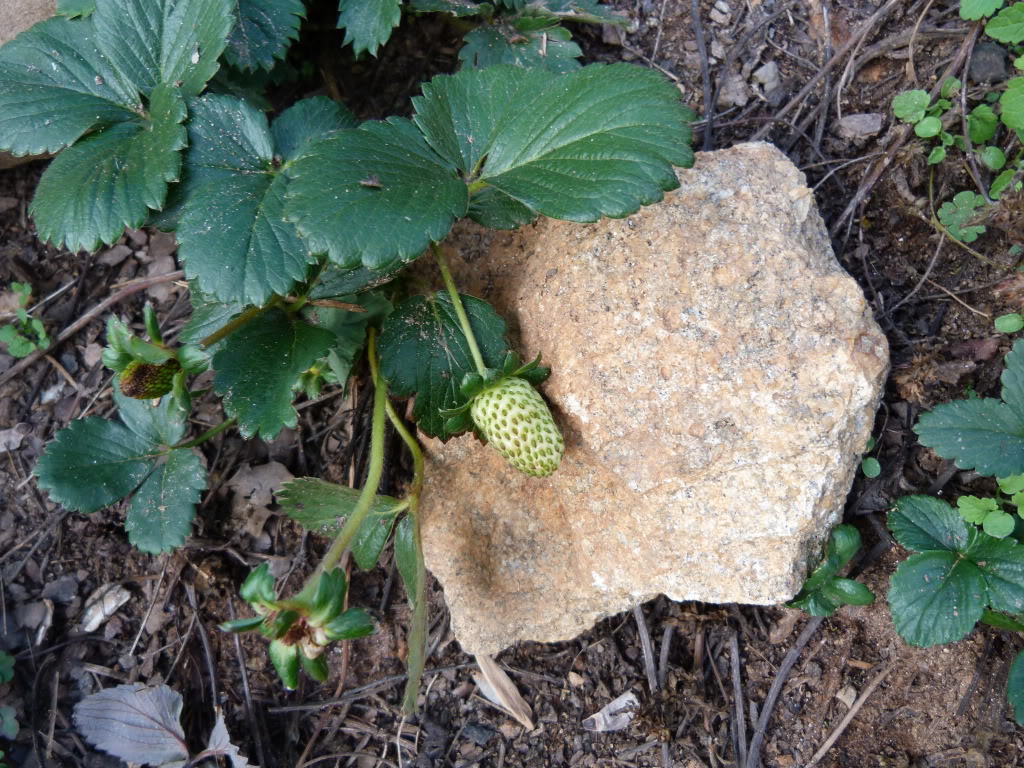 The white flowers of the basil plants are all gone, being replaced by seed pods.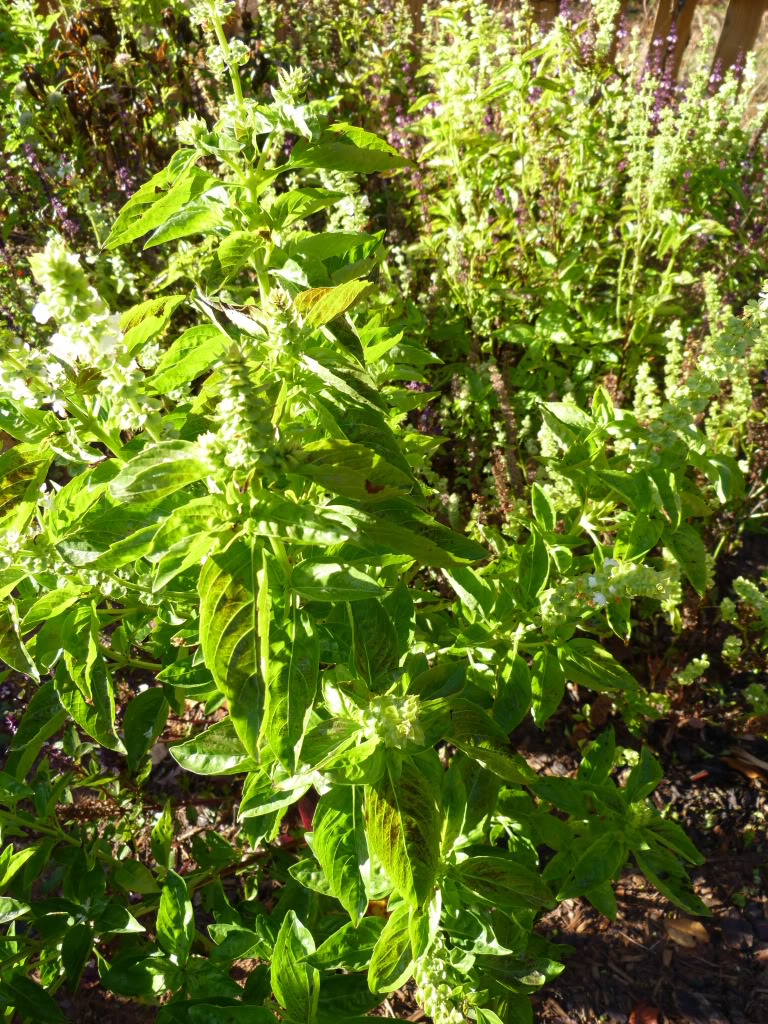 And the garlic chives have produced the flowers and now the seeds are falling out.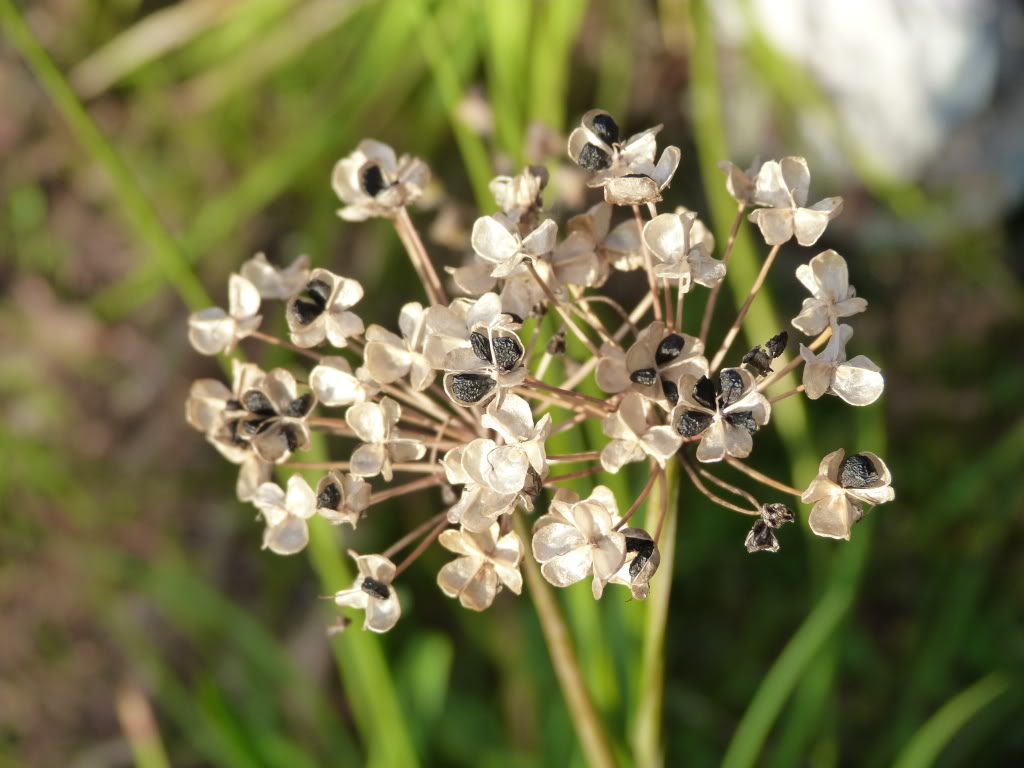 So that's it for my fall garden. I waited too long to order garlic and missed the supply from maryjanesfarm. There are some volunteers in my raised garlic bed, so I'll see what they look like next spring.
I'm thinking about trying to do a winter greens garden. I've never attempted that before, but reading about making a cold frame in
MaryJane's IdeaBook*CookBook*LifeBook
makes me think that I might  actually be able to do it. We'll see how the season rocks on.
Oh! And p.s. my Jack-O-Lanterns have been relegated to the compost pile.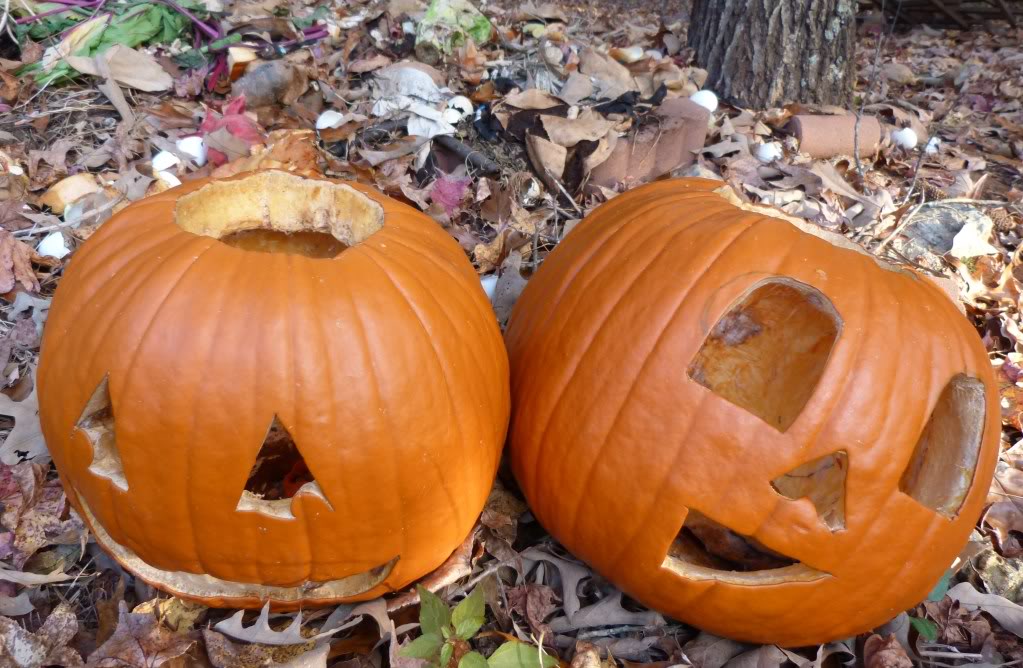 Oh! And p.s.s. my Encore Azaleas are in full bloom. Such a pretty autumn surprise each year!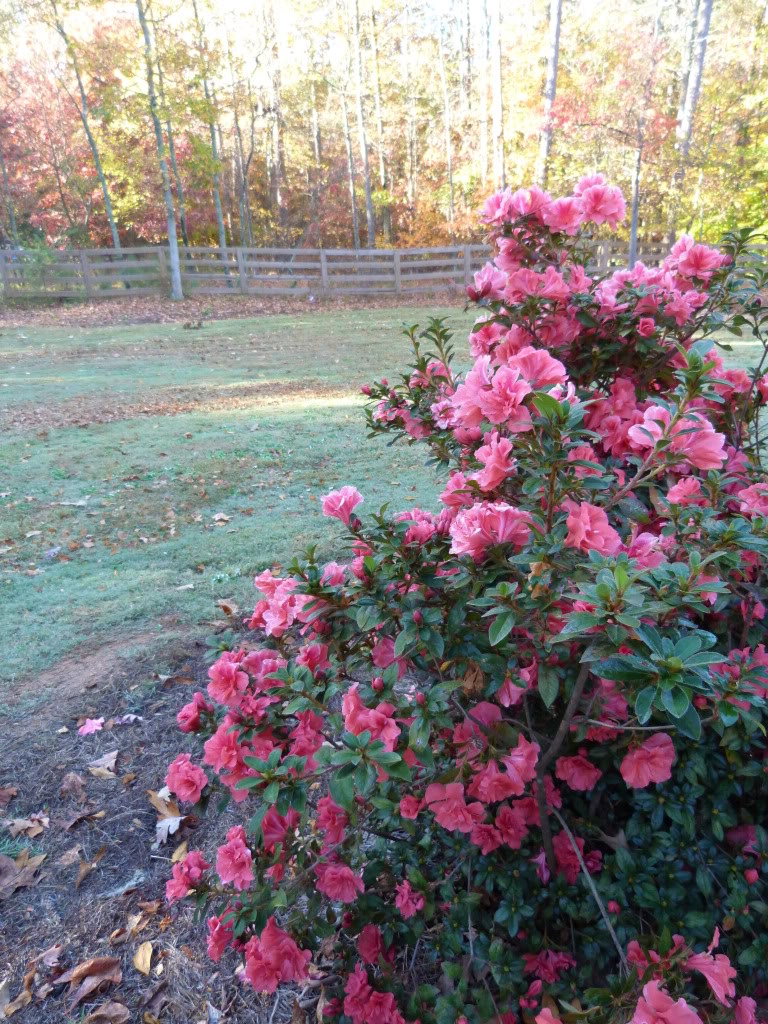 Until next time, Friends, savor the flavor of life!
Lots of love, The City Farmgirl, Rebekah