So Lisa, who is getting married in June 18th, sent such a sweet email. She wants to find a good, solid cookbook that will teach her to cook.
"I'm wondering if you could recommend a cookbook for me. I'm looking for a standard, all purpose Bible. I'm very inexperienced in the kitchen. How did you learn to cook? Is there a book that taught you?"
So I do what I always do. I come to my Farmgirl Sisters! What do you think? I'm at a loss for an answer to Lisa's question.
Her email has made me think a lot about how I learned to cook and how both my cooking and my attitude about cooking have evolved throughout the years.
But truly, I'm not sure how exactly I learned to cook.
I remember in high school I took a class called "Gourmet Cooking." Not that it really was….gourmet, I mean. But it did something important for me: it put me in the kitchen. It did something else: it began my recipe collection. One of the projects for that class was to create a recipe file. So I went around and collected tried-and-true recipes. I got favorites from my mom, my sister, my many aunts, and friend's moms.
I still have that box. It is an old 3×5 index medal cardbox. My collection, however, has changed. Instead of using index cards, I'd just copy–with a copy machine–my favorites from magazines, friends, recipe books, and keep them in a binder with those plastic page protectors. The notebook became my new cardbox. I'm wondering now if I should get with it and go "computer"? At heart,I'm a paper person, so I don't know. (But I never say "never.")
So back to Lisa's question: is there a book that taught me to cook?
After much consideration, I'd have to say, "not so much."
I stood in my kitchen and looked for a book like that. I gazed at my shelves and shelves of cookbooks. Nope, no "Bible" here, no reference, no one go-to. I remember my Mom using the old red and white checked-y Betty Crocker recipe book. You know the one? But, I don't have anything like that on my shelf. In fact, when I think of my Mom in the kitchen, I think of that particular cookbook. And I see her making biscuits and humming an old hymn, like The Old Rugged Cross. She's probably doing just that right now as I write this. Are you, Mom? When she comes to see us, she always brings her biscuits.
But as I gazed at my cookbooks and thought about Lisa's question, I realized that not only my cooking, but also the SPIRIT of my cooking, has evolved. Since 1980 when I started that recipe collection in the old medal file-box, my cooking attitude has changed.
Cooking used to be a chore, a task, a job that had to be done when I got home from a long day at work. Now, it's an experience; an experiment; an excitement. I married my (fantastic) Italian husband and immediately saw that in his culture, food equals love. His mom has showed me this over and over throughout the years. She is a gifted cook, who loves to serve a delicious meal to her family. She enjoys surprising us with her special desserts. (Just yesterday it was an amazing chocolate cheesecake.) This is one of the many ways she nurtures her family. She naturally embodies the SLOW FOOD movement. Her cooking is love.
But I didn't truly understand that philosophy until I SLOWED down long enough to get it. Yes, I had to slow down in the kitchen and in life. Then, the spirit of my cooking changed. It now has my own special ingredient in it (LOVE); and only I can add it. I get it now: the way my own Mom bakes her biscuits for us with LOVE. My time in the kitchen is no longer a chore, an imposition. It's a gift, an experience, a nurturing.
I have became a cookbook person. I love to read cookbooks, picking out new recipes to try. Picking out ones with spices I don't know or unfamiliar ingredients. In fact, I've got a stack of cookbooks beside my bed.
But this morning, my stack is on my kitchen table. Beside a vase of my Daddy's beautiful roses. (My Daddy, who grows his roses with that special ingredient too~LOVE.)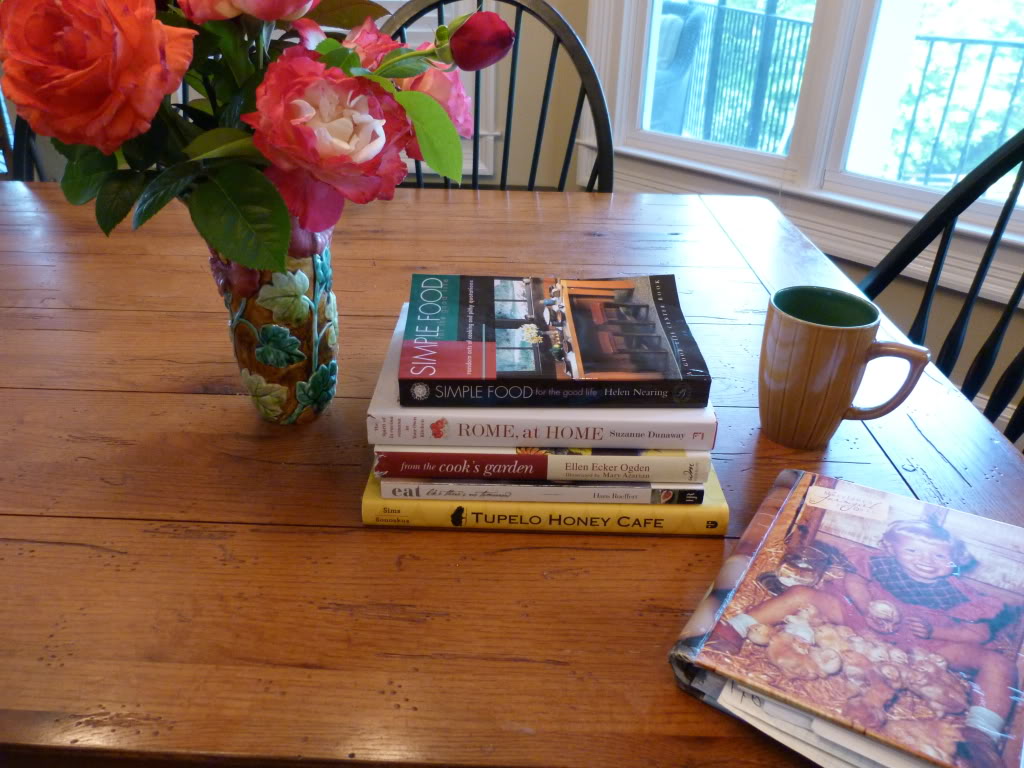 These are my current favorites.
Oh, about that cute book you see on the right there. That contains special recipes I get from the Farmgirl Connection. It's the Farmgirl Journal from the website. I started it several years ago (how many has it been now?) when I discovered the wonderful MaryJane Butters and this website. Have I mentioned lately how much I love it here? Never have I seen a place filled with such wonderful, helpful, caring people. Isn't the book cover adorable? It's MaryJane as a young girl.
Now about that stack of cookbooks.
These are special cookbooks that don't just list out the ingredients and directions. They have stories, beautiful photographs, homey quotes. These cookbooks make me feel good. I mean, by just reading them. There's another round of feeling good as I cook from them. And then another round when I eat and share what I made. It's a "feel-good" kinda thing.
Yes, that is the spirit of my cooking these days.
Stories, beauty, homey, cozy, feel good.
So what's in my stack?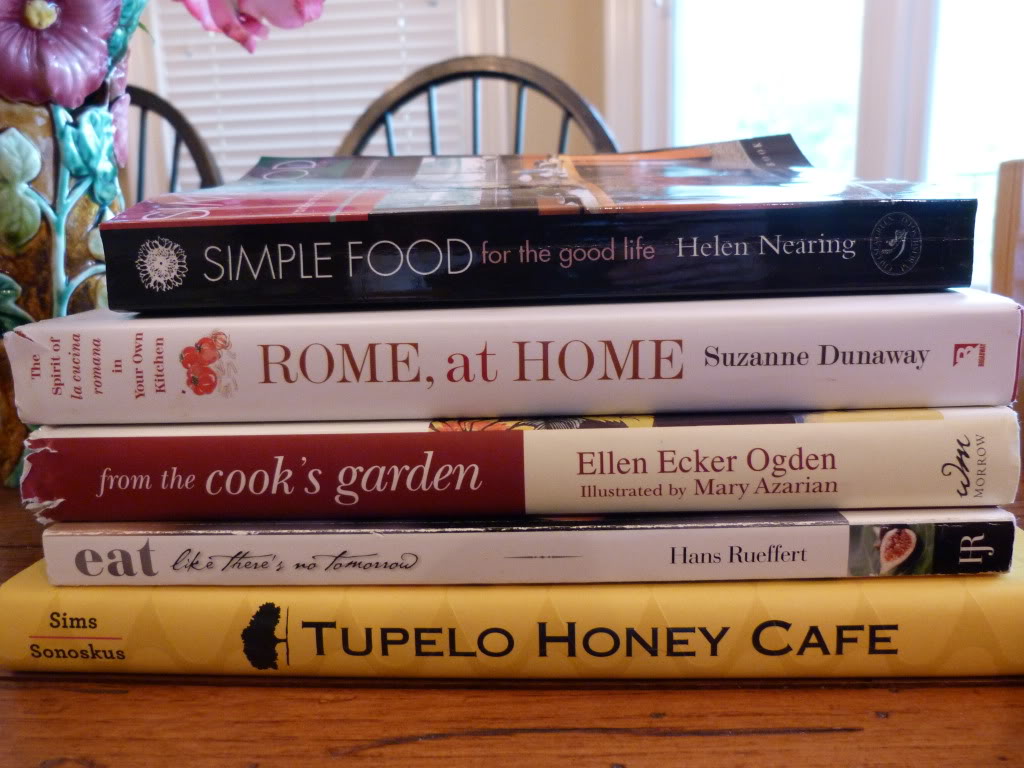 Tupelo Honey Café Cookbook
, Elizabeth Sims and Chef Brian Sonoskus, 2011.
Tupelo Honey Café is a restaurant in Asheville, NC. (I heart me some Asheville!!) Here's a quote from that book; you'll see why I like it so much.
"These days people worry so much about their hearts that they don't eat heavy. The way folks were meant to eat is the way my family ate when I was growing up…We ate till we got tired. Then we went 'Whoo!' and leaned back and wholeheartedly expressed how much we regretted that we couldn't summon up the strength, right then, to eat some more." Roy Blount Jr.
I'm going to try: Garlic Ranch Dressing on Spinach Salad with Roasted Beets and Goat Cheese (page 29 and page 90)
Eat Like There's No Tomorrow, Hans Rueffert, 2009
This is a self-published cookbook filled with beautiful photos, great recipes, and lots of wisdom for our various journeys. A quote:
"So before we get ahead of ourselves, let's sort out this 'Never Trust a Skinny Chef' business. I hear questions: 'Why is he so skinny?' and 'Doesn't he eat his own cooking?' all the time. The short answer: cancer. ..I ended up losing half my stomach, half of my esophagus, and about 70 pounds. My cancer experience forever changed the way I look at eating and the way that food makes us feel…"
I'm going to try: French Onion Soup (page 49)
From the Cook's Garden,
Ellen Ecker Ogden, 2003
A quote from this book: "It is ironic that the hottest peppers are the most innocent looking. My daughter, Molly, learned this at an early age, when she popped a tiny Thai chile into her mouth-and has been wary of chiles ever since."
I'm going to try: Maple-Carrot Cake with Maple Frosting (page 209)
Rome, at Home
, Suzanne Dunaway, 2004
The description for Vitello Tonnato, which I'd never try because it is veal, but the description is intriguing, to say the least: "When I make this very easy summer dish, I think of sexy underwear."
(Now, tell me, has a recipe ever made you think of underwear? Sexy or matronly or otherwise? Me neither. Or at least not yet…)
I'm going to try: Spaghetti al Pesto (page 113)
Simple Food for the Good Life
, Helen Nearing, 1980
This cookbook is straight, to the point, almost preachy, but what we all need to hear.
"There are three kinds of foodstuffs: those raw, vital and fresh, as found in nature; those cooked, with the vitality largely killed by high temperatures; and those manufactured, processed, deadened or poisoned."
Tell it like it is, Sister.
I'm going to try: Simple Baked Cereal (page 92)
Oh my, I forgot Susan Branch! How did one of her many books not wind up in my stack this morning?
I enjoy reading her cookbooks, though I don't think I've ever tried a recipe. Her voice is perky and pleasant; her colorful drawings are beautiful; in short, I like the way looking at her cookbooks make me feel.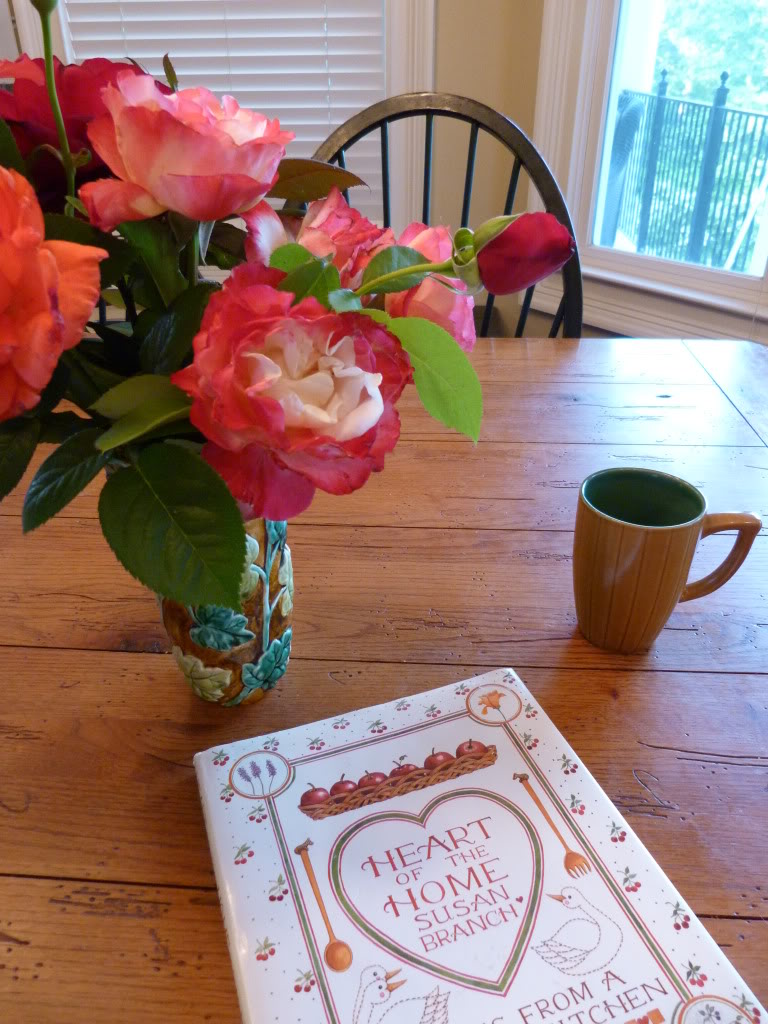 Heart of the Home
, Susan Branch, 1986
 " 'Tis merry, merry in the spring,
And merry in the summer time,
And merry when the great winds sing
Through autumn's woodlands brown
And min the winter, wild and cold,
'Tis merry, merry too."
 William Howitt
I'm going to try: Chicken Enchiladas (page 94)
Oh, no, no. I also forgot
The Blackberry Farm Cookbook
, Sam Beall, 2009, which I adore.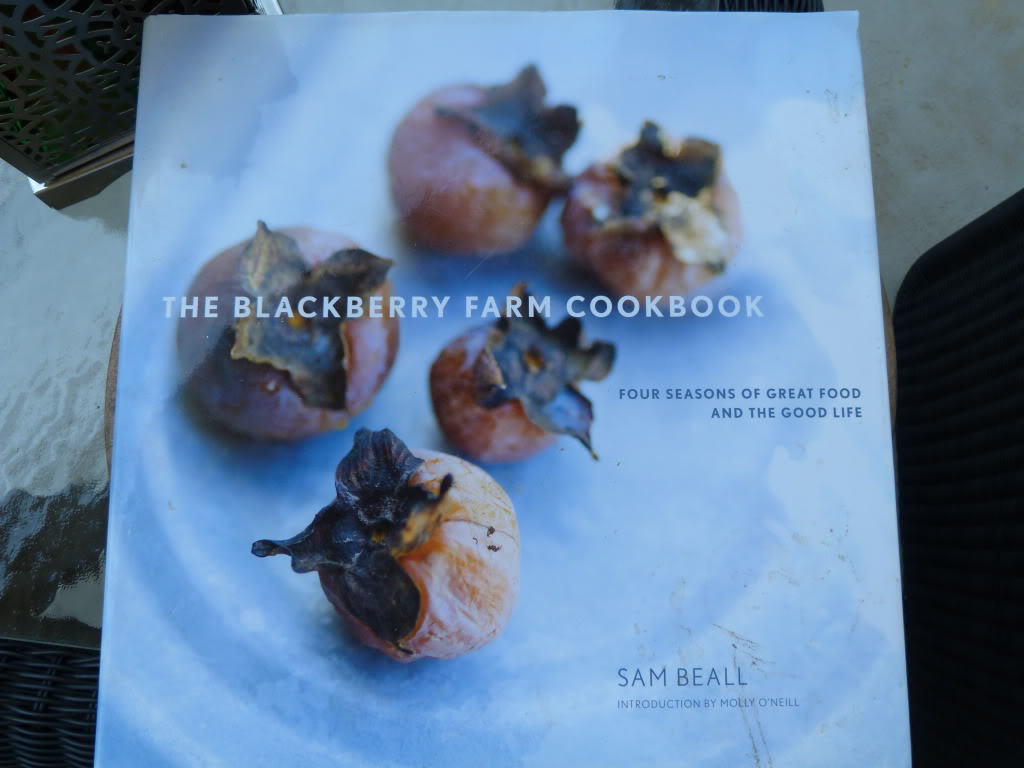 This is a big, expensive, gorgeous, coffee table cookbook. If I were a rich woman, with lots of money and time, I would go to Blackberry Farm (
www.blackberryfarm.com)
. Probably in autumn.
"Just about the time we've gotten used to the wild pace of the forest and garden in the spring, the explosion settles into a steady rhythm. Cooking from the earth will never be perfectly predictable, but during patches, such as late spring and early summer, a pattern asserts itself…."
I'm going to try Smoky Mountain Ramp Risotto with Jack Daniel's (page 230)
I hope soon! I hope real soon! I hope that soon I'll be heading up to our Smoky Mountain Farm and getting my eager hands and lips on some ramps.)
So that's my current stack. How about yours?
I forgot to tell you something else! I'm going to go to the Blogher Food Conference in Atlanta in a couple of weeks. Not that I'm really a food blogger. It's just that it is so close, I have to go. I'll tell you all about it and start posting my experiences with the recipes I've picked out from my stack. Maybe I'll finally learn how to photograph a dish of brownies so they look like something you want to eat instead of something you'd scrap off the bottom of your shoe…
So leave a comment and tell us which cookbooks are your go-to, your all time favorites. What is your spirit of cooking these days?
(Oh…about the coffee maker. Thanks for all your great advice and input! There of many of us out here who have been on the fence! Here's where I am…I'm using my husband's old "pre-me" Faberware Percolator while I try to decide for sure. I wish I could try out all the suggestions. I'm thinking a French press for the weekends, you all make it sound truly divine~possibly even sexy…but during the week, I just don't think it would work for my schedule. I watched a video showing how to use a French press because I knew nothing about it. Probably too time consuming for me right now in the mornings. I make a large pot in the mornings for Hubs and I to drink here and take with us. I need to be able to just press the button and be done with it? So, you know what? I'm thinking about ordering another Krups. Or a Cuisinart…oh, still deciding…)
Until next time, Friends, savor the flavor of life!
Lots of love, The City Farmgirl, Rebekah