When I moved to the Northeast over twenty years ago, it was the early 1990's.  Back then, I thought nothing of flying, even if it was a short trip for only a few days to see relatives. Nowadays, it's not as easy just to "hop a plane" cross-country.  Lives are so busy. Taking time off with school and work schedules can be tricky. There's fewer flights and airlines than a few decades ago, and gone are the days of carefree flying. When we do visit with family, it's a true treat, and we want to make the most of that special time. Recently, my mom flew in for a long-overdue visit!  Here just a week, we headed to some fun destinations and indulged in some sweet treats, New England style!
We've had a very rainy and mild summer, but the whole time my mom, Beverly Battaglia, was visiting from Georgia, we had perfect weather! Of course, we headed to our favorite beach, Sherwood Island, for a day of relaxation, and to catch up without distraction. Located in Westport, Connecticut, it's peaceful, with full bathrooms and outdoor showers, lifeguards, scenic picnic areas, a full snack bar, and an educational Nature Center. We only pay to park, and at $9.00 a car for residents, it's a nice place for families to spend a day.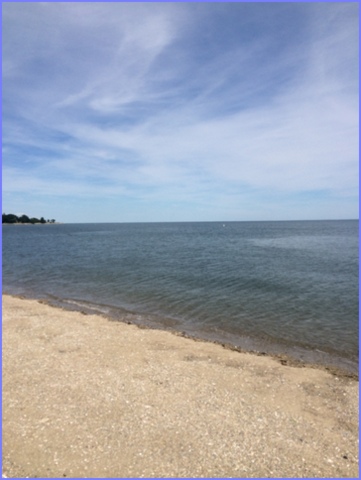 One of the best things about summer is ice cream, and New England has no shortage of great creameries! Once warm weather hits, wonderful rural ice cream stands open. A favorite, Ferris Acres Creamery, is located in my hometown of Newtown on Route 302. It's a part of a real, working dairy farm – the last one in Fairfield County. The ice cream is dreamy. We recently counted 32 flavors offered in hard ice cream alone, though their Chocolate with Peanut Butter Swirls is my personal favorite, reminding me of my childhood! Here in Newtown, we love to enjoy a treat, chat with friends, and enjoy the picturesque scenery (including cows grazing)! We took my mom there for a cool, sweet treat after a day at the beach.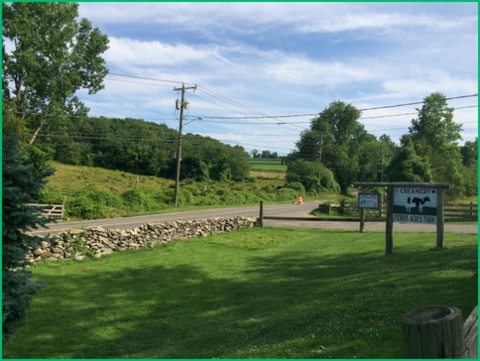 Pip enjoyed his "Pup Cup", vanilla ice cream with  heart shaped dog cookies.
In all the years we've lived here, we'd never taken my mom to a favorite spot – Old Sturbridge Village in Sturbridge, Massachusetts. This visit, we headed up for a day touring the living history museum depicting life from the 1830's. They had recently sheared the sheep and were dyeing the wool for knitting. The costumed historian told us that this activity would've been something a farmer's wife in the area would have done to make a little extra money,  most likely selling her wool to one of the textile mills in the area.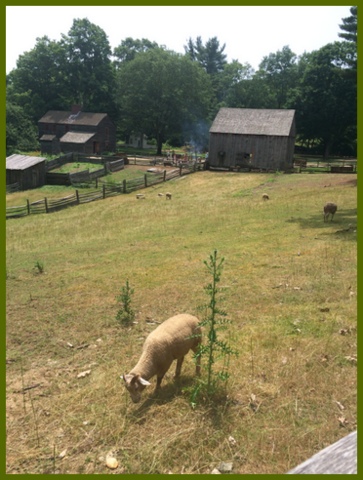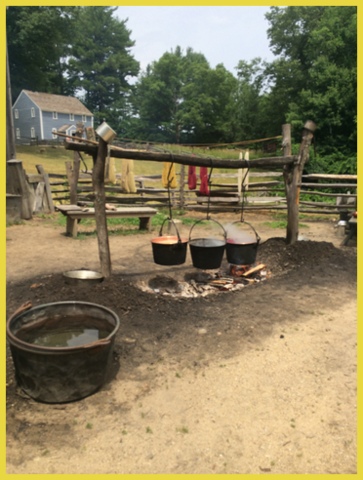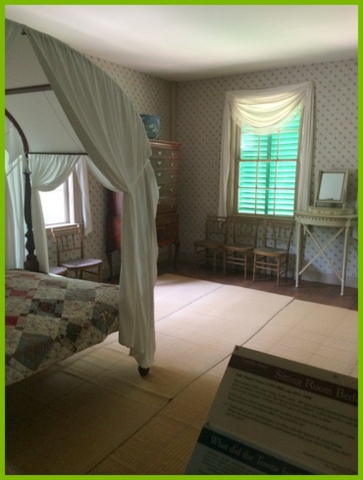 On the way home, we stopped for….what else? Ice cream! This time, heavenly frozen sweetness was found at The Dairy Bar, on the University Of Connecticut campus, in Storrs. My daughter wants to attend UConn someday, and our state is very proud of their winning basketball teams (Go Huskies)!  Originally, The Dairy Bar opened in the early 1950's to sell dairy products made by their creamery; it now serves amazing ice cream to over 200,000 visitors each year. There's an observation window to see the ice cream being made, and the Dairy Bar is staffed entirely by UConn student employees. The ice cream's so good it's hard to describe, and certainly worth the stop.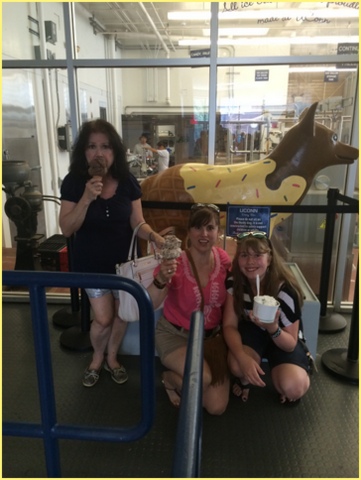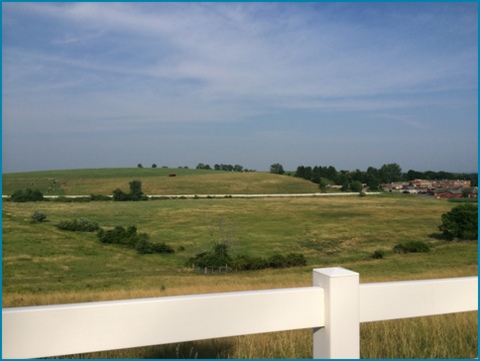 Of course, sweet treats were balanced with plenty of healthy home cookin'! With all the sun and rain, the larger garden we put in spring has exploded! However, everything in my gardens are a bit behind schedule this year, something I've heard of from many gardeners in my area. Mom was impressed by all the goodies growing, comparing me to my beloved grandmother. What a compliment!  (How's your garden this year? Leave a comment as to how things are in your neck o' the woods).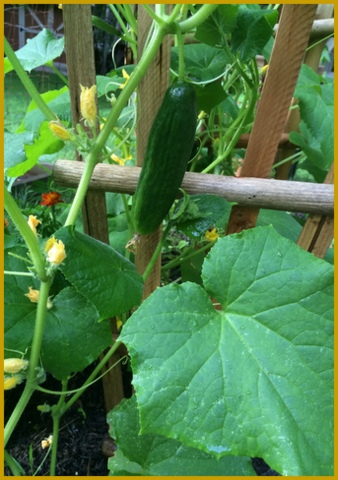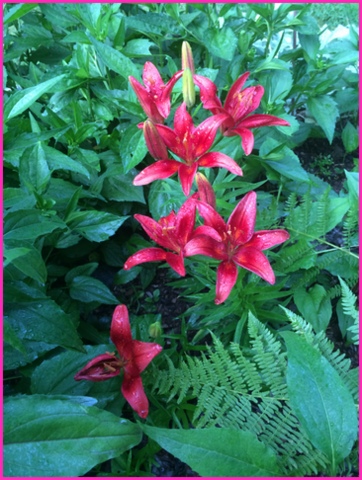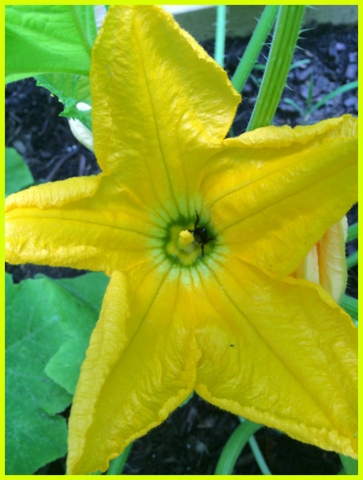 Every afternoon, I made sure we drank a cold glass of ice tea on the porch and just visited. The week flew by, as it always does whenever we're having fun with family.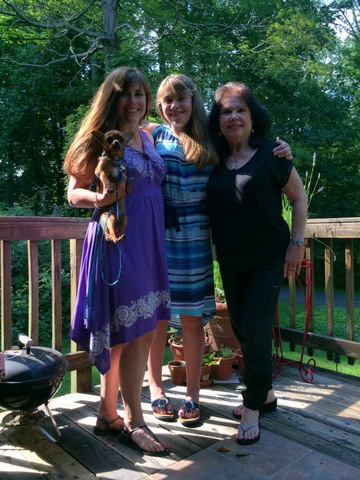 It gets harder to say goodbye as we all get older. If you're blessed to have your parents near, don't take a single minute for granted. It was a memorable visit. Dropping my mom off at the airport, we must've cried buckets. Coming back home was hard, so we needed some cheer. An ice cream cone helped.
Hope you enjoyed the visit! Hungry for ice cream? Tell me, where do you go when an ice cream craving strikes, and what's your favorite flavor?
Until Next Time…Farmgirl Hugs, Nicole