Goodbye, Wretched Winter! The first "warm" day in New England luckily fell on my husband's day off.  I was sooo ready to get the Christensen chicks transferred from the garage to outside!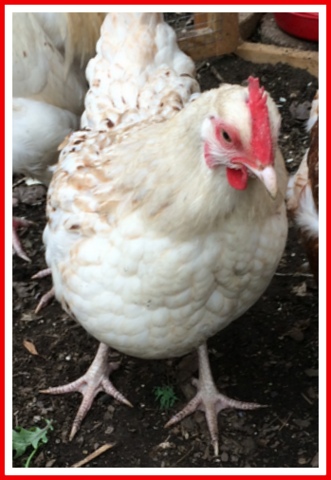 Once we decided where to place the coop, we needed to corral the chickens and hold them while we took the coop apart and moved it outside.  We decided my dog's travel crate would work. One by one, I caught chickens and put them into the dog crate. They looked silly all lined up, wondering what in the world was going on.
We got the coop out and set up. One by one, again, I transferred chickens, saving my at-this-point-angry rooster for last.  It took no time for them to feel right at home. The coop has a "run" under the hen house section. We placed the whole thing inside a fenced-in area with a gate, so they can have even more room to roam, safe from hawks and other predators. There's chicken wire over top, and a tarp covering part of the fenced area so the coop itself is protected and dry. They look so happy, especially when the sun comes out and shines on their beautiful, multicolored feathers. Before dusk, I lock up the hen house, putting them "to bed". I really do love my chickens.
I was like a worried mother sending her babies off into the world.  I don't think I slept the first night. I heard every coyote howl and owl hoot. I worried I'd get up the next morning to carnage from a crafty raccoon or sneaky fox. I relaxed more after the first few days. The weather was perfect…warm, sunny days and a gentle breeze. The third day, the weather changed. A former knitting student dropped by. She happens to be a "real" farmer, owning a large farm in town with lots of chickens. She pointed to the corners of the fence, informing me the small openings where the fencing sides met were just big enough for a weasel to squeeze into. I phoned my husband, fretting that Big-Bad-Something would make a chicken dinner of my girls! He said, "Don't worry, when I'm off again in a couple of days, we'll go to the hardware store for more wire." That evening, we got a huge rainstorm, a real Connecticut spring deluge. In true Farmgirl fashion, I looked through the garage for anything I could re-purpose to plug up those spaces. Armed with boards, bungee cords, and pipe, in the dark, in a pouring-down thunderstorm complete with lightning, I did my best to make "Fowl Knox" more secure.
So far, so good. Every morning, they greet me when I open the hen house door, so ready for breakfast they almost roll over each other down the ramp. And the eggs! OH-MY-GOODNESS-THE-EGGS!  So delicious…so fresh. They make the creamiest mashed egg sandwiches ever! Everyday there's three more beautiful eggs. One morning, my daughter, wanting to help, asked if she could feed the chickens while I packed her lunchbox. Moments later, I heard her flying back up the stairs. I just knew something ate my chickens! She burst in the door, her arm extended as far as could be, with an egg dangling precariously from her thumb and forefinger.  "Take it!  Oh please, take it!!"  She looked a little green. Taking the egg, I realized it was still warm…a little too-much reality for my tween. (She's gonna have to get over that "ick" factor if she wants to be a vet, don't ya think)?
Chickens have personalities.  Anyone denying this, hasn't spent much time observing them. Nugget's like a dog.  She runs to the door of the run when she sees me, wanting to be held like we've done with her since she was a two-day-old chick. She'll sit in my arms, letting me stroke her soft, slick feathers, and rest her little head against my shoulder, sometimes even closing her eyes. Peep's my "dare-devil", the first to explore something new, like an overzealous preschooler who has to beat everyone else to the front of the line. Fluffy's just that: fluffy and sweet, a laid-back kinda girl. Nugget lays an egg and doesn't seem to notice, as if she's nonchalant about the whole process. Peep's another story. You know she's laying her eggs, carrying on, making all sorts of noise. "Cluck, cluck, cluck…chuck, chuck… BAH-BAWK!". She immediately runs outside…she's just got to tell the others! Spot's my boy, beautiful and proud.  I think they are happy chickens.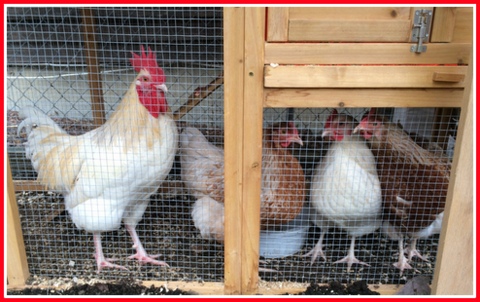 They sure do make me happy.
Until Next Time…Farmgirl Hugs, Nicole