.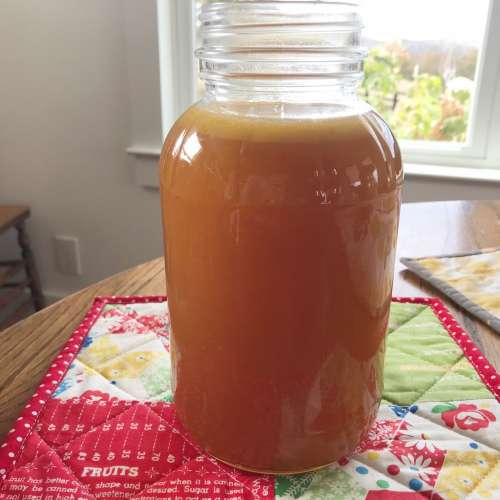 Hello Farmgirl Friends!
Lets talk about this yummy, amazing beef broth!!!
One of my favorite things about fall and winter weather is home made soup!  I'm always happy for a bowl of soup and cornbread or biscuits!
Anyway… back to soup!  Recently we had our yearly steer harvested and when I put away all the meat in my freezer I realized I still had soup bones left over from last year so I decided that this winter I'd do better about making beef broth once a week and instead of having an entire bin full of soup bones in my freezer, I'd have a bin full of beef broth.
Do you make beef broth?  There is absolutely no comparison to what you buy in the store; even the highest quality store bought isn't near as good.  So I decided when I made my batch of broth this week that I would share the process!
.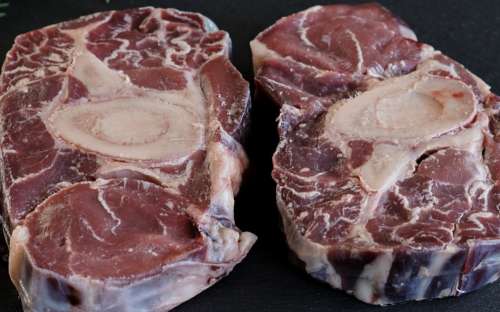 .
First of all, lets talk about the beef soup bones themselves!  I've often thought that the soup bones are just left over bones from the harvesting process but I have noticed that the ones that come from our processor are always uniform in size and shape, with plenty of meat still on the bone.  So this year I asked them about that.  Here is what I found out!  The best soup bones on a beef are sliced marrow bones from the knuckles, joints and hock.  These are the bones that are full of marrow which is so good for you.  The marrow alone has collagen, glucosamine, vitamins A, B2, B12, and E, plus omega-3s, omega-6s, and minerals like calcium, iron, selenium, and zinc.  All things that are so good for us!  There's also a really nice portion of soup meat attached that is all full of good things.  (I've heard you can go to your local meat processor and ask for soup bones; but I can't promise that all of them would accomadate that.  We do also get dog bones from our processor and these will look different than the soup bones pictured here.) 
.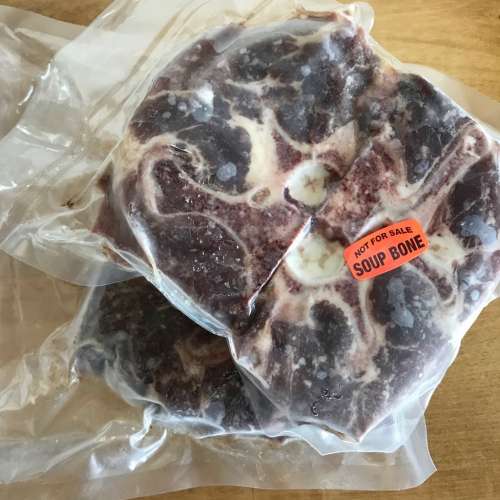 .
For my beef broth I'm using approximately 2 pounds of bones.  It will make about a half gallon of broth and is the perfect size for my Insta Pot.
.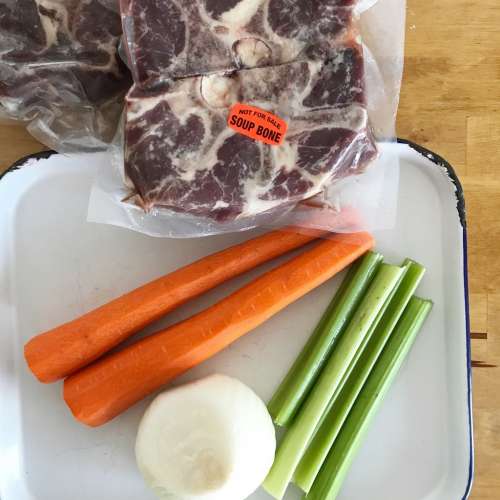 .
My mom always taught me to roast the bones with onion, carrot and celery first!  I peeled and chopped my three carrots, chopped my 3 pieces of celery and quartered an onion.  I usually add garlic as well but I was out (I added diced later).
.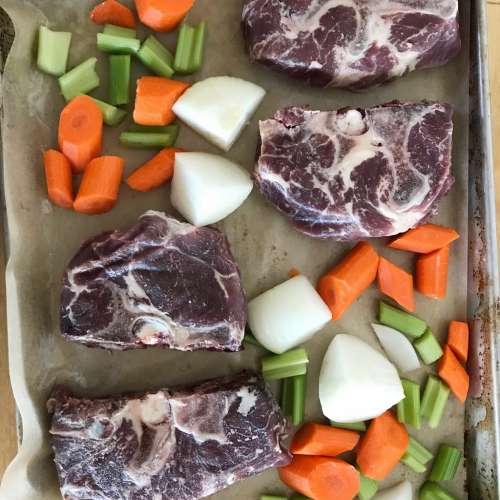 .
Place your bones and vegetables on a baking sheet covered with parchment paper.  Roast in a hot 425 degree oven.  I roasted mine for 30 minutes.  You want to roast them to the point of almost too done!  They should have some brown, carmelized bits (flavor!!) on them and the vegetables will be brown as well.
.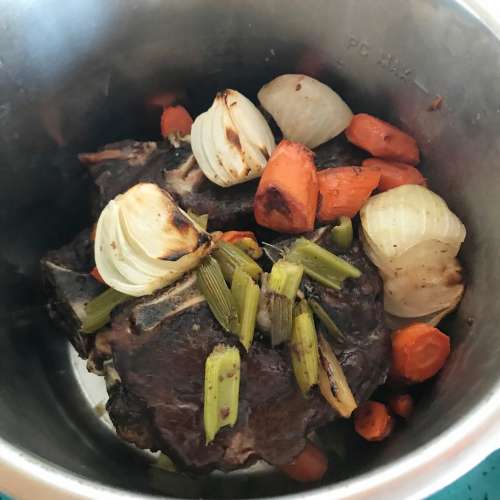 .
Place all the goodies (even browned bits that have fallen off the bones) into an InstaPot and cover with 8 cups of boiling water.  (You can certainly use an old fashioned pressure cooker for this step but wow do I love the ease of an InstaPot.)
.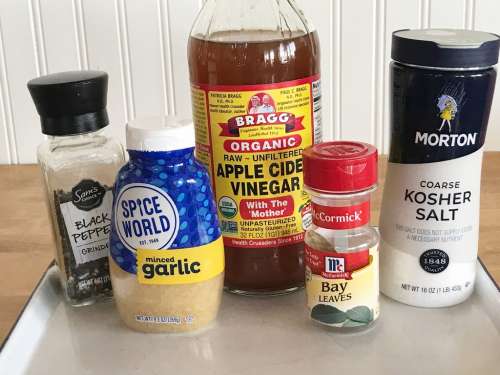 .
Now add two bay leaves, 1 teaspoon ground black pepper, 2 teaspoons kosher salt, 1 tablespoon apple cider vinegar, 1 teaspoon minced garlic (because I didn't have any whole garlic to roast).  The purpose of the vinegar is that the acidity really draws out the collagen proteins from the marrow; don't forget to use it!
.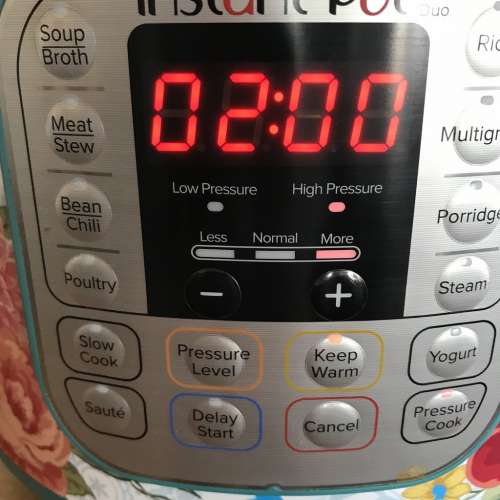 .
Close and lock the lid on the InstaPot, make sure it is set to "seal", select pressure cook and set the timer to at least 2 hours.  Once it cooks for the two hours, let it come down to pressure on its own; that actually gives a little more cooking time.
.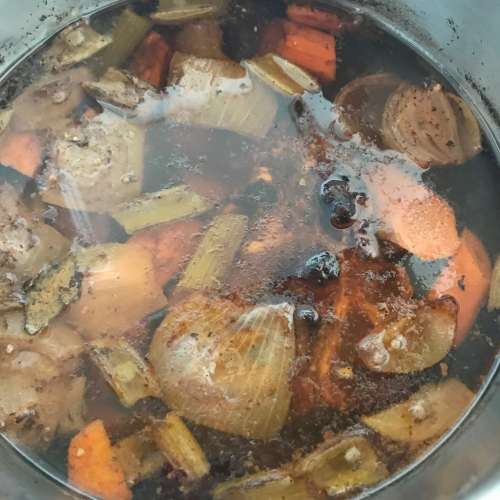 .
Once the pressure has completely come down, open the lid.  And oh my word, does that not smell amazing?
.
.
At this point you will strain the broth off.  I place my colander over a large bowl in my sink.  Pour the pot of bones, broth, and veggies into the colander.  MAKE SURE YOU HAVE A BOWL UNDER IT!!!
.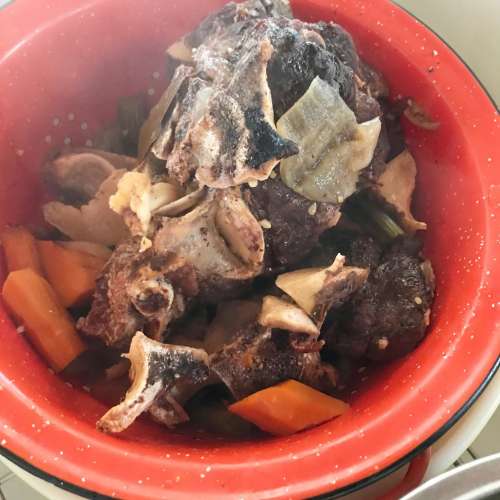 .
I remove the colander full of bones, meat and veggies and set it aside to give to my dog!  (A side note here:  be sure when feeding your dog the bones to remove any that are tiny and have broken off the larger bones.  Some people feel that your dog shouldn't have any of the bones, but our dog is used to chewing on them and she mostly just goes and buries them somewhere anyway.  But definitely she loves the meat bits!)
.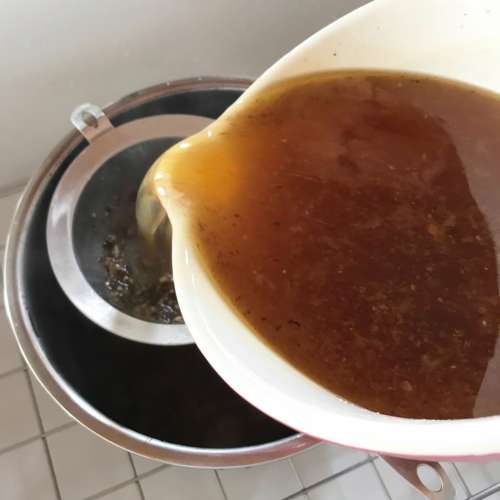 .
I now like to drain my broth two more times over a fine sieve.  I really like my broth to end up clear of all little meat and veggie bits.  I usually strain it twice to get it clear.
.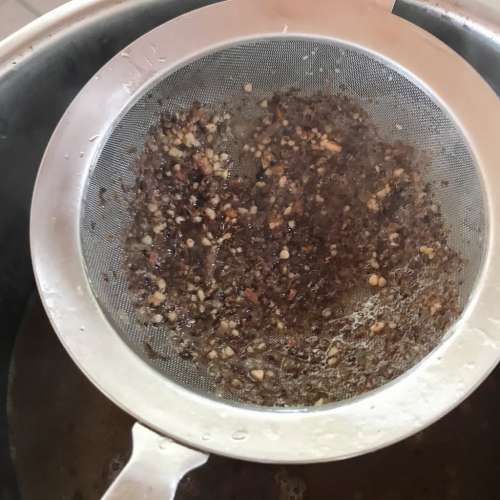 .
This was what was left after two times of straining.  Once my broth is all strained, I add a small handful of ice cubes to bring the temperature down quickly.
.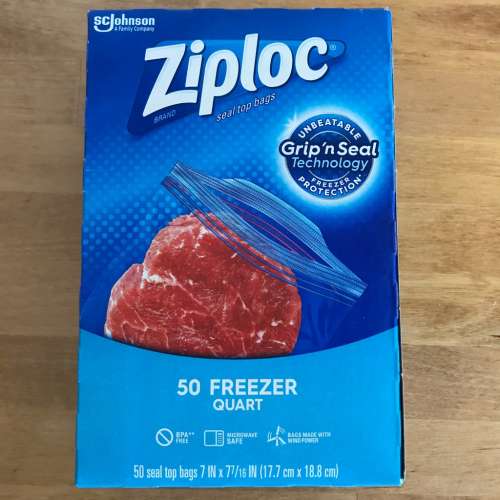 .
Once the broth is cooled, I pour 2 cups into a quart size freezer bag.  You can put more broth in a bag, but I tend to use 2 cups at a time when I am cooking so that is my preference.
.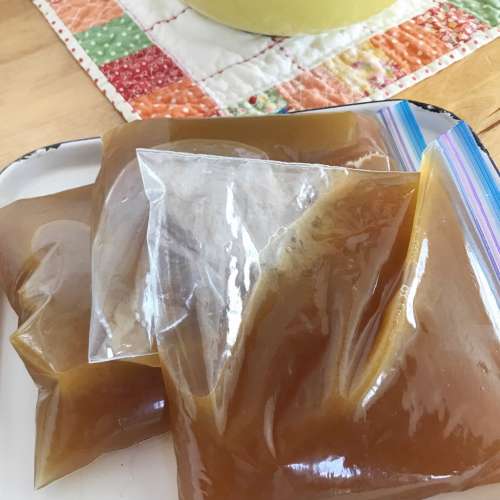 .
You should end up with approximately 4 bags of broth.  Since the broth is cooled from the ice cubes I take mine right to the freezer!  If you lay them flat to freeze, you can then stack them after they are fully frozen to save space!
.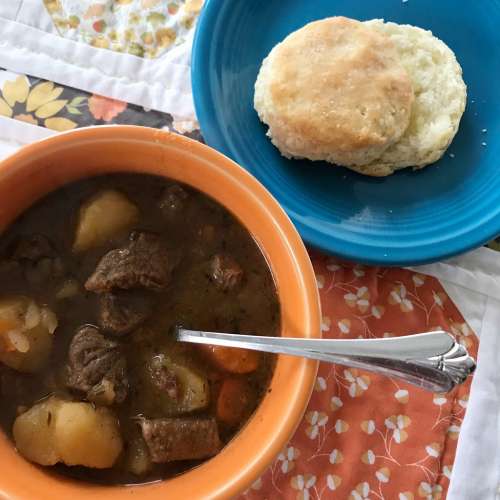 .
And now… when you've got a cold day and you want to make beef stew… you have broth at the ready!  (And make those biscuits too – use my tried and true biscuit recipe here!)
.
Until our gravel roads cross again… so long!
Dori