All babies are cute.  Baby chickens, all fluffy and peeping, are especially cute.  Raise baby chicks into adulthood, and they'll teach you several life lessons.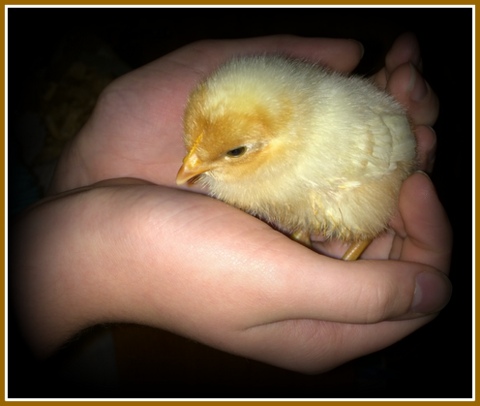 One: Babies grow fast.  Baby chicks grow extremely fast. Blink, and they're bigger. I think mine doubled in size everyday. Before long, they were too big for their incubator, (a large tub with heat lamp), and soon were able to leap, and later, fly out. I have a phobia. I'm not scared of snakes or spiders, but if so much as a butterfly flutters anywhere near my face, I DON'T LIKE IT! Imagine my delight when my little birds learned to fly after a few weeks…in the storage room of my basement.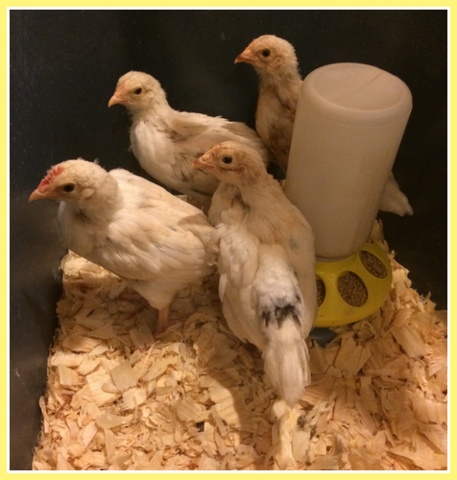 Two: Life's messy. Santa delivered a chicken coop for Christmas. I couldn't wait to move my babies into their new home. Unfortunately, the winter I get baby chicks ends up being the worst Connecticut winter in a hundred years! My chickens are cold-hardy breeds, crossed between Spotted Sussex, Rhode Island Red, and Leghorns; both my neighbors with chicks from this brood were able to successfully transfer their pullets to outdoor coops. My yard is too frozen and still covered in ice, so our coop couldn't go outside safely yet. We had to build it in the garage. It hasn't been too bad. They're safe. Wood chips keep down mess and odor. (I scoop out the used chips everyday). The garage is large, with a built-in workshop, so there's plenty of room. They're warm and their water doesn't freeze. The downside – my car also parks there. After a break in the weather, I took my car to have winter's grime washed off. It had looked like a giant salt lick on wheels for so long, I forgot it was red. Next morning, the hood was white. Sigh..chicken feathers are dusty.
Like a new mother with children, everyone offers advice. Even when you don't ask. Lesson three: Listen to advice, but find your own path and what works for you. With baby chicks, there's a 50/50 chance they're either male or female. Before long, "Spot" looked more like he should be named "Foghorn Leghorn". Advice ranged from "make chicken soup", "get more hens so he isn't bored",  and "you can't eat fertilized eggs" (not true); to "watch out…he'll tear you limb from limb". Roosters can be nasty and have spurs. Now, I don't feel that by naming my chickens or spending time with them I'm "playing" with my "food".  I'm a farm-girl, not a farm-er.  I want eggs, not meat. I still eat chicken, I just don't envision eating my chickens. (Unless I simply can't handle my rooster, then I might have to reconsider the chicken soup advice). For now, I think he's beautiful. I love that he'll try to protect my "girls" if something tries to harm them. Just like anything I've ever done, I've thrown my whole heart into caring for my flock, studied up on all sorts of chicken care, and even attended a "chicken seminar". (The advice on giving chickens yogurt once a week to aid digestion?  Won't do that again. EVER. Refer back to life lesson two.)  Anyhow, my "chicken guru", Susan, showed me how to safely handle said rooster. For now, Spot and I are okay. I'm the Alpha. (I just won't let my guard down, ever, just in case).
Four: Anything worth doing takes work. Chickens are curious creatures. (I learned the hard way not to wear shiny rings and stick my hand in their coop unless I can move quickly). They'll explore everything, everywhere given the chance. Thus it was the night I had a horrible, throbbing headache. Home late, I was dog-tired with a cranky tween, and still had dinner to make. Checking the chickens, I decided to lock the hen house up for the night after we ate. I guess the lock on the door to the coop wasn't tight, because I came downstairs to chickens running amok…feathers, wood chips, and poop EVERYWHERE. It was Chicken-geddon! My daughter came to check on me, took one peek, and flew back upstairs. When my husband got home, there I was: chicken under one arm, feathers in my hair, poop on my clothes, and broken nails from scrubbing the garage.  Yes, there were tears.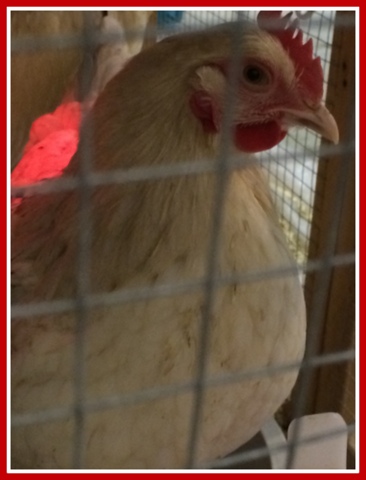 I was about to give up and give Susan my chickens. My favorite pullet, Nugget, must've known. That weekend, I got my first egg. (a.k.a. World's Most Expensive Egg).
Nugget was so proud, and we were thrilled! My happy squealing scared the chickens to death. I even posted the egg on Facebook. By mid-week, my husband and I had omelets for lunch…so delicious. That first egg was a double yolk, to boot.
Finally, my chickens have answered the proverbial question…"Which came first, the chicken or the egg?"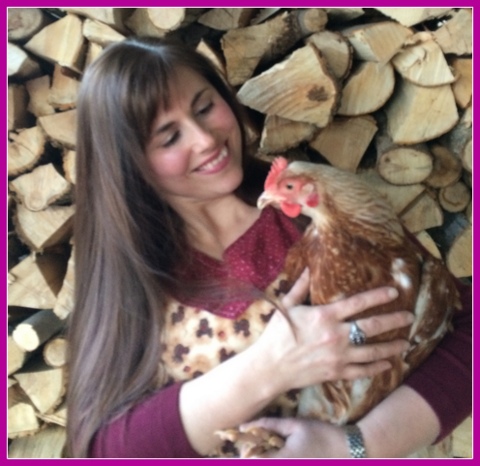 It's the chicken…with lots of work. And expense. And love. They are sooo worth it!
Until Next Time…Farmgirl Hugs, Nicole