I hope this post finds you all in good spirits and ready to celebrate Mother's Day with your loved ones! What do you do to celebrate? This year my handsome Yankee confessed ( ahead of time ) that he bought me some sort of new slicer- dicer kitchen gadget that'll do just about everything but pluck my eyebrows and trim my toe nails and it doesn't use electricity! I'll admit the no electricity factor has me intrigued but he knows I have an aversion to new- fangled kitchen appliances! I'm simply happy with the basics but he is confident I'll L.O.V.E. LOVE it. Remind me not to let him do the shopping at B.J's from now on! Now that I've gotten that off my chest, let's go down town to Main Street Antiques and do a little window shopping at Burlap and Bling shall we? I know there are some GOOD mother's day gift ideas to be had there! Tee Hee.
If you've been with me for a while, you may remember that I jumped in head first and opened up a little booth in our Antique Mall in January! I (along with my mom and hubby) am having a ball picking through thrift stores, estate sales and up cycling some of my basement inventory so I can get it chock o block full in time for the summer tourist season! I also "wall papered" the entire space with burlap that I purchased from the feed store for 19.00 a roll. I think burlap is the Bee's Knees. It can be used in countless creative ways for crafts and home decor. It really warms up the walls in my space plus it covers two doors, and a large awkward mirror that reflected the booth across the way from mine which made it feel too busy and cluttered… I know, it's an antique mall; it's SUPPOSED to be cluttered but I want it to be pretty clutter! Like this!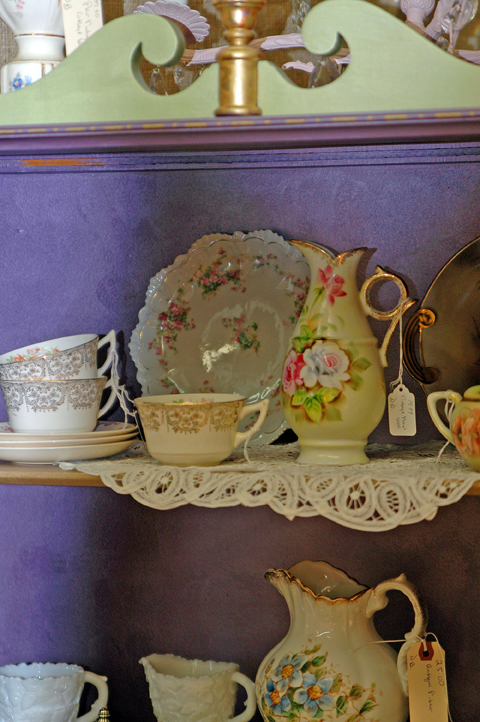 I finally hung out my shingle a few days ago! Now, when you come to town you can find me!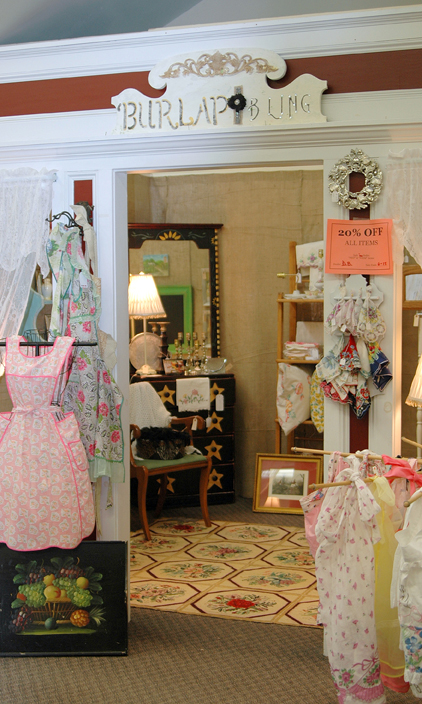 To make my sign, I rescued part of a cute twin sized headboard and painted it old white, stenciled the letters on, and added a wooden applique that was left over from a different projec to jazz it up a bit up top. Since I was using stencils that I had on hand, I didn't have enough to write out the entire name in the lager size and still be able to include the word " AND " in between Burlap and Bling so I made the " and symbol" out of a strip of burlap, sparkly ribbon and a pretty flower pin with bling in the center. It's not perfect by any stretch and that's exactly what I love about it! Plus, it got that old headboard out of my basement!

Half the fun of stocking my booth is doing simple upcycling projects to add to the mix of vintage, antiques and collectibles. I found these two vintage floral art prints at a local thrift store and fell in love with the softness of the print but those tired old oak frames had to go!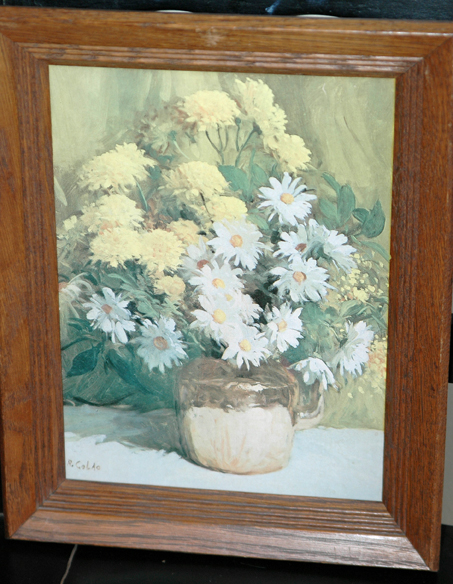 I gave them a wash with some old white chalk paint using a dry brush technique. Once they were dry I roughed up the edges a little then applied a clear wax to bring out the depth in the wood undertones and seal the paint.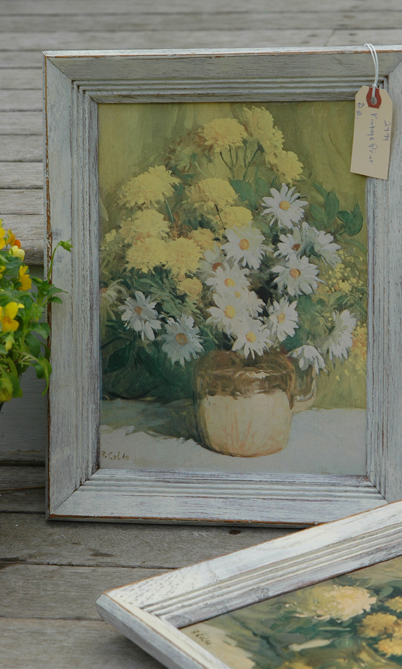 I love the outcome! They look so fresh and new again don't they? I've gotten some great ideas on Pinterest for projects. My mother in law gave me a box of vintage hankies which I was going to make banners out of but then I saw this nifty-thrifty idea for displaying them. Wouldn't ya know I went right out looking for spoon holders and found two? Luck was with me that day!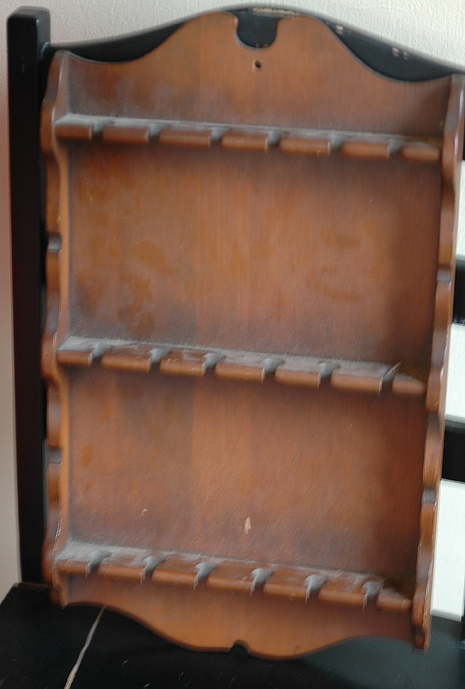 Here's the before…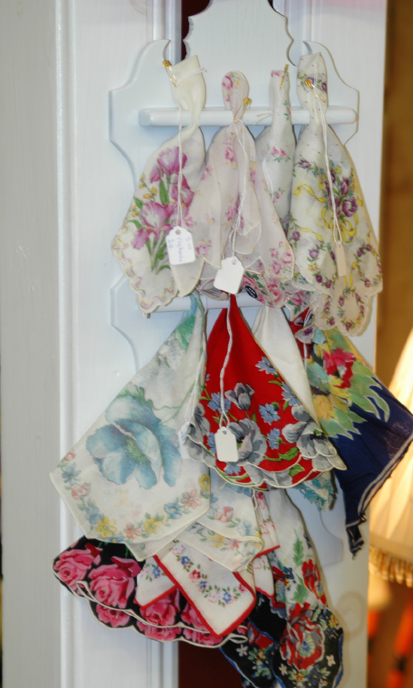 Here's the after hanging on the outside of the entry to my booth. I made two of them and am giving one to my mother in law for Mother's day. They all belonged to an Aunt of hers ( whom we all refer to as Auntie ) so they will be on display for her to enjoy in her room here at our house when she visits!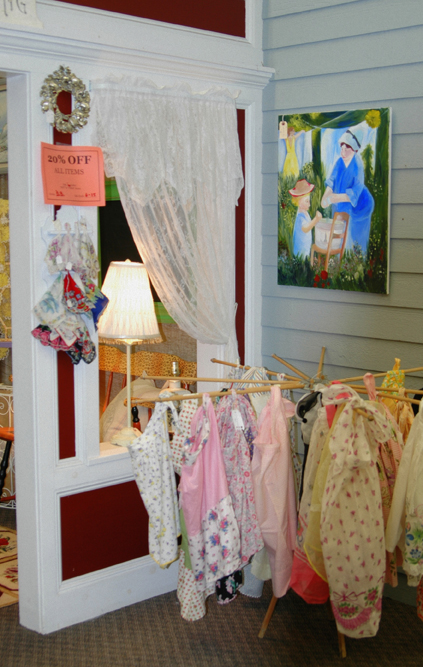 My collection of vintage aprons to add to the booth blossomed when MaryJane cleaned out her apron closet a while back. ( Thank you MJ!!! ) I've got them displayed on a circular vintage drying rack right out front! And, what better way to decorate your laundry room than with a cheery painting of " wash day " in the countryside?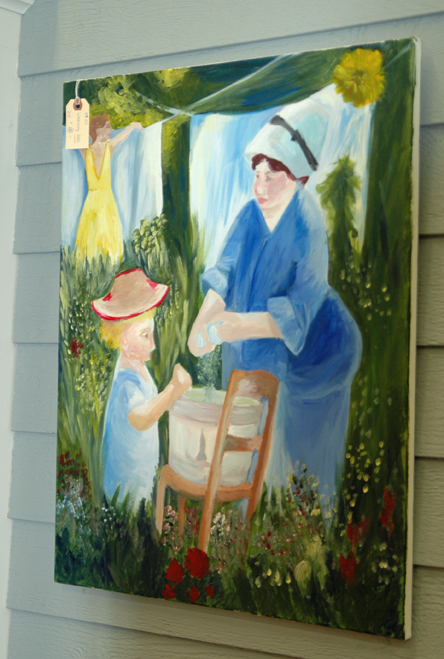 Let's go inside and take peek!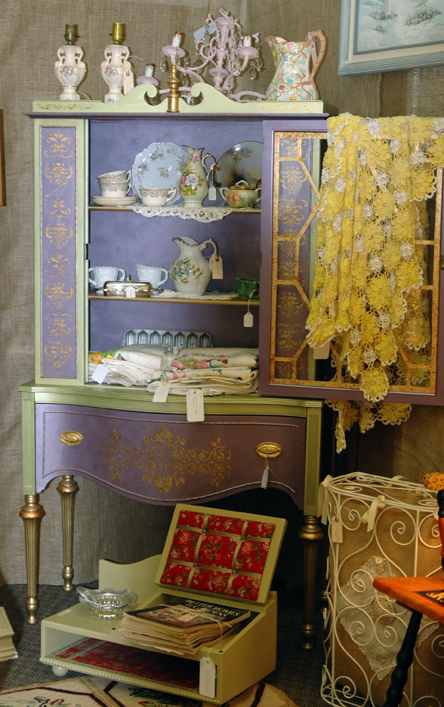 One thing that has been a challenge is working out how to display items in my space. I'm used to doing makeovers, but arranging and styling for shopping purposes is all new to me. I'm getting the 'heck' of it though and I look forward to going there and playing house!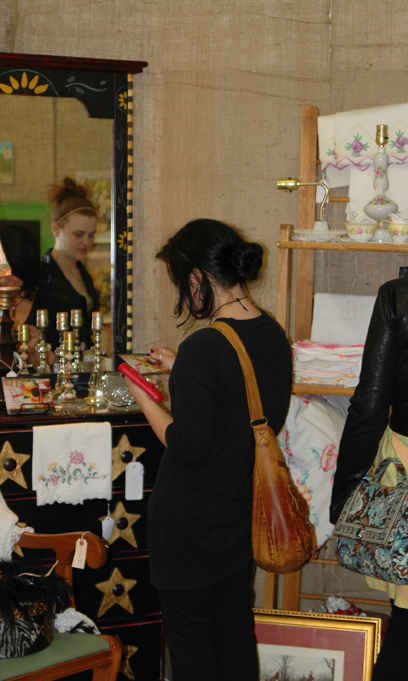 Look! Shoppers!!!
I hope you enjoyed our shopping trip and gathered some inspiration and a few gift ideas along the way!
Until our next shoreline visit~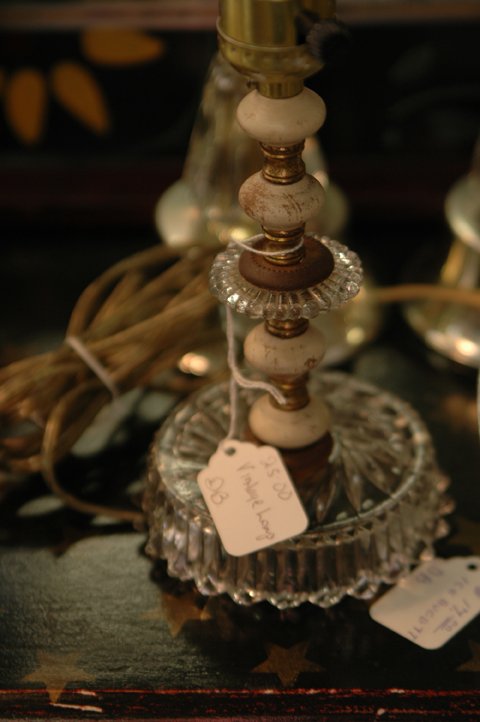 Let your little lights shine!!!
Much love and Happy Mother's Day!
Sister Deb #1199
P.S. I'll keep ya posted on the kitchen gadget thing!