.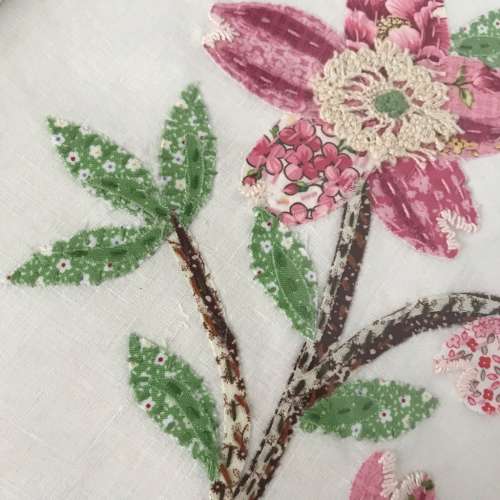 .
Hello Friends!
Before I get started on this post today I just want to thank all of you that left comments on my blog post last month; the one that was written by my grand-daughter Rosetta.  If you all could have heard her excitement about the comments.  It just made her week!  Thank you so much.
So as I've been thinking the last couple weeks about what to share with you this month I was actually working on a super fun hand sewing project and I decided this would be a great project to share with you.
.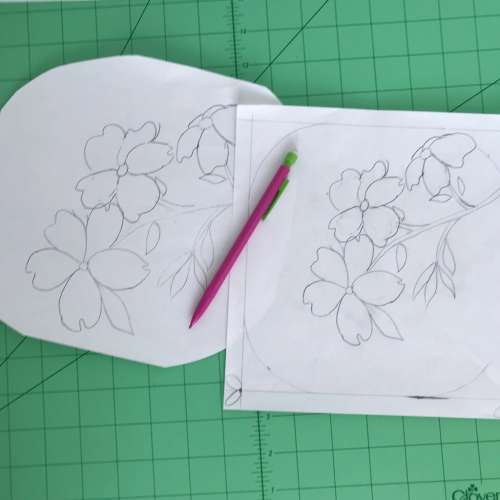 .
For some time now I've been wanting to try my hand at some fabric art.  I'm not very good at "art" exactly.  I mean, I can pretty much sew anything. but when it comes to design work its a whole different story!  I pictured spring tree blossoms in my mind and I had my talented grand-daughter, Jillian, sketch dogwood blossoms on a tree branch and I was off and running.  After she was finished I photocopied her sketch and enlarged it a little to the size that I wanted.
.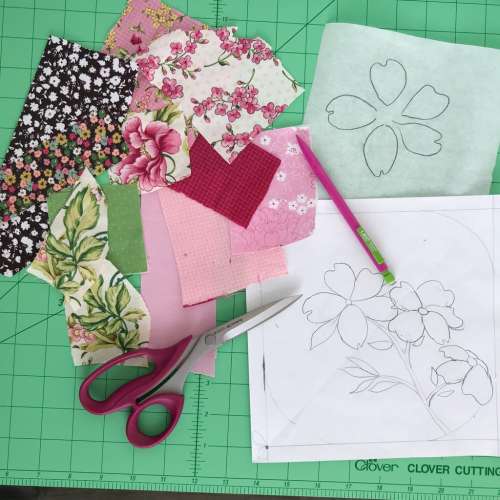 .
This post today isn't exactly a tutorial, but maybe it will inspire you to try your hand at some fabric art! Gather your muslin background fabric, some fabric scraps of the color you desire and any other fun things to add to your artwork.
.
.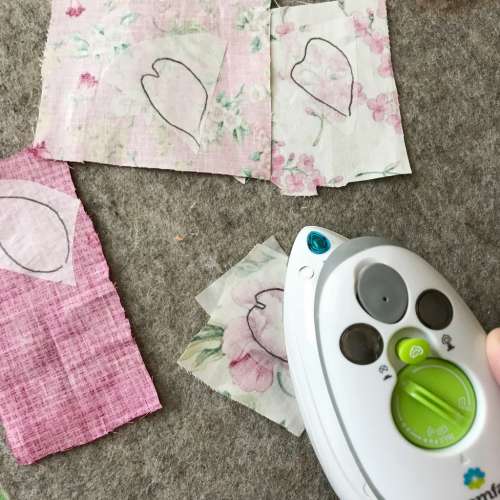 .
It is a very simple process really.  I traced all the "parts" onto the paper side of Wonder Under fusible interfacing and then I fused those to my fabric scraps and cut them out.  I did this with all the pieces… blossoms, leaves, and tree branch.  I removed the paper backing and then began to lay them out, copying the sketch Jillian had done for me.
Then I carefully ironed all the pieces to my muslin backing.  (I actually made two of these art projects and on one of them I used a vintage doilie for my fabric backing and it was so beautiful.)
.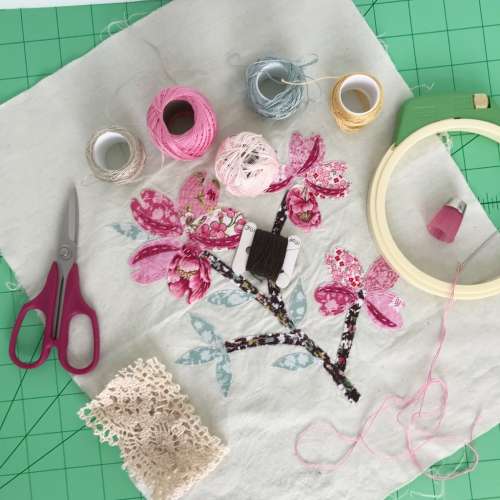 .
Now the fun part begins!  Gather all your embroidery threads, hoop and needle and have fun adding embroidery stitches wherever your heart desires!  I didn't really even put any thought to this, I just sewed where it felt right.
.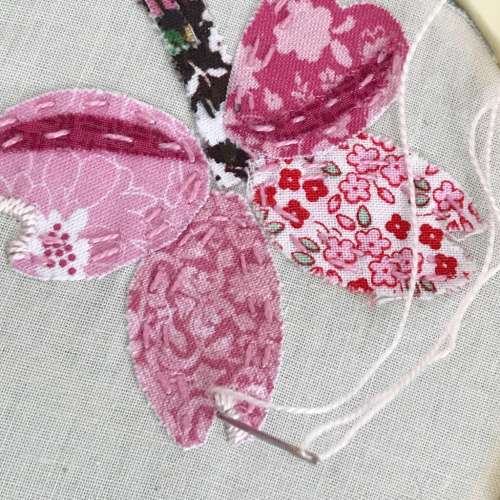 The goal here is to make sure everything is adhered to the background fabric but a little bit of a rustic look is okay.   I mostly just enjoyed the hand stitching process without reaching for perfection.
.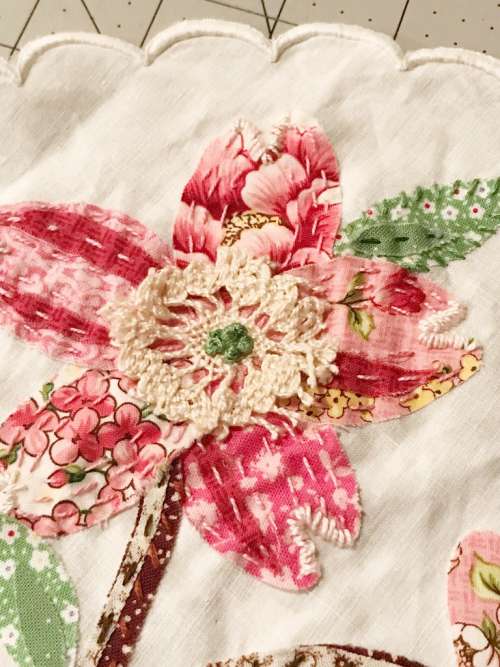 .
Once everything was stitched to my satisfaction I cut a round piece out of some old vintage lace to put in the middle of each blossom.  I was hoping to add some dimension to the blossom center and this was what I found in my scraps!  I love how it looks!  I simply adhered it in place with little hidden stitches.  Then using green thread I sewed a number of french knots to the middle of the lace.
.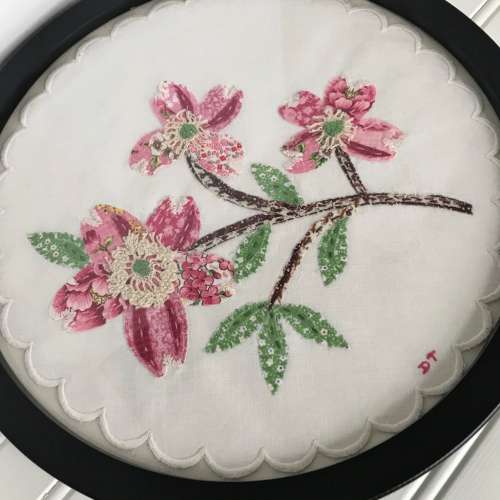 .
And there you have it!  A beautiful finished piece of fabric art!  I chose to frame mine and I just love how it turned out.   I put it in the mail to my good friend Kathleen for her birthday!
.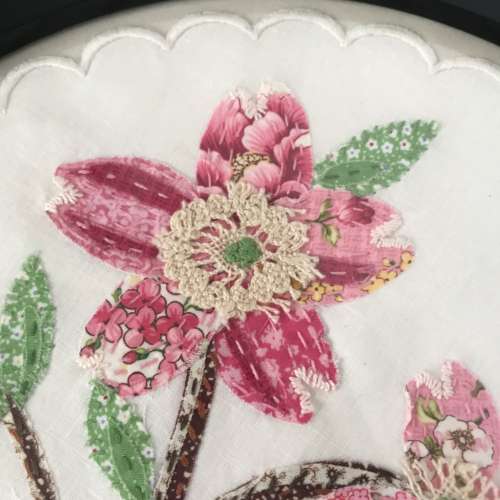 .
This project made me feel like Spring is right around the corner and its been such a fun thing to work on during the cold days of Winter!
.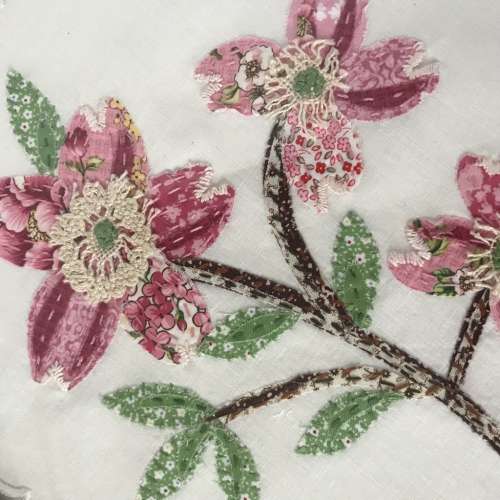 .
Have you done fabric art before and what do you think?  I'd love to hear all about your projects and ideas because I'm excited to branch out and do more!
.
Until our gravel roads cross again… so long.
Dori