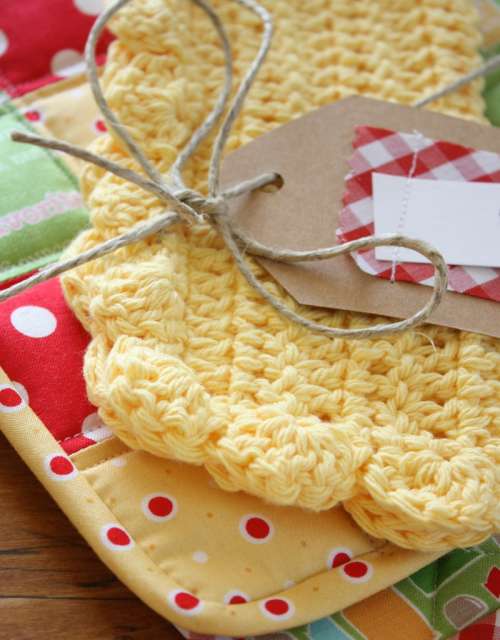 .
Hello Farmgirl Friends!
I've been working on some home sewn gifts and suddenly it occurred to me that I don't think I've ever done a potholder tutorial for you on this blog.  This seemed like the perfect time!
.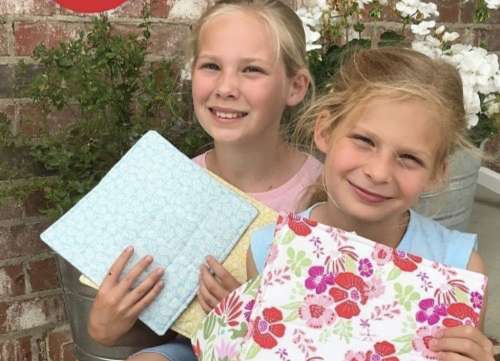 .
You can make your potholders as hard as you want, or as simple.  I've taught my grand-girls and their friends how to make the most basic and simple of potholders but today I'm going to show you how to make some super fun and fast patchwork quilted ones.
Lets get started by gathering supplies!
.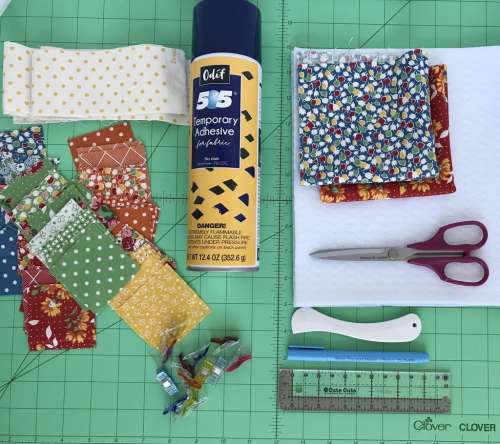 .
Supplies Needed (for two potholders):
32 scrap pieces of fabric, cut to 2.5 inches square

2 fabric backing piece cut 10 inches square

2 Fabric strips cut 2.5 inches wide by 45 inches long for binding

2 pieces of Insulbrite Batting cut to 10 inches square

Sewing machine with white thread

Scissors

Hera Marker or a Fabric Marking Pen
Ruler
Wonder Clips or Straight Pins
Fabric Spray Adhesive
.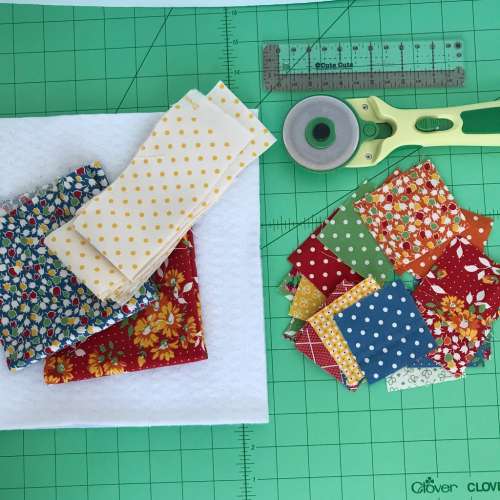 .
Step One:  Cut all your fabric scraps, backing fabric piece, binding and Insulbrite batting according to measurements above.
.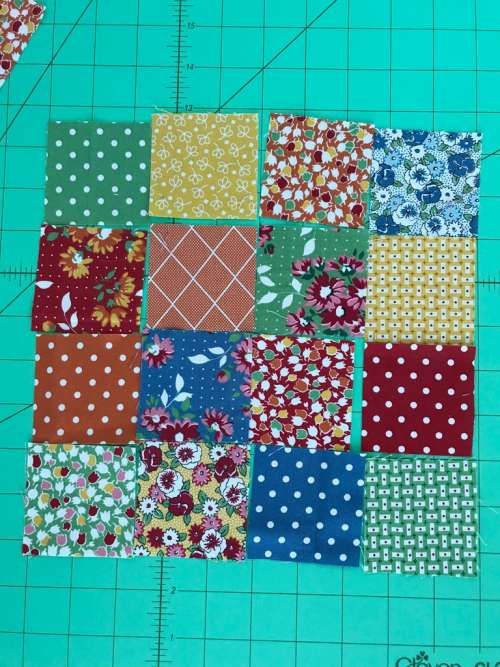 .
Step Two:  Lay out your little fabric squares in a 4 x 4 pattern.  Don't spend a lot of time getting too worried on this step!  After they are sewn together, they will all look perfect!
.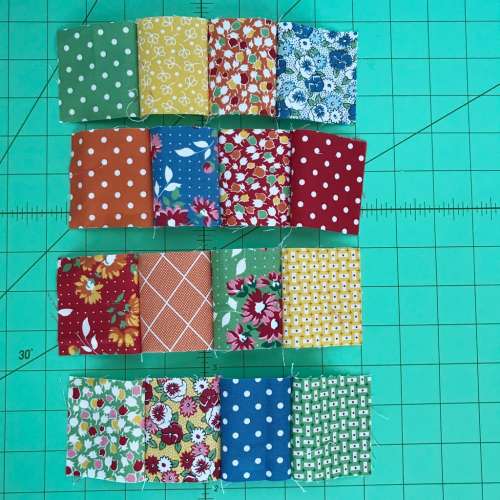 .
Step Three:  Sew your first row of squares together using a 1/4 inch seam allowance.  Repeat with remaining three rows.
.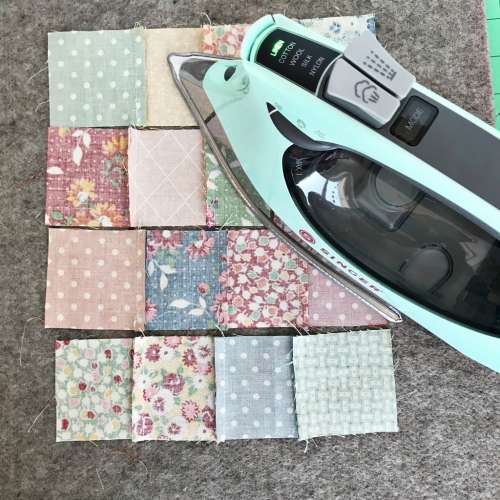 .
Step Four:  Iron the first row with the seams all going in the same direction.  Iron the second row with the seams going in the opposite direction.  Repeat with rows three and four.
.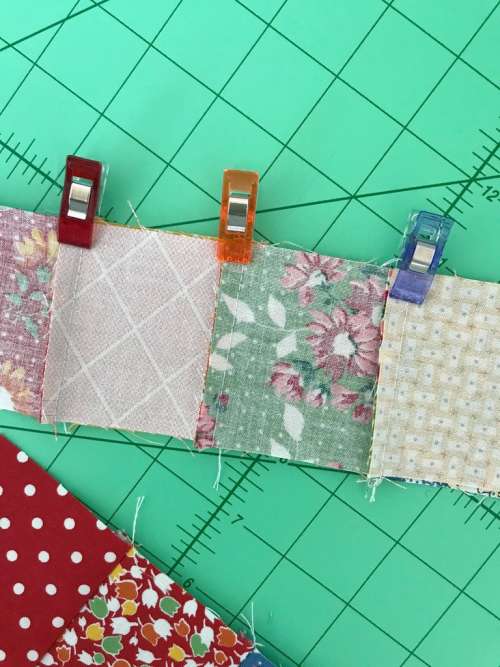 .
Step Five:  Clip (or pin) row one to row two, matching the seams.  Sew together with a 1/4 inch seams allowance.
.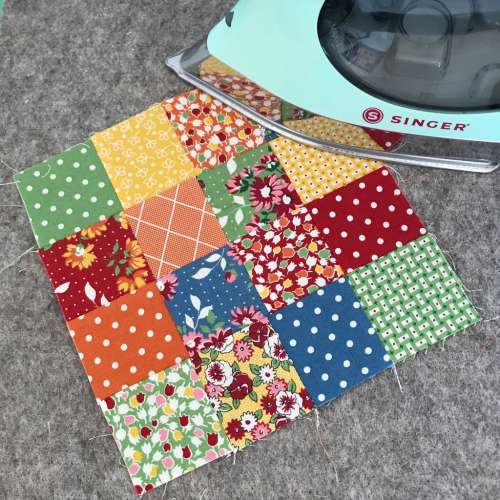 .
Step Six:  Repeat with remaining rows.  Iron carefully until flat.
.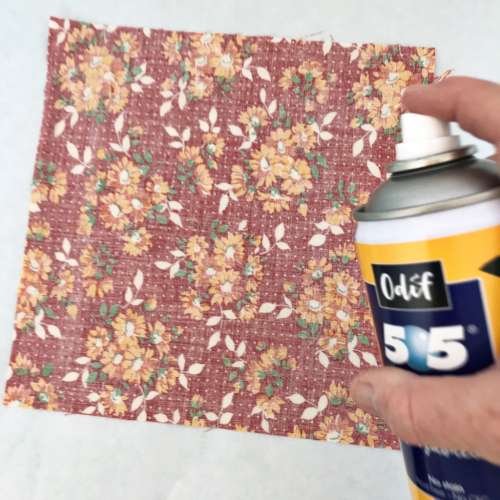 .
Step Seven:  Lightly spray the wrong side of the backing fabric and place Insulbrite batting on top of that.  Press gently until it adheres.
.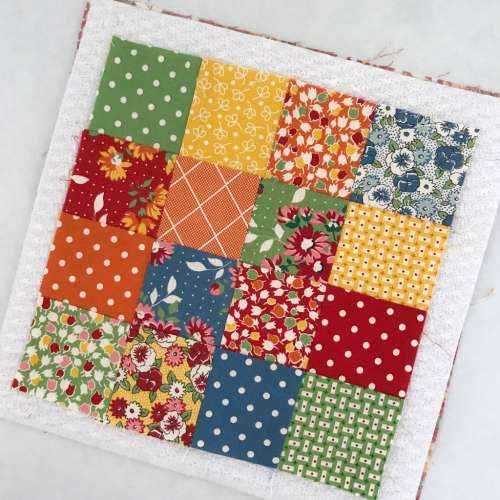 .
Step Eight:  Lightly spray the wrong side of the pieced top and place it on top of the batting.  Press gently until it adheres.
.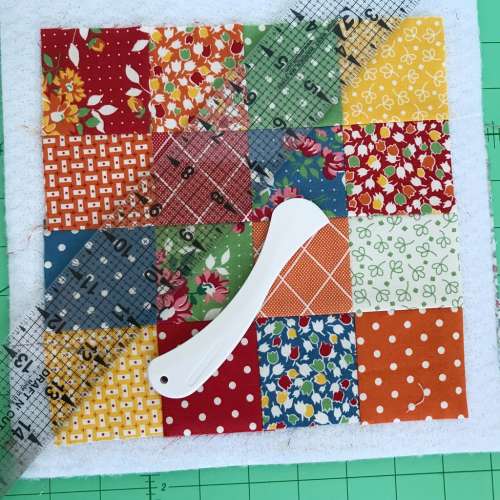 .
Step Nine:  Using a Hera marker or a fabric marking pen, mark the potholder front however you would like for quilting.  I like to sew mine on the diagonal from corner to corner of each little square.
.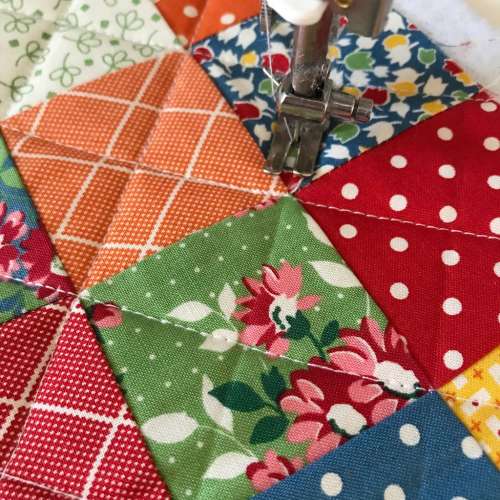 ..
Step Ten:  Sew on the marked lines, easily quilting your potholder together.
.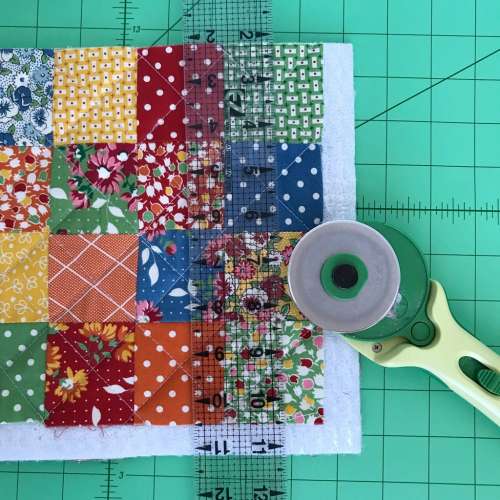 .
Step Eleven:  Trim your potholder along the edges of the potholder front, so that all three layers are 8.5 inches square.
.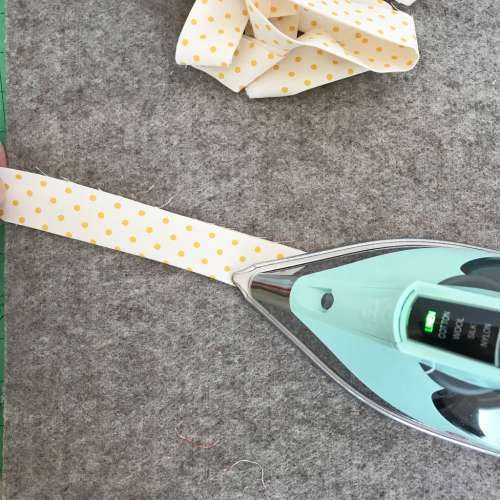 .
Step Twelve:  Take the long binding strip of fabric and fold it in half, pressing the entire length.
.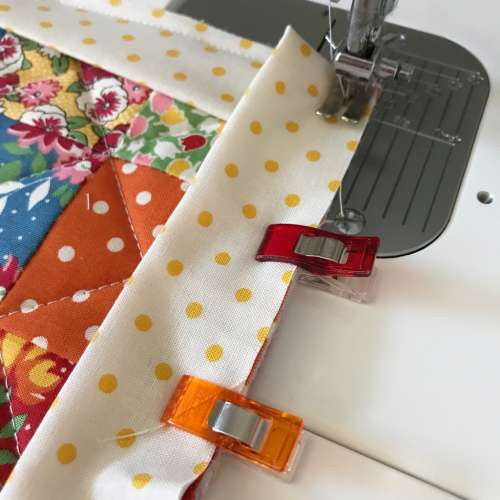 .
Step Thirteen:  Place the raw edge of the binding to the raw edge of the potholder front and clip in place.  Sew with a scant 1/4″ seam all the way around.  (You will attach the binding just like you would on a quilt.  If you've never done this before I would suggest watching a video tutorial on attaching quilt binding.)
.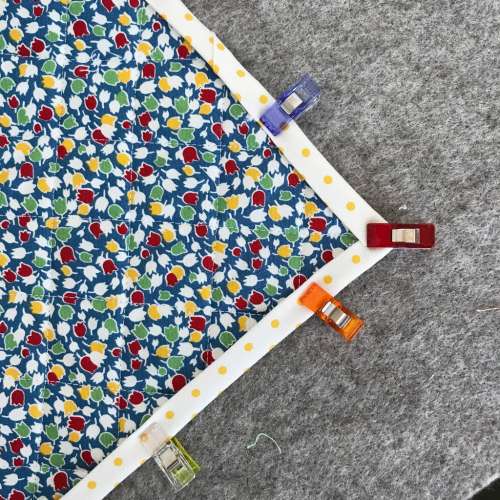 .
Step Fourteen:  Once your binding is sewn in place, fold to the back and press in place.  Clip in place making sure that the fold goes past the previously sewn line.
.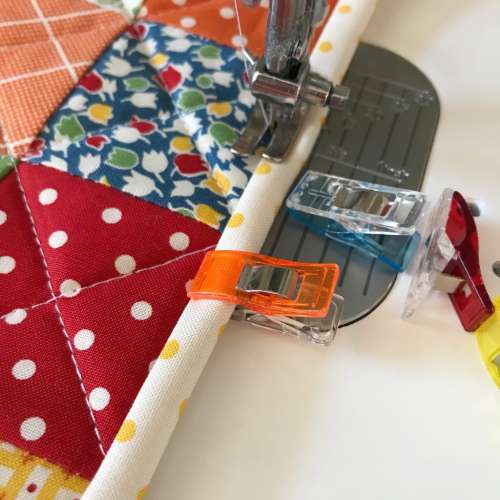 .
Step Fifteen:  Turn potholder to the front and carefully sew in the ditch of the binding seam all the way around.
.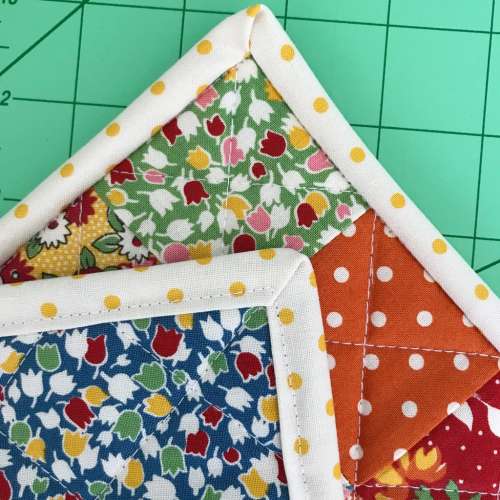 .
If you have sewn it properly, your stitching should just catch the binding on the back and be invisible on the front.
.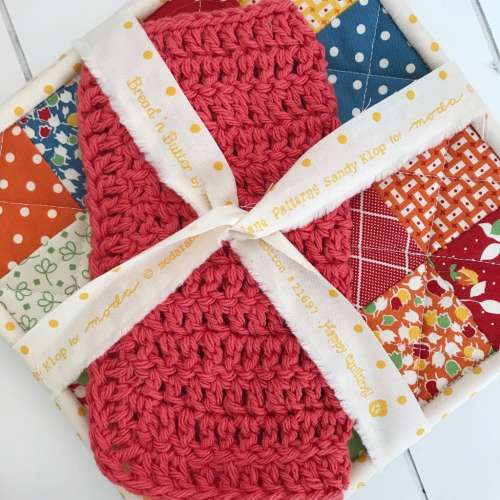 ..
Your potholder is complete!!!  I like to gift them in sets of two, tied with a piece of twine or a fabric scrap! They are super fun to gift along with a crocheted dishcloth!  Because, honestly, anyone can use potholders right?!
.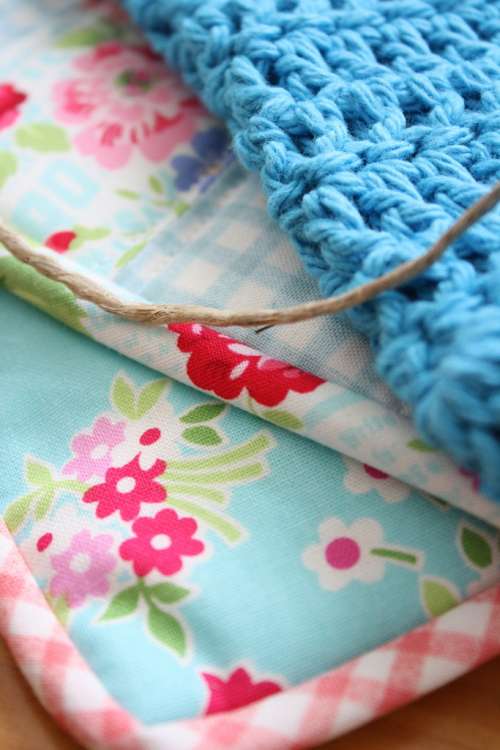 .
I hope your Christmas Holiday is the very best!
.
Until our gravel roads cross again… so long.
Dori