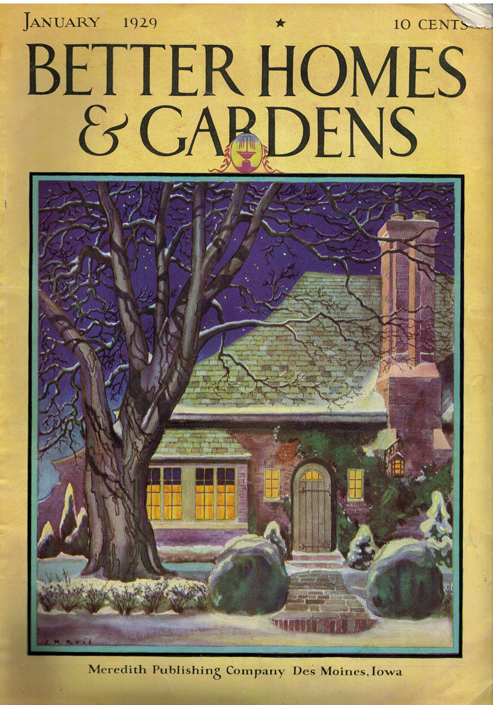 " Creativity is not the finding of a thing, but the making
something out of it after it is found. "
I hope each and every one of you enjoyed your 2012 holiday season and you're ready to tackle all 2013 has in store for you! We are all fighting a repirartory flu bug in my house but that hasn't put the kibosh on my plans of opening up a little booth in our local Antique Mall this month with my mom. Instead of hitting the end of the season sales at the mall we've been treasure hunting in our local thrift stores, my basement ( and on EBay ) for vintage treasures to fill our booth BURLAP AND BLING~ PIECES OF THE PAST WITH SASS! Everything old is new again and we're going back to the future in this post for a sneak preview of a few of some of our vintage treasures and a brief history lesson or two! Are you in?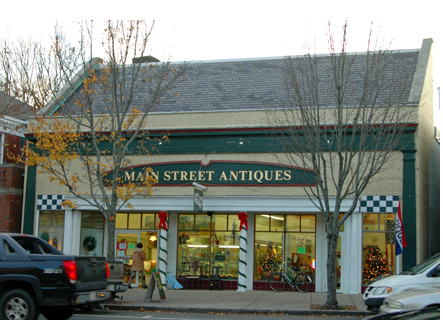 Timing is everything. It just so happened that my Yankee and I popped into Main Street Antiques before Christmas to scope things out. They only had a handful of smaller spaces available and just one large 10 x10 space that was to become available this month. When we left the wheels were turning! My mom (and creative partner in crime ) and I went back a couple of days later so she could have a look too and something inside just said, " oh what the heck, go for it! So we did! We put down a deposit to hold the space and here we are! Every morning I wake up thinking of ideas for our space and how I want it to look! There's no shortage of inspiration on the internet; pinterest in particular. I've been pinning ideas for display, hand crafted items and vintage things I hope to find for the booth! I've decided not to try and second guess what people might want to buy and just go with my instincts and where my heart takes me.
 Here are a few of the things I've picked up so far!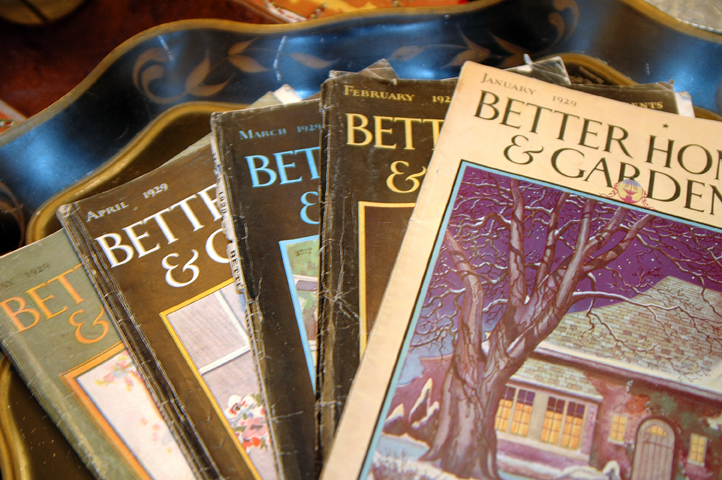 I found this lot of vintage Better Homes and Gardens magazines on Ebay from 1929. I fell in love with the covers and made an offer and won! I'm having a ball reading all about what was popular back then and learning how homemakers 'back-in-the-day ' went about keeping house, planning meals, staying current with decorating and fashion trends, gardening and child rearing. Not much has changed for us gals! We are still at it! Each cover is a work of art and would be lovely framed and hung on the wall as one or as an entire grouping!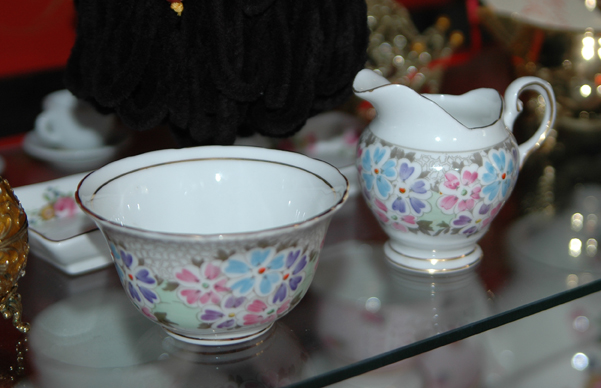 Isn't this the most darling pattern on this sweet creamer and sugar bowl? Megan and MaryJane sent them to me for Christmas as a reminder of the tea party for two Megan and I had on Cape Cod last summer. I just fell in love with them and had to know more about where they were made and when. Based on the markings on the bottom these pieces were made in Staffordshire County, England around 1947 at the Tuscan Fine Bone China manufacturing plant which operated from 1898- 1970. I thought they were so delicate and different that I purchased another pair of these little cuties on Ebay ( priced at 1/3 actual value ) for our booth.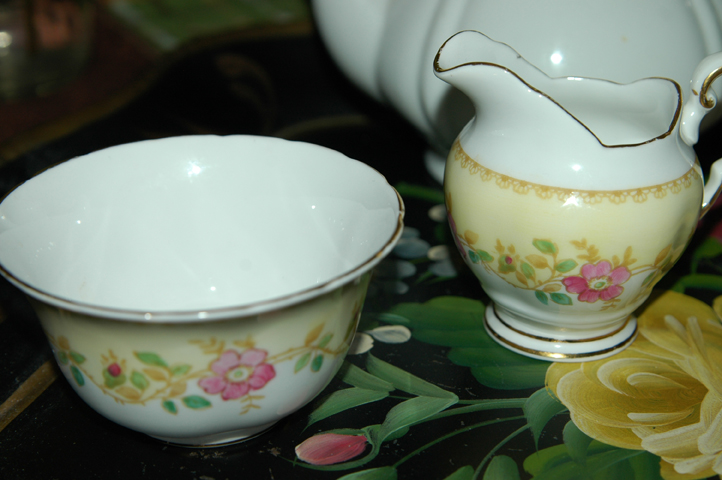 Do you have Savors in your town or city? I have to admit for many years all I've done is donate there because my house is already stuffed to the gills but now that I have a location to play house in its fun to shop there for vintage bargains! I scored big time when I found three lovely hammered aluminum serving trays at bargain prices. I love the intricate patterns and designs on these pieces don't you?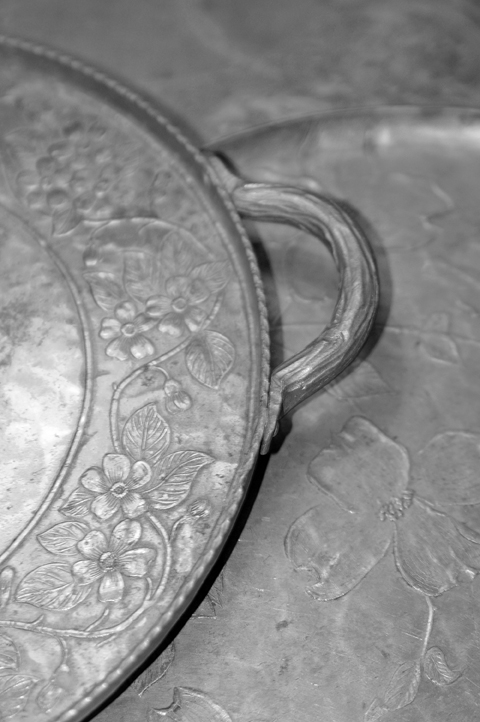 I've since learned that many hammered aluminum pieces made their way into the homes of brides as wedding gifts in the 1930's – 1950's. The most valuble pieces are marked and signed by the maker. Two of my pieces are stamped. One by Wendell August who his still forging metal today. Be sure the check out the link! The other one was made by Everlast Forge Company.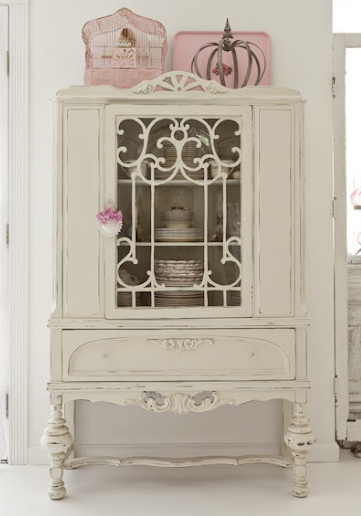 I have an ornate vintage china cabinet identical to this one in my basement that is not painted and in dyer need of a fresh coat of ' not so fresh looking ' paint!  I've been itching to try Annie Sloans Chalk Paint on it and a few smaller tables as well.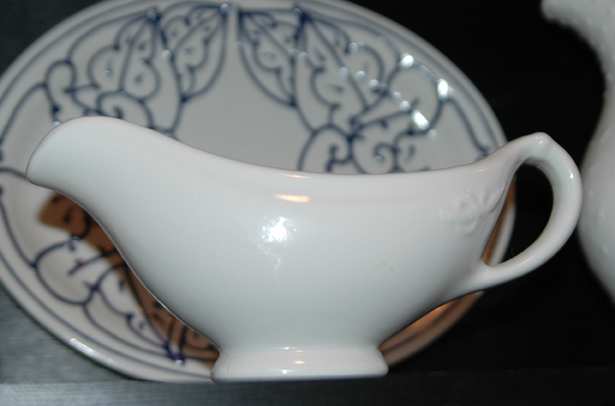 I love white ironstone too. This gravy boat was made by Hall in the good ole' USA!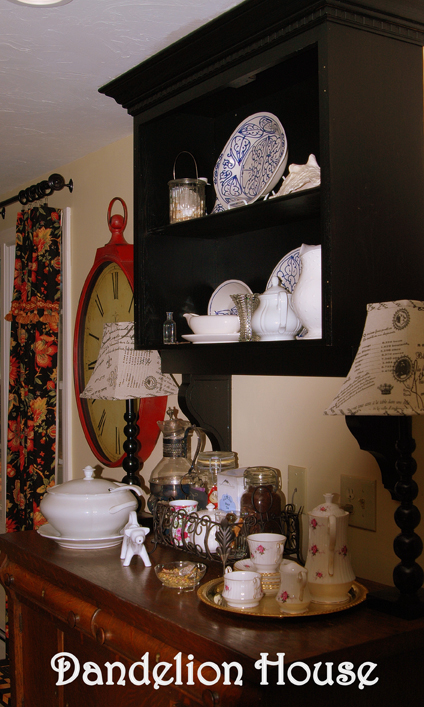 Here's my antique buffet all gussied up for tea time with some of my favorite collections. If I know my sisters I bet many of you have antiques and vintage items in your home that have been passed down to you or that you have collected over the years. Am I right? I would LOVE to hear about your treasured heirlooms, vintage items and what you LOVE to collect!
I'm off to chase down that truck that ran me over a couple of days ago and give it the boot!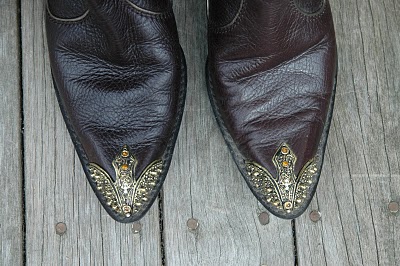 Until our next shoreline visit! Happy New Year!
BEACH BLESSINGS and happy collecting!
Love,
Deb # 1199