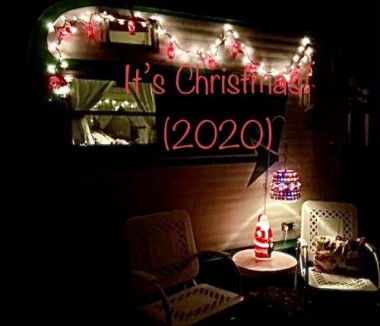 Hi Farmgirl Friends! In the words of Andy Williams' carol, "It's the Most Wonderful Time of the Year", and as far as 2020 goes, that statement could not be more true- though for 2020 to have anything be wonderful this year is a stretch. It's been the worst year ever, we all know, and the thought went through my mind (briefly) to not celebrate Christmas at all. Then I realized, just like Nora Krank did in "Christmas With The Kranks",  that I adore the holidays, and this year, more than ever, we need some cheer! We won't be seeing friends or family this season, so grab a cup of cocoa and share a little holiday with me, won't you?
What do I love about Christmas? We are missing so much of what we normally do during the holidays. So many lost loved ones this year, and for them, I totally understand not celebrating. I personally have known nine people, some close friends, some acquaintances, even children, who have passed away in 2020 (none, amazingly, from Covid). With so much bad news at every turn, Christmas may not be for everyone this year, but for me, I think holidays make life extra special. 
"Have yourself a merry little Christmas
Let your heart be light
Next year all our troubles will be out of sight"
 -as sung by Judy Garland,
Meet Me in St. Louis, 1944
Christmas is about hope, and anticipation. Are you a "Christmas Eve" or a "Christmas Day" kind of person? I've always loved Christmas Eve best- the anticipation of Christmas, the excitement of things to come, and the peaceful feeling of Christmas Eve night. Next year has to be better than this one, so bring on the hope!
"We need a little Christmas, right this very minute". Right you are, Mr. Mathis!
The first December blog I ever wrote here ten years ago (OH MY! IT'S BEEN TEN YEARS!) was titled, "A  Few of My Favorite Things". I have a few favorite things about Christmas that just bring on joy! 
"When I'm feeling sad,
I simply remember my favorite things
And then I don't feel so bad"
 -as sung by Julie Andrews in The Sound of Music
CHRISTMAS CAROLS! I LOVE Christmas music. I will admit, from November 1st to January 5th, I listen to Christmas music all day, much to my daughter's dismay, literally non-stop. It springs from my car radio, it wafts through the house from every speaker- even my chickens listen to Christmas carols! (I keep a small transistor radio on in the chicken run to ward off predators. From Thanksgiving on, carols play on a local station. Nothing is cuter than hens scratching to the beat of Brenda Lee singing "Rockin' Around the Christmas Tree" or Burl Ives' "Have A Holly Jolly Christmas"). I love all vintage Christmas songs, but Bing Crosby is my favorite Christmas crooner. What are your favorite carols?
CHRISTMAS MOVIES! There are so many fun movies that come out every year, but for me, I love the classics best. My all-time favorite is "White Christmas", with Bing Crosby. I was an adult before I found out from my dad that he once knew Bing Crosby! As a child, my dad lived across the street from a famous golfer. That famous golfer used to play golf with Bing Crosby and Bob Hope, and my dad as a preteen learned to play golf from the three of them! Funny thing is, Daddy never liked the game, but how cool is that? Anyway, I digress. Other favorite flicks are "It's a Wonderful Life",  "The Shop Around the Corner", Hallmark's "A Dog Named Christmas" and anything by Rankin-Bass- you can never be too old to love vintage claymation! As I write this, my family and I are enjoying a major snow day, and after shoveling out for hours, are now watching "The Polar Express", another good one. What are your favorite Christmas movies?
CHRISTMAS TREES! Ya can't have Christmas without Christmas trees. Picking out a tree each year, we resemble the Griswolds, and I love it! I've given up the notion of having a fake tree, and I'm glad I let my husband win on that discussion.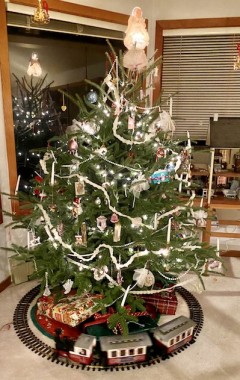 Did you know that by first watering your fresh-cut tree with hot water will help it last longer? It loosens the hardened sap so the tree can take in water better and stay fresh. This year, at our local tree farm, we bought this long tube to fill the tree stand with water – best $7.00 spent in a long time!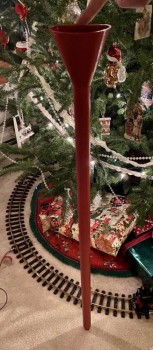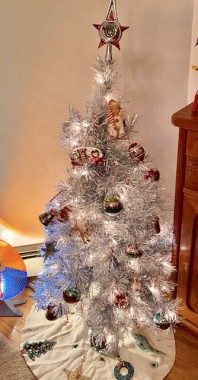 I also love ceramic trees and silver tinsel trees (a nod to the kitschy, vintage ones), but I'm really loving little bottle brush trees. They can be as small as a ½ inch, or as large as a foot tall, and are an inexpensive way to add a retro Christmas touch anywhere there is needed cheer. I have found glittery, fun bottle brush trees for as little as $1.00!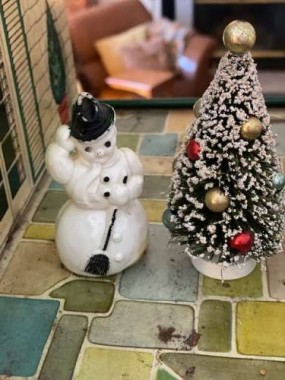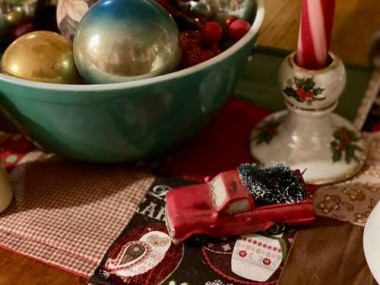 CHRISTMAS CARDS! I was on the fence about sending cards this year. It seemed like an added stress and expense. But when I got that first Christmas card in the mail, it brought such joy!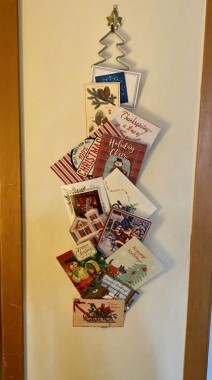 I decided I would not let go of sending real cards through the mail.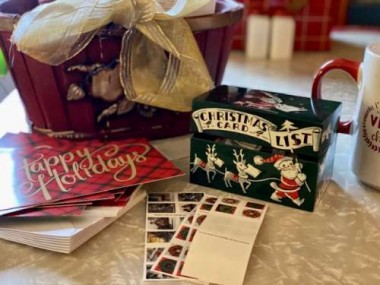 I found really pretty ones in the dollar store this year, with a pretty plaid. (I'm MAD for PLAID)! Sitting down and writing out cards made for a bit of normalcy, and what better way to say, "I'm thinking about you" than a hand-written note? If it overwhelms you to send cards this year, then don't. It's okay. Christmas traditions should be joyful, and not seem like a chore.
SANTA CLAUS! In past years, I have written several whole blog posts on Santa. Y'all know how much I love that red-suited elf! This year, I was giddy waiting to put out a special Santa. This year, in lieu of flowers, my husband found me a Harold Gale Santa for our anniversary.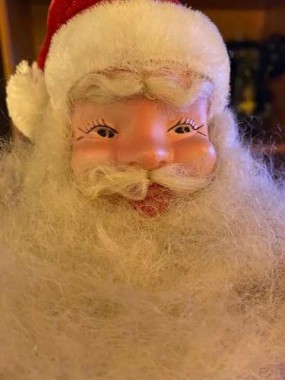 Harold Gale was a gentleman who, with his wife in the 40's, began making hand-made Santas for store displays across the country. Some were mechanical, some were smaller and meant for countertops, but all had so much charm! Table top ones were eventually made for the public by popular demand, and the company grew and lasted until the late 1980s. Christmas came early when, "on the twelfth day of Christmas, my true love gave to me" – an "old Santa" we found offered on Facebook marketplace! It turned out to be a three-foot-tall Harold Gale! He stands by the door, greeting us every time we take the dogs out! Santa makes me smile, and we need reasons to smile!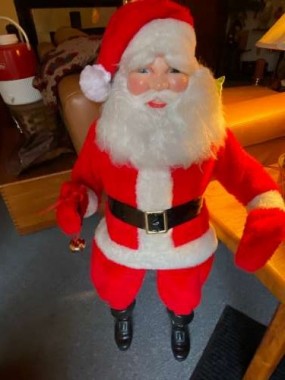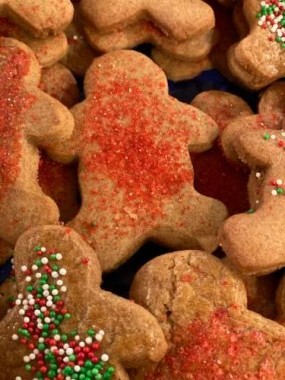 COOKIES! Christmas baking is still one of my favorite things to do. We have no family here in New England, and it is difficult with work schedules for any family to visit this time of year. But, we have wonderful friends, and each year we host a "Party Like It's 1955" Christmas soiree. What started out as a few friends for dinner one Christmas holiday, when my in-laws from Denmark were visiting, over the years the gathering morphed into a tradition. The guest list grew each year, with friends asking as early as November what weekend would we be hostessing our party. I do all the baking and cooking, and we love having families and friends of all ages fill our home with cheer and laughter. We'll greatly miss them this year. I have also hostessed our neighborhood cookie exchange for several years. We pray that next year we will be able to have friends enter our home, but for this year, we've decorated the house like a frosted cupcake, just for us, and I am still baking all our family favorite cookies!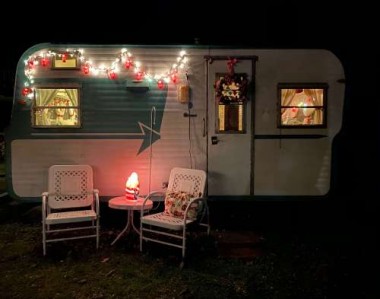 CHRISTMAS CAMPER! Gidget the glamper is decked out for Christmas and is now the "Holiday House"! After the first of January, we will close her up completely and put the cover on for a long winter's nap. Until then, the heater inside warms her up nicely, and when we need an escape from the news/change of scenery/a break from online activity, there is nothing more cozy than a cup of cocoa inside the lil' camper.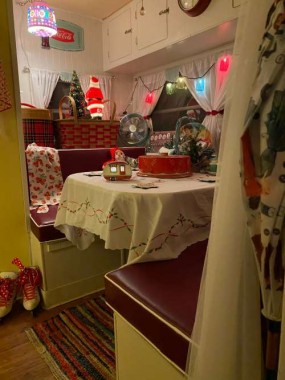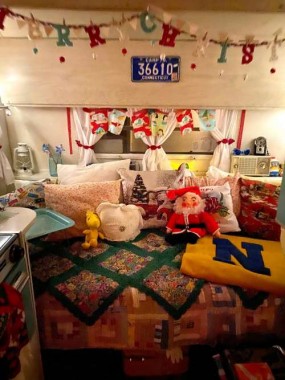 I can't wait until the pandemic is over and I can have friends over for lunch in her or go camping with my family and see our vintage camping friends again; but for now, I hope she brings you a little joy. How's that cocoa you're drinking? Need a refill?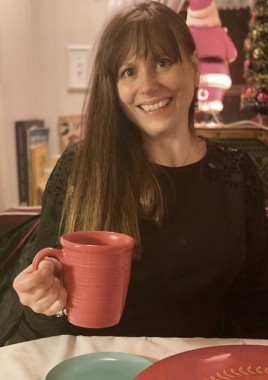 CHRISTMAS LIGHTS! Nothing warms the heart more than the warm glow of Christmas lights. I saw a Facebook post recently where someone in another country asked if small towns in the USA are like they are portrayed in Christmas films such as Hallmark movies. I answered, "Absolutely"! Many of those festive flicks are filmed here in Connecticut. One of the reasons I love living here is how everywhere is decorated like a Norman Rockwell scene this time of year.
We always drive around looking at lights, but this year, everyone's homes are really decked out! There's even a posted map in my town, to help residents find a route to see the houses with the best decorations and lights. It really makes us feel like we're all in this together, and none of us are really alone!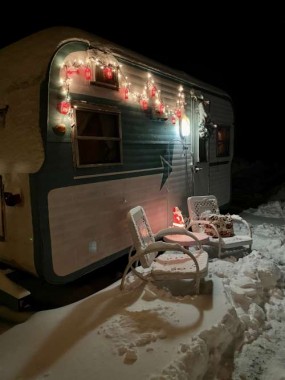 Gift-giving is harder this year, shipping is worse, but it isn't the gifts that make holidays like Christmas special. It is love. 
"It came without ribbons, it came without tags, it came without packages, boxes or bags…what if Christmas, he thought, doesn't come from a store? What if Christmas, perhaps, means a little bit more"? 
-Dr. Seuss, How the Grinch Stole Christmas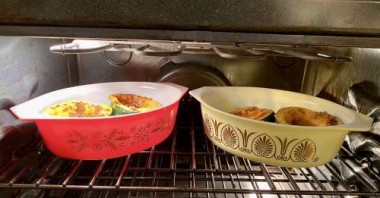 My family will have a nice dinner, Danish style, on Christmas Eve, and another nice meal on Christmas Day. We will hunker down and enjoy being together, the three of us. We will phone our far-away families, and snuggle on the couch with our pups, watching movies. I hope this last blog of 2020 finds you all well, finding some joy, some love, and hope for a happier, healthy New Year! Much love your way! See you in 2021!
I hope this post brought you a little bit of joy! Wishing you all happiness this holiday season, and a healthy New Year! Remember to leave me a comment so I know you dropped by! 
Until Next Time, Farmgirl Hugs (still masked, virtual, and 6+ feet away),
Nicole