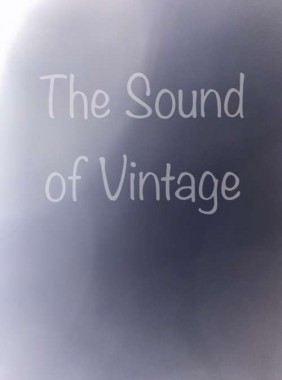 I'm loving that it is Fall again. I've decorated my house for Halloween, though ours will be a quiet one this year, with festive food and a scary movie, just for us. 
Most of my Halloween decor is vintage or vintage-inspired, like much of my decor. Adding a vintage vibe reminds me of times when the pace of life was slower and things were just simpler. It keeps the atmosphere at home relaxing- something that is super-important, even more so now with the stressful world we are currently in. 
Whether it is Halloween decor, everyday decor, furniture, dishes or clothes, "vintage" has a charm all its own, missing from many "modern" things. From just a bit of vintage here and there, to all-out vintage (like Gidget, our vintage camper), there is a feeling of familiarity, comfort, and whimsy that comes from old things. I like to complete that vibe with music.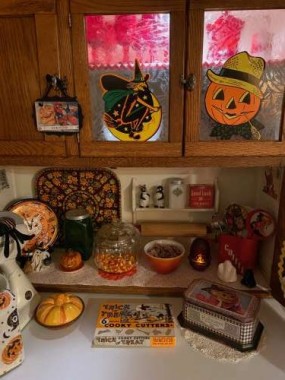 For as long as I can remember, I've loved "old" music, but my most favorite genre is Big Band and Swing, 1940's music.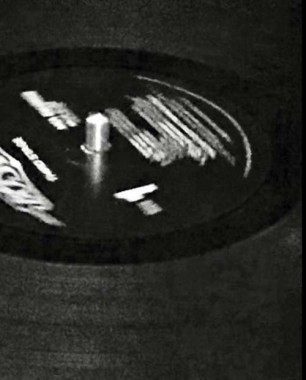 I have a few old records, found here and there for virtually nothing ($1.00 at Goodwill), and there's nothing like that raspy sound of a needle spinning on vinyl, but for background music on a busy day bustling about, remembering to change the record when one is at the end is too much of a task. 
Back in the 90's, I loved the "replay" feature of cd's and could listen to my favorites all day. Nowadays, modern "Alexa" is my go-to when it comes to music. Ella Fitzgerald, Billie Holiday, Bing Crosby, Louis Armstrong, Cab Callaway…OH MY! I never get tired of their crooning, and tunes by big band leaders Benny Goodman, Glenn Miller and Artie Shaw just make me happy! Streaming music is one of the best things of modern life. I shut off the news and turn on the '40's (sometimes it's the 50's, 60's, 70's, or 80's, but mostly – it's the 40's). The only thing about streaming music is that I don't think the "modern" devices look right with the rest of my "vintage" aesthetic. 
One day several years ago, I saw a very old, cabinet-type radio in an antique shop. Made of wood, it stood about three or four feet tall, and had been redone. It's tubes were working, and an AM station playing oldies with that far-away sound only a tube or a transistor radio can make, wafted throughout the store. The old, dark wood and bakelite knobs on that piece really spoke to me, but it was way out of my price range.
Not long ago, we saw another old radio, a Philco Model "65 Lowboy", circa 1929, similar to the one I had seen before (just older), offered for practically nothing online on a tag sale site. It had belonged to the seller's grandfather, but wasn't something she had space for. It was covered in a layer of dust, heavy and not something anyone should ever dare plug in! To me, it had the potential for beauty…one man's trash is another one's treasure! 
We brought it home, and after vacating a dozen spiders, cleaning off decades of grime, repairing nicks in the finish, and giving it several coats of polish, it looked as close as it could have "back in the day"-  without a total rehaul. It's just a "shell" as the tubes probably stopped working long ago, but the art deco shell design of the front is so beautiful.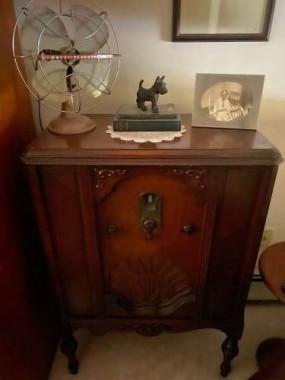 It now sits in my favorite cozy, reading corner. I love that it is a Philco brand – my grandfather always had a Philco radio playing in the background when I was little. His picture graces the top.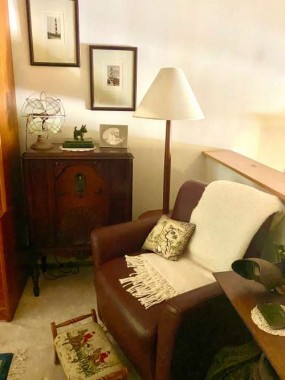 The best part? The "Alexa"speaker fits perfectly, hidden right inside! With the sound wafting through the speaker screen on front, my 40's music has the illusion of coming out of the radio, sounding just like it would back in the day. I love reading in my cozy chair, listening to a little Ella Fitzgerald, unaware that it is 2020 if for just a bit…
Speaking of Ella Fitzgerald, have you seen the new Ella Fitzgerald Barbie from the Inspiring Women dolls by Mattel? Ella is known as the First Lady of Song and the Queen of Jazz, and I love that there is now a doll in her honor! Her singing career spanned over six decades, and no one has ever been able to "scat" like she did! My favorite Ella Fitzgerald songs are "Dream A Little Dream" (with Louis Armstrong) and Ella's "I Want to Be Happy", (which is a HAPPY tune!)! 
In later eras, radios became smaller, tabletop models. The versions made of colorful plastic from the 50's and 60's are my favorites. The charming angular cases and pretty colors they often came in remind me of stylish old cars from the '50s. Perfect for "hiding" the small Amazon "Echo Dot" behind; again, they do not have to be working to give that look of decorative vintage charm. I've also seen artists take out the "guts" of an old, non-working radio and make it into diorama at the holidays. Cute idea- but for me, I like to leave things as close to original as possible. I scored a box of old radios from a local gentleman who knows how much I love old things. None of the radios pick up anything more than static, but two have clocks that keep perfect time! The best part is when the little Alexa speaker plays "old" music from behind, giving the illusion that the radios are actually playing! Instant charm and atmosphere!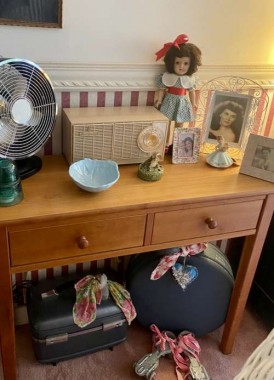 There are old radios hiding in barns and garages, just waiting to be cleaned up and displayed. For wooden ones, like the big one in my reading corner, I have seen quite a few offered very inexpensively, or even for free. To clean up a barn find, carefully wipe the dust and grime with a soft cloth, being very careful as old finishes can flake from years of neglect and extreme temperature changes. For nicks, use a "crayon" type filler meant to hide scratches, and polish with an oil-based, non-citrus spray (I like Scott's Liquid Gold). For the plastic type cases, a very wrung out, ever-so-slightly damp cloth on the outside can clean off in-a-garage-for-decades-grime. 
Right now, I am drinking coffee in my kitchen, listening to Benny Goodman on a "Pandora" streaming station, wondering how many times the radio in my kitchen once played that very tune, and who was there, listening.
Everyone in the forties, including all the great singers, went through really tough times in that era. Our grandparents and parents got through it. We will, too. Hang in there, farmgirls! Decorate for Halloween, watch a campy old Halloween movie, listen to some 40's music, and stay cozy!
Remember to drop a line or two below to let me know you stopped by!
Until Next Time (and as Billie Holiday would say, "I'll Be Seeing You" – next month), 
Farmgirl Hugs (still virtual and over six feet apart), 
Nicole