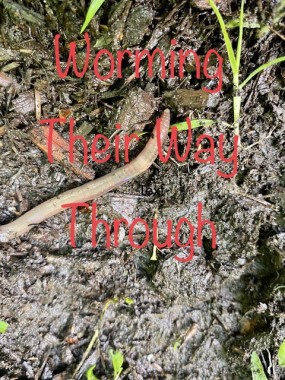 What a year it's been with so many things to worry about! From Spotted Lanternflies to Murder Hornets, things outdoors lately also seem kind of scary! Unfortunately, there's a garden invader many of us have, but many do not know about- a creature worming its way through North America!
I've lived and gardened on my property for over 25 years. When we first moved in, the house had been empty for a long time, and the yard was void of much, except for overgrown grass and a few flower beds near the foundation. The yard was a blank canvas; I feel I know every inch of earth here. We've built flower beds and gardens that I "baby" each season. 
Like most gardeners, whenever I'd see an earthworm, I'd get excited, thinking my soil must be really healthy. Most earthworms are non-native, brought here from somewhere else at one point. There are 6,000 species of worms worldwide, with three main types: flatworms, roundworms, and segmented worms. Earthworms have no eyes, but they sense light, mostly at their anterior sections. An earthworm will repel itself from light, becoming paralyzed if exposed too long, within an hour. Cold-blooded they breathe through their skin. If an earthworm's skin dries out, it dies. They eat their weight each day, and "process" soil, by burying subsoil closer to the surface to mix with the topsoil; their sticky slime secretions hold clusters of soil particles together, and contain nitrogen. Earthworms are both male and female; their eggs are deposited in "cocoons", smaller than grains of rice. The clitellum, which is the band or "saddle" you see near the anterior section of the worm, makes the cocoons for the eggs. One acre of land can contain one million earthworms! Worms live an average of 1 – 2 years, up to eight years, and only grow so long depending on age and species.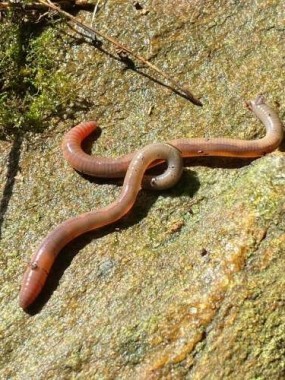 Jumping Snake Worms, on the other hand are an invisible, negative invasive species of earthworm, introduced from Asia, probably through imported mulch, compost, and potted plants. A fast-maturing worm, they become adults within 60 days, with prolific reproduction. They are parthenogenetic, meaning eggs can hatch without being fertilized. 
They really have no natural enemies, and populations vary year to year, with population explosions every few years. Birds don't generally eat them, most likely due to the bad-tasting yellow secretion they have as a defense. I have seen wild robins toss them aside and my chickens, who will eat anything, will NOT touch them. For the songbirds that do eat them, it's like eating "junk food", not being nutrient enough as native caterpillars. Fish don't like them, either.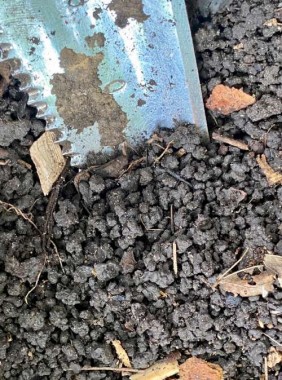 Invading areas where earthworms haven't been before, they're a threat to forests, yards and gardens. They over-process the soil, churning it so fast and superficially on the surface, that they deplete the soil and plants around them of needed nutrients. There are 51 species of Jumping Snake Worm in the US.  In my area of New England, we find three different but closely-related species, all usually found together (a strange trait), but the Amynthas agrestis is the most common here. 
These worms are often mistaken for the common European earthworm. Jumping Snake worms move fast, with thrashing and slithery movements. Large moving adults look like snakes, and can be up to eight inches long. They jump to move, while other earthworms use their segments to "inch" along. The "saddle" on the Jumping Snake worm is often milky in color, smooth to the body of the worm, and goes all the way around. On other species, the "saddle" is raised and pink, not going around the entire perimeter of the worm. The Jumping Snake worm ranges in color from gray to brown, with glossy skin that has a (pretty) sheen to it.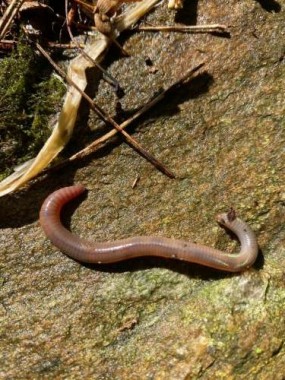 They stick mostly just under the surface, attaching themselves to plant roots (Often, they're introduced to an area through worm-infected transplants). 
They were first noticed in the US under DC cherry trees in 1912, and in greenhouses and NYC zoos in the 1940s. Commonly they are also called names like Asian Jumping Worms, Jersey or Alabama Wigglers, Georgia Jumpers, or Crazy Worms. 
These buggers are hard to photograph because of the thrashing they do as soon as they are disturbed. (The worm above is a  juvenile worm, photographed in late June). In New England, we see them mostly from April to September. 
Most gardeners see the over-processed soil before the worms themselves, when noticing dry, crumbly soil resembling coffee grounds or cookie crumbs. This process creates erosion because the chunks won't hold water. This causes root desiccation and unstable rooting in trees and plants.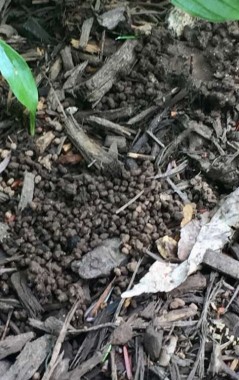 In grassy yards, worm casing piles are often mistaken for ant beds. Jumping Snake worms disturb the plants, sucking nutrients from the roots. 
When Jumping Snake worms attack an area, they displace natural and native species, such as good earthworms like Canadian Nightcrawlers. The invasive worms also cause extinctions of native plant species.
Unfortunately, poison ivy is a plant example resistant to Jumping Snake worms. Many important native plants are affected, which furthers the growth of invasive plants. The worms also cause stress to native fungi that are necessary to plants. It's an awful circle!
Our natural forests have a deep layer of slowly decomposing leaves and organic matter called "duff". When the interloping earthworms invade forests, they quickly eat up the duff, and the soil becomes more compact than aerated. As the duff disappears, so do native forest plants, insects and small animals such as salamanders.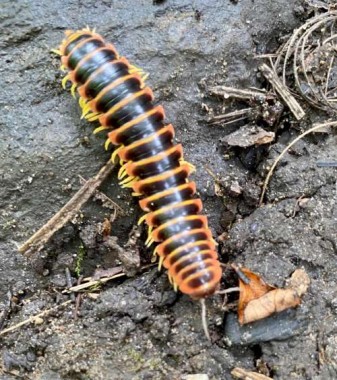 Birds are also impacted, because their food and shelters are affected. Landscaping, parks, golf courses, and yards are affected. Instances have occurred where entire yards were destroyed by the worms' over-processing. 
Jumping Snake worms became my own personal enemy when they attacked my property to the point of noticeable, visible damage. I really love my Hostas, a part of my gardens for decades. Hostas seem very vulnerable to the worms. This is a photo of my largest hosta bed in the summer of 2017. 
The following summer, the hostas had all but disappeared, barely returning. 
(The hostas shown are ones I planted from seed. The mulch was new, and not the source of the worms. I believe that they were introduced to my yard originally from infected mulch). The bleeding heart was unaffected. Poisonous to animals and humans, it could be why the worms didn't mess with it. Hostas in other parts of the yard were unaffected- damage done to this bed was by a Jumping Snake worm swarm, a common behavior.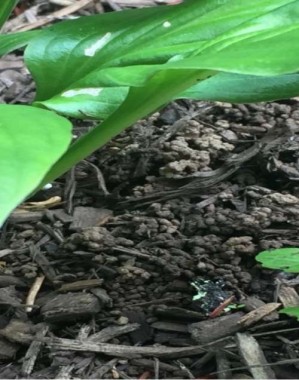 Presence of the worms was confirmed by the granulated, dry soil piles left behind under the hostas. By the time I noticed it, it was too late. 
We also had damage done by an additional swarm to a stone wall and steps on the other side of the property.
Unfortunately, currently, there's no solid way for a home gardener to get rid these worms, especially organically. 
Now, my hostas are back, beautiful and full. What did I do? I hand-picked worms from the surface as best I could,disposing of them in a bucket of vinegar and water. It's not pretty, time consuming and tedious. It did, however, drastically cut down their numbers. Plain water won't work, because the Jumping Snake worm can survive in water for long periods.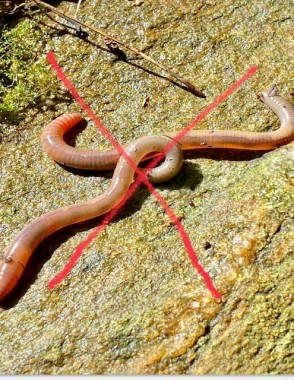 CAN we do anything to slow their spread? Yes- buy mulch from reliable sources, inspect transplants before planting for evidence of worms, (look at the roots of plants and for evidence of grainy soil), don't use the worms for compost, (purchase Red Wigglers, instead), and if you notice you have the invasive worms, don't share your plants. 
Don't despair, gardening is still wonderful! There's just always something that needs attention. There's also so much beauty outside, every season. Here are a few examples from this summer in my yard…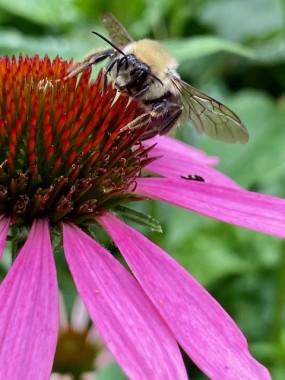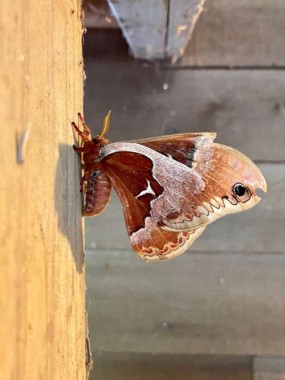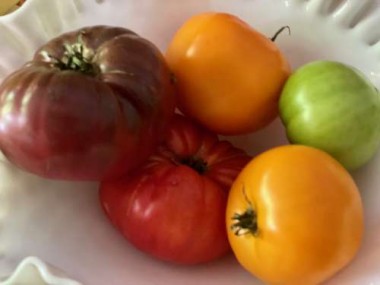 Remember to leave me a comment below so I know you stopped by!
Until Next Time…Farmgirl Hugs (still virtually and six feet apart, but the sentiment is there),
Nicole