Hi! Welcome! Come and join me in the swing by the creek. Night is falling, and I'm about to build a fire. I baked tea cakes earlier for you.
What kind of tea woud you like? Or would you prefer coffee? Water? Wine?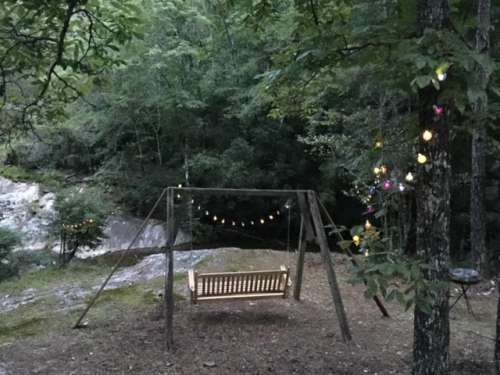 I looked out my kitchen window one recent morning and saw a male Red Cardinal in my yard in full "come hither" mode. I didn't know what I was witnessing at the time, but I did know it was spectacular. I watched him stay in this unusal position on the ground, displaying the plume of his generous red tail feathers.
He picked an unfortunate spot to strut his stuff. He was quite close to where my cats hang out. The longer he held his impessive pose, the more concerned I became for his longevity. (Some of my cats here, although fat and happy and never hungry, like to hunt creatures. They eat them down to their itty-bitty toes. Well, except for one particular organ that I've never studied long enough to identify. Kidney? Liver?)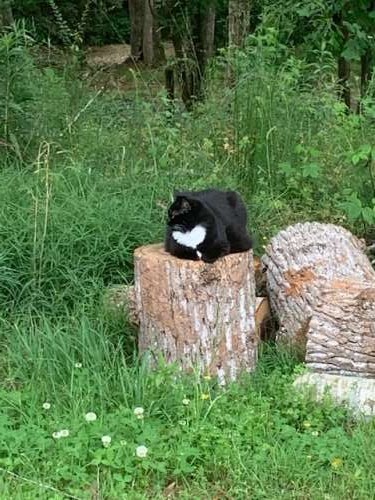 Anyway, the longer the red bird flaunted, the more likely that he'd become a snack for Hoshi, Mayor Hayes, Jude, or the Terrorist. I decided to head outside to move the bird on his way before it was too late.
When.
Suddenly.
A female cardinal swept down by him and flew off. He noticed, but didn't move. I wondered if she was as impressed as I was with his grandiose display.
Then out of nowhere, a male red bird flew fast and low towards the fancy bird on the ground, dive-bombing him. The bird on the ground took off after the trouble-maker. They flew, one after the other, into the woods.
Spring.
Ah, Spring.
I give you a "10" this year!
The soft and brilliant colors. Sweet aromas. Lush grasses.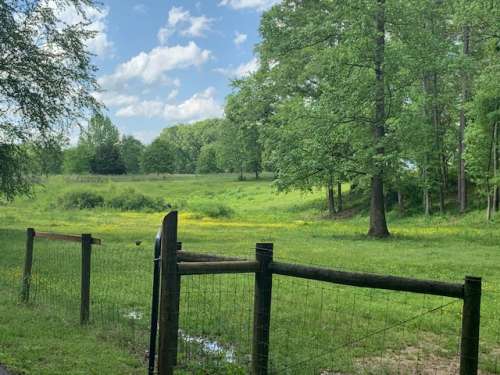 The constant "zephyr" (that was my word of the day the other day, so I thought I'd try it out) blows my hair wildly and keeps the temperatures delightful. Chilly nights. Pleasant mornings. New energy.
My creek has provided such beauty as various wild flowers and bushes have come in and out of bloom.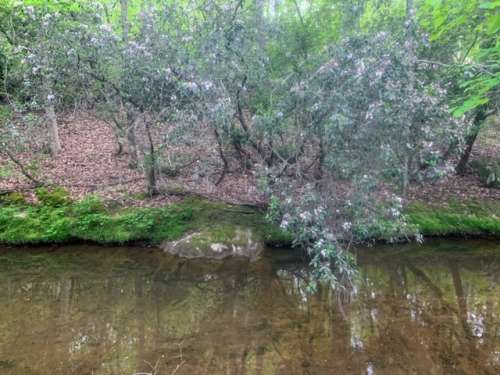 It's June 16th and my windows are open. Unheard of in ATL area!
Yes indeedy, spring really came through for me this year. I never expected that it would.
When I moved back to Georgia, I mourned the loss of the diverse, ever-pleasant seasons I enjoyed when I was tucked into a "holler" in the Appalachian Mountains. I lived most of my years in Georgia, so I knew what was ahead of me weather-wise.
Here, generally, the winters are so mild you barely need a "real" coat wih fuzzy lining;
springs are hot and about 3 days after its official arrival, the air conditioning comes on;
summers are sizzling and sticky, draining;
then there's autumn, so colorful but sultry and disappointingly hot.
In fact, Georgia weather has been a disappointment to me since I was a kid. Those photos of curtains blowing in the breeze? Those photos of a white Christmases and horse-drawn sleighs? Those photos of snuggling under a blanket at a fall football game? Not here. Not my reality.
Until.
My reality changed.
And I moved to a Christmas tree farm in the moutains. Sorry to sound sentimental, but the weather there was perfectly perfect.
Winter. Snowy and dreamy. Cozy fires and long cold walks on the farm. Cold nose, cold feet, frozen teeth and eyeballs.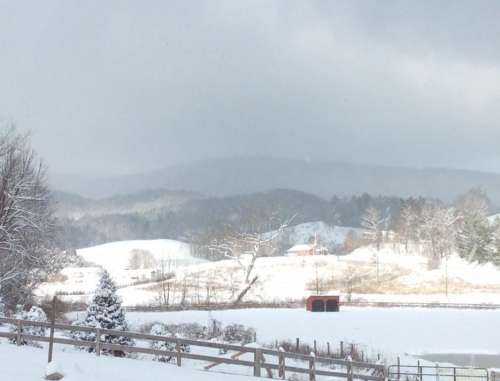 Spring. Chilly mornings and evenings. An occasional snowfall. Sunny, warming days. Lilacs perfume the air. Windows open as much as possible. Yes, curtains blowing. Some evenings logs burn in the fireplace.
Summer. Hotter days, but not too hot. Not too much humidity. Forever pleasant in the shade of a big oak tree. Some days you need the a/c; some days you don't. Lightning bugs and evening fires outside. Sure, it might seem like it's 100 degrees when you're working in hay in July, but it's not. That's all in your head.
Fall. Oh fall, how I love thee. The profusion of colors. The crisp days. Soups and hot chocolate. In the mountains, fall IS plaid flannel shirts. Fall IS flannel-lined jeans. Fall IS warm socks.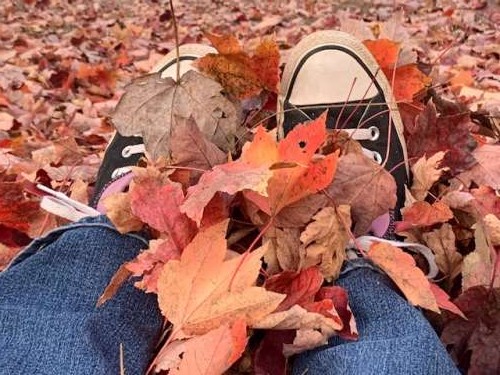 But here I am in Georgia, singing the praises of spring! This year, Spring's pleasantness has knocked me over.
I'm swooning. I'm appreciating every second. Because I know what's coming.
I'm wondering WHETHER THE WEATHER impacts you and how? Leave a comment!
My mood is the same on gray or sunny days. You? Does the weather alter your mood or your attitude?
Does some types of weather make you less productive or lazy and other weather make you feel more motivated and busy?
How about your knees? Or shoulder? Does cold or rainy weather impact you physically?
For me, I am most productive outside on pleasant, breezy days. Sweltering heat negatively affects my productivity inside or out. I don't like to sweat. I find excessive heat and humidity to be oppressive.
I guess all we can do is WEATHER the WEATHER. Take it as it comes.
I swore off complaining about the weather when I moved back to Georgia. I bite my tongue when someone asks me if it's "hot enough for you?" The true answer is that it was hot enough for me twenty degrees ago.
Whether we are on front porches or church benches, in farm store aisles or doctor's offices, visiting with a friend or a stranger, the subject of the weather often comes up.
I guess all we can say is, "Eh, weather. It is what it is." It is where it is. It is headed where it is headed. No need to fret about it. I don't know why I pay so much attention to it since I have no control.
Whither the weather? Whether the weather? Weather the weather!
Me? Wither in the Georgia weather? Oh, not this Spring.
But summer? It's a-comin'.
Withering straight ahead….
The cacti on the farm are beginning to bloom.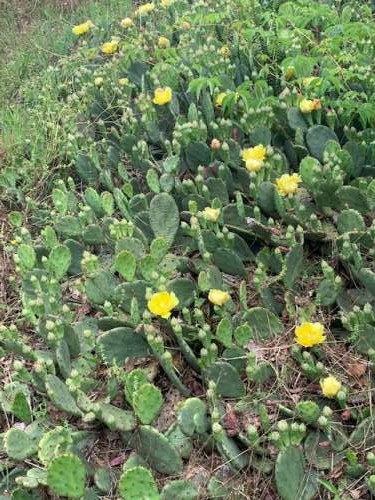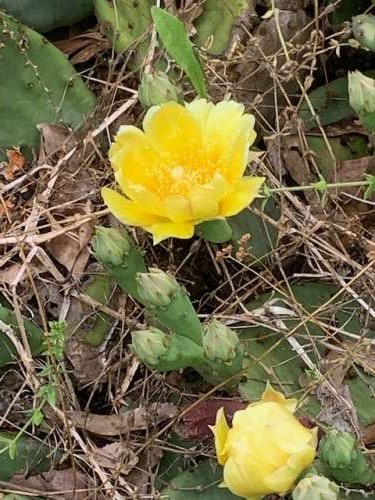 Until next time, Friends, savor the flavor and temperatures of life!
Lots of love, Rebekah, The City Farmgirl