.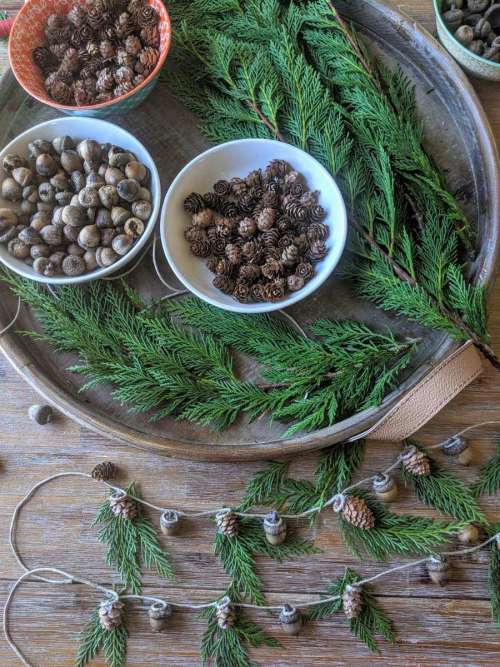 .
Hello Friends!  My daughter and I had a friend and her little son visit us last week.  My daughter said she would cook the lunch if I would bring a craft!  I'd been thinking about a way to use some of the many acorns to be found on our farm and since I love garlands of all kinds I decided we would make a Woodland Garland!  This was such a fun project and I want to share it with you!  So lets get started and you can make one too!
.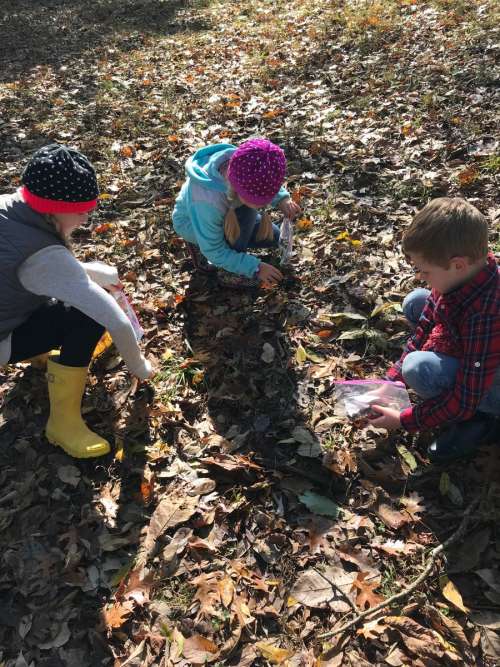 .
Even though it was cold on the farm, it was beautifully sunny so it was very enjoyable to go out and scavenge for our acorns and cedar.  We don't have any pine trees on our farm so I purchased the tiny little pinecones.
.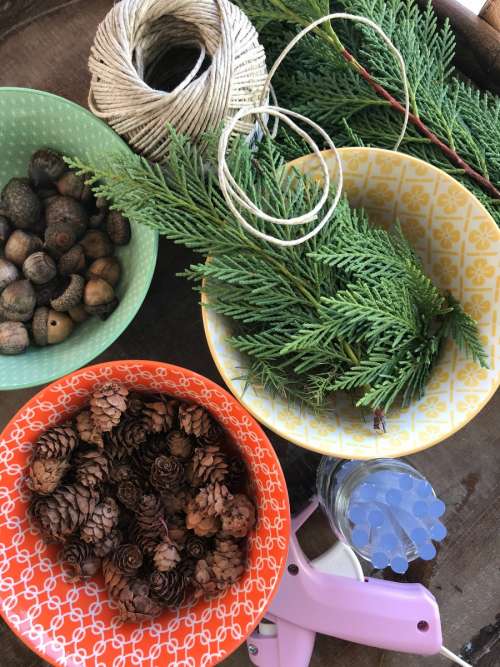 .
The supplies are simple:  acorns, tiny pinecones and cedar greenery.  You will also need twine, a glue gun, glue sticks and scissors.
.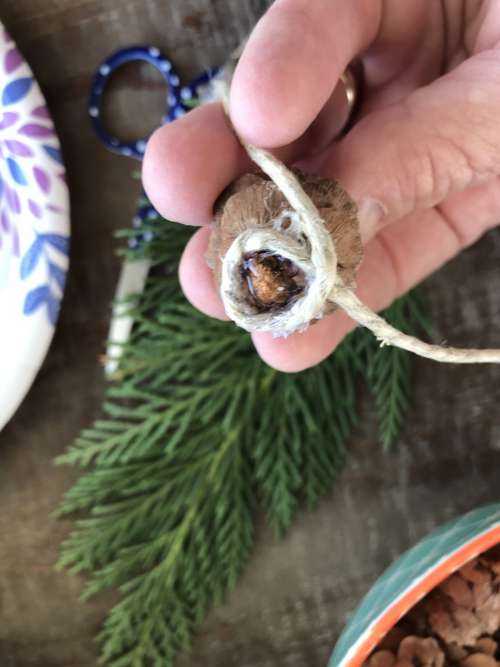 .
Measure out the length of twine that you would like your garland to be; add about a foot for good measure and cut your twine.  You will glue your first acorn or pinecone at the mid point of your twine.   I found the best way to glue the items to the twine was to form a little loop in the twine, place the hot glue to the top of the acorn (or the pinecone) and press the loop onto the glue.  This held in place quite nicely and seems to keep the items from popping upside down when the garland is hung.
.
Move a few inches down your twine and repeat the above step.  I staggered my acorns and pinecones every other so that there was a balance to them.  However, feel free to glue them in any random order.  Don't attach any of your greenery just yet.  Once you get as far as you'd like on the twine, then begin adding your acorns and pinecones on the other side of the mid point.  Continue this until you have as many as you'd like on your twine.
.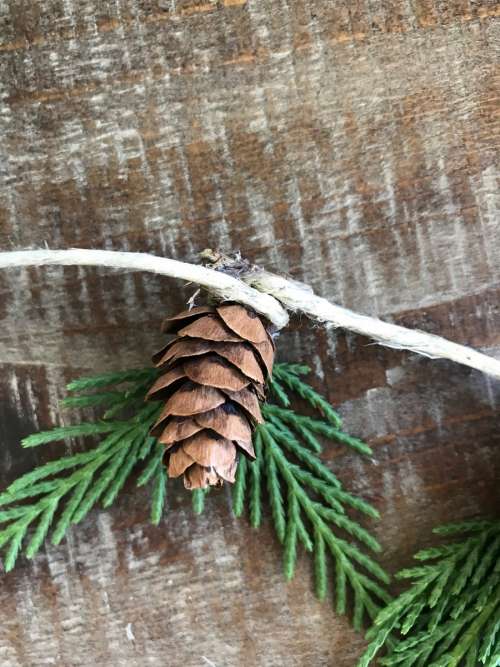 .
Now you will glue on your cedar greenery.   I kept this very simple by glueing two little pieces of cedar to the back of each pinecone.
.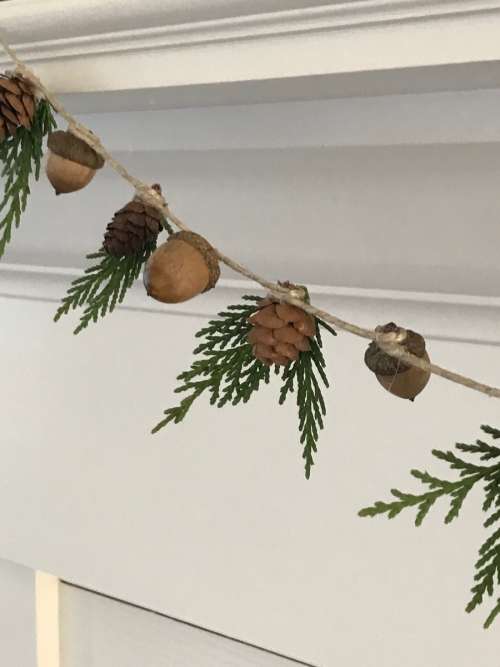 .
I did not glue any greenery to the acorns, but feel free to add more if you'd like!
.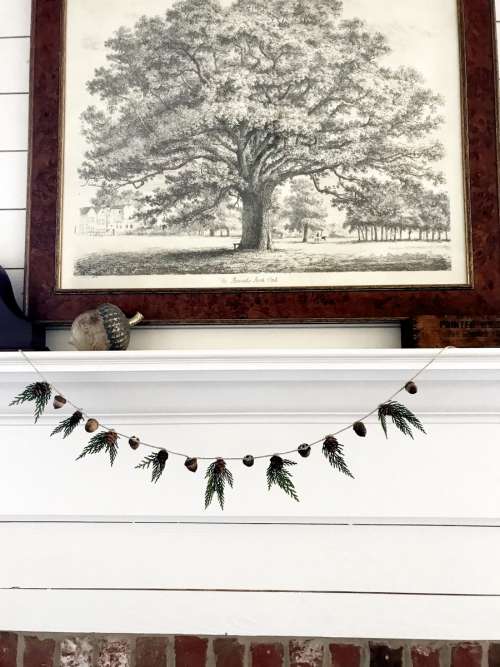 .
And there you have it!  A beautiful little Woodland Garland!
.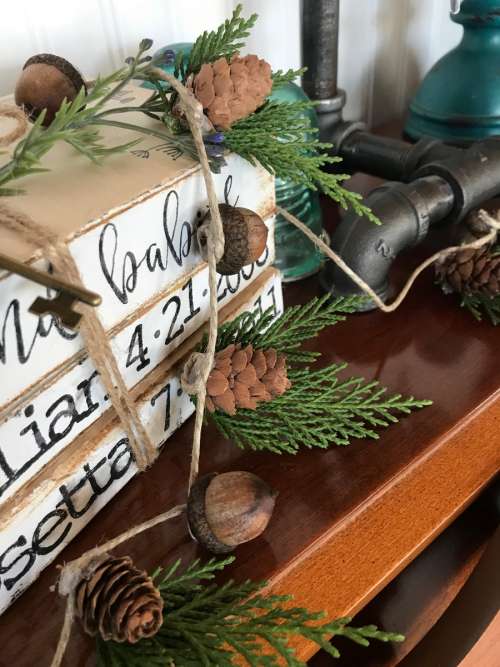 .
I think you could dress this garland up with ribbon and twinkle lights but I loved the simple look of the natural ingredients!  I think little acorns and tiny pinecones are so amazing in their perfection!
.
.
Happy Scavenging!
.
Until our gravel roads cross again… so long.
.
Dori