.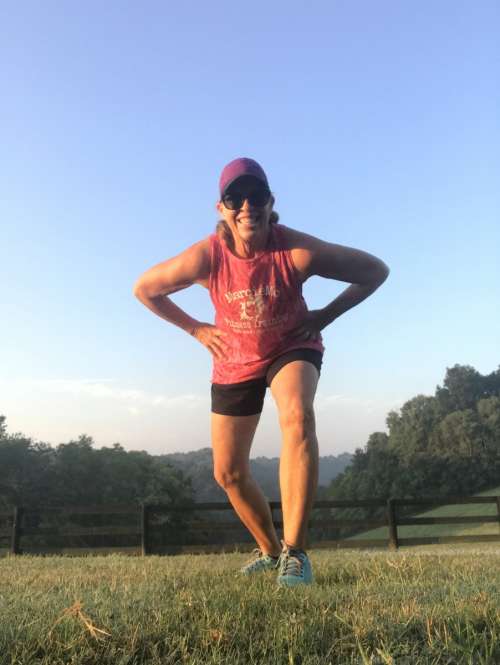 .
Sometimes these blog posts just roll off my fingers.  Other times I have something I'd like to share and I have it written in my mind… but I hesitate to blog about it because I hate talking about myself.  And that's what blogging can sometimes feel like.  But the deadline is fast approaching and I STILL want to write the post that's been in my head for two weeks.  So here it is friends!
I've written about my fitness journey here and told you about my amazing coach Marcie that has been such an incredible encouragement to me the last (almost) two years.  But I haven't written about my two gym "sisters" that work out alongside me in classes and keep me going.  So today I'm going to share a little about them because it's what is strongly on my mind.
.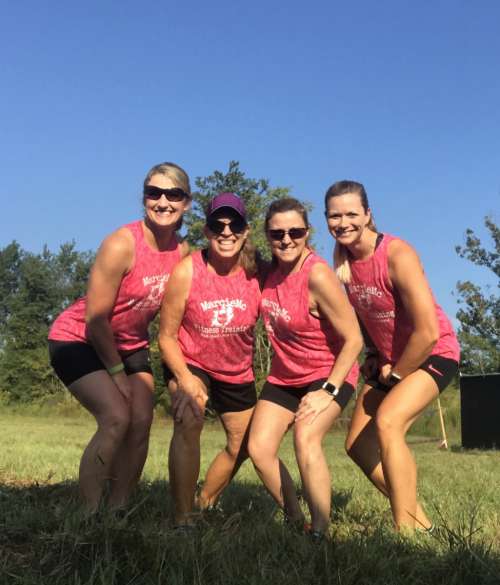 Marcie, me, Cindy, and Kim
.
I met Cindy in the very first class I attended and Kim started coming a few months after me.   They are literally the motivation that keep me going back every week.  They text me, keep up with me, and encourage me.  Its just a given in classes each week that the three of us are lined up together on the front row behind Marcie where she hollers and pushes us to go faster, run harder, lift more!  And when we are down on the floor struggling through the ab work (my weakest link) I can count on them to say, "Keep going, Dori".  I love these girls.  They mean the world to me.
.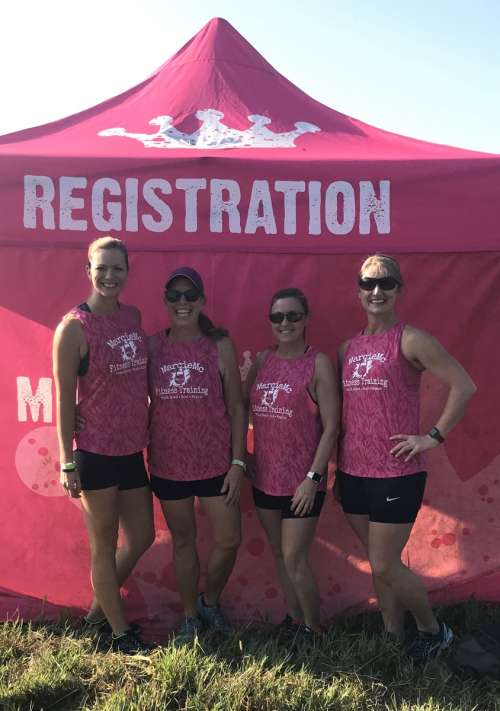 .
The four of us recently decided to do an event together called the Muddy Princess.  It is a 5K obstacle run…. with approximately 18 obstacles and a lot of mud!  And the best part?  It's for females only!  How fun is that?
.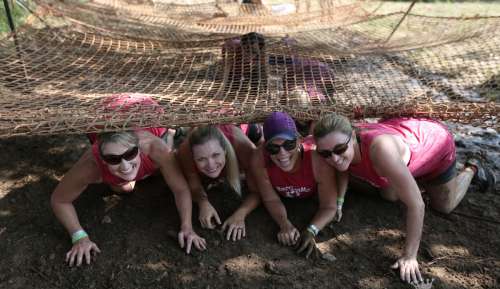 .
This is not a timed event so there was no pressure to feel like we needed to rush through any of it.  We ran some of the course, walked some of it, and slithered on our bellies through some of it!  And we laughed through all of it!!
.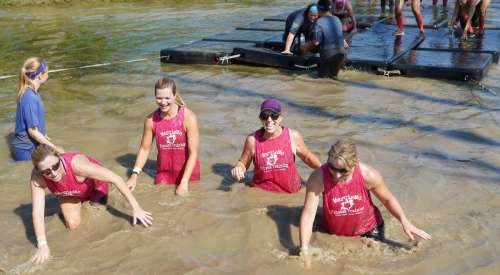 .
I could tell you about all the obstacles (and the mud) but what I really want to talk about is the feeling I brought home with me.  The feeling of sisterhood.
Sisterhood:  A community of women linked by a common interest
We've seen each other weekly with sweat pouring down our faces, breathing so heavy we can't talk, hurting really bad but pushing ourselves anyway, and then leaving class; dripping wet with a smile as we walk out of the gym.  Sisterhood is a powerful thing!
.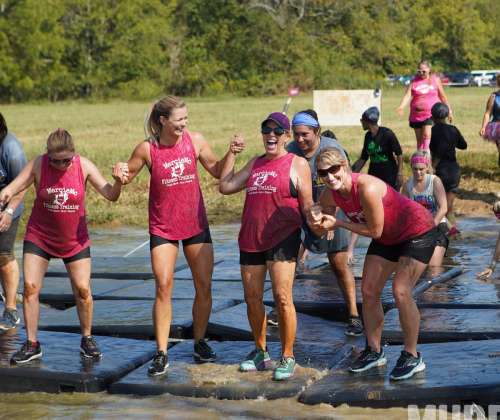 .
The day of the Muddy Princess was no different.  We encouraged and hollered (and a few times we turned the tables on our coach Marcie yelling at her to run faster!!!) and we just laughed and laughed.
.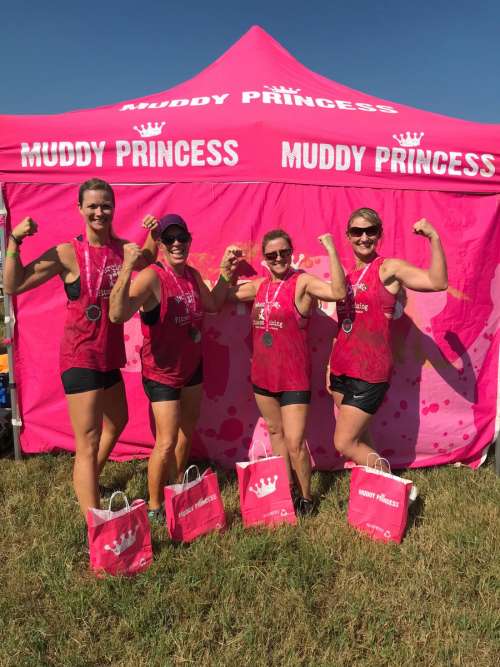 .
We talked about how strong we felt.  I talked about how far I have come and how thankful I am.  We talked about conquering fears of fitness and how empowering it is.  We talked about courage to work harder and be stronger.
.
We didn't talk about our weight or how we'd like to lose more pounds or inches.  And that is such a big thing to me because for most of my adult life pounds and inches have consumed my thinking.  Marcie said to us on the drive home, "It's not about working to be skinny.  It's about working to be fit."  I heard her, it soaked in to the deepest part of my heart and I heard myself say "I feel physically stronger than I have ever felt".  And it was true.  Sisterhood is a powerful thing.
.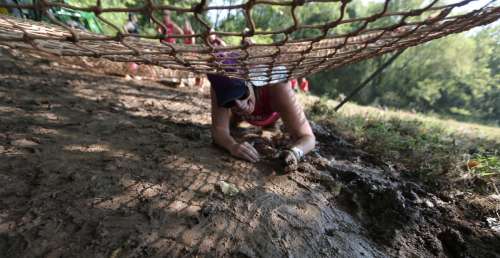 .
I'm going to be 58 this month and sometimes I feel every single minute of it.  I moan when I get up in the morning because my body is so sore!  Sometimes I limp because my feet hurt.  But then I go to class and I push myself to run, jump, and try to move like I'm young… you know why?  Because my gym sisters standing next to me keep pushing me along.   Sisterhood is a powerful thing friends!
.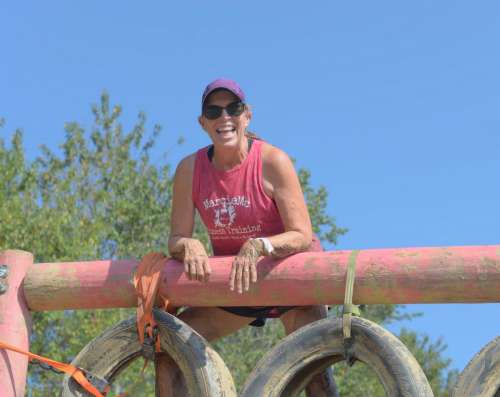 .
True sisters will stand at the bottom of the tire obstacle looking up at you encouraging you  to come over the top!  For every obstacle we face in life we need a Sisterhood encouraging us over it!
.
What I want to leave you with today is this: If you don't already have it in your life, find your Sisterhood.  Be a sister that encourages and lifts up.  The one that smiles through the tears of the tough stuff and laughs through the fun. It's a powerful thing.
.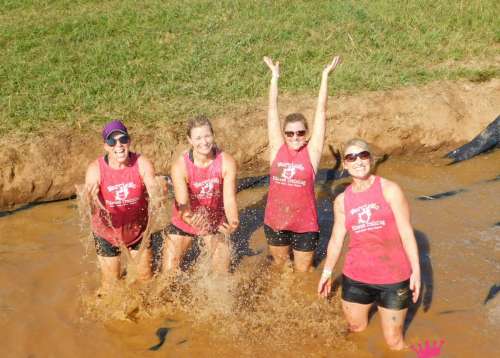 .
I genuinely want to hear about YOUR Sisterhood!  Please tell me in the comments below, or feel free to email me and send a picture:  redfeedsack@gmail.com.  I just might write a follow up blog post!
.
Thank you to each of you for reading, commenting, and encouraging me here in this little space.
.
Until our gravel roads cross again… so long.
.
Dori