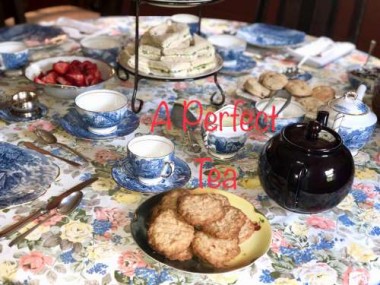 Have you heard the buzz? The Downton Abbey MOVIE is going to be released in theaters in one month, on September 20th! I'm excited, and already planning to see it with a group of girlfriends. In the meantime, one of the first things that comes to mind when I think of Downton Abbey is all things..tea! Dust off that china, Farmgirls, and let's talk tea!
 "There are few hours in life more agreeable than the hour dedicated to the ceremony known as afternoon tea."  
– Henry James
My best friend and I always make a buzz about each other's birthdays. For her last birthday, I took Andrea to "high tea" at a local tea room, and then for my last birthday, she took me to "high tea" at a different local tea room. We had such a blast at both adorable places, that we decided to visit a few other tea rooms in the tri-state area. (The only one we found a bit disappointing was a little place that was not really an actual tea room, but more of a casual cafe serving a variety of teas).
A true tea room knows the art of presenting "high tea". Our two favorite tea rooms in Connecticut are Tea wth Tracy in Seymour, CT, surrounded by fun little antique shops, and Tea Roses Tea Room in Cromwell, CT (whose organic, exclusive house blend tea is to die for). It's great fun to dress up, pick a wonderful spread of tea sandwiches, scones and petits-fours- all piled high on a three-tiered tray, and share a perfect pot of tea.
From a spot of tea to break on a busy afternoon, or a hot cup of tea to warm up a cold day, tea is soul-soothing. On the series Downton Abbey, whether it was the great Dowager herself or the maids and butlers, a good cup of tea was served often, during a casual conversation or to steady whatever drama was rocking the day.
My friend Andrea and I decided we would have "high tea" at home as a summer treat, along with our friend Julie.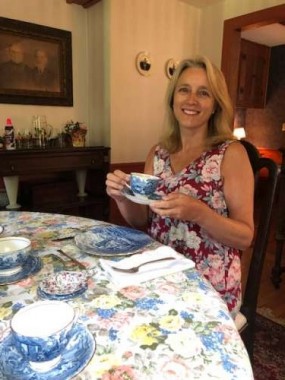 Julie has the most beautiful English accent, but she was born in Virginia. Her father was an officer in the Royal British Navy, and her parents were stationed in Virginia at the time of her birth. The family eventually returned home to England. Years later Julie attended college in the US. She decided to visit her parents' American Naval friends, (who are also Julie's Godparents). During the visit, Julie also met their middle son, whom she hadn't seen since they were children. Together twenty-five years and married thirteen, the couple have pictures of themselves side by side as infants. How romantic!
We each decided what we would bring for our afternoon tea party. Andrea provided a selection of delicious teas, and set the table beautifully with a floral tablecloth, and china once belonging to her husband's mother in New Zealand.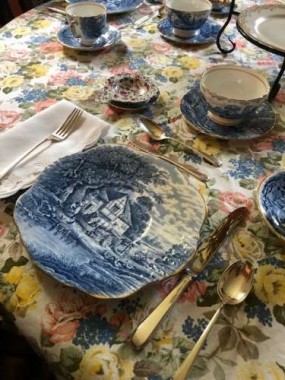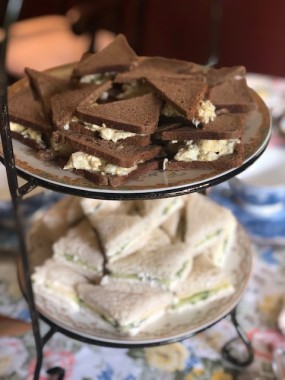 Andrea made two kinds of cucumber tea sandwiches, I made egg salad tea sandwiches, and Julie baked delectable English currant scones from a recipe in the Dairy Book of Home Cookery, first published in 1968.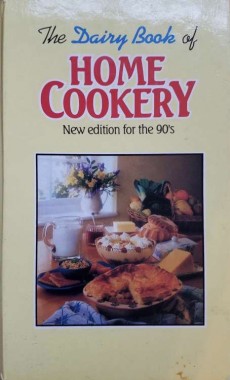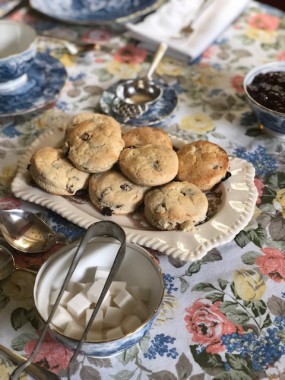 Since tea is such a major part of life in England, we asked Julie what differences exist between the art of having tea in the two continents.
"Kids in England grow up on tea in a sippy cup," says Julie, adding that "the perfect pot of tea tastes better when made properly. Water has to be a rolling boil, not from a microwave." Teaspoons in the USA are twice the English size. There should be one English-sized teaspoon of loose tea to one cup of water. Tea should steep three to five minutes, depending on the cut of the leaves.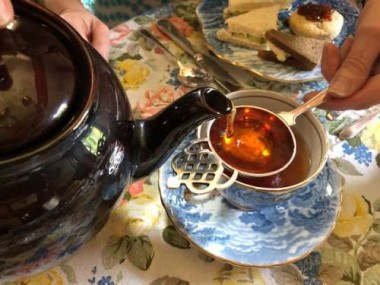 Rougher cut leaves take longer to steep than smaller cut tea leaves. In England, tea is predominantly black, as opposed to the countless varieties of tea in America. Sometimes, one can find green tea on the shelves, but Julie says the choices are still narrower than in the States.
In England, most tea is now found in all-compostable tea bags, but the bags are meant for a whole pot, not just a single cup or mug.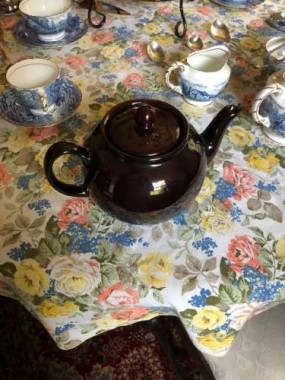 Andrea served our tea in her antique Brown Betty teapot – once known as the "poor man's tea pot" in the UK, because in the past fine China was once only for the wealthy. An English household staple, Brown Betty teapots aren't particularly fancy. They are usually dark brown and made of heavy clay. The color meant that tea stains wouldn't show, and the shape of the top allowed for several pots to be stacked on top of each other. Several different companies have been manufacturing them since the 1800's, and Queen Victoria herself had one. True Brown Betty connoisseurs don't wash their pots- they just rinse them, allowing the clay to become "seasoned".
Julie also says there are differences in the food served with tea. In American tea rooms, tea sandwiches, served without crusts, are bigger. In England they are more delicate. Cucumbers, cheese, white bread and butter was the "poor man's selection", as they were less expensive and readily available to feed a family with, as opposed to the more "posh" meat-filled sandwiches.
Scones are also less sweet and smaller in the UK. Many typical American scones are cake-like, less crumbly and very sweet.
In England, tea with biscuits, or "digestives," is a common snack. Similar to a graham cracker but not as sweet, digestives are meant to dunk in your tea. "Rich tea" refers to very pale white biscuits.
Two good books on the classic art of all things tea are Taking Tea by Andrea Israel and The National Trust Book of Afternoon Tea by Laura Mason.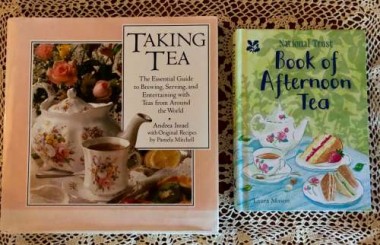 A grown-up tea party is an easy and lovely way to enjoy time with your friends. The presentation makes a pot of tea "fancy", but it's the friends you share it with that make it extra-special.
Until Next Time…Farmgirl Hugs, Nicole