.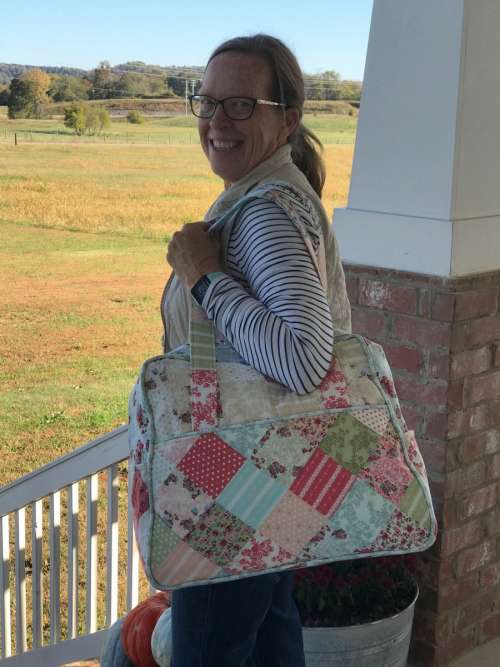 .
I've been known to bite off more than I can chew and say yes to things when really I should've said no.  Do you ever do that?  So the last few years I've really tried to weigh my yes's carefully!
.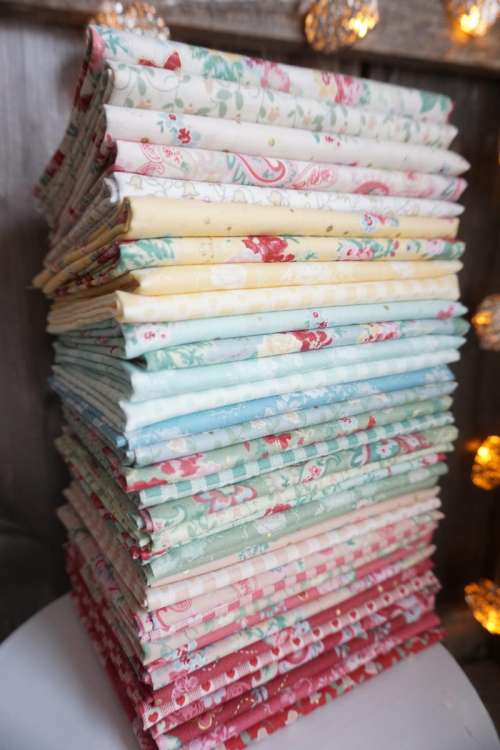 Fabric: Woodland Rose by Jera Brandvig
Back in the early Spring I was asked by a well known fabric designer, Jera Brandvig of Lecien Fabrics, if she could send me a bundle of her newest fabric (that hadn't even been released yet) and in exchange I would sew a mini quilt using her fabric and it would be displayed in her booth at Quilt Market.  Of course the mini quilt would be returned to me to keep after Market.  It sounded very exciting to me and how could I pass up the opportunity, right?  So I said yes.  (You can find Jera on IG @quiltingintherain and her lovely blog at www.quiltingintherain.com).
.
Before I go any further let me explain what Quilt Market is.  Basically it is a wholesale fabric trade show held in the Spring and the Fall.  It is not open to the public and only those with strong industry credentials can attend.  Mostly the industry professionals that attend are fabric shop owners, sales reps, designers, teachers, etc…  Fabric manufacturers and designers rent booths where they display fabric, patterns, new products and books that will be available the next season.  The designers in each booth showcase their fabric by displaying beautiful quilts and many other sewn items.  The more beautiful the fabric lines are displayed the more likely buyers are to order it.  It is a great way to market fabric that has not even been manufactured yet; other than enough for the designer to work with for Market.
To be asked by a designer to sew for her booth is a tremendous honor and not something to be taken lightly.  I weighed it out carefully and said yes because I knew the joy of sewing for her would outweigh any of the stress that came because of me wanting the project to turn out perfectly!
.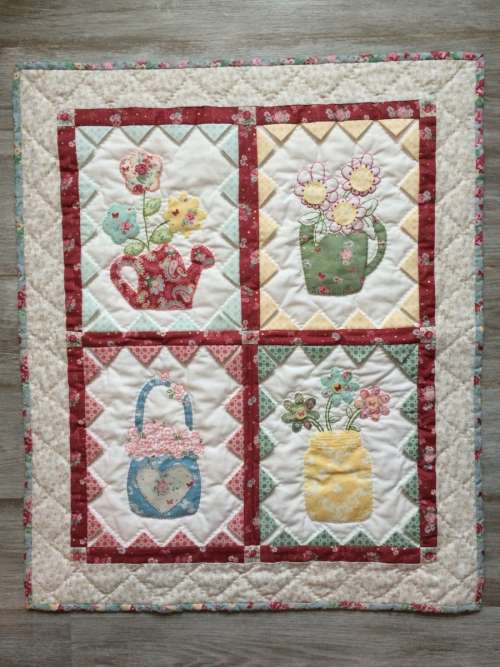 .
I won't go into the details  of this project… it was six months ago after all!  But here is the mini quilt that I designed and made.   I do want to say that I put a lot of thought into the design because I wanted it to look like a window with each pane having a different bouquet of flowers.  I was so happy with the finish.
.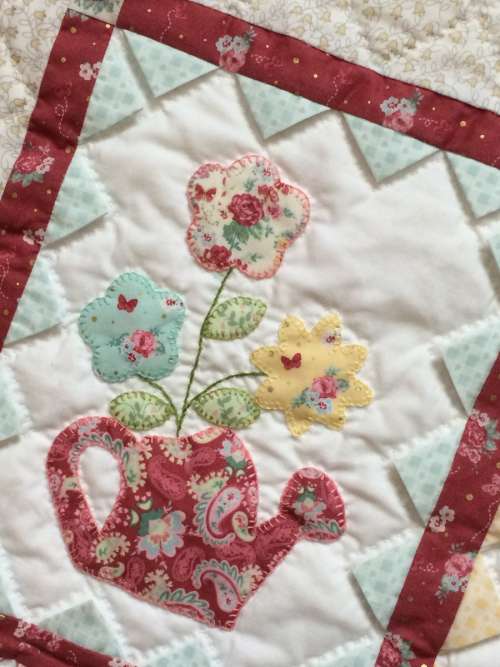 ,
.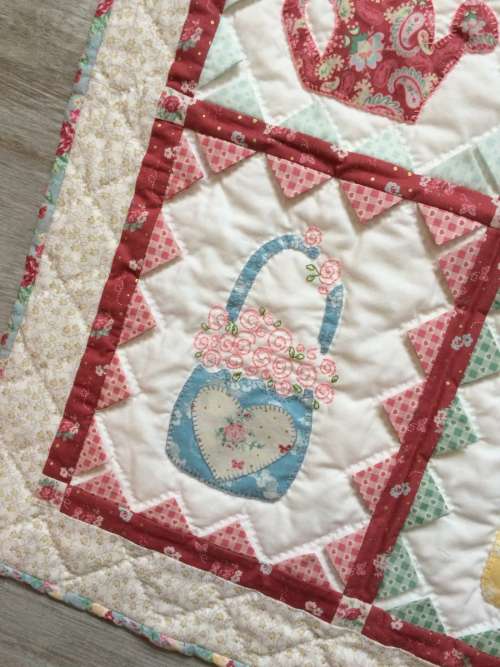 .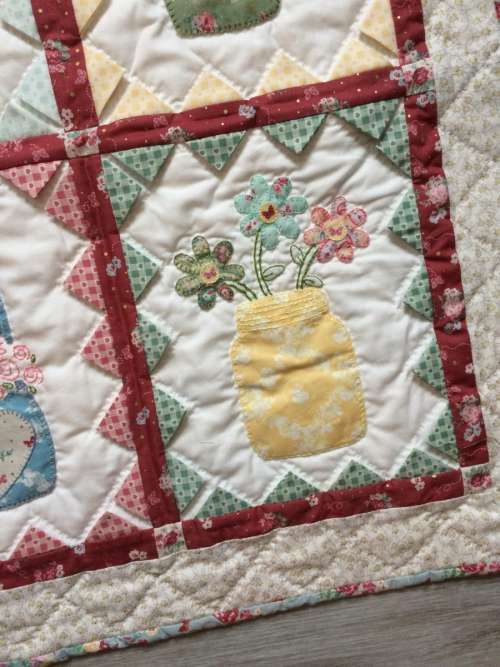 ..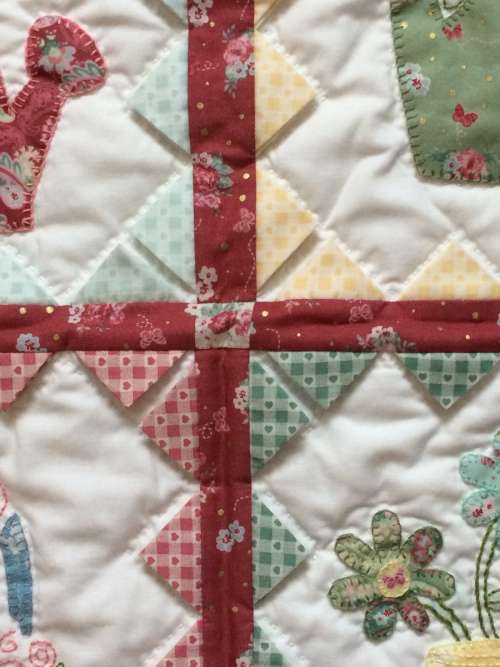 .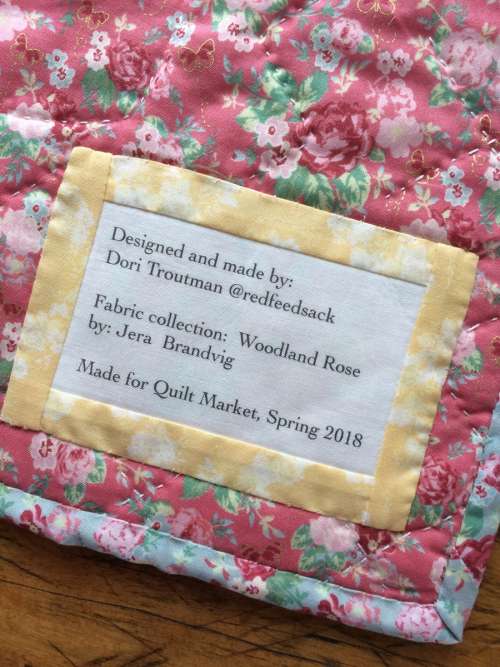 .
I loved every single detail that I sewed in this little quilt. When I finished it, looked closely at it all I could think was YES, YES, YES!  (A little side note is that after Quilt Market this little mini quilt went to Japan for the Lecien show there!  When it came back to me, I entered it in our fair where I got a blue ribbon and then I gifted it to my sister in law for her birthday… which had been on my mind all along!)
.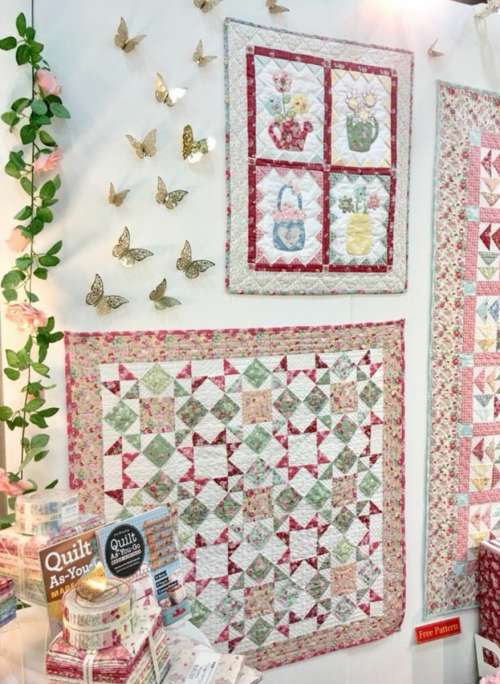 .
This is a picture of the booth with the mini quilt hanging on the wall along with the designer's quilts.
.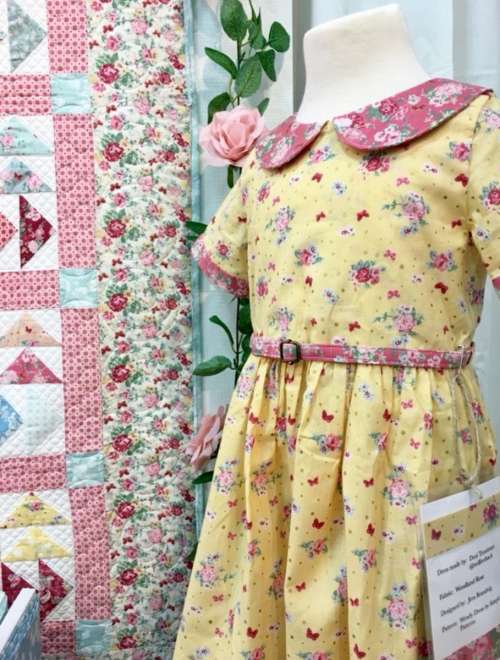 .
After I completed the mini quilt I asked Jera if I could make a little girls dress for her booth as I knew it would showcase the yellow fabric beautifully and I was so happy she said yes!  She immediately arranged for more fabric to get to me from Japan.  I loved how it looked in her booth.
When this project was complete and the sweetest letter and gift of so much beautiful fabric was sent to me from Jera, there was such a sense of accomplishment for me.  I was so happy that I had said yes.
.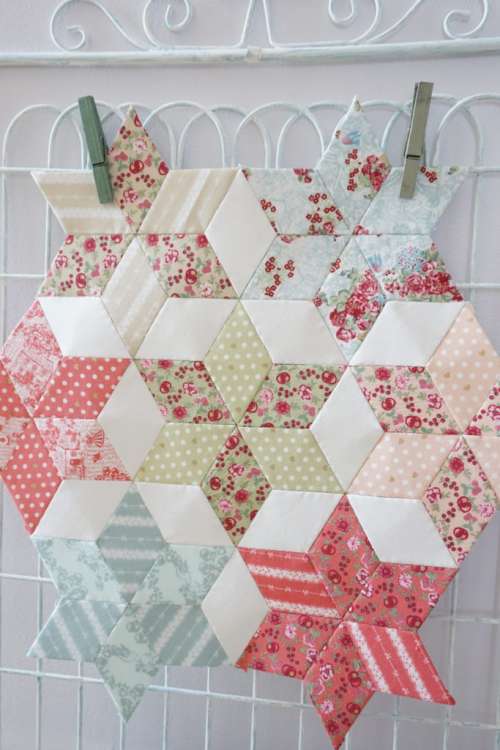 Fabric:  Loyal Heights by Jera Brandvig
Fast forward to six months later and another letter comes from Jera.  Fall Quilt Market is coming and would I be interested in sewing for her again? And… you guessed it, I said YES. And this time immediately!  I didn't even have to think on it!
.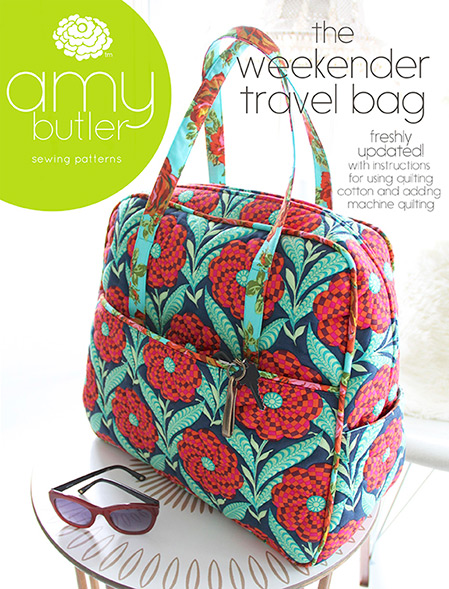 .
Jera sweetly asked me if I would be interested in making a bag.  I love making bags of all kinds so that was really exciting to me.  I chose the pattern called The Weekender Travel Bag by Amy Butler.  I read over the pattern and felt great about it.  The only thing I knew that I needed to do was showcase the many fabrics in Jera's new fabric line.
.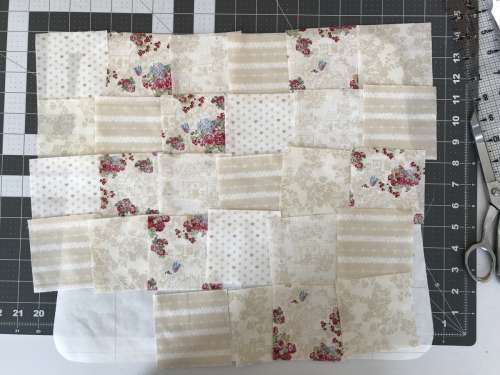 .
So began the process of re-designing the bag in a patchwork pattern.
.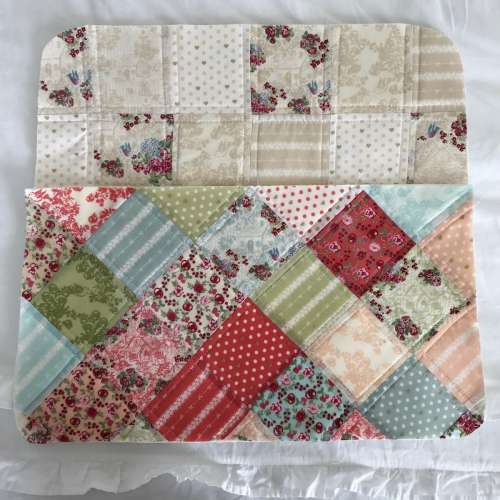 .
I loved the look of using the lighter fabrics on the main panel of the bag and then the brighter colors as the large pockets.
.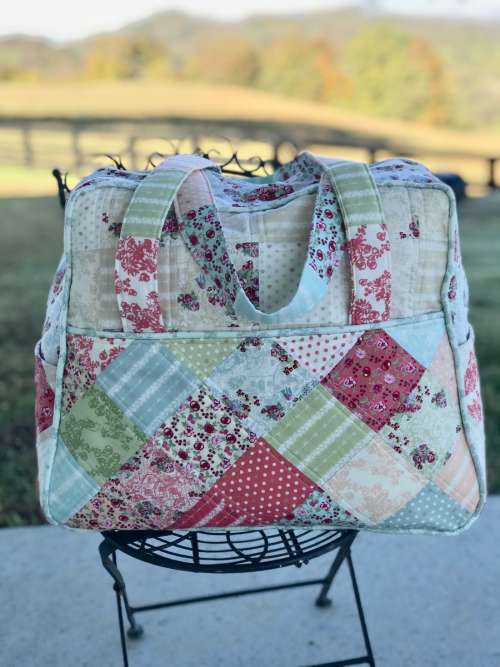 .
I honestly felt like the completed bag was beautiful.  Not once did I regret my decision in saying yes to the project.  But I will admit that a few times I felt that I was very close to being in over my head in the challenge of this particular pattern!  And this bag is BIG.  I'm talking carry-on suitcase size!
.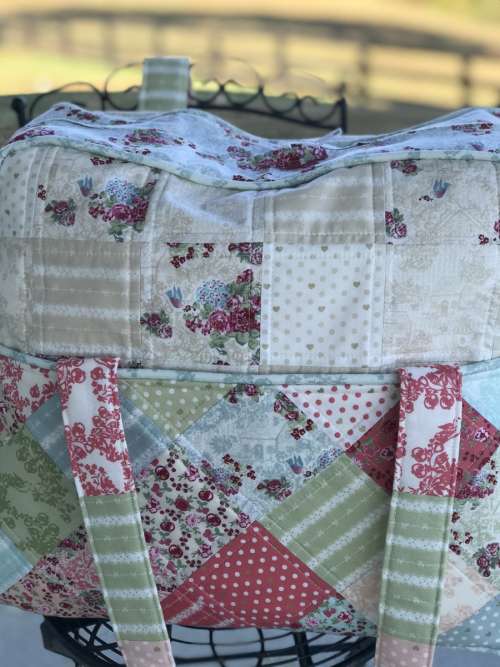 ..
.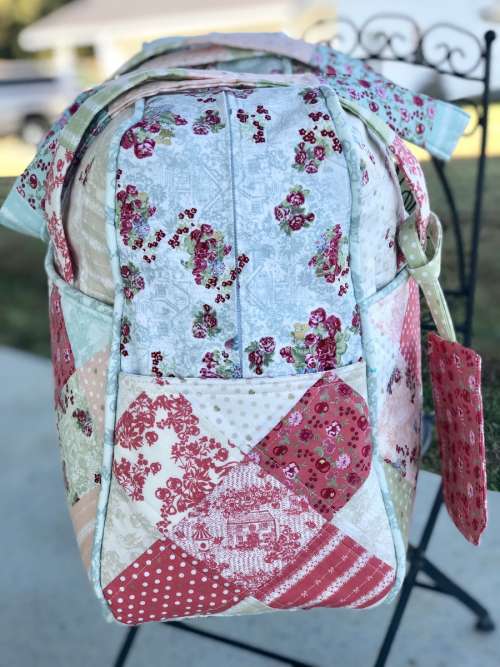 .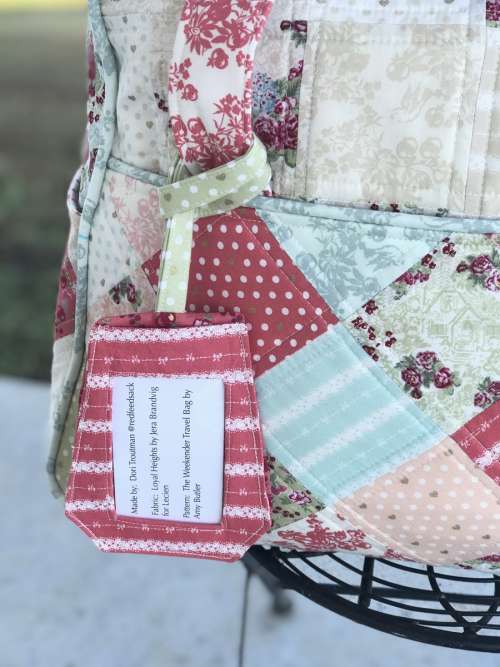 .
I will say that making it in a quilted patchwork style made it so much more beautiful than I ever could've imagined.  I also added a few features that ended up adding to the difficulty of the pattern.  A double zip zipper and interior pockets were necessary to me and worth the extra time and effort.
.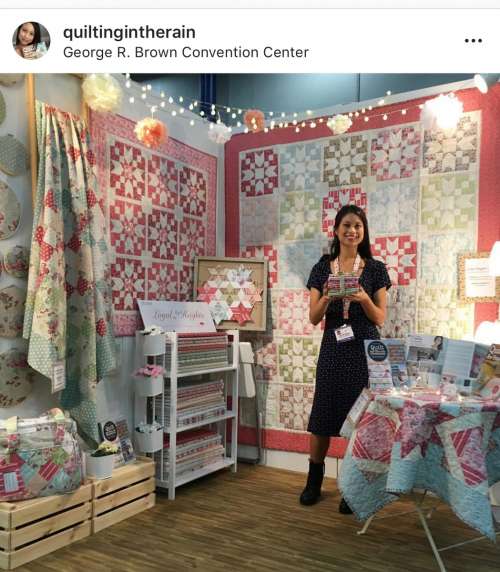 This is a picture of Jera's gorgeous booth at Quilt Market last week.  Her quilts are so amazing.  You can see my bag there in the left hand corner.  
.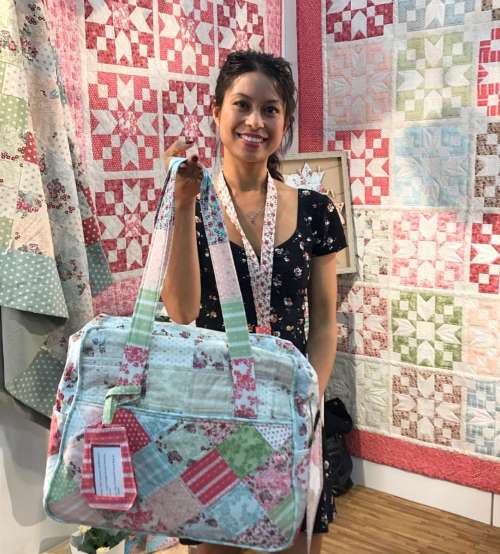 Jera Brandvig of Quilting In The Rain in her booth holding my travel bag
.
Please visit Jera's blog (here) to see all the gorgeous things she makes, the other fabrics she has designed, the books she has written, and all the free patterns and tutorials she has on her blog.  She is such a lovely woman and someday I will meet her in person!
.
If any of you sewists or quilters are interested in purchasing Jera's absolutely gorgeous fabric you can find the Woodland Rose line here.  (The Loyal Heights line won't be available until Spring 2019.)
.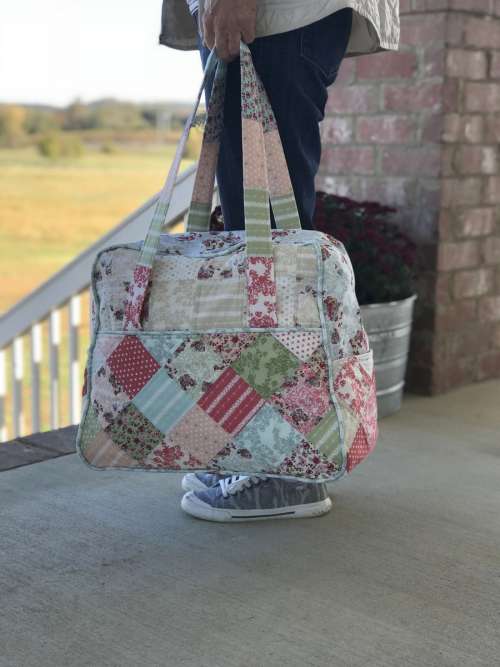 As soon as my Travel Bag comes back to me, I'm planning on taking it on a trip!
.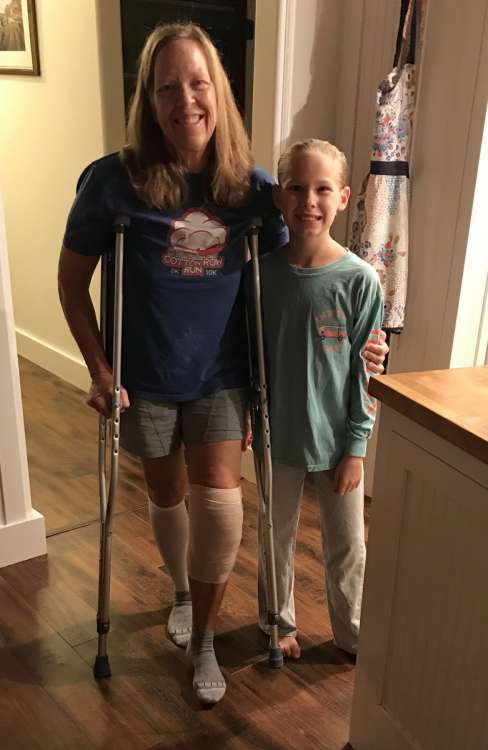 .
Some of you readers that follow me on Instagram know that I recently had knee surgery to repair a torn Meniscus from a bad fall (say NO to flimsy flip flops when washing off a slippery porch).  The report is that I'm doing fantastic and about 6 weeks ahead of schedule in what was expected of me in Physical Therapy.  I anticipate being released next week to get back to my fitness classes and running and I'm so excited.  My little grand-girl Jillian stayed the first few days after my surgery to help me out so that her Gramps didn't have to!  My favorite memory was laying in bed early one morning and hearing them in the kitchen discuss how best to cook the bacon!  Sweet memories.  I'm so glad I said yes when Jillian said "Gram can I come stay and take care of you"?
.
So to finish out this blog post I would like to ask all my wonderful farmgirl readers.  What is the one thing this year that you've said Yes to that brought something really enjoyable and unexpected into your life?  Please let me know in the comments below!  I love hearing from you!
.
And finally… the two WINNERS of the set of notecards from my giveaway last month are:
Mary Pitman
Cathy R
Congratulations Mary and Cathy!  I've sent you both an email!
.
A special virtual hug and a thank you to all of you faithful readers that always comment and brighten my day.  I always look forward to hearing from you!  Happiest of Thanksgivings to you all!
.
Until our gravel roads cross again… so long.
.
Dori