I don't often watch a lot of television. Not content to sit still too long, I've recently joined the ranks of those simply smitten with the drama, Downton Abbey! The show not only has me glued to the television for each entertaining episode, it's inspired me…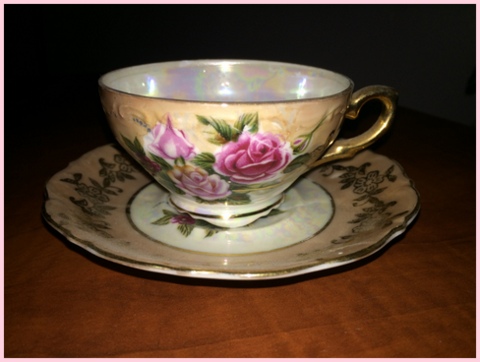 It's almost impossible not to have heard of Masterpiece Theater's drama, Downton Abbey…it's buzzing everywhere. Centering around an aristocratic, post-Edwardian family living in a castle, the show's in its fourth season and an international hit. Many of my friends here and abroad watch it. One of my daughter's 'tween' shows even made references to Downton Abbey. I found it by accident last summer through our local library. It only took two episodes before I was totally hooked. Apparently, all of Newtown was just as enamored. By the time I got to the third season, over seventy people were on the waiting list before me to rent it! What's not to love, m'lady? The fabulous clothes, the English scenery, the relationships between the wealthy family and the less-fortunate servants…it's a vacuum that sucks you right in!
Facebook is awash in "Which Downton Abbey Character are you?" quizzes. I certainly wouldn't want to be a servant, but I wouldn't necessarily want to be a Crawley, either… too "important" to even dress myself? Ugh! And then there's the witty Dowager Countess played by Maggie Smith – saying what everyone else may be thinking but dares not say out loud. We've all known someone like that. She's an absolute hoot.
My husband scored "Brownie Points" big time this Christmas when he snagged me a boxed set of the first full three seasons on DVD. So, after Christmas and before the premiere of season four of Downton Abbey, I watched each and every episode (just not all at once). Many an episode was viewed while waiting for home repair service calls. In one month, my double oven blew, my washing machine broke, my garage door opener spring "sprung", and my dishwasher went kaput! I wasn't a total couch potato, though…I was inspired to knit up a felted hat, complete with "vintage bling." It reminds me of some of the hats worn by Lady Sybil.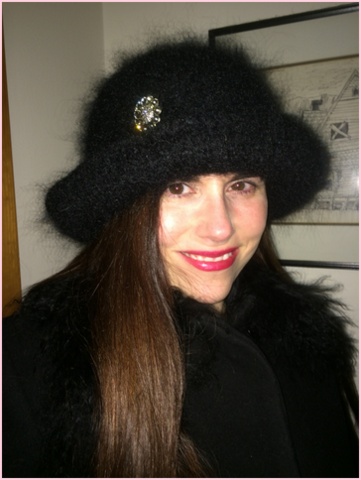 Then there was a "Downton Abbey Tea", hosted by our local library. Everyone was to bring their favorite teacup, a baked treat to share, and were invited to dress in period dress. On the way, dressed in head-to-toe 1920's style, I prayed I wouldn't have a "Bridget Jones' Diary" moment and show up as the only one dressed in costume! Relieved to see I wasn't, the tea was almost cancelled altogether as just as we all arrived, the library suffered a broken pipe, with flooding and a part of the roof collapsing. (With my streak of bad luck, I wondered if it was because I was on the guest list)! We ended up moving the tea to a resident's home and had a great time.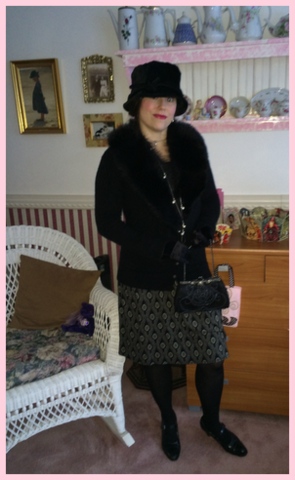 Born in the wrong era… my "costume" was put together from my actual closet.
My farmgirl sisterhood chapter thinks it will be fun to hostess a similar "Downton Abbey Tea". We'll dress up and drink tea like the Crawley's, then make "Lavender Bath Sachets" like the servants! (I found mini muslin cotton drawstring bags that we'll fill with dried lavender).
If you'd like a good book on Highclere castle (where Downton Abbey is filmed), check out Lady Almina and the Real Downton Abbey: The Lost Legacy of Highclere Castle by the Countess of Caravon. I'm enjoying reading about the real-life history of the castle and the inspiration behind the show.
Now it's time for me to be Mrs. Patmore, as it's almost time for dinner. Tell me, M'Lady, are ya a Downton Abbey fan, too? Leave your "calling card" in the comments section, then!
Until Next Time…Farmgirl Hugs, Nicole