[Previous Rural Farmgirl, June 2010 – January 2012]
I was thinking the other morning that I would just love to have some company while milking my dear cow Evelynn (whose photo appears below). And, actually, I would love to show you all what I do and how I do it – I'm not an expert, but I've been pretty successful. And to all of you experienced milkers out there – I would love to hear your tips and hints, too!!!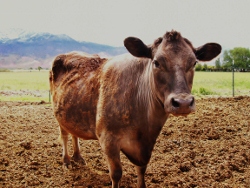 Just a note – I'll be away from the computer for the weekend, so if i didn't "answer" your comment, don't worry! I love "talking" with you, and I'll get right to them when I return. THANK YOU!!! – Libbie I'm back! The boys and I went to redrock country for the weekend, and it was lovely! I'll tell you more about it later, though…
One of the things that I love about living in a rural area is the real possibility of having a cow. I have had one cow before – Bridget. She was Auntie Margaret's little dexter cow, and I bought her, but she was used to being spoken to in a very "Margarety" way which I wasn't really comfortable imitating. Anyway, I had to sell her, because I really just think we didn't like each other very much. But it was all meant to be.
About three years ago, I was able to get a lovely Jersey cow from our very own "Aunt Jenny" (as some of you know her on the Farmgirl Connection – she's Jenny's cow Mona's daughter). Anyhoo – with all of the talk about home dairying, I thought I'd take you with me as I milk this morning.
Grab a coat and a sense of adventure and let's go!
So, first of all, we prepare for the milking itself. I usually set myself up for filtering before I even go outside – it looks more or less like this: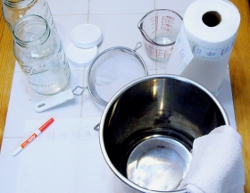 I usually set a coulple of paper towels on the table, get out my strainer with a circular milk filter in it, a couple of half-gallon jars and plastic lids, plus a measuring cup to ladle the milk into the filter and a dry-erase marker to label the lids.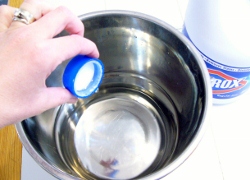 Now, although there are a variety of chemicals to clean udders with available, I find that a capful of bleach into a half-bucket of hot water used with a couple of "milking-only" washcloths does the trick just fine.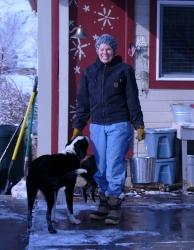 Then it's time to head out to milk! Notice the little stars and snowflakes on the back door. We painted the back side of the house after getting some new windows and I just couldn't resist painting them on the door. Anyway – onward to the cow!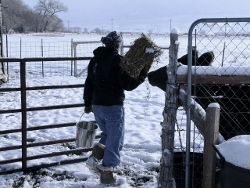 Here, I'm getting the hay to put in Evelynn's stanchion – she's expecting it, and follows me VERY closely!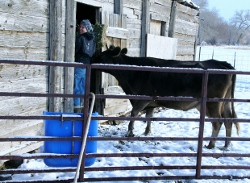 Cows are extremely habitual creatures, and this is our routine – she enjoys milking time – it means hay AND grain, so she's always right at my back.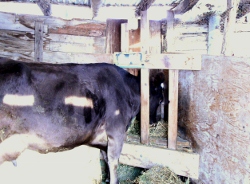 Here she's in her stanchion. That piece of wood on the right side of her neck pivots to let her head in and out – she goes right in the second a handful of grain is put in with her hay.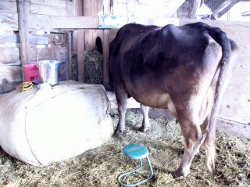 Here's the milking area setup. Most cows are milked from the right side, but from the first time Evelynn calved, she put up a fuss when I tried it from the right. She's fine when I milk from the left side, so I thought, why not? Pick your battles, right? She's really a great cow, and I plan on having her for a long, long time.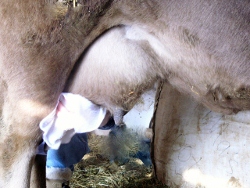 Next, I clean her udder carefully with the washcloths and bleachy water. She really seems to not mind it at all. In the winter I use hot water and in the summer I use warm. Last week I made the mistake, however, of grabbing the metal grain scoop handle with a still-wet bare hand. It froze to the scoop. I had to pour the hot bleach water over my hand to get it off. Yikes! Lesson learned the hard way!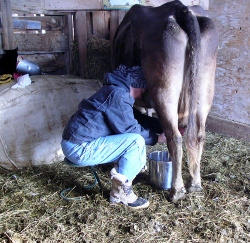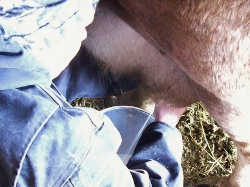 Then the fun begins. Milking Evelynn really is a meditative thing. Right now, I'm keeping Evelynn's calf, Molly, with her, so I only milk the back two quarters of her udder. Every morning when I milk, my hands start to ache about 5 minutes into it. Then, at about 10 minutes, they stop aching and my mind quiets down into the "milking meditation" state where I am just with the cow. I think it's maybe how "real" meditation feels, when one is completely IN the moment that's going on right then. I hear each squirt of milk "ping" in the bucket, my head is warm and  atight against Evelynn and I can just "BE" until I'm done milking. Occasionally, I have to get up and add more grain to her stanchion, but that's my only interruption.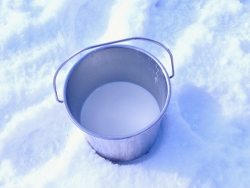 And here's the bucket full of milk! Actually, it's only half-full (never half-empty!) this time, but it's a big bucket. There's probably a gallon in there.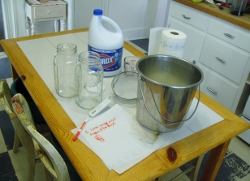 So then it's back inside to filter any stray pieces of hay or "stuff" that got into the milk out of it. Filtering milk quickly after milking is the only way to do it…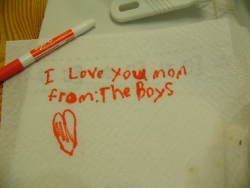 But wait, look at what was written on the paper towels when I got in today. I'm not kidding. The kids didnt' know it was a "photo day." I tell you, things like this make my life good. Anyway, on to the actual filtering.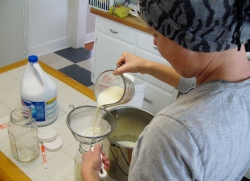 Filtering is done by pouring the milk through a filter – you can just buy the filters very inexpensively at your local farm store.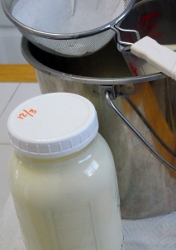 And there's the finished product, clean and bottled and ready for my guys to drink. It's such a good feeling to know that my guys are getting real, whole milk. And I LOVE the cream in a cup of coffee…the butter…the cheese. Truly, there's not a whole lot NOT to love about a family cow. Not to sound like I think they're the greatest — but, really, Evelynn IS an exceptional cow…
So, all of you home dairy-ers or those who just like experimenting with dairy products – what are your favorite recipes, tips, thoughts???
I can't wait to hear from you!!!
xoxo, Libbie