[Previous Rural Farmgirl, June 2010 – January 2012]
Weeds. We've all got 'em. Around the farm, the month of June is spent dealing with them – either pulling and tossing them into the compost pile, pulling them and letting them lie where they fall for mulch or, for the especially ugly ones, throwing them away. But wait – there's one more option – and I'm willing to bet you can find it in your very own yard. Oh – and did I mention that they can be found indoors, too?
It's finally first hay cutting time here – and this morning I can hear a baler across the "street" picking up the hay that's been down for almost a week. I love that sound. Somehow it's really comforting to know what comes next around you – whether it's the seasons, or the surrounding farms' haying schedules, or, for that matter, that lunch comes after breakfast (except some places, right? Isn't it supper? Or dinner?). Anyhoo – the current state of our farm requires that I discuss one subject right now, and I believe I've spent most of the past two weeks dealing with it in one form or another. Those fast-growing, green-as-Ireland, drought-tolerant…
… Weeds. Ah – weeds. The bane of farmwork. I know we all have them – and I know they get complained about all the time, but this year because of our strangely wet and cool spring we have a bumper crop. So, off to weed we go – let's start with the out-of-doors varieties…
Around here, field bindweed is indeed enemy number one. I secretly (or not so secretly, now!) believe that the stuff has the magical ability to reproduce and relocate at will – and it takes advantage of that power. We've been battling this one for years, now, and I've come to the resolution that my best is just going to have to be good enough. The most disappointing thing about this particular weed is that since it's like morning glory in it's tendency to climb other plants, it can make a little vineyard of dry grapevines look so lush and leafed-out at first glance, then there's the sinking realization that all of last year's growth is simply wrapped in bindweed – not leafed out. Thankfully, by now, the grapes themselves are doing well. Oh,the lament of  bindweed, thistle and foxtail – anyone out there with success stories about any of these?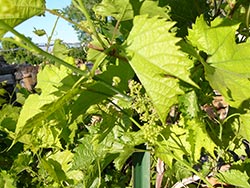 Next on the weedy roster are things that I'll just call "regular ol' weeds." Now, these I actually don't mind pulling at all. There is such satisfaction in weeding something. When I'm harried or unfocused or just somehow feeling "behind" in housework, farmwork or any other work there is to do, I know that I can weed and within about half an hour, I will have something real that I can see and feel and be proud of. Sometimes it takes looking at actual progress – not checking things off a list or making phone calls (although I do plenty of those, too!) – for me to boost up my motivation and energy. These regular old weeds are just the ticket. They make a great layer to the compost pile – I feed my kitchen scraps to the chickens so I'm often at a loss for green material – and I actually found myself feeling pretty lucky that my garden area can "feed" the compost pile as well as the family. One tip for weeding – make sure you water the area the day before. Not too much, but enough to soften the soil. That way, you'll be able to pull the roots out instead of just breaking the tops off of the weeds. This greatly extends the time between weedings!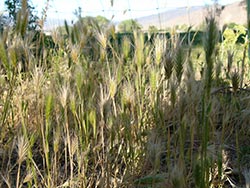 So, on to my "good" weed of the year – lamb's quarters. This year, I decided to find one wild, edible plant that grows on our land and learn how to use it. We have lambs quarters here in abundance, and I was used to just pulling them out, composting them and being glad the job was done. This year, however, I decided to do a little research and see how we could use it. The leaves and stems are edible, and I've been able to harvest them for about the past month or so. You can steam them like you would spinach, or even saute them in butter with bacon bits (YUM!), but my favorite is to just have the leaves loose in salad. Their whitey-green look adds such a nice texture to a salad, and the taste is sort of, well, like if you put a fresh spinach leaf and a pea pod (withouth the peas in it) in your mouth and chewed them at the same time. So – a summer challenge? Pick an edible weed around you and turn it into something good – just think! One less plant to pull!!!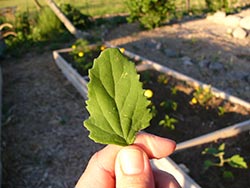 Looking for a good book on weeds? I'd like to recommend the book, "Weeds of the West," if you are in the Central to Western part of the United States. It's an amazing compendium of weedy photos and knowledge to help you identify what's growing around your place. While it doesn't specify the edibility of the weeds, at least you'll know which one to look up and check out! I sure wish I knew comparable books for the East/South/North. If YOU do, please don't hesitate to leave them in the comments – I'll bet they're just what someone out there is looking for!
All of this outdoor weeding made me want to tackle a little bit of indoor "weeding," too. "Weeding" through things that have accumulated in our home that are no longer useful, beautiful or loved (or any combination of the three). A spring cleaning of sorts that is lasting through summer, but sometimes that's just what it takes. I've managed the kitchen – and I'm about to apply for the "Get it Together" "Farm Kitchen" merit badge!!! YAY!!! As an aside, my neighbor taught me to sharpen my kitchen knives using a round steel. It's really cool – definitely a good skill – 'ever try to cut a tomato with a dull knife? Never again! Okay – so back to the indoor weeds. I've also ploughed through the mudroom, which was very much living up to its name, the bathroom and the boys' bedroom, and today, it's the front room that needs attention.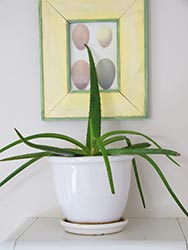 Let me share with you my tried-and-true formula for weeding, inside and out:
Pick a manageable area – a garden bed, a room, a certain area.
Give yourself a time limit – now, this is a general one, like "today," and if you don't make it, well, you'll have made good progress and you always have tomorrow…
Start at one corner (for some probably neurotic reason, I start at the doorway of a room and move around to the right), or if you're weeding, an end of the area.
As you move through, use the time to think about how you really want your life/garden/home to be. One of the coolest things about this life is that we really CAN make it how we want. That sounds pretty Pollyanna-ish, I know, but I've found it to be so true – If I go around lamenting about how out-of-control things can get, I'm sure not spending that time making it better. Once I start "making things better," it's so much easier to gain and maintain momentum!
When you finish, sit back, have some lemonade – LOVE what you've done. Even if you've weeded a container garden or simply thrown away empty shampoo bottles, you're on the way in the right direction. Be proud of yourself! Give yourself a reward! What about a soothing peppermint and basil essential oil foot bath? Okay, so that's MY reward, but it's a good one – give it a try – your feet will be so happy…
So, farmgirl sisters, it's weeding time all over the place. Let's do it together, shall we? Just imagine – dinner with some things from the garden on a table cleared off and setboth simply and beautifully…I can almost see it now…Can you?