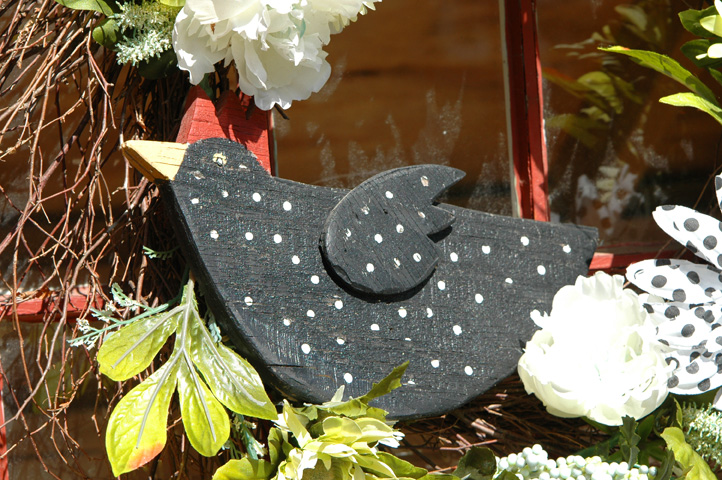 "Don't ask yourself what the world needs. Ask yourself what makes you come alive, and then go and do that. Because what the world needs is people who have come alive." ~Howard Thurman
I'll never forget these words uttered by a dear friend of mine as she walked through our suburban backyard to see our chickens and coop for the first time several years ago. She said,
"YOU NEED A FARM"! 
"Yes, I do ", I quipped as we made our way closer to the girls. She couldn't have been more SPOT ON. Little did she know that having a FARM of my own is something I have ALWAYS wanted, but, HE has had other (wonderful) plans for me, all of which have led me straight to my DREAM FARM…
I grew up in suburbia, then moved to suburbia as a young adult and my husband and I have raised two children (almost to adulthood) in a "neighborhood". How does this happen when all a girl really wants it to live on a FARM? I know. I KNOW!  Has this happened to some of you too? Along the way ( to our dream farms ) we just have to trust we are exactly where we are supposed to be in life, count our daily blessings and all the while keep a special place deep down in our heart of hearts for the FARM of our DREAMS.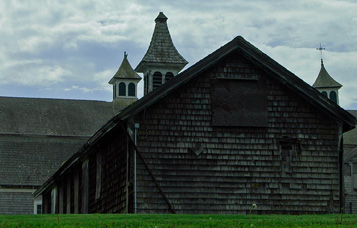 I used to spend hours driving out in the country looking at rural property searching for my " perfect farm ". I'd wave my arms out the window as I drove by cows grazing in the sage covered desert. Several years ago we purchased ten acres of raw land (off-grid) in Northern Nevada with the hopes of homesteading it someday. But, God wanted us on the shorelines and for that I am very grateful and here's why. I've learned a valuble lesson living in suburbia all of these years. It hasn't stopped me from being creative or a good wife, mother, friend, or sister. Nor has it impaired my ability to  learn to garden, paint, decorate or sew, homeschool our children, enjoy my marriage and live a happy life. It hasn't kept me from flowering into the person I am today.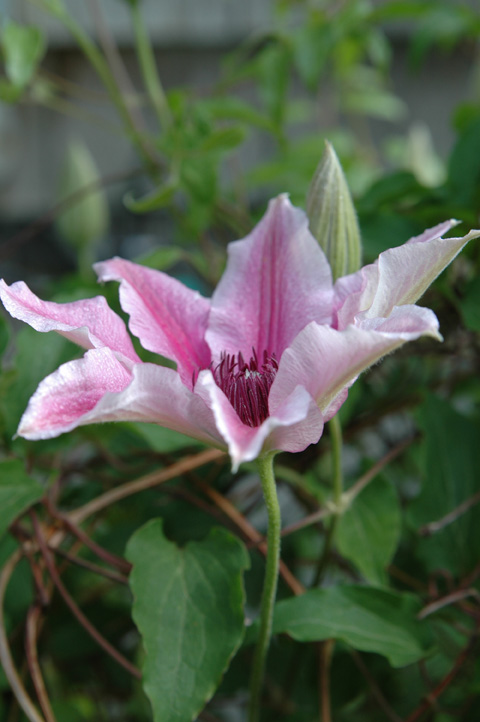 If anything it has honed my sense of adventure and sharpened my creativity. As you know I'm working on creating a cut flower farm in my backyard! I'm excited to share the progress with you today in hopes it inspires you to take that extra step towards your farm dreams too!
Here's the latest in " Farmer Deb's  Backyard Flower Farm!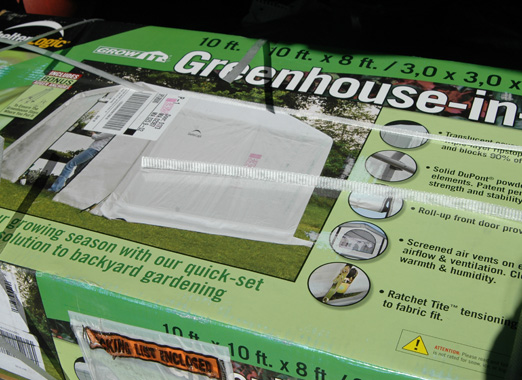 My greenhouse arrived at my local Tractor Supply Co. in good time after ordering online. Did I mention this baby only cost $199.00! Perfect for the frugal farmgirl who wants to get down to business in a hurry!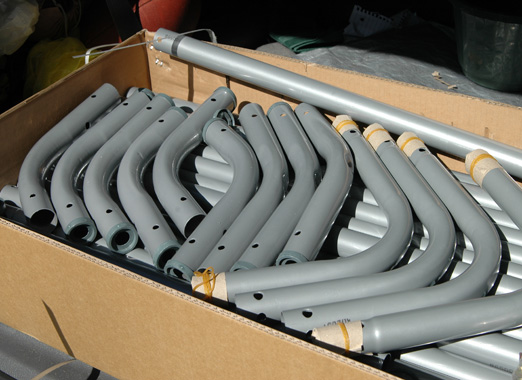 It came in a million pieces with an instruction booklet.  Thanks to my two guy's and my hot pink John Deere gardening gloves we managed to get it put together in two afternoons. We did the frame one day and the covers the next.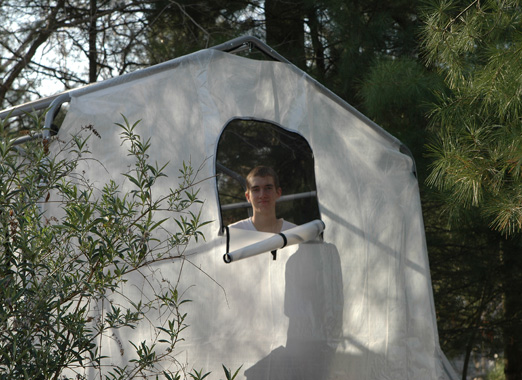 My youngest guy!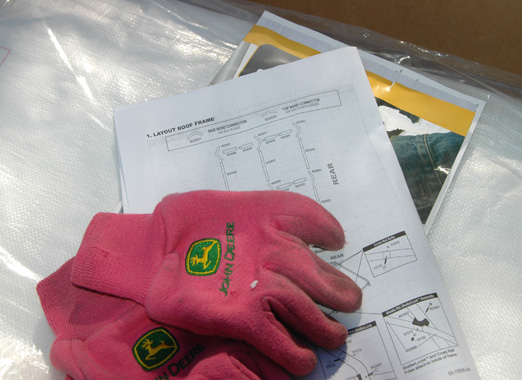 The magic gloves!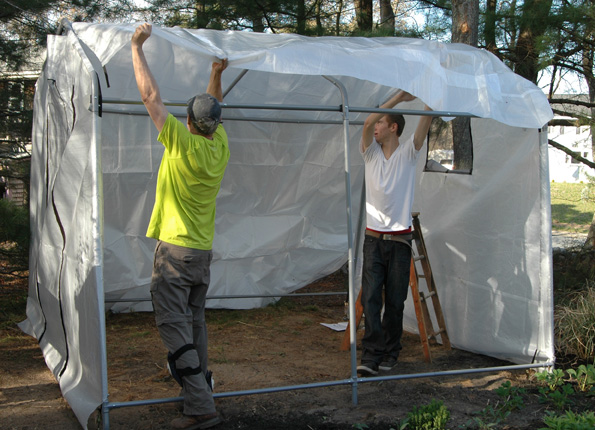 TaDa! Here she is all set up! Ready for some serious farmgirl action!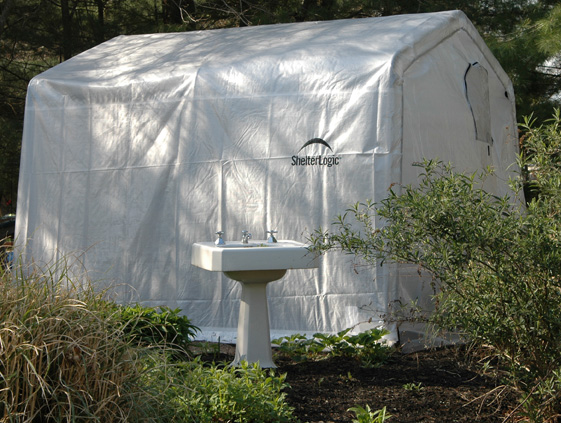 Naturally, I couldn't wait to get inside and play in my new little garden house! I love how it's tucked right into my biggest garden, near the henhouse and shed.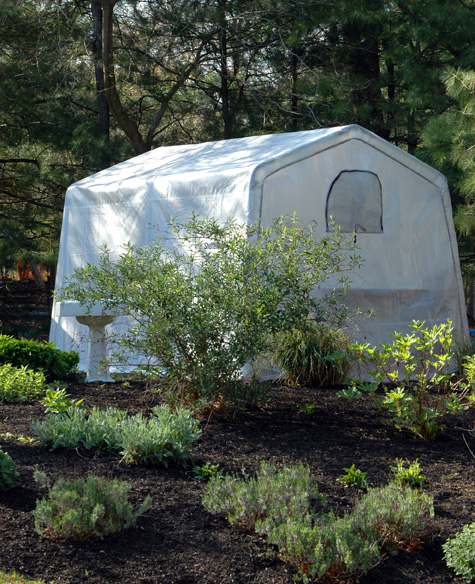 Here's the entrance! It has two windows. One on the " entrance door "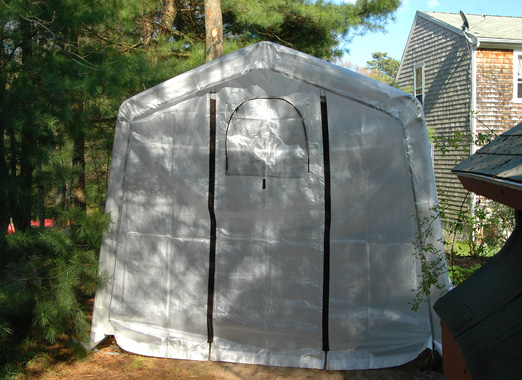 and another on the "back wall" right over the potters bench sink which we re-claimed from our kitchen remodel. I had to eat crow ( again ) when I told my hubby that I thought it would be PERFECT for the greenhouse. Ya see, I was tired of stumbling over it in the shed everytime I went to get something and I wanted to get rid of it! Thank God he doesn't always listen to me!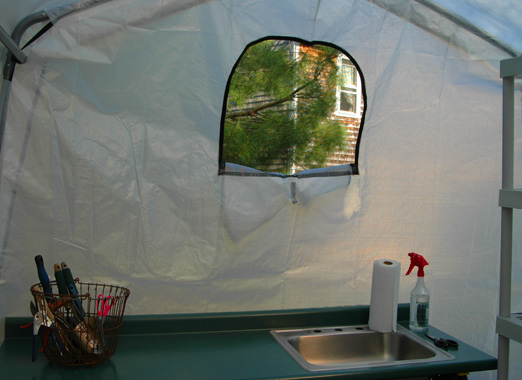 I do my best work if I'm near a " daydream window "! Seriously! How do people survive without one?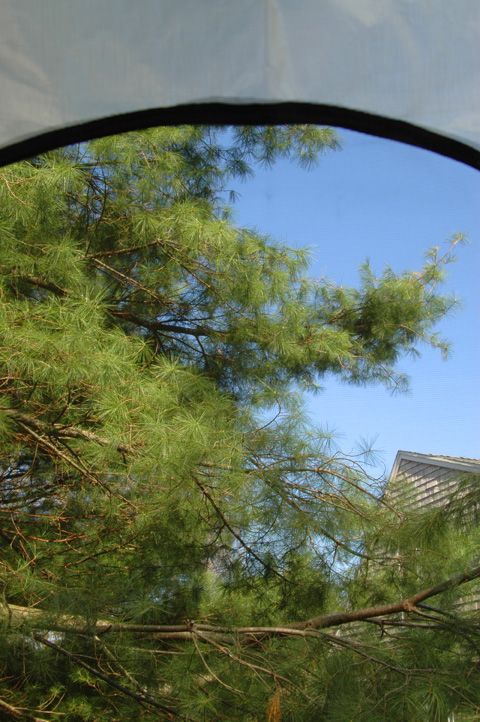 To get my new greenhouse ready for operation I made a list of things to get me started then I was off to the local Home Depot and my favorite garden center.
These shelves are a sturdy plastic with holes in the shelves for water to drain and light to pour through. They are deep enough to provide a stable surface for the seed trays.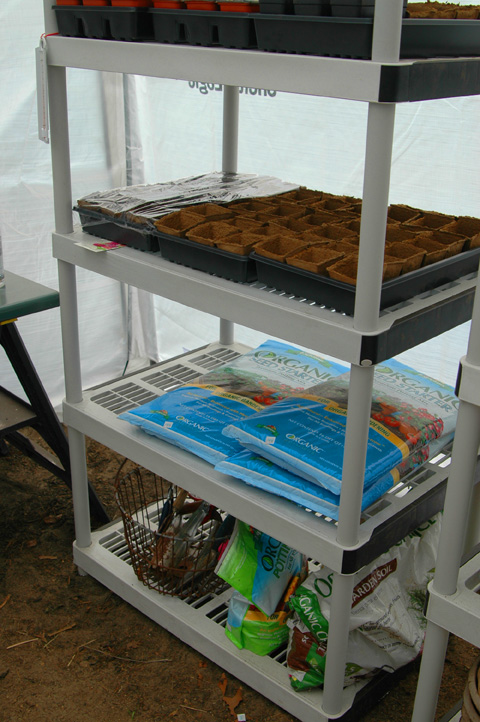 I chose a mix of Eco- friendly seed pots and some I already had in the shed.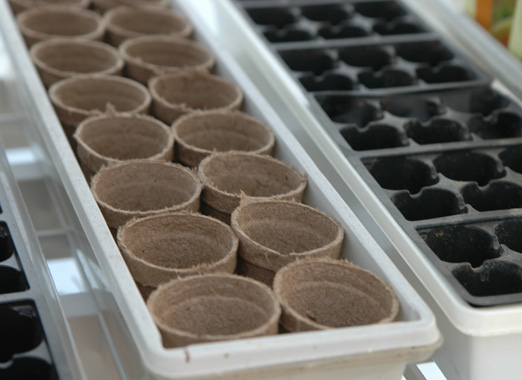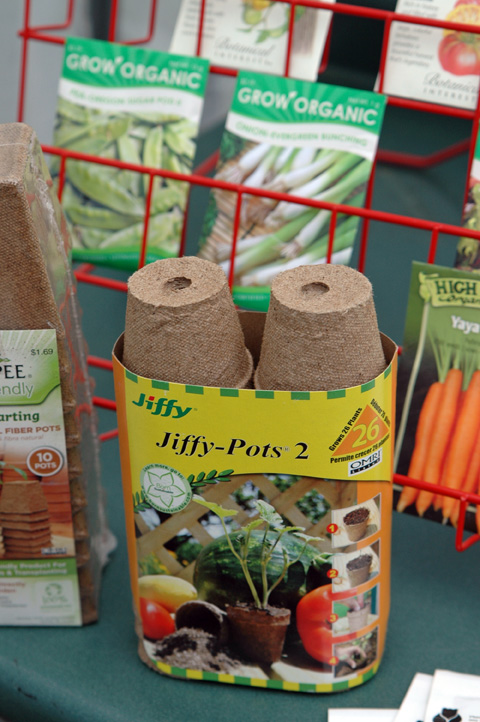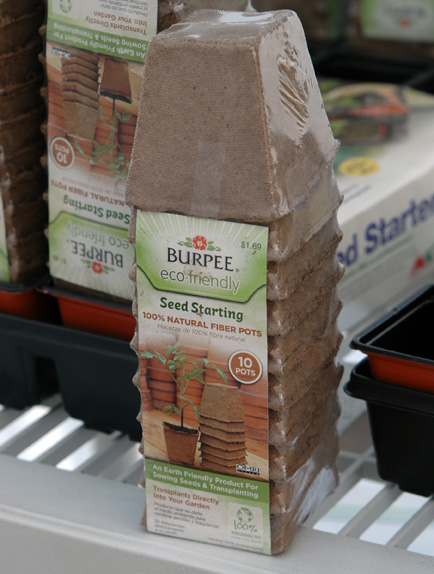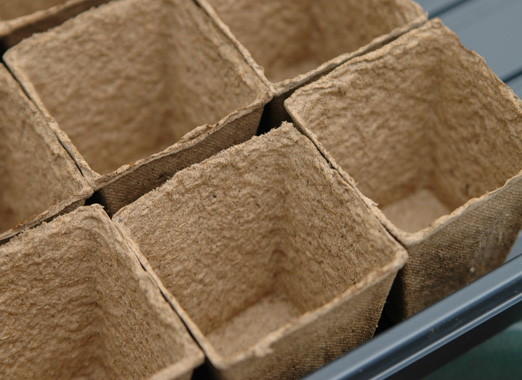 I got a mini-master seed planter,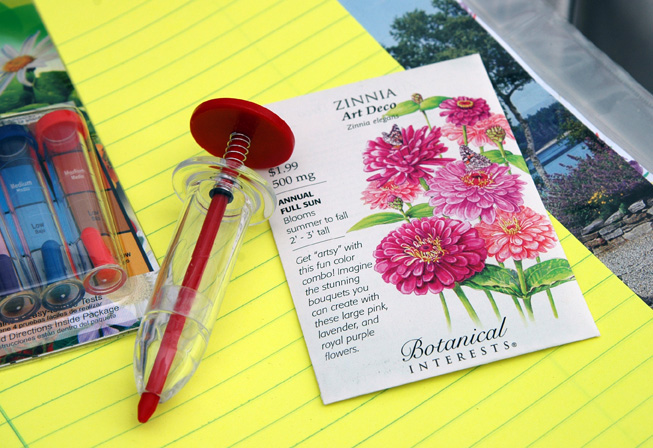 organic seed starter, a thermometer,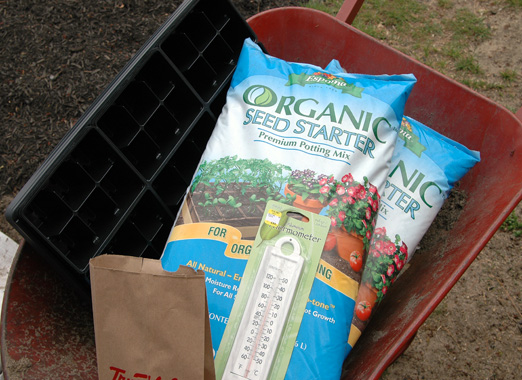 and SEEDS!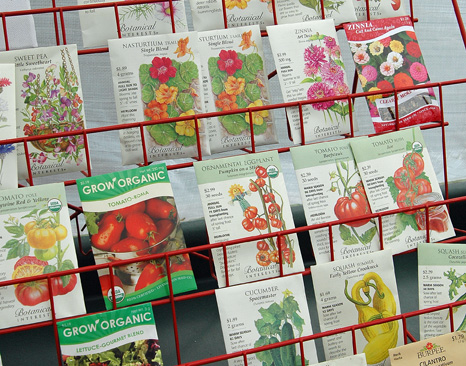 I chose seeds with no GMO's and Certified Organic Seeds if available. I also wanted something pretty to look at on the counter so I brought out a half finished oil painting I started a few summers ago and tucked the card of a new artist I recently discovered next to it for added inspiration! Her name is Lisa Daria of Painting a Day. Check out her blog to see some beautiful flower images.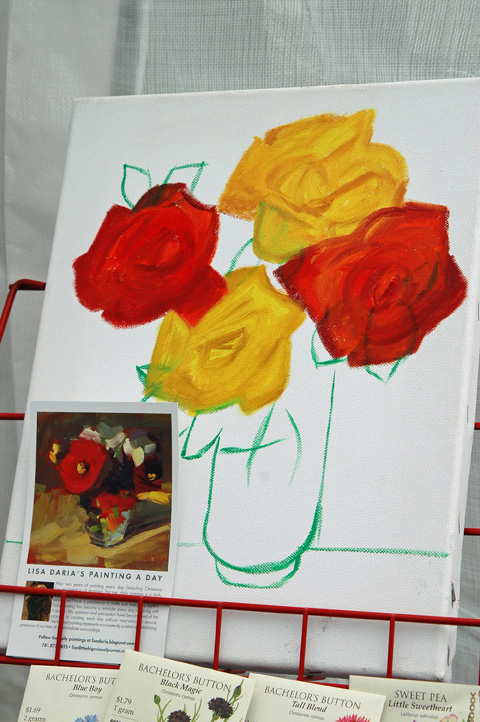 My mother in law recently gave me a vintage watering can which I just love. I feel like MaryJane Butters, Tasha Tudor, Sharon Lovejoy, Beatrix Potter and Gertrude Jekyll all rolled into one flower loving farmgirl!
That's it for today sisters! I've got seeds to plant! So, I'll leave you with this thought.
Do what you love and bask in the MaryJanesFarm fellowship. There's no doubt in my mind, you will find your farm just like I did. It might even be right under your nose! (Or in your own backyard)!
What makes YOU come alive?
Until our next shoreline visit~
BEACH BLESSINGS and Happy Farm Dreams to all!
much love,
Deb # 1199
P.S. CONGRATULATIONS to our City Farmgirl Rebekah on getting her DREAM FARM! Way to go girl!