[Previous Rural Farmgirl, April 2009 – May 2010]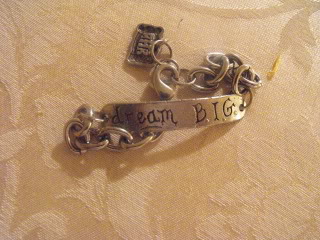 Have you ever had those moments when you just get so emotionally exhausted trying to figure out the next step? You know, times when you find yourself praying—begging really—that a plane would fly past pulling a banner with the answer clearly written on it? Boy, I have. I find myself standing at the crossroads of change and I feel frozen as I debate the "right" path. I would imagine that no matter what one does for a living, we all take pause to evaluate life from time to time. Yet now that I'm finally doing what I always dreamed of doing, it is easy to be convinced that dreaming of more is somehow selfish.
I am your average rural girl. I grew up in a small farming community where the majority of the town farmed, worked for farmers, or worked for a company that serviced farmers. My dad's family members are dry land wheat farmers. My dad went away to college and came back to this same small town where much of his family still lived. He taught school, coached, and became a school administrator…sort of the Mr. Kotter of Coulee City. After graduation, I met and married my farm boy and became a stay-at-home mom with the white house, picket fence, and four little ones. Life was grand.
As the boys got older, I entered the workforce like the rest of my friends. I climbed the ladder of success, but I discovered that I was getting less happy with my life. It surprised me. I had bought into the American Dream that "more is better." I had bought into the idea that more money, more possessions, a better car, and attending all the social events would bring happiness. So when it didn't, I found myself standing at the crossroads with my spirit demanding change. Instinctively I knew I was on the wrong path.
Recently I saw a cartoon in a business paper that seemed to describe that time of my life best. It showed the "ladder of success" with lots of people on it… about ¾ of the way up there was a person yelling, "EXCUSE ME, I WANT OFF"….of course there wasn't an easy way down except to jump. I have to tell you, when I jumped, many people in my life thought I had lost my mind, but I have never been happier. I learned through this experience that crossroads aren't bad when they are faced head on.
It has been three years since that particular leap of faith, so when I found myself staring down another fork in the road recently, I was surprised to be there. In that moment I was glad that I was able to recognize that I was standing at a decision place. I wondered how many of those I blew past before, not noticing them on my way up the ladder. I was able to recognize the growth that had taken place inside of me, and I was much more aware of the small choices that we make (or don't make) that get us either where we want (or don't want) to be.
As I looked down each of the roads at the current crossroad, I found myself once again praying for the answer. This time it came delivered by the mail carrier, an unexpected gift from a fellow farmgirl. Farmgirl Mary Jo designed and made me a necklace and bracelet that reads DREAM BIG. It may not have been a banner that is pulled by a plane, but it certainly was the message that I was searching for. Thanks, Mary Jo. I wear them always now as a reminder that our dreams are there for a reason. Go ahead and DREAM BIG.