[Previous Suburban Farmgirl, October 2009 – October 2010]
Who isn't cheered by a bright bouquet? I always imagine farm tables set with little jelly-jar vases of wildflowers plucked from the surrounding countryside. Lacking a countryside around my suburban house – or even a proper cutting garden – I've been known to crouch in the lawn to clip tiny sheaves of violets, or reach up into the branches to clip a few stems of dogwood or rhododendron, just to get that sweet charge a bunch of blossoms brings.
Then the other day, a friend brought me a bunch of carrots from the market that made me swoon as if they were roses — or even my favorite, peonies. Seriously! These weren't just any carrots: They were a rainbow of carrots, from deepest ruby red to creamy yellow, with every shade of orange in between. They had in their favor the surprise factor (I'd never seen such carrots!) and the fact that they happened to be variations on my favorite color. Their flourish of leafy greens didn't hurt, either. Those carrots plumb made me happy.
And those carrots got me thinking… what would happen if I opened my eyes and heart to other unexpected "bouquets" that might be waiting to be stumbled on in a given day?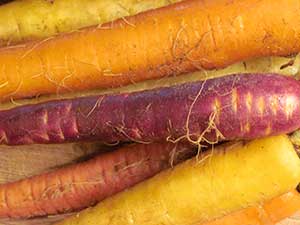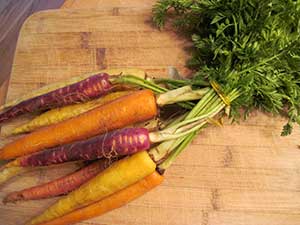 Turns out, there are plenty of these "bouquet moments" out there. For example, a tiny rainbow danced on my shower wall this morning. Just light, there, doing its thing, waiting to be noticed and then, in my noticing, transformed into something delightful. (Oh how I wished I'd taken a picture. But as you may well imagine, I wasn't really in camera-ready mode!)
Another bouquet moment today: Happening upon an old snapshot of my Mom and I in Hawaii some 20 years ago. I could have smiled and set it down, but something made me really stop and enter the picture. She looked so happy, wearing a pink lei and a red hibiscus in her hair (she wasn't normally prone to the whole flowers-in-her-hair look!). And I look so… young! That night we'd had fancy drinks with more flowers in them, and grilled fish and heavenly bread and wonderful service, lots of smiles, all to the soundtrack of ocean swells. Mom died two years ago, but the happy feeling from that Waikiki night two decades ago is still with me today. And by really looking at that photo, I felt it in full!
Later, looking out at a "Jesus sky," as my sister and I used to call it, brought another burst of delight – you know the sky I mean, where the rays of sun power down visibly from the sky through thick clouds, just like in those old paintings where they radiate out from a beatific figure of Christ in heaven?
The trick to experiencing a bouquet moment is simply to be open to the noticing, and to then appreciate. Those carrots weren't bestowed upon me as an actual a bouquet, but the pleasure effect was the same: an instant of joy that gave into, lingered over, ran with – and that therefore became its own happy gift.
Try spending today being open to "bouquets of pleasure" yourself and see if it works the same for you. What triggers that gift sensation for you? A vibrant, sliced blood orange against the wood grain of your cutting board? A baby's smile in the grocery store? A shooting star? An actual nosegay plucked from your yard (or better yet, bestowed upon you by somebody you love)?
Let's see how many we can find…
BTW, here's where those carrots ended up (yum! a

tasty

bouquet!)