.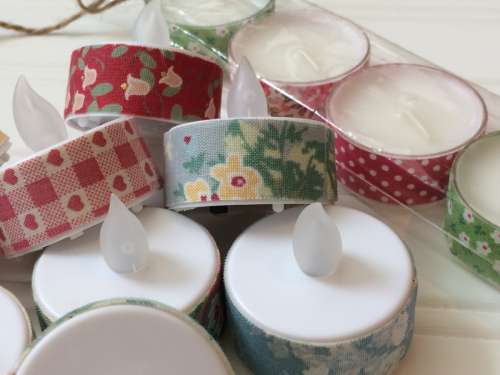 .
Hello Farmgirl Friends!
So are you wondering what fabric tape is?  It is exactly as it sounds… fabric strips with double sided tape on the back!  It is useful and fun for so many things and I always keep some on hand.
.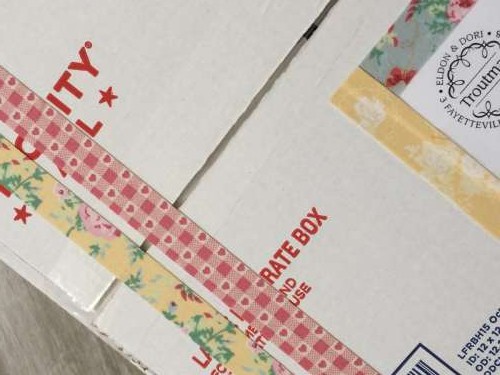 .
I use it on everything I mail… to tape up my packages, or to tape the back of an envelope with a cute piece of fabric.
.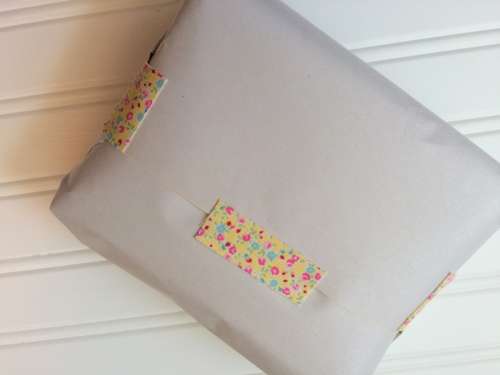 .
I use it in place of regular tape when I wrap gifts.  (For wrapping Christmas gifts you can use Holiday fabric to make your tape!)
.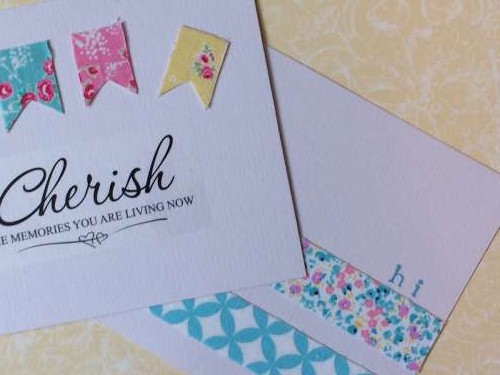 .
I use it on home-made cards and gift tags.
.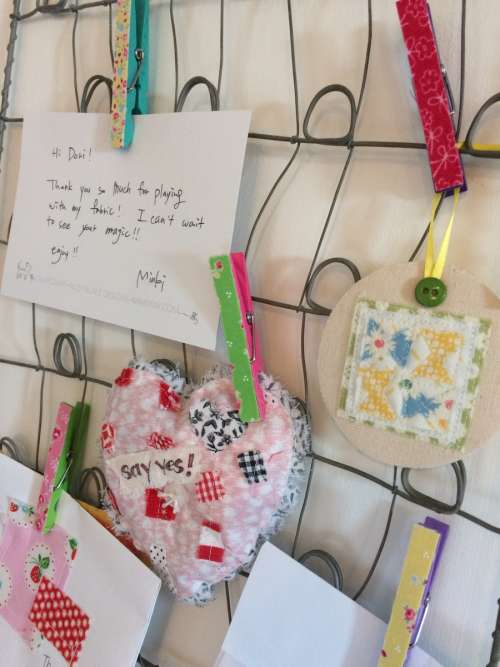 .
It's a fun way to decorate clothespins!
.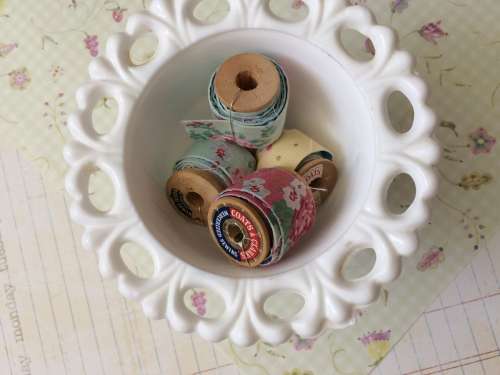 ..
.
You can take long strips of the fabric tape and wrap it on a vintage spool.  Tie it in place with a tiny jewelry wire and you've got your own spool of tape!
.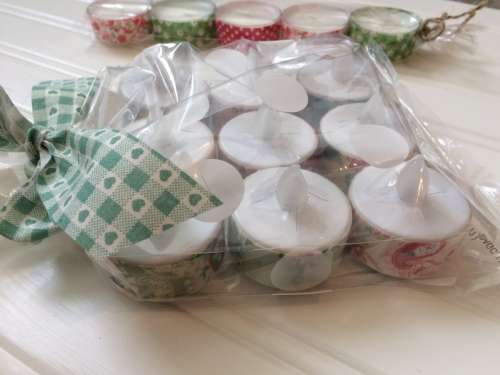 .
Placing fabric tape on tea lights and placing them in a clear plastic bag is a great gift idea!
.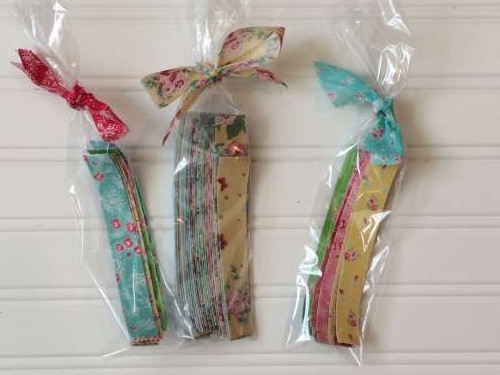 .
Cute little bags of fabric tape all by itself is just so delightful.
.
Are you seeing all the possibilities now?!!
.
I decided to share with you how I make it so that you enjoy having a stash of fabric tape too!  So here is a quick and easy tutorial!  (And don't forget to read the giveaway at the end of this post!!)
.
.
Start with some fabric scraps at least 1.5 inches wide and however long you'd like.  I made these about 5 inches long.  You'll also need some doubled sided Duck Tape, which you can find at Walmart.  You can use scissors if you'd like, but I prefer a ruler and a rotary cutter.
.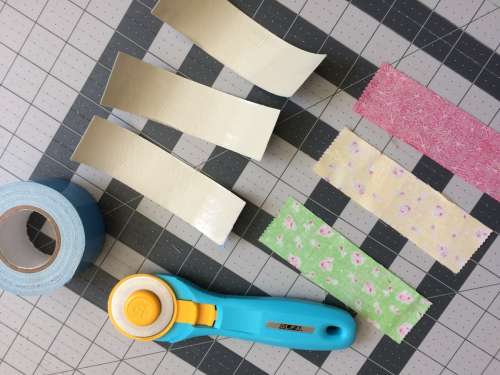 .
Cut your tape the length of your fabric strips.
.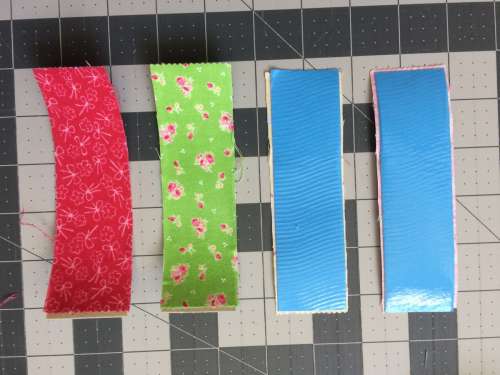 .
Place the tape on the back of the fabric strips.  Then turn the strips over and make sure there are no wrinkles in the fabric and just really press so that the tape adheres completely.
.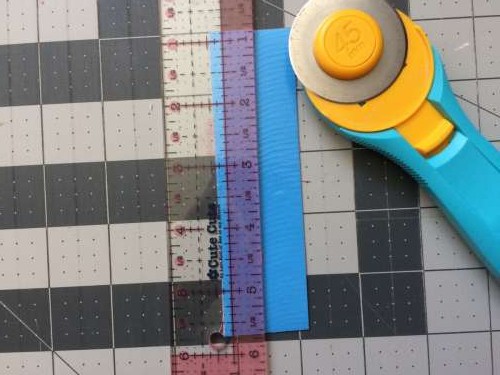 .
You'll want to clean up the edges of the fabric so that it is exactly the size of the tape.  This is where a rotary cutter comes in handy.  You will also want to cut your tape in half width-wise so that it is approximately 3/4 inch wide.  This is a nice size to work with.
.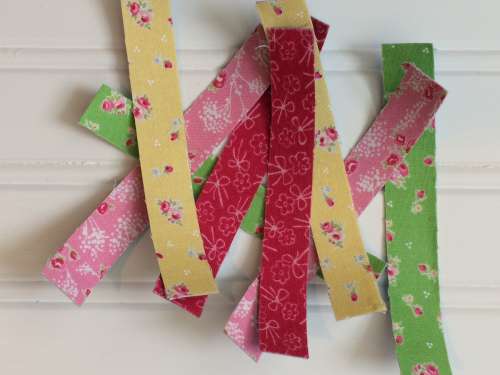 .
.
You will now have some cute strips of fabric tape!  When you are ready to use it, all you have to do is remove the blue film on the back and you've got perfect fabric tape!
.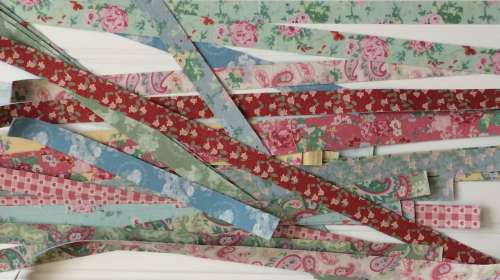 .
You can also make long strips of fabric tape if you'd like.  Sometimes they come in handy!
.
So now!  The GIVEAWAY you've been waiting for!  Please leave a comment below with an idea of what you think you might use fabric tape for!  I will pick TWO lucky winners in May to receive a happy little package of my homemade fabric tape!
. 
Until our gravel roads cross again… so long.
.
Dori
.
.